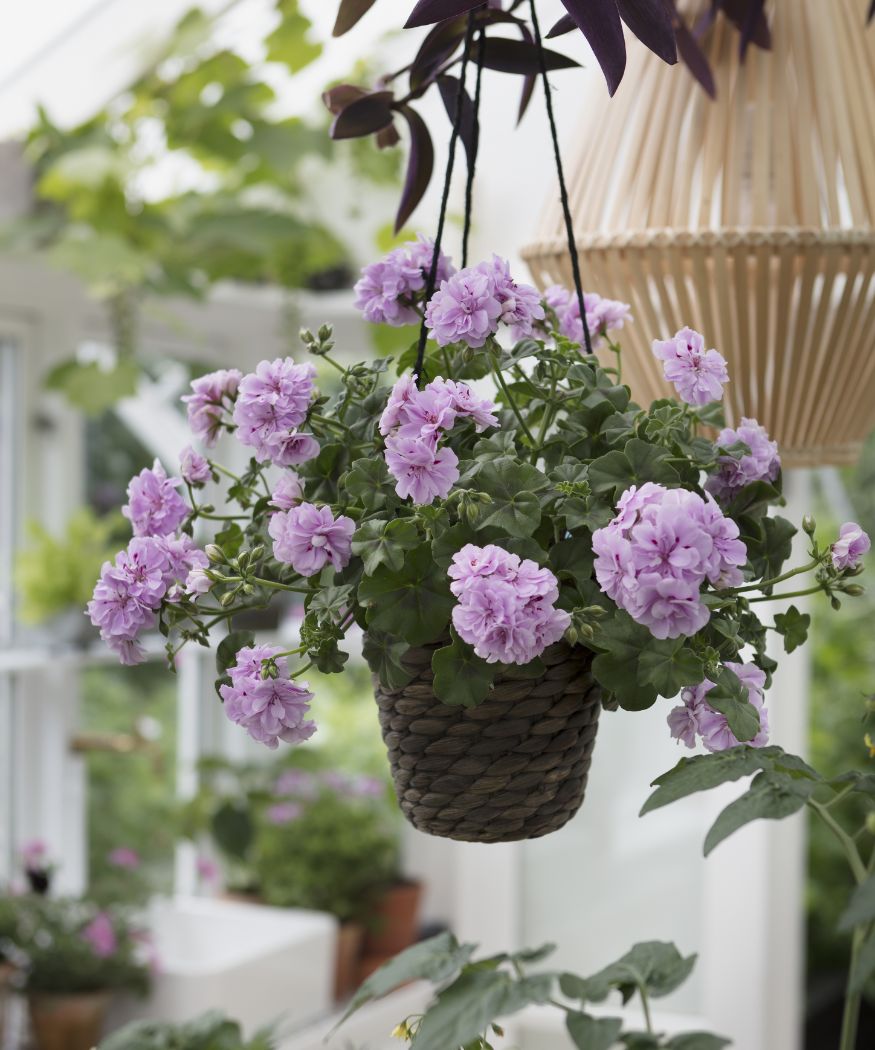 Floating flower magic: Hanging baskets and other hanging containers with geraniums
In this article we tell you:
Which hanging baskets are available
Which geraniums you can plant in hanging baskets
What to look out for when planting and hanging geraniums in hanging baskets
How to properly care for geraniums in hanging baskets
We also have four fantastic DIY ideas for hanging baskets to show off your geraniums.
What are hanging baskets?
A hanging basket is a closed pot that is planted from above and then hung. Hanging baskets come in different sizes and are made of different materials.
A sphere hanging basket is a hanging basket made of wire mesh or rattan that you plant all around.
If you do it correctly, in a short time you will have a ball of flowers that completely covers the basket.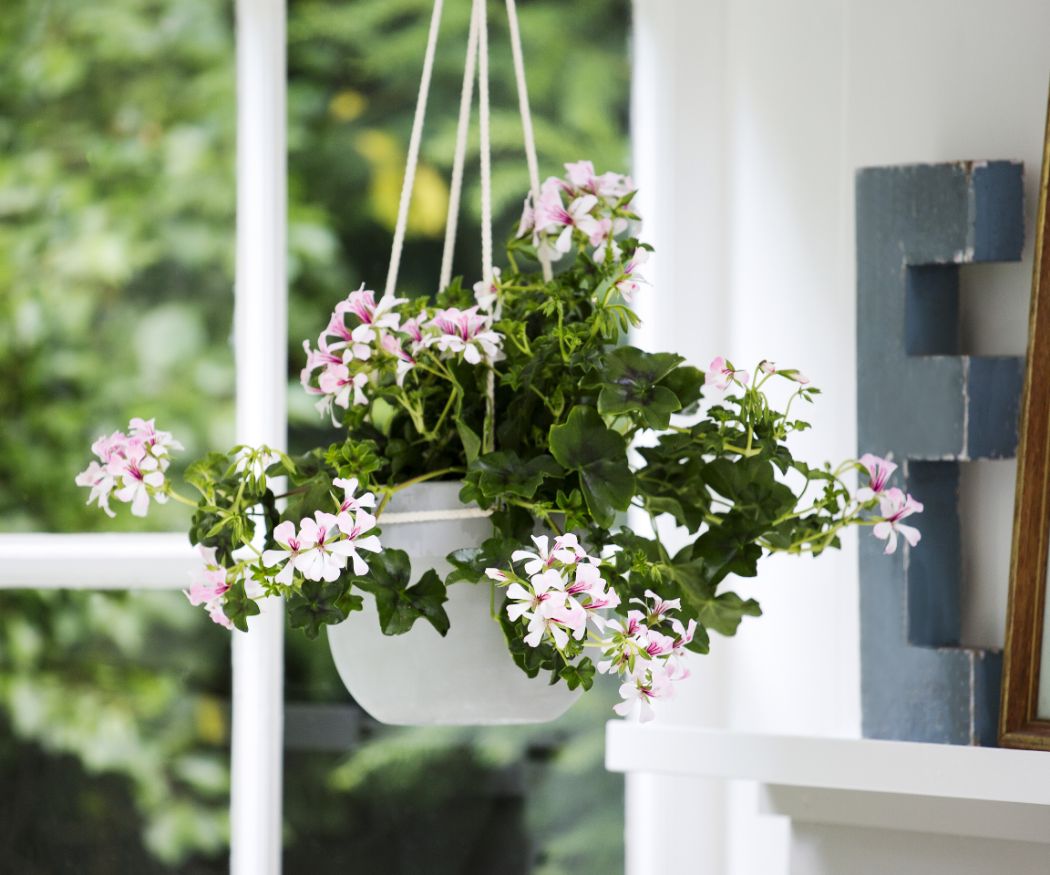 Which geraniums can you plant in hanging baskets?
In principle, you can plant all types of geraniums in hanging flower pots. Hanging geraniums (also known as Pelargonium peltatum) are particularly suitable.
They have lots of flowers and their shoots grow up to 1.5 metres long. There are also self-cleaning varieties of hanging geranium.
Their flowers fall off by themselves, so you don't have to clean them out.
This is very practical, especially for hanging baskets! 😊
In low-hanging baskets, standing geraniums, scented geraniums, butterfly geraniums or noble geraniums look beautiful.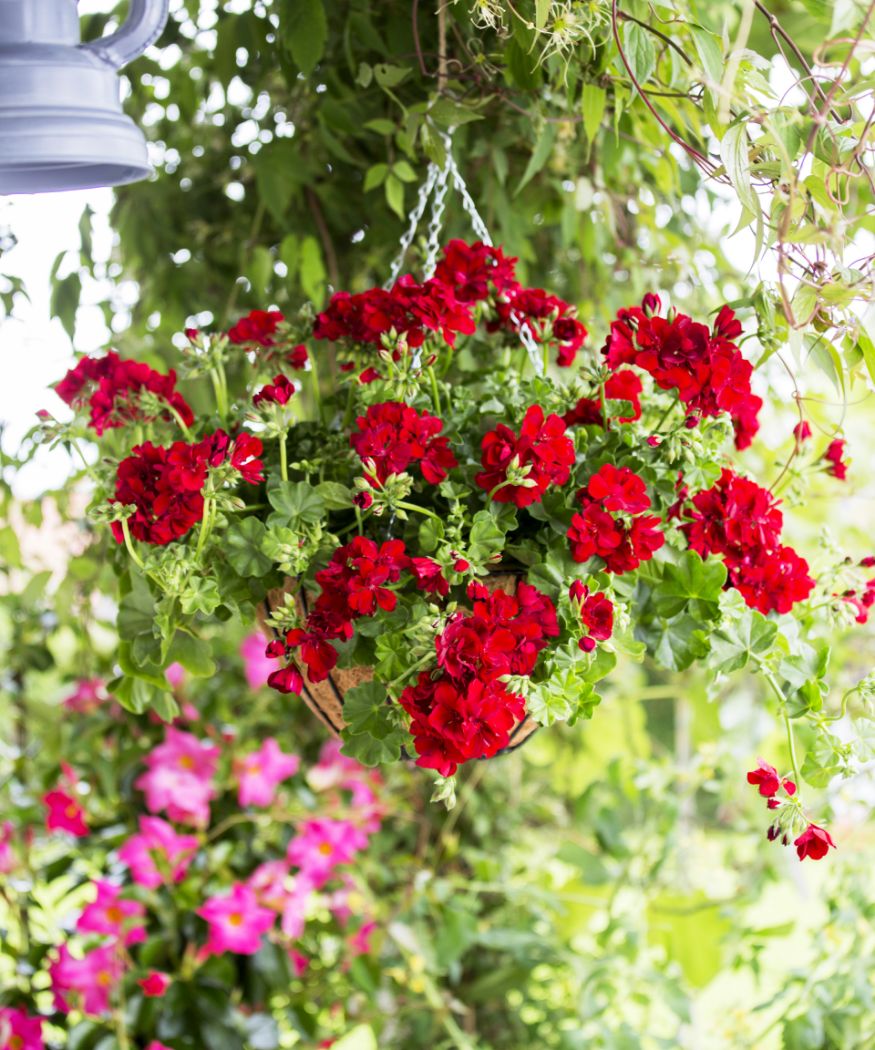 Tips for planting hanging baskets with geraniums
Make sure that the hanging basket is large enough and at least 18 centimetres deep. A container with a diameter of up to 20 centimetres is sufficient for one geranium.
Leave a minimum distance of 20 centimetres between the geraniums.
When planting larger hanging baskets with several geraniums, place upright plants in the centre. Hanging plants belong on the edges or sides.
Make sure there is sufficient drainage.
Use good potting soil and leave a watering margin of two centimetres.
Detailed tips on planting geraniums can be found here.
Extra tips for planting hanging baskets:
First line open hanging baskets with air- and water-permeable material so that the soil does not trickle out. Moss, coconut matting or mulch fleece are suitable for this purpose.
If you also line the basket with a sheet with holes in it , the water will not run off so quickly.
Plant hanging geraniums at the bottom and on the sides of your hanging basket. To be able to insert them from the outside through the mesh, cut holes in the liner. Then carefully push the root balls through. You may have to reduce the size of the root balls so that they fit through the lattice. Be careful to keep the roots intact.
Once the basket is filled with plants from the bottom and sides, fill it with soil. Make sure all the root balls are covered.
Now plant the geraniums on top. First the standing geraniums in the middle, then the hanging ones around the edges. Fill the basket with soil, hang it up, water it and you're done!
Care tips for hanging geraniums
Hang the container in a sunny to semi-shady place. The less wind, the better. A hook on the ceiling, a branch or a bracket on the wall are suitable for hanging.
Choose a place where dripping water is not a nuisance. If you don't have a suitable place, put a container for the dripping water under the hanging baskets.
Water your geraniums regularly. On hot days you should water them several times a day. In hanging containers, the water evaporates not only from the top but also from the sides. Too much effort? Get a hanging pot with a water reservoir!
Hanging baskets are not waterproof. Therefore you have to water them more often, but in small amounts.
Make sure that your geraniums get enough nutrients. You can find more information about fertilising geraniums here.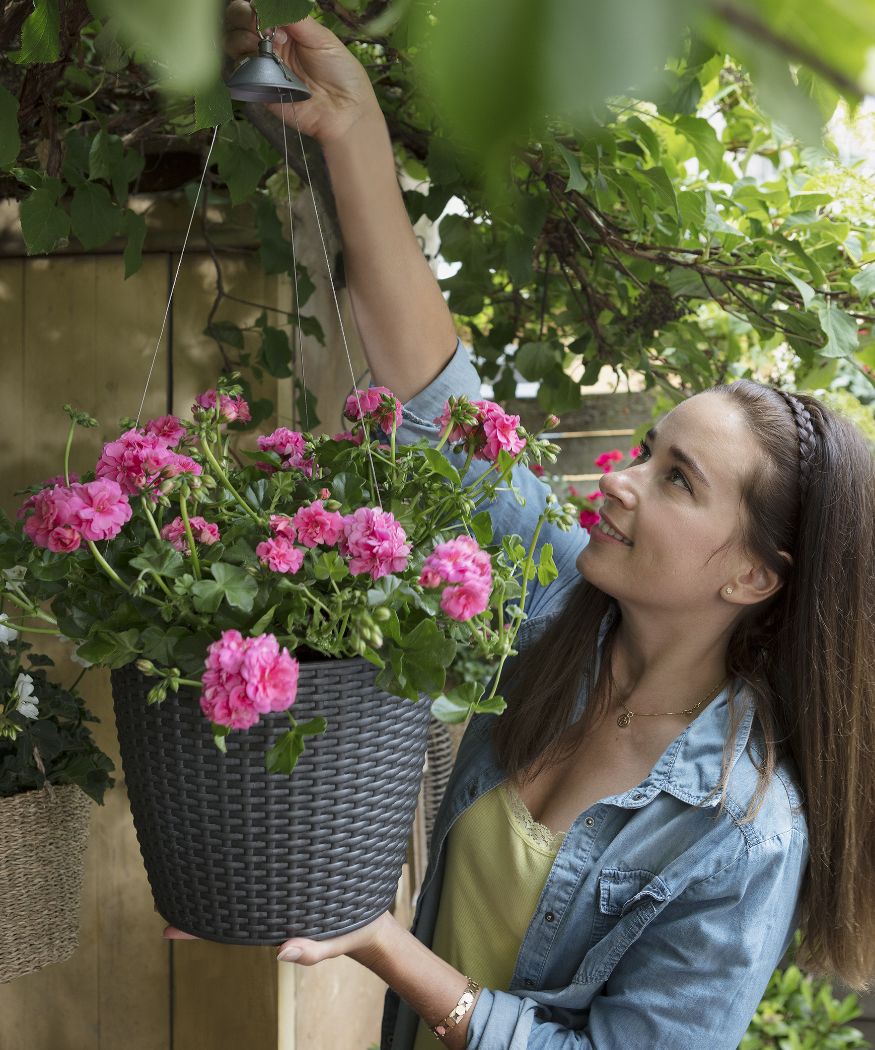 Regular pruning ensures plenty of flowers. Don't have the time or the inclination? Then it's best to use self-cleaning geraniums.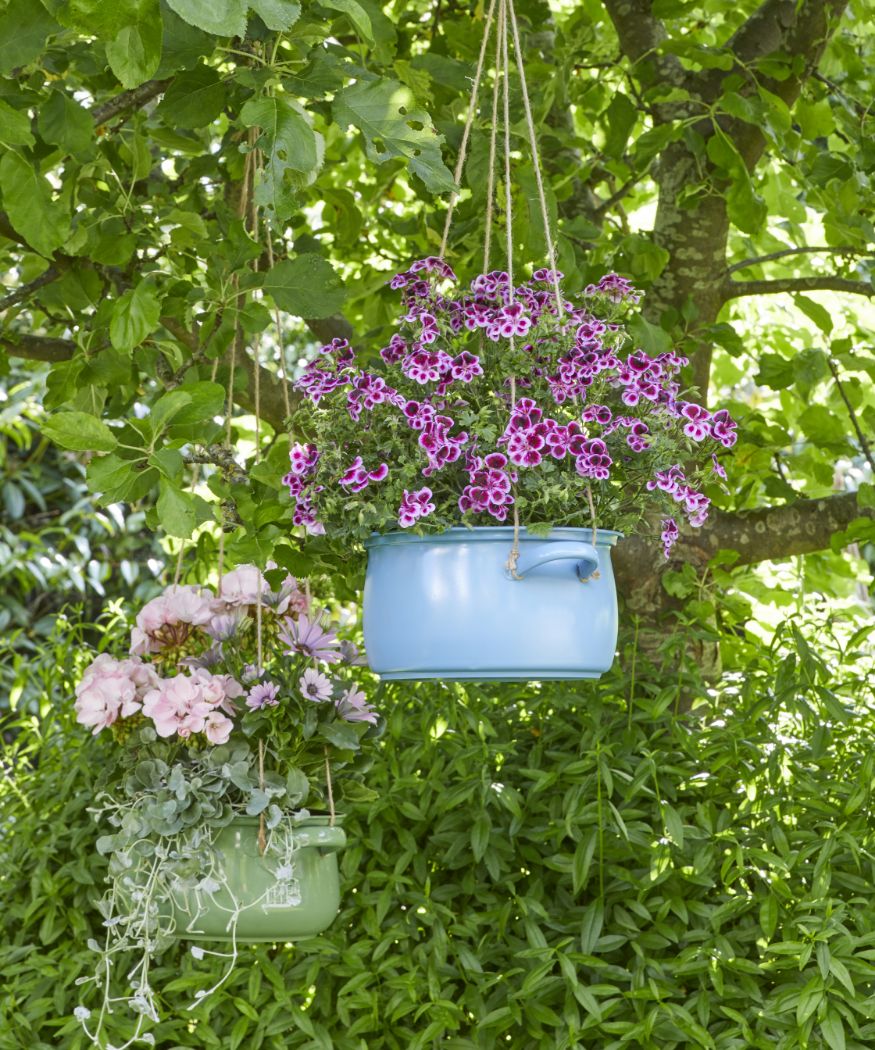 4 DIY ideas for hanging containers with geraniums
Idea 1: Upcycling geranium baskets from old cooking pots
For these colourful upcycled geranium hanging baskets you'll need old cooking pots, ideally with handles, waterproof spray paint and sturdy jute twine. You will also need a drill to make drainage holes in the pots.
If the pots are large enough (more than 20 centimetres in diameter), you can add another sun-loving plant to accompany the geranium.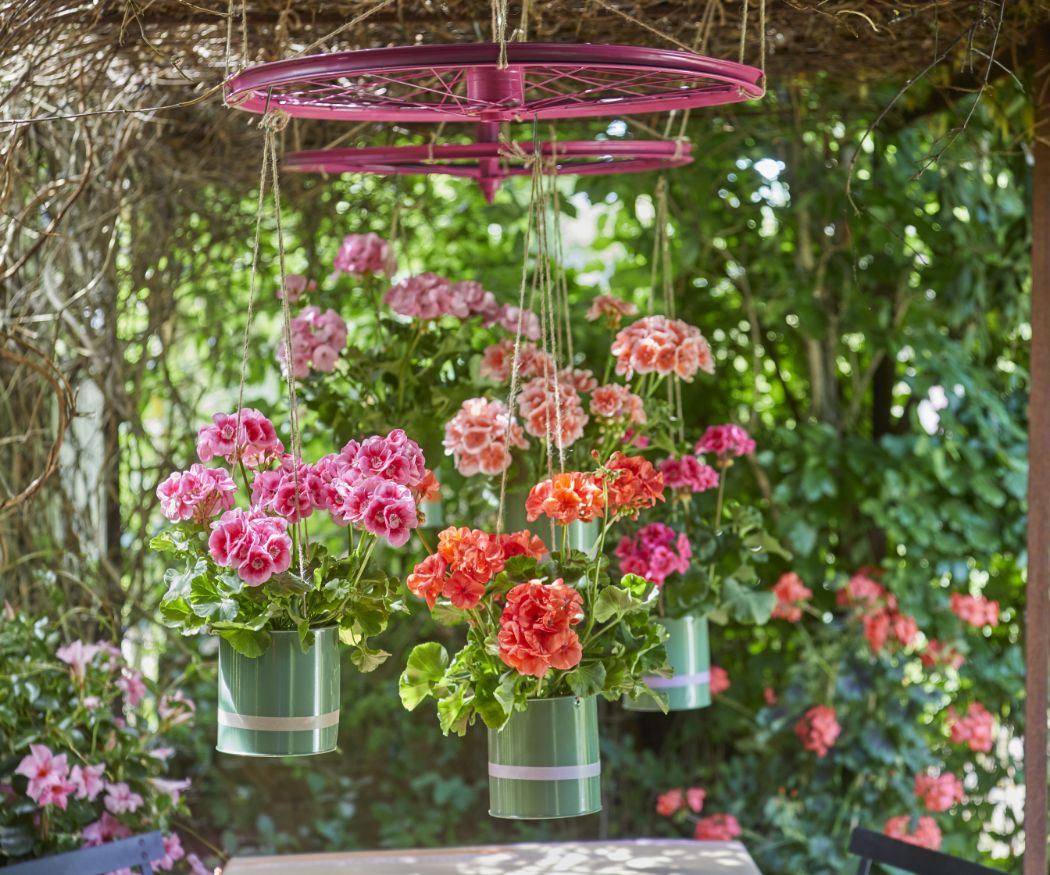 Idea 2: Upcycling flower canopy with geraniums
With this DIY upcycling idea, you can create a whole sky of colourful geraniums in no time at all!
Paint old bicycle wheels in the colour of your choice, attach them to the ceiling with jute twine and hang flower pots from them. Easy-care geraniums in different colours ensure maximum flowering.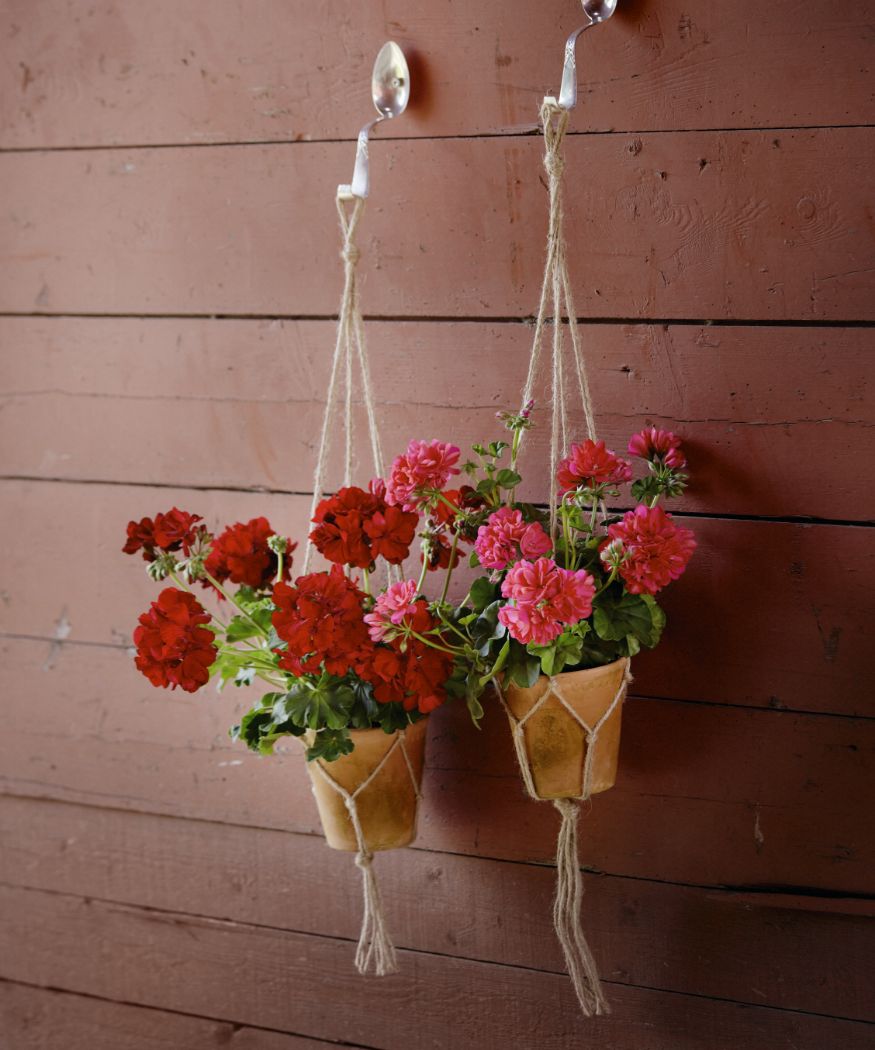 Idea 3: Macramé hanging baskets on upcycled wall hooks with geraniums
For this upcycled wall decoration in a boho style you will need geraniums, macramé hanging baskets, old spoons, pliers and a drill.
Use the pliers to bend the handles of the spoons upwards so that a hook is created like a coat rack. Tip: The bend is not created directly at the point of attachment of the pliers, but usually a little above. So place the pliers in the lower third of the spoon, rather than in the middle.
Then drill a hole in the middle of the spoon shell. Attach the DIY hook to the wall with a nail or dowel and screw. Now hang the macramé hanging basket with the flowering geranium in it.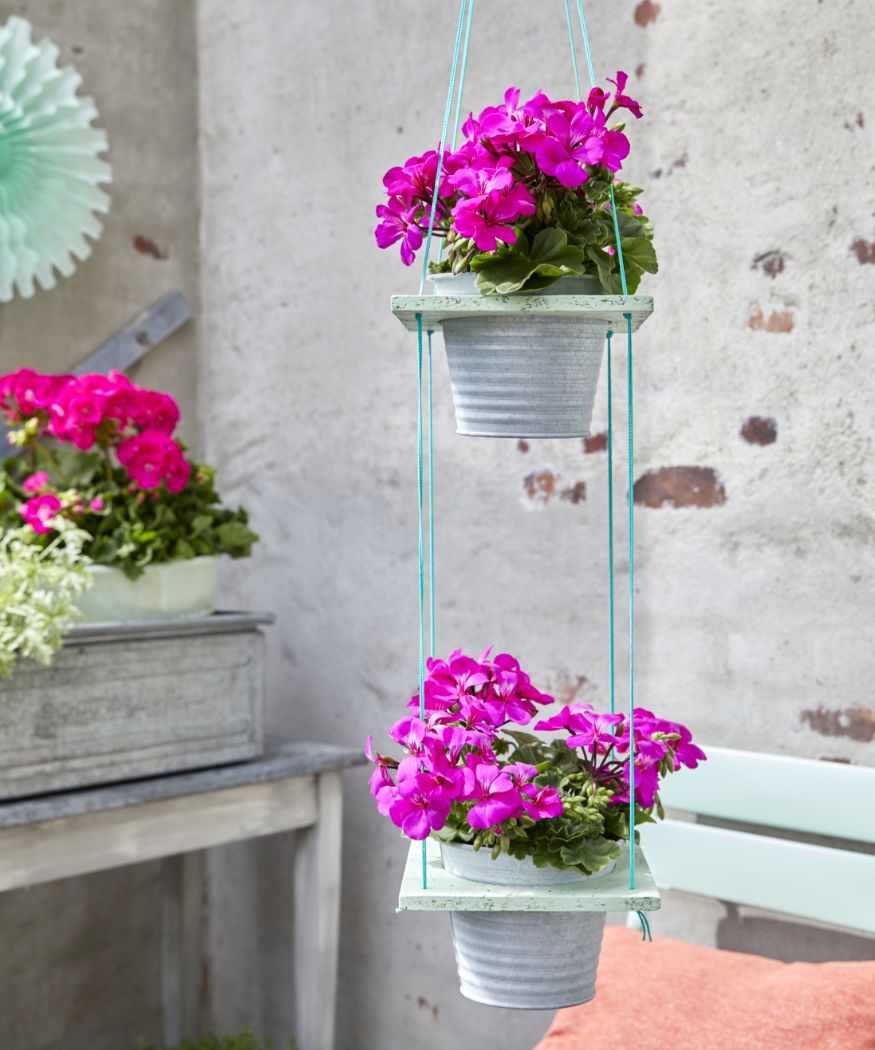 Idea 4: Double-storey DIY geranium traffic light
This two-storey DIY swing with recessed geranium pots adds a touch of colour at lofty heights and fits on even the smallest city balcony.
You'll need two metal plant pots , two square wooden discs with holes and circular recesses, spray paint, sturdy string, a sewing needle, scissors and geraniums in the colour of your choice.
You can find detailed step-by-step instructions here.