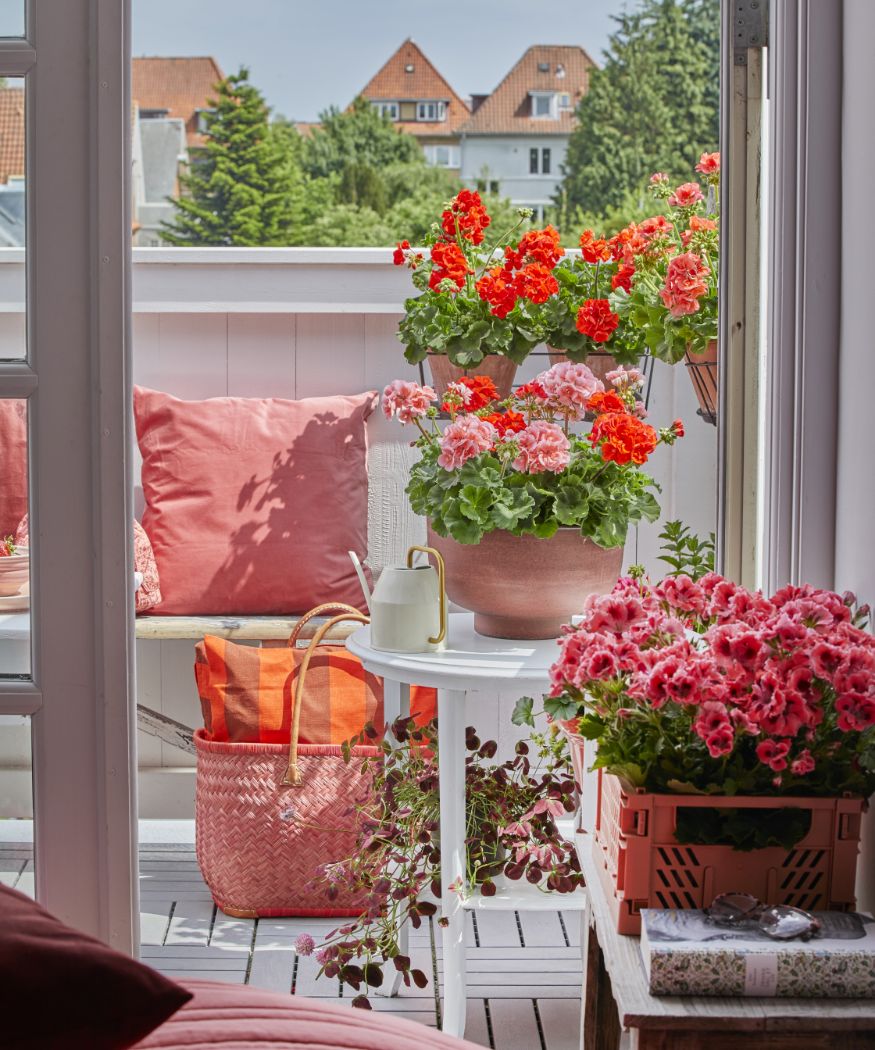 As summers get longer and warmer, life in our latitudes is increasingly moving outdoors. The outdoor living trend continues and has recently been reinforced by the Coronavirus pandemic. Balconies, terraces and gardens are increasingly becoming outdoor living spaces that are just as lovingly and meticulously decorated as interiors. Gone are the days when all outdoor furniture consisted of an unadorned set of plastic chairs. Stylish outdoor furniture and tasteful accessories dominate modern outdoor areas, encouraging you to relax. Plants and flowers also contribute a lot to the perfect feel-good ambience.
Colourful geraniums are the first choice for sunny to semi-shady locations. They give off a cheerful summer vibe and provide a sea of blooms from spring to autumn, with little maintenance required. The experts from Pelargonium for Europe show you how to create flowering outdoor living spaces with geraniums.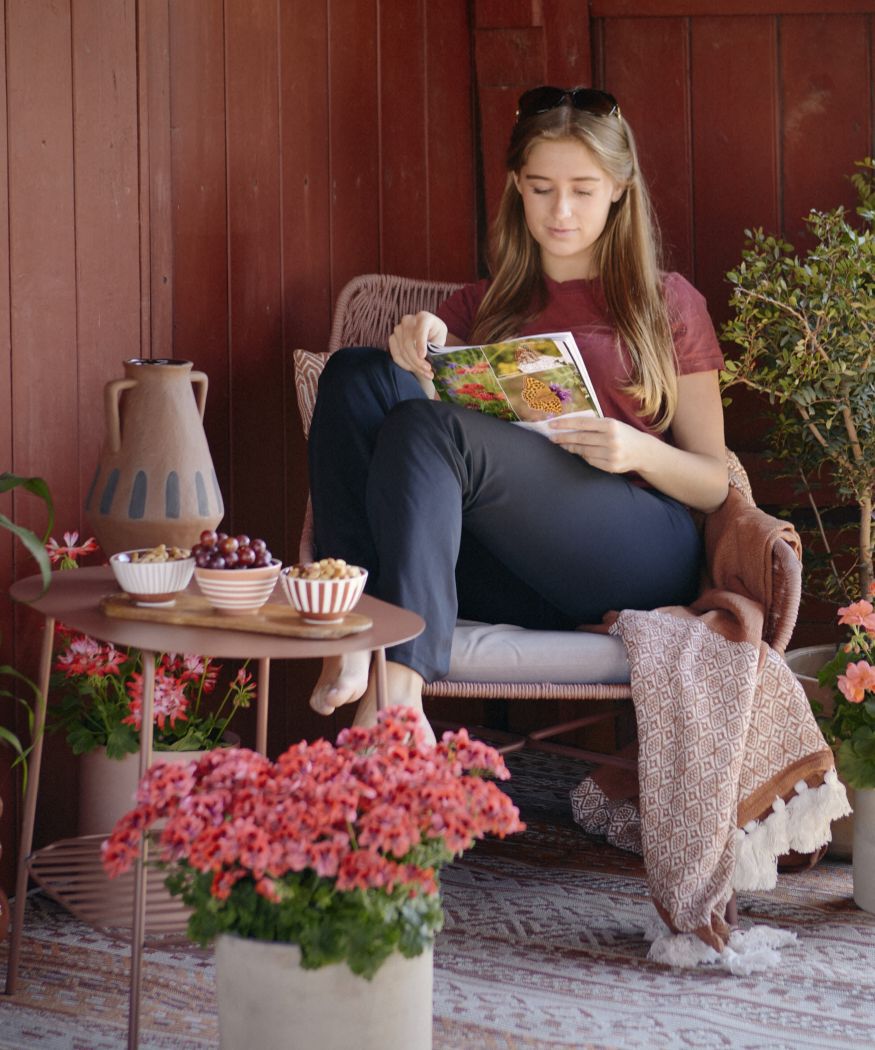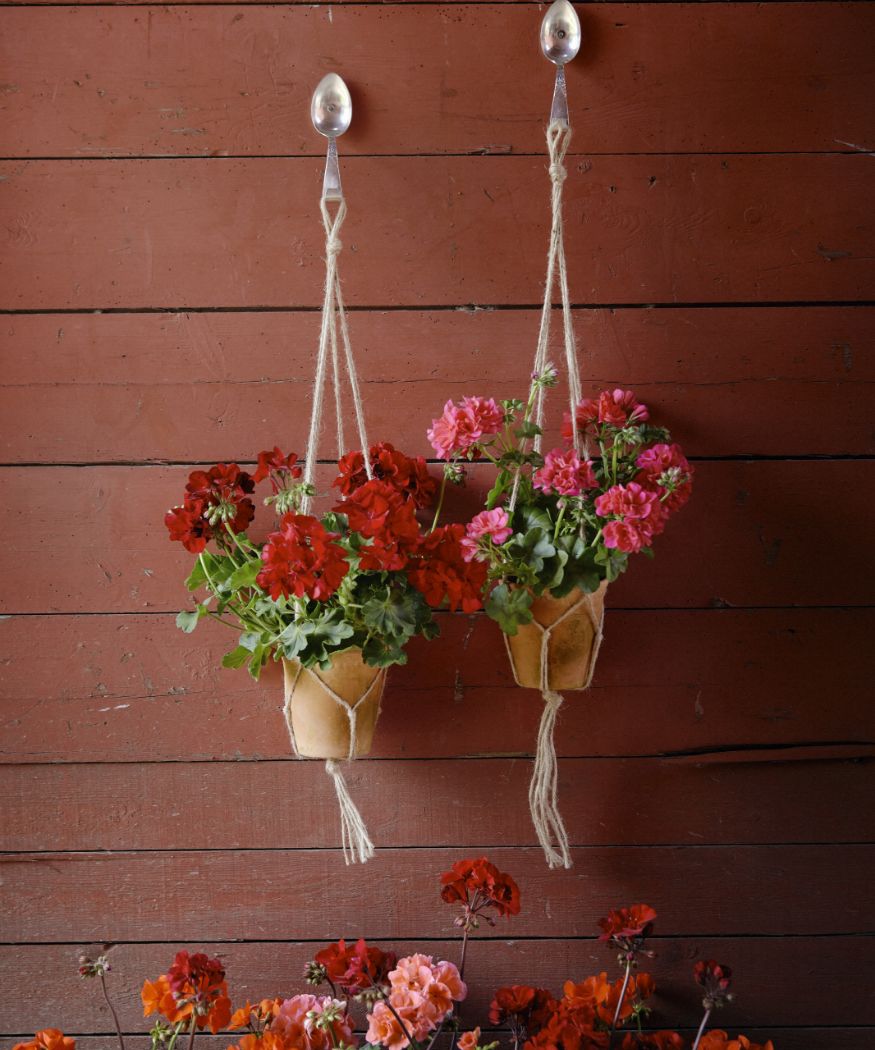 Comfortably warm: flowering outdoor havens with the cosy factor
The more time you spend outdoors, the more important it becomes to have a beautiful design for your alfresco areas. Warm tones dominate this sheltered outdoor lounge area which is just as cosy as an indoor living room, with its stylish rug, cosy armchair, slender side table and carefully chosen accessories. In front of the terracotta-coloured wooden wall, simple, light-coloured planters beautifully highlight the flowering geraniums. A small olive tree enhances the Mediterranean feel.
Carefully picked pieces, such as these macramé geranium hanging planters on homemade teaspoon wall hooks, echo the latest boho and upcycled living and furnishing trends and give this feel-good, outdoor space an unmistakable character. In hanging baskets, trailing geranium varieties are particularly beautiful because of their long shoots. Among the peltate (shield-like) geranium varieties, you will also find self-cleaning types that are especially easy to care for because they don't need deadheading.
As part of the outdoor living trend, no suitable outside space goes unused, as this sunny rooftop chill-out zone shows.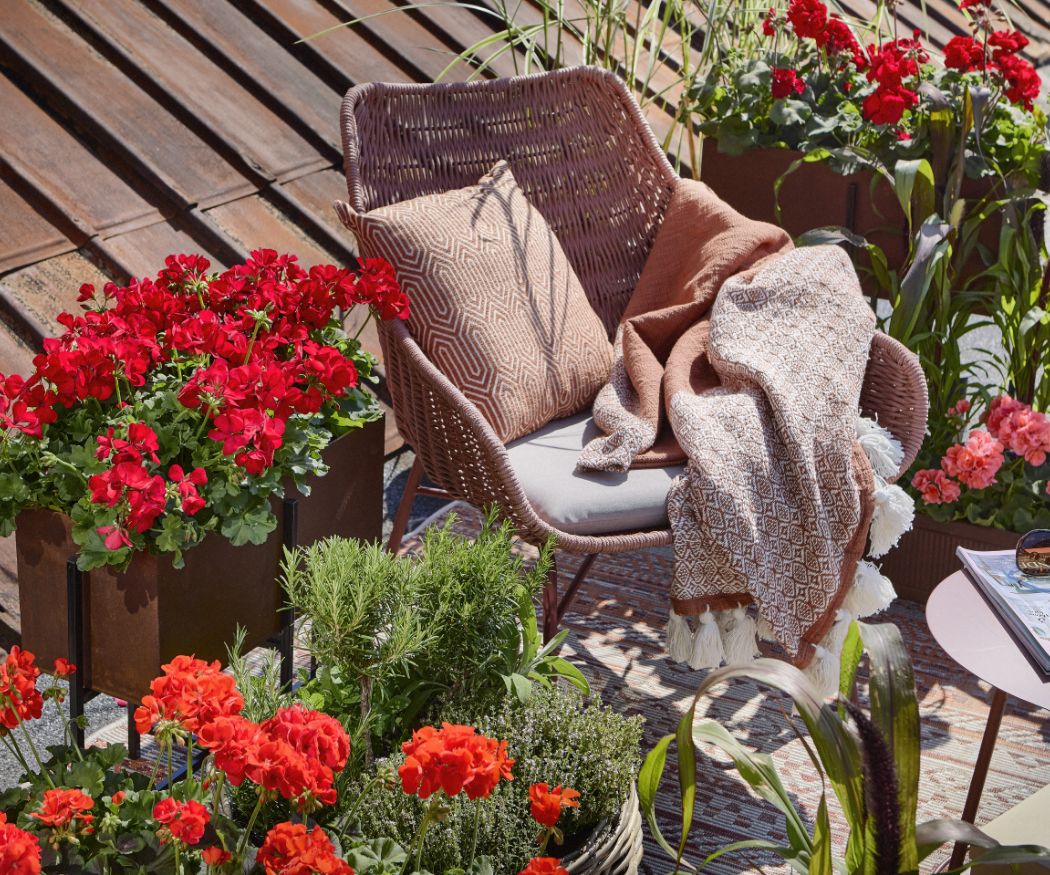 With a cosy blanket and a soft cushion, the comfortable wicker chair provides the perfect setting for a little time-out from everyday life. Easy-care geraniums in bright red create a cheerful summer vibe, while Mediterranean herbs give off their delicious scent. Summer couldn't be better.
Good mood guaranteed: summery, colourful, feel-good terrace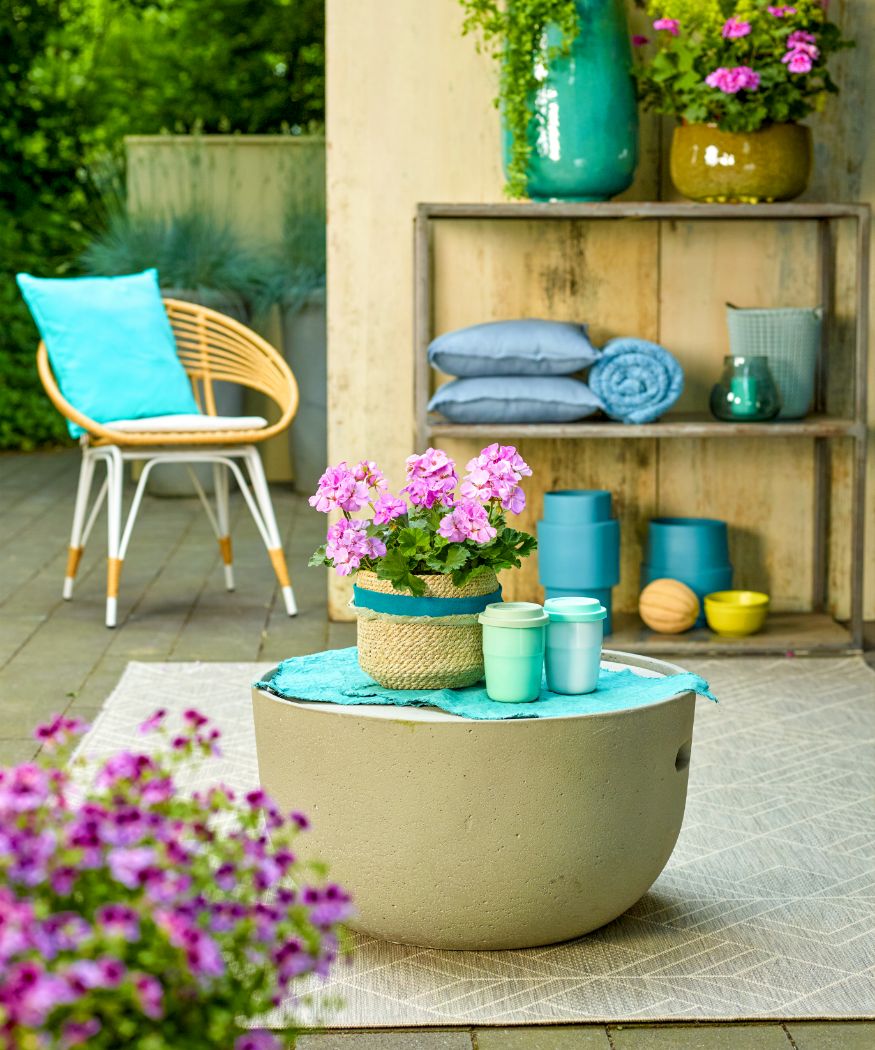 Plants, outdoor furniture and colourful accessories in blue, yellow, turquoise and pink turn this terrace into a cheerful, colourful, feel-good space that encourages you to sit back, relax and be happy when the weather is good. Next to the comfortable bench with colourful cushions, an outdoor rug, shelf and coffee table create a real living room feeling. Foliage plants and geraniums in a range of different colours in containers, pots and hanging planters provide a blaze of colourful blooms and positive vibes and help create a relaxing atmosphere.
The colours blue, yellow and turquoise are perfect for summer outdoor design. Yellow and blue cushions, lanterns and planters echo the colours of sun and sky and create a mix of colours that is both contrasting and harmonious.
The blend of green and blue that makes up turquoise creates a connection between the green of the plants and the blue sky, and produces a perfectly balanced ensemble that is refreshing, invigorating and relaxing at the same time. In vibrant pink, this beautiful geranium adds a bright splash of colour and creates a summer atmosphere of cheerfulness and optimism.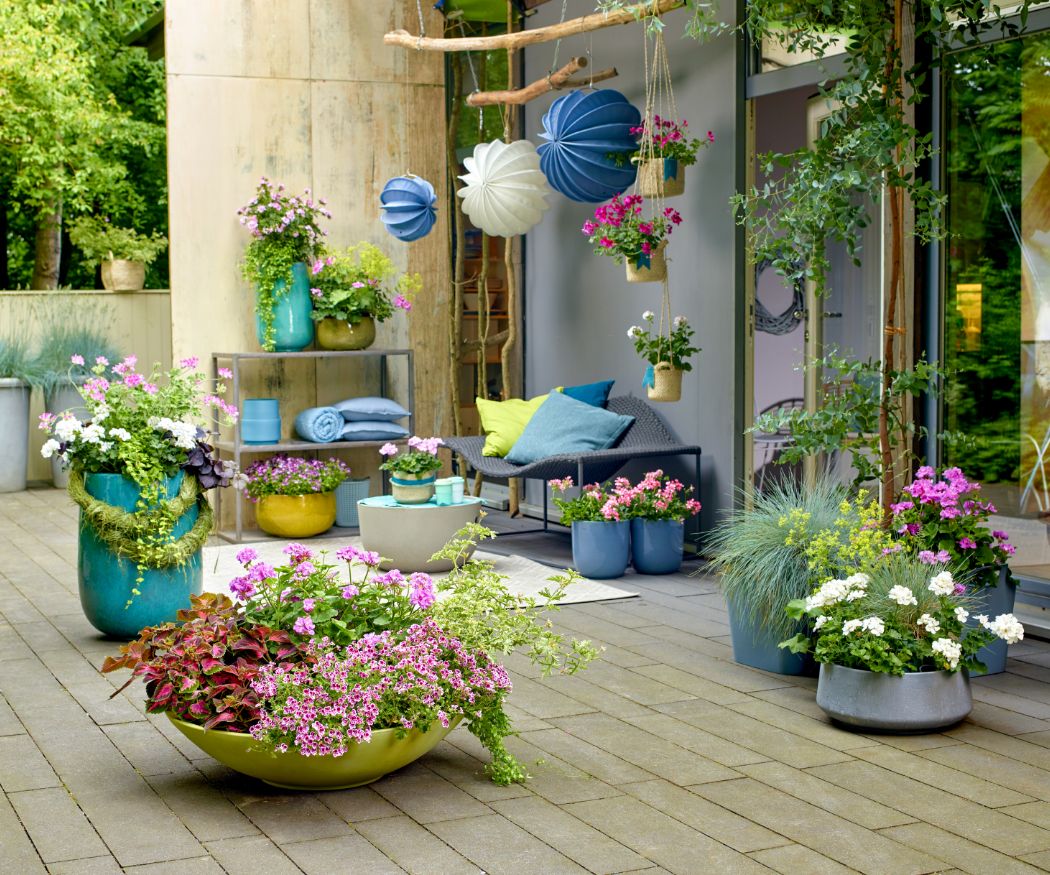 Blooming balcony oasis above the rooftops of the city
With plants, outdoor furniture and decorative accessories, an urban balcony offers valuable additional living space and allows city dwellers to enjoy fine summer days at home while still being out in the fresh air. Geraniums provide abundant blooms and a summer atmosphere. These diverse flowering beauties score highly with their bright colours and require very little care.
Deco tip: Hang on-trend headboard cushions from a plain white curtain rod mounted inside the balcony railing to transform simple wooden benches into a comfortable seating area.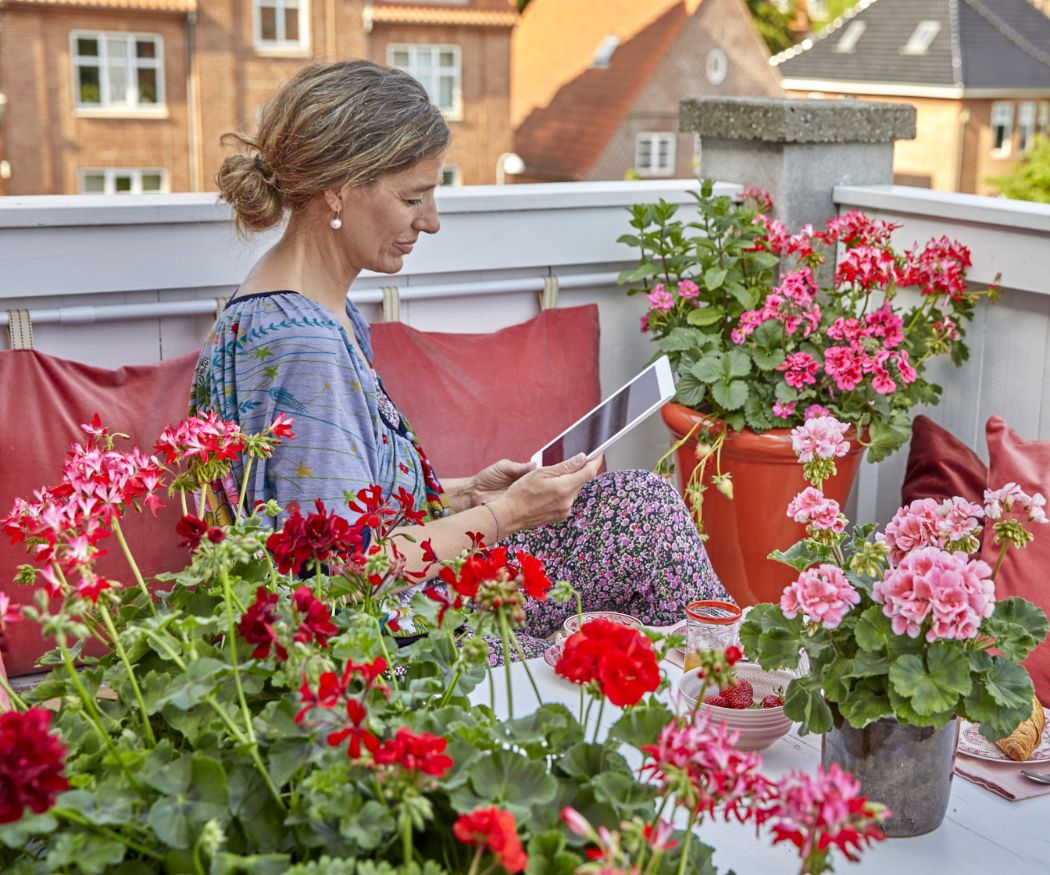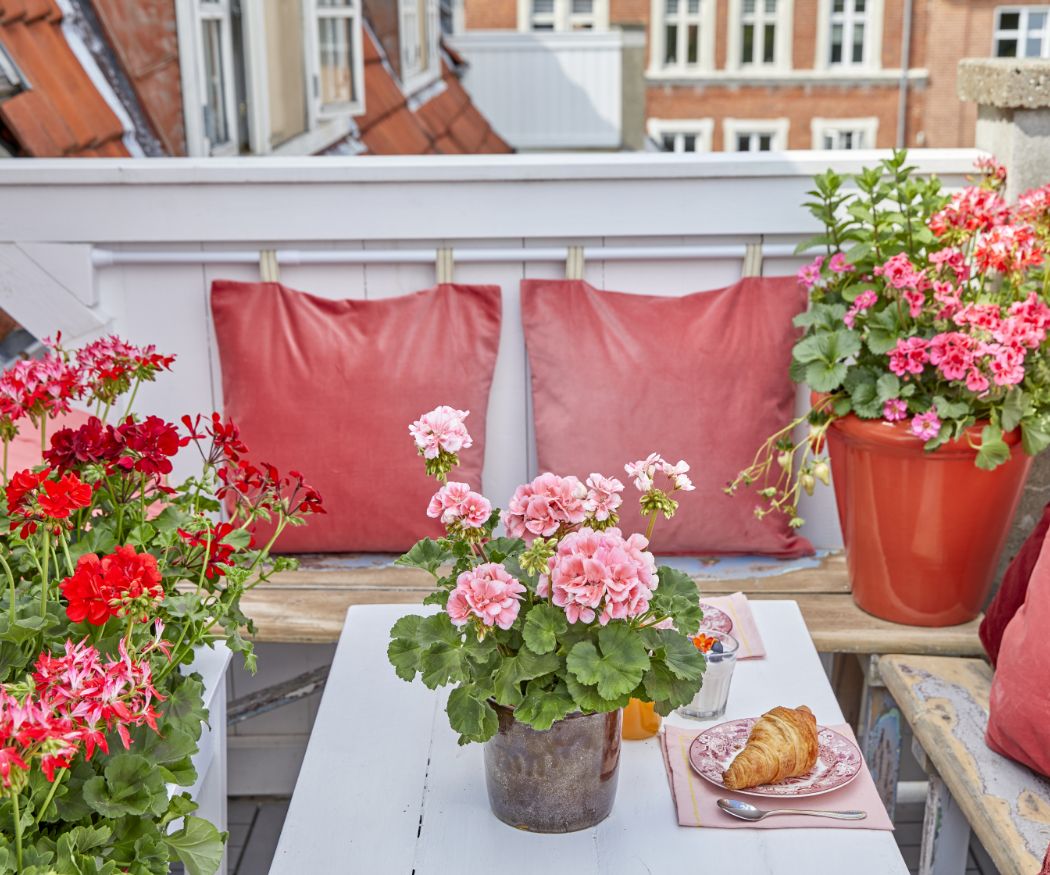 Seamless transition between indoors and outdoors
During the pandemic, many people spent a lot more time than before within their own four walls. Activities such as going out, meeting friends or going on holiday weren't possible or only to a limited extent and, instead of going to the office, people often worked from home. They weren't always able to enjoy the summer outdoors during this time, either because the weather didn't co-operate or because they had things to do in their house or flat. As a result, the view from indoors to outdoors became more important.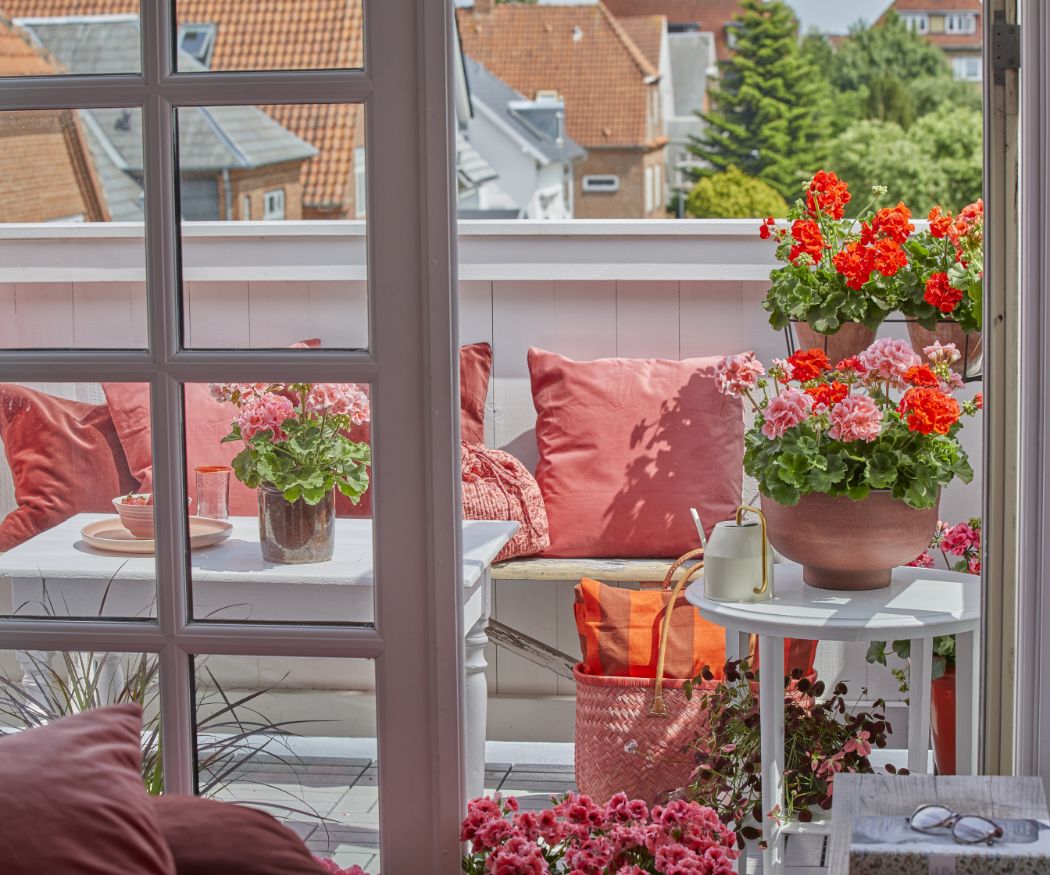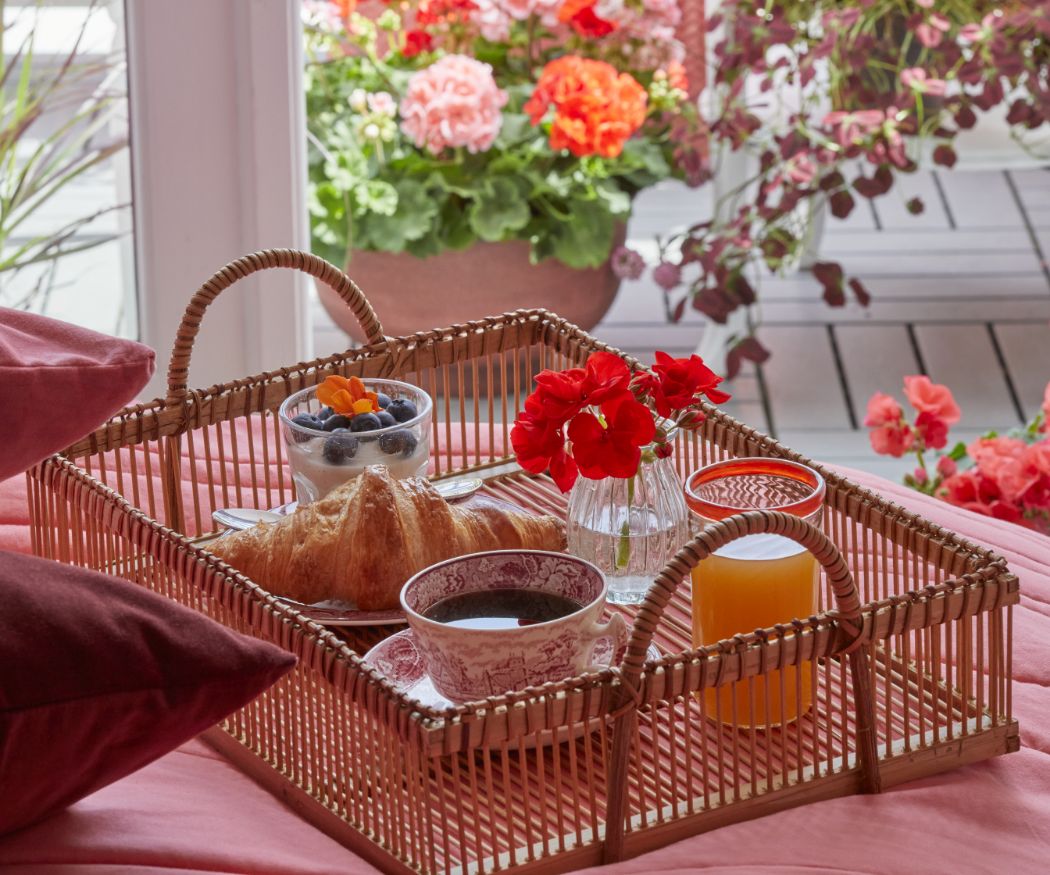 It's a real joy to look out from inside onto an inviting, well-designed outdoor space with tasteful furniture and accessories, as well as colourful flowering geraniums. And if you bring the summery feel of flowering geraniums indoors too, then your happiness will be complete. These kinds of seamless transitions between indoors and outdoors are very much on trend and, increasingly, are being deliberately staged. In summer, they blur the boundaries between inside and outside and bring a kind of holiday atmosphere to everyday life.
Tip: Noble geraniums and single geranium stems in a vase also bring a touch of floral beauty right indoors.
Here, it's not only the view of the water that makes looking outside a joy:
The beautiful geraniums in decorative wicker baskets also has a positive effect on your mood. Easy to care for and abundantly blooming, these popular summer flowers transform sunny outdoor areas into flowering feel-good spots that encourage you to relax and unwind.