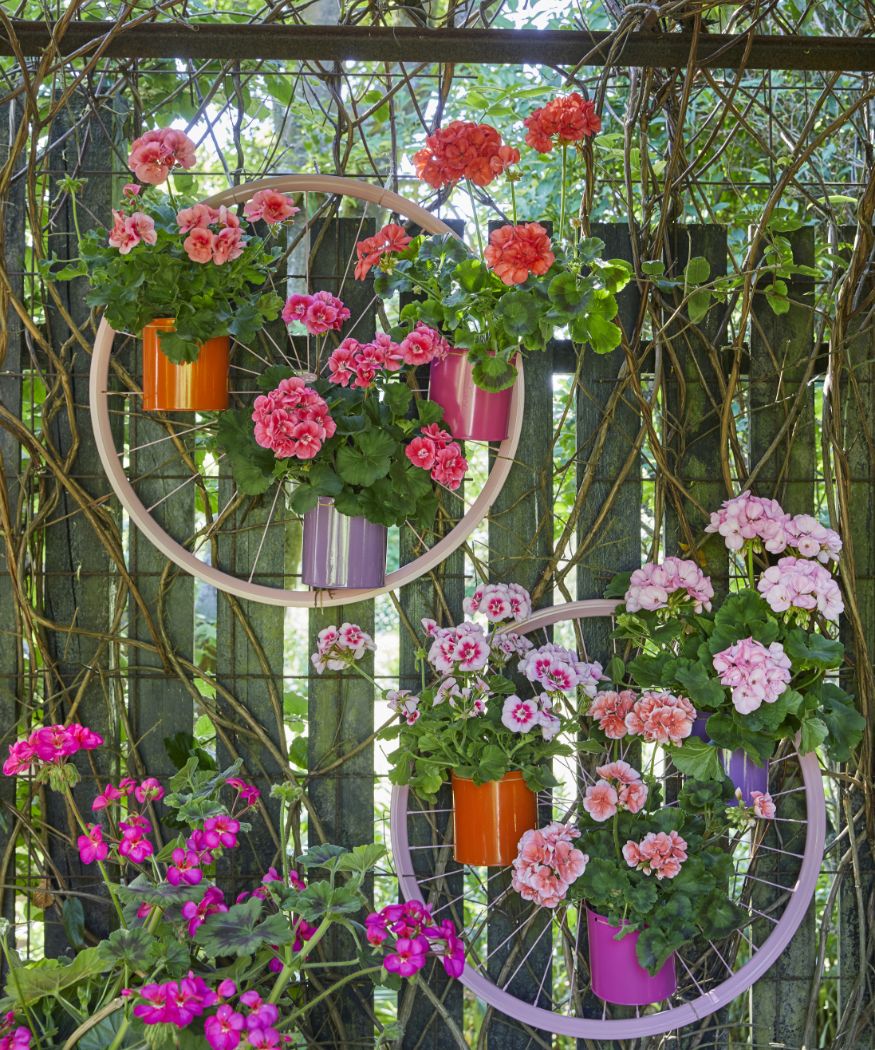 Unique, cheap, long-lasting. Creative upcycling ideas for geranium lovers.
Vertical gardens made from old bike tyres, hanging baskets in cooking pots, planters made from empty tins or DIY planters from used car tyres – the upcycling trend is still on the up and doesn't stop at gardens, terraces and balconies. Homemade décor from discarded items is unique, cheap and sustainable and is ideal for showing off plants and flowers. The deco-experts at Pelargonium for Europe show you creative upcycling ideas with geraniums, which give this easy-care, colourful plant a new look you can create in no time at all.
Floral makes with old wheels (and bikes)

There's hardly a shed that doesn't have an old bike lying around somewhere. But even if it's no longer roadworthy, it shouldn't simply be dumped. Disused bikes have lots of potential for floral upcycling projects, as the following ideas show.
Dinner in the garden under a canopy of flowers? No problem with this great DIY upcycling idea! Attached to a pergola with twine, colourfully painted old bike wheels are perfect for hanging flowerpots from. Go for easy-care geraniums in a variety of colours for maximum floral impact. Team with colourful cut geraniums as table décor.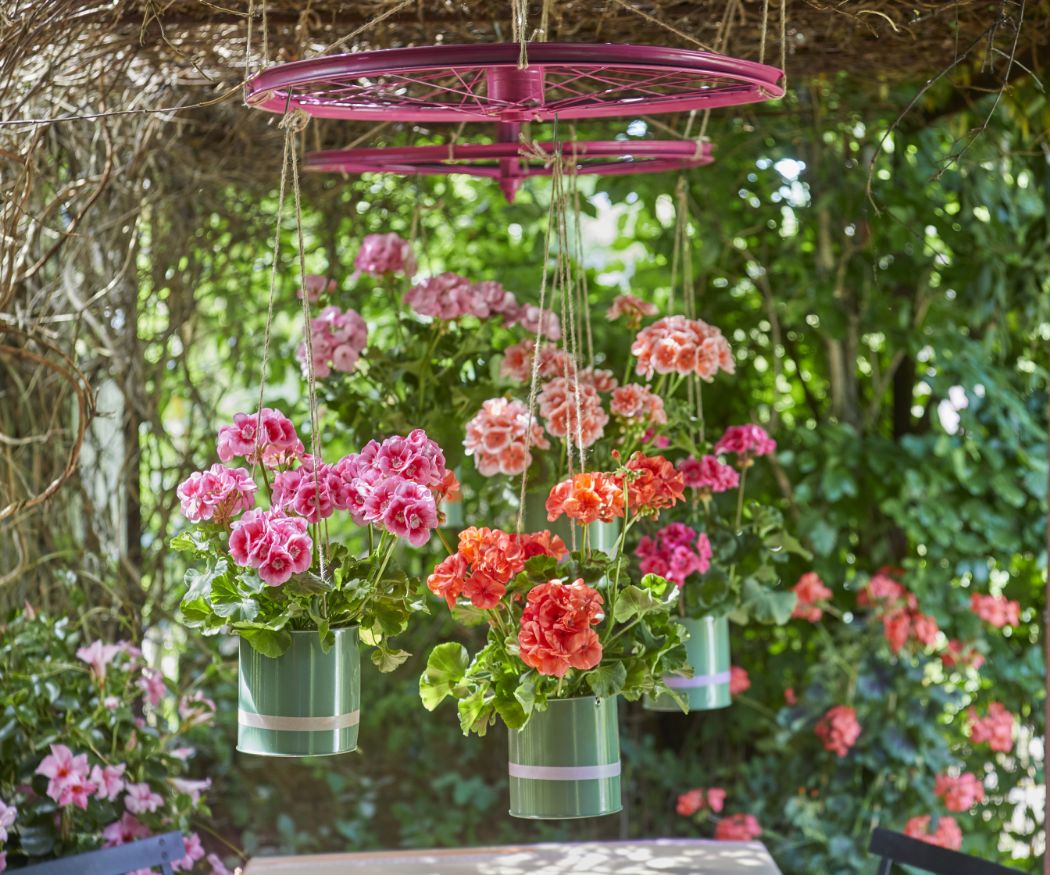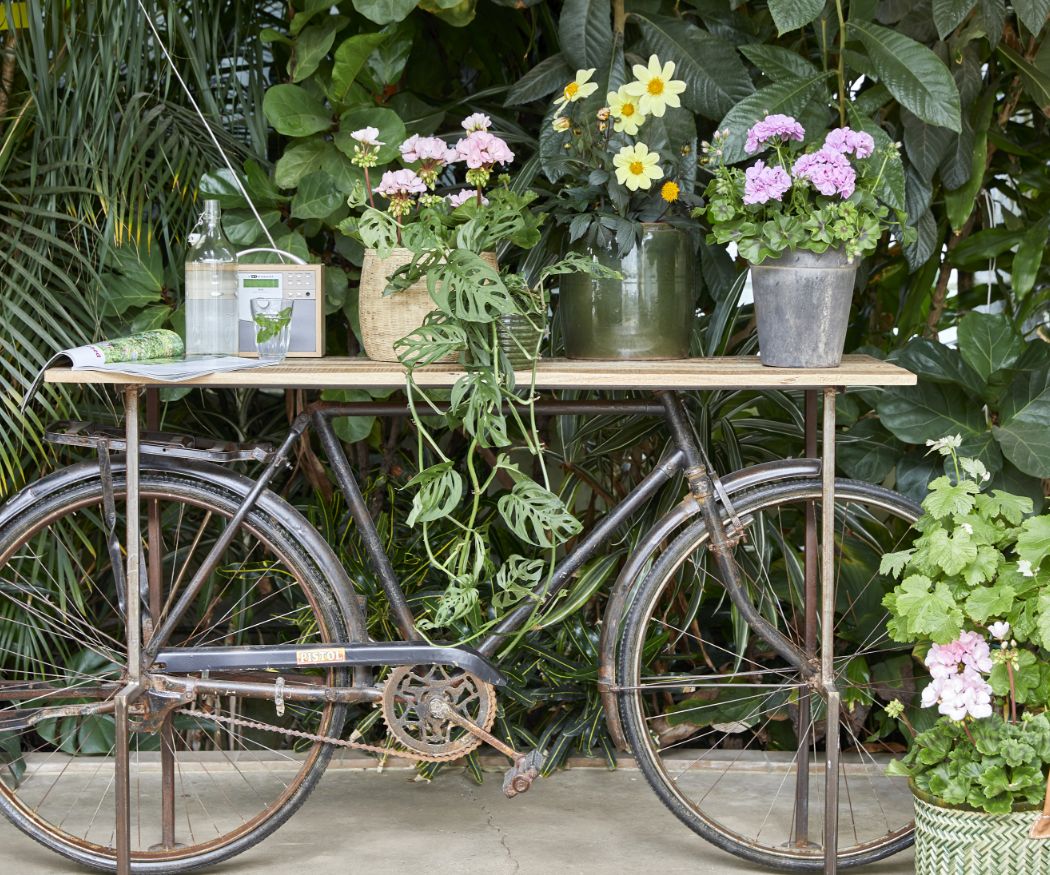 Bike wheels also work well as a homemade vertical garden. When hung on a wall, they make a quirky, eye-catching backdrop for colourful flower pots. Simply attach the pots to the spokes with wire. Flowering geraniums in various shades give a great show of flowers.
This final upcycling idea for old bikes calls for a little more skill: here, an old bike serves as a retro-style base for a garden counter. The simple wooden top provides plenty of space.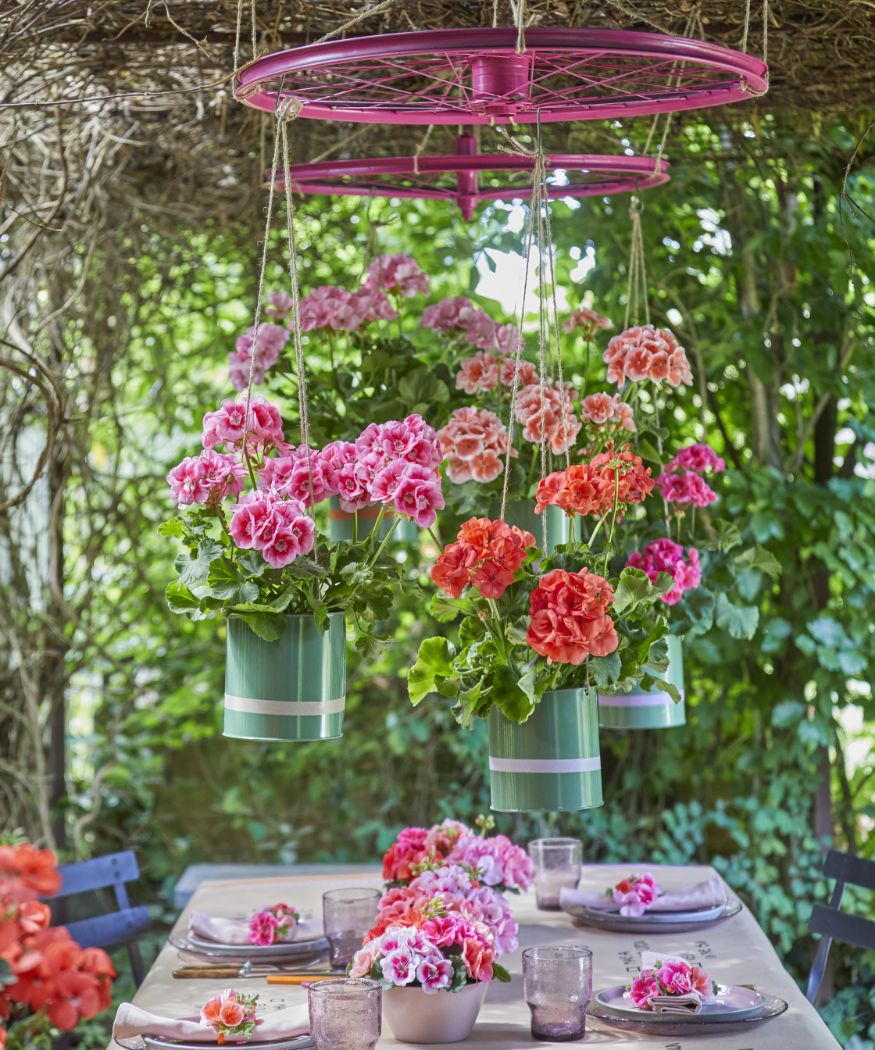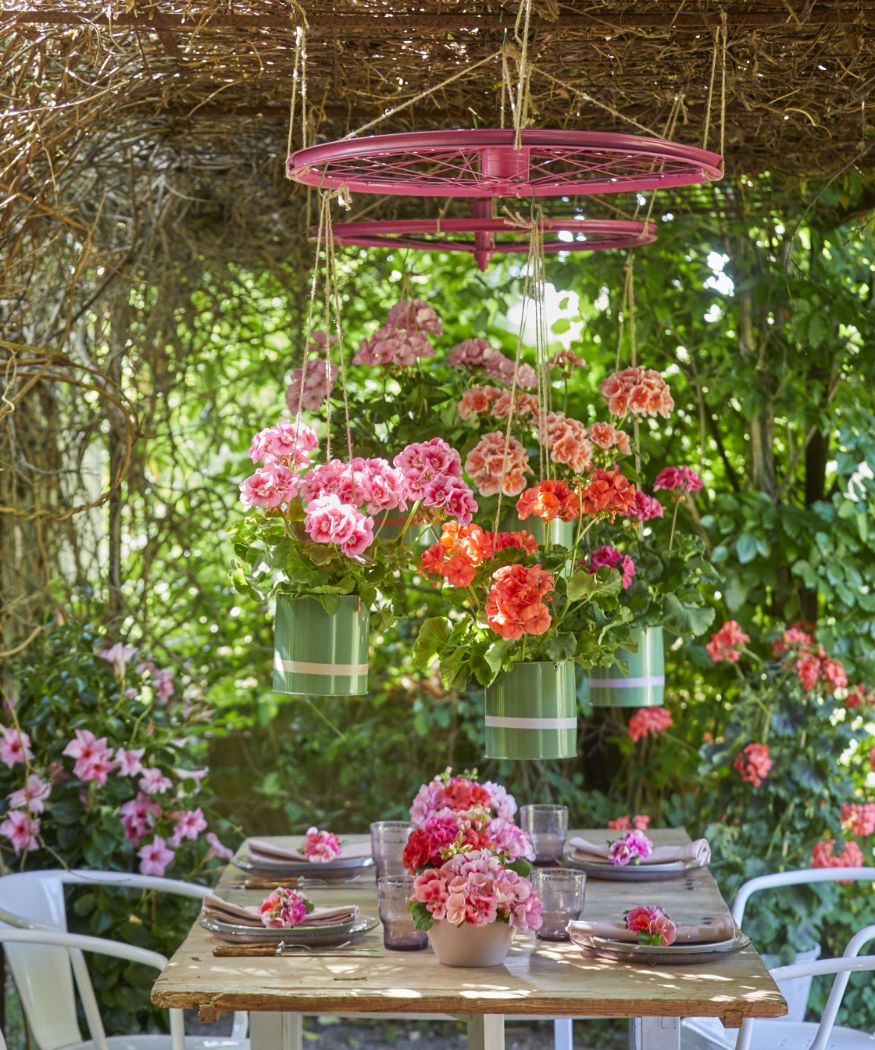 Geranium ideas in old tyres
Not just old bike wheels, but also used car tyres can be ideal for creating original upcycled garden or balcony designs. How about an alternative hanging basket in a single tyre? Simply hang it on a fence or wall and plant it up. Upright and trailing geraniums give a lush, long-lasting display. These classic summer flowers don't need much care so they're perfect for the less green-fingered.
Tip: Making drainage holes in the tyre will stop excess water from pooling.
Several tyres placed next to and on top of each other create an alternative city balcony planter for an on-trend upcycled look, filled with vivid geraniums and other flowering and green plants.
This upcycled planter is quick and easy to make yourself. As well as old car tyres, all you need is spray paint, a cordless screwdriver, screws and a circular chipboard base.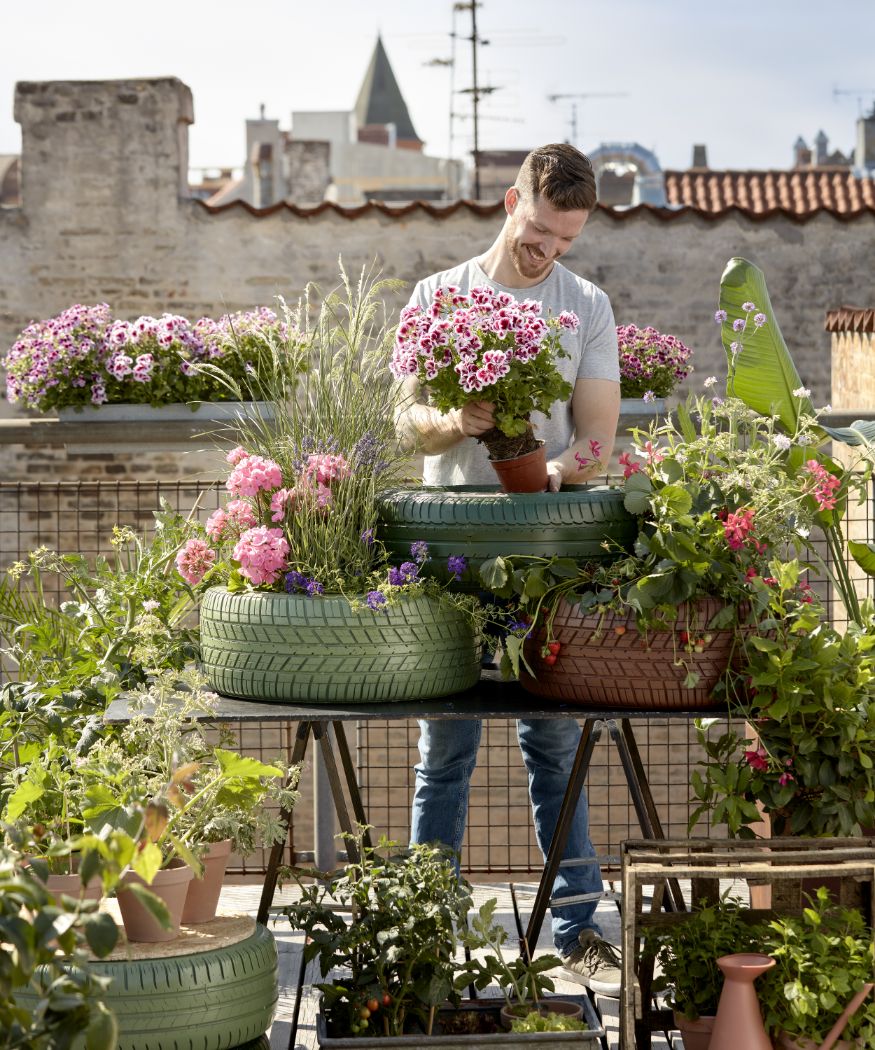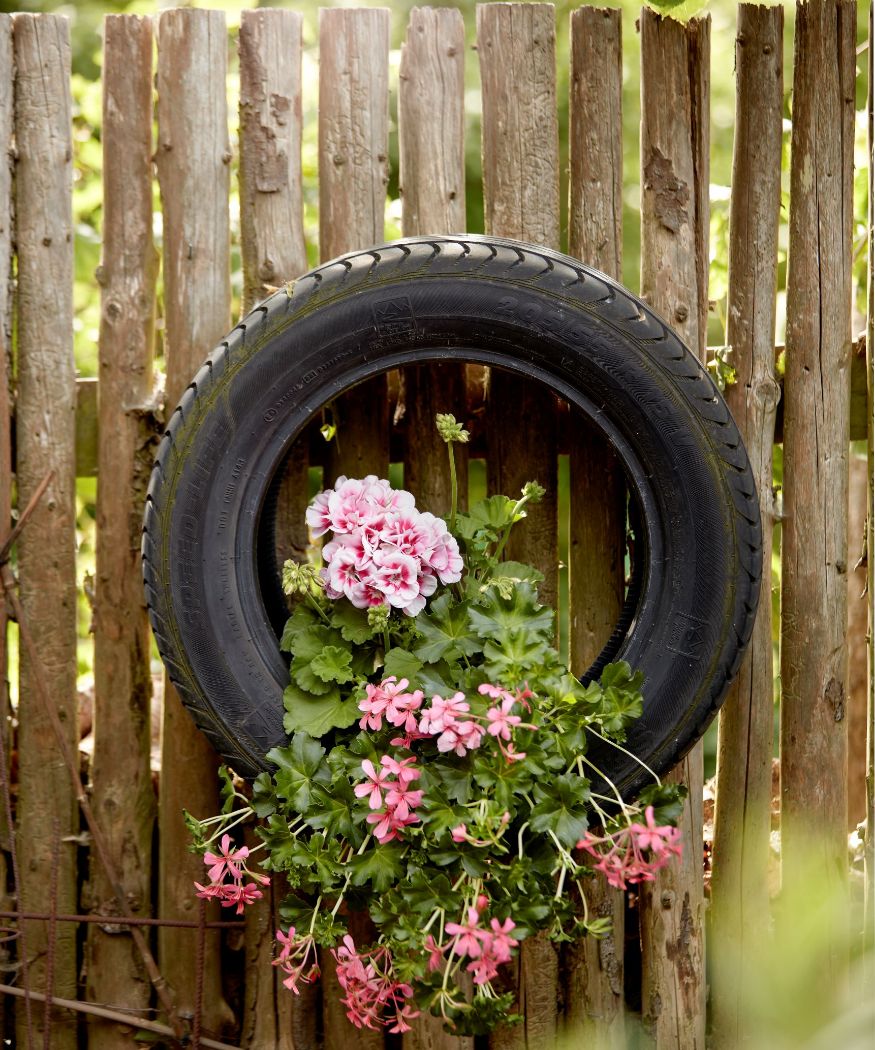 Instructions:
Step 1: First clean the tyres thoroughly to make sure the colour sticks, then spray with acrylic paint or flexible varnish. With pale colours, you may need several coats to cover the dark base.
Step 2: Use the cordless screwdriver to attach the chipboard to the inside of the tyre.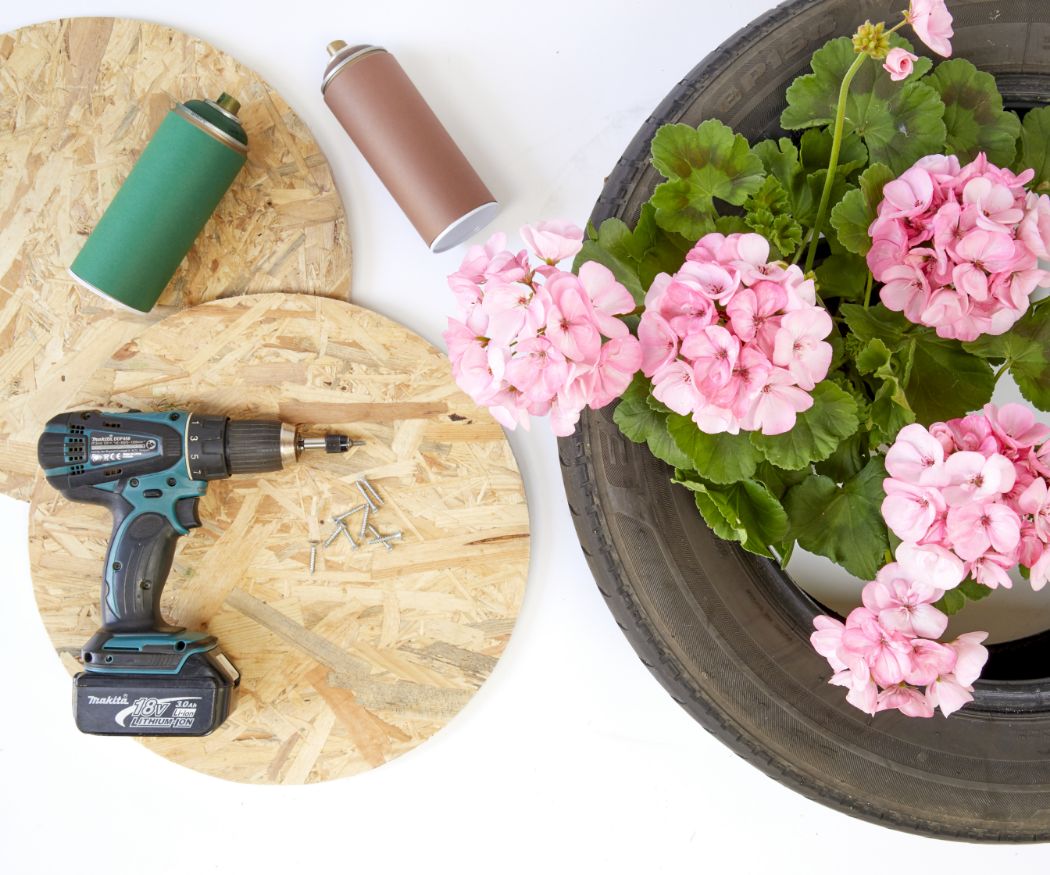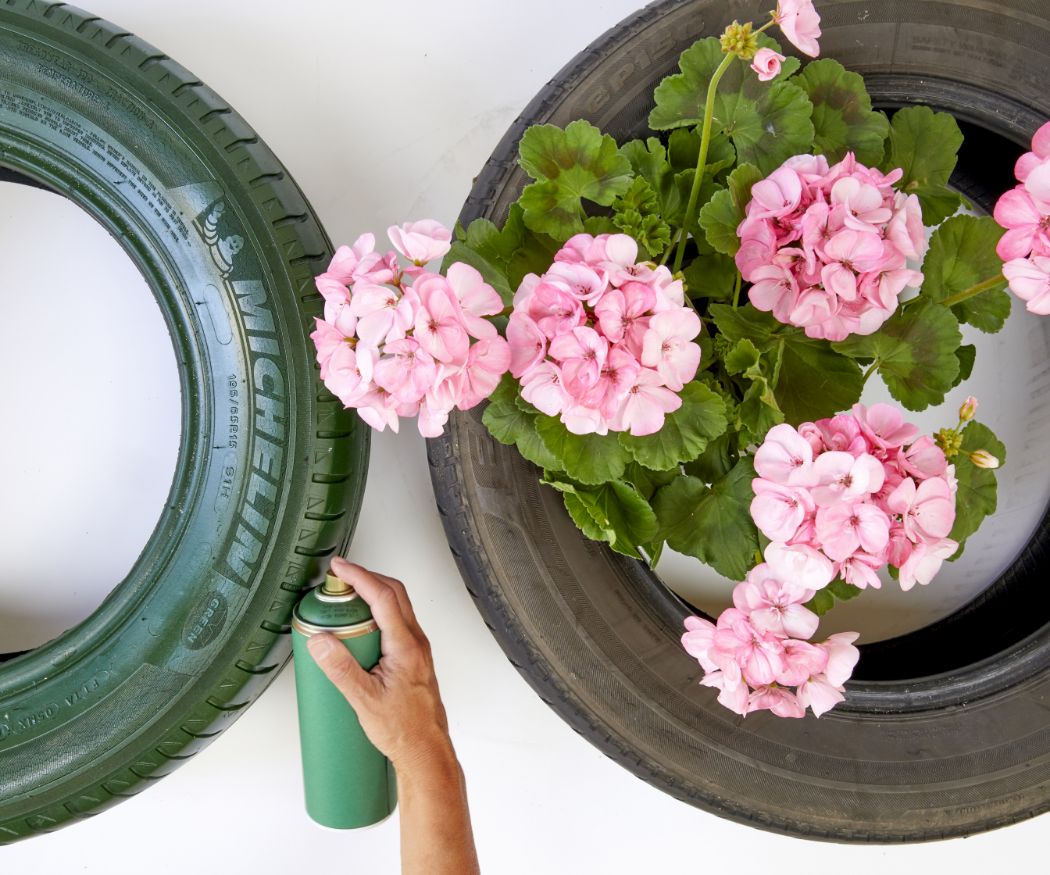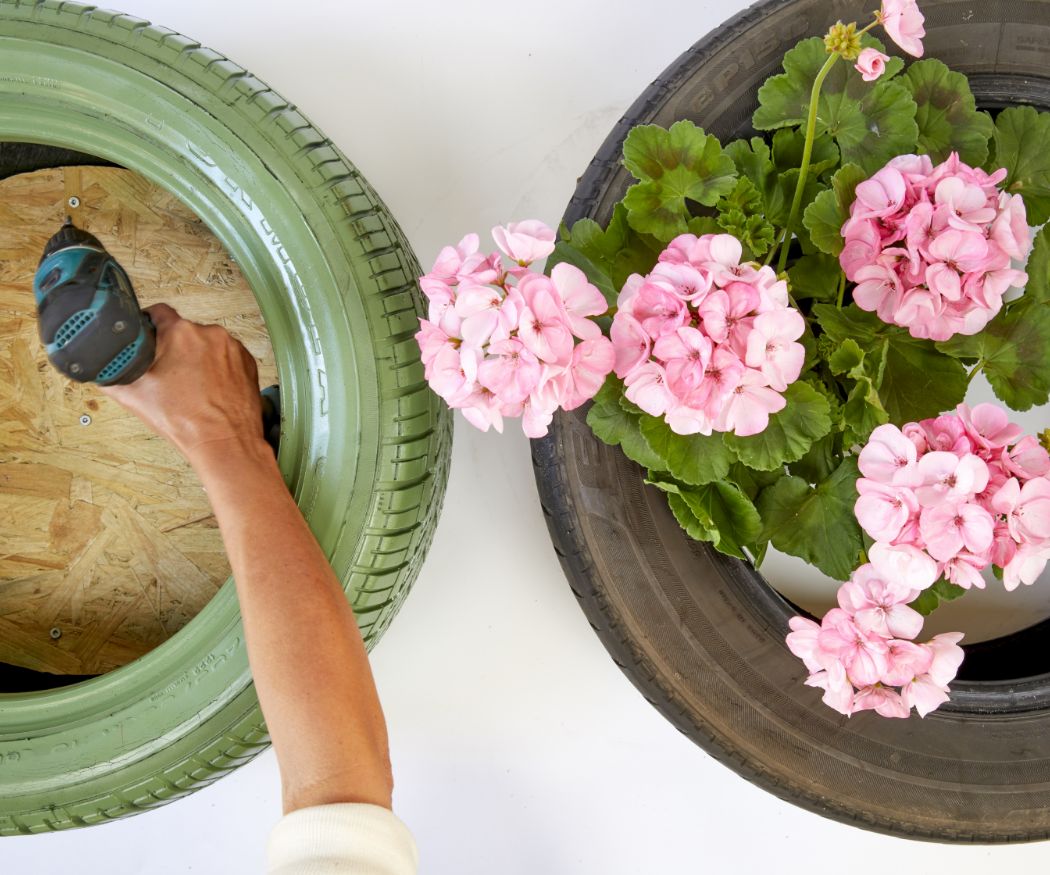 Step 3: For more stability, attach a second panel to the outside of the tyre.
Step 4: Before filling with earth, line the tyre with plastic sheeting. A layer of free-draining material and drainage holes in the base will prevent waterlogging. Just a single tyre planter makes an original feature for a city balcony or garden or place several tyres next to and on top of each other to instantly create an alternative planter with plenty of growing space. Easy-care geraniums will provide an abundant display until autumn. Combined with insect-friendly flowers and herbs, this urban planter will become a haven for insects. Important: Make sure the care requirements and habitat preferences of the plants you use are similar.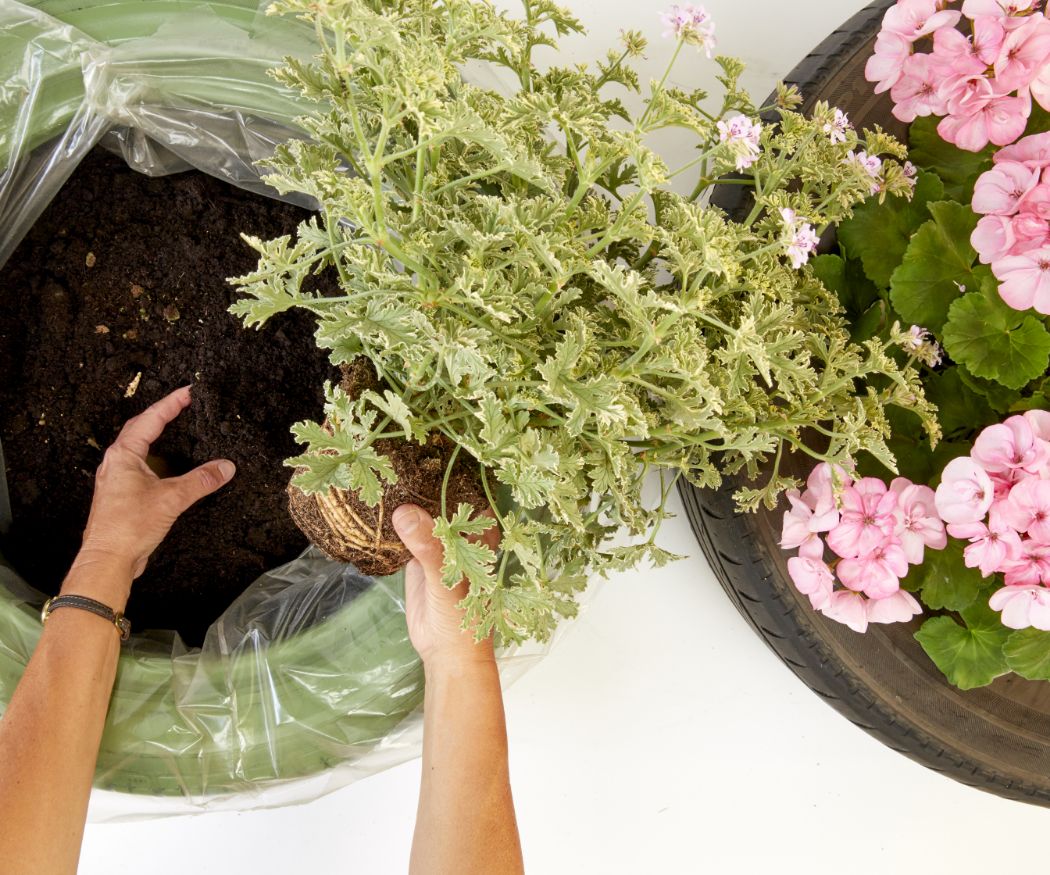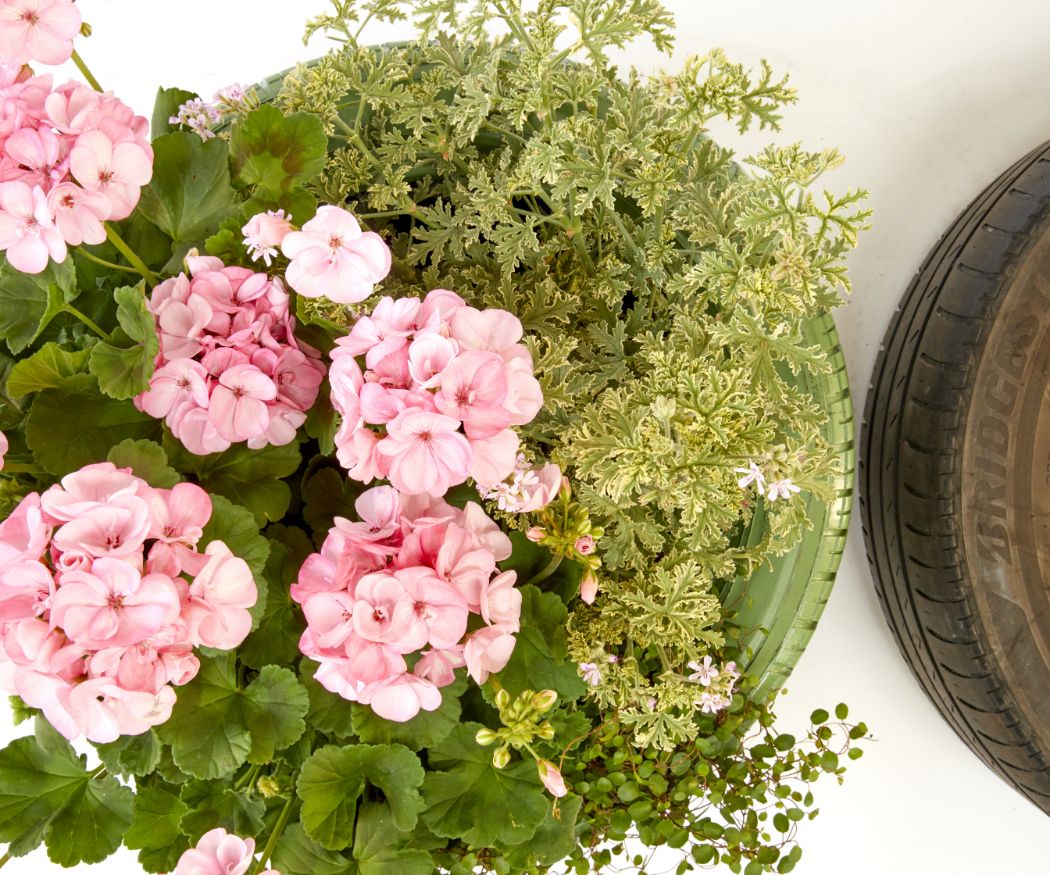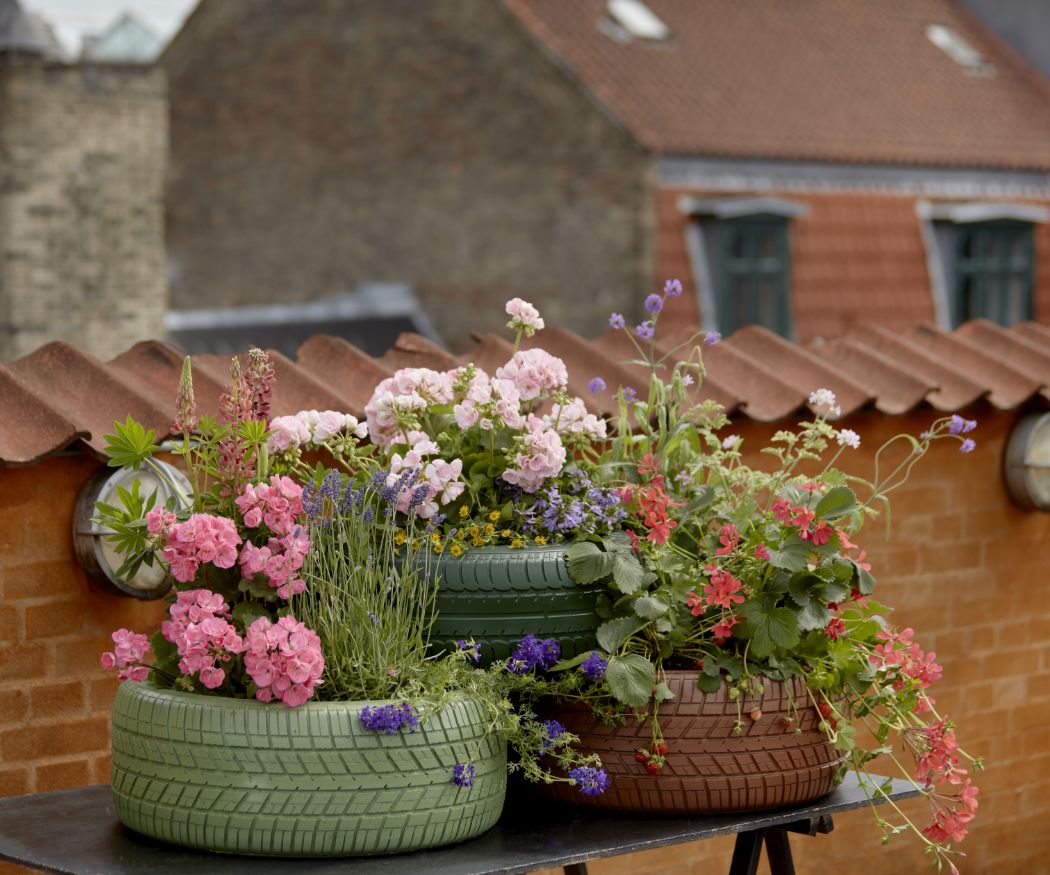 Twine planters
Upcycling to the power of two:
A classic red geranium and a delicate green plant in home-made twine planters stand on an upcycled table made of stacked old tyres. Creating these cute pots in an on-trend rustic style is simple and cheap. For the planter you'll need a glass container or clean tin can, thick twine or sisal string, a hot glue gun, acrylic paint in the colour of your choice and a brush.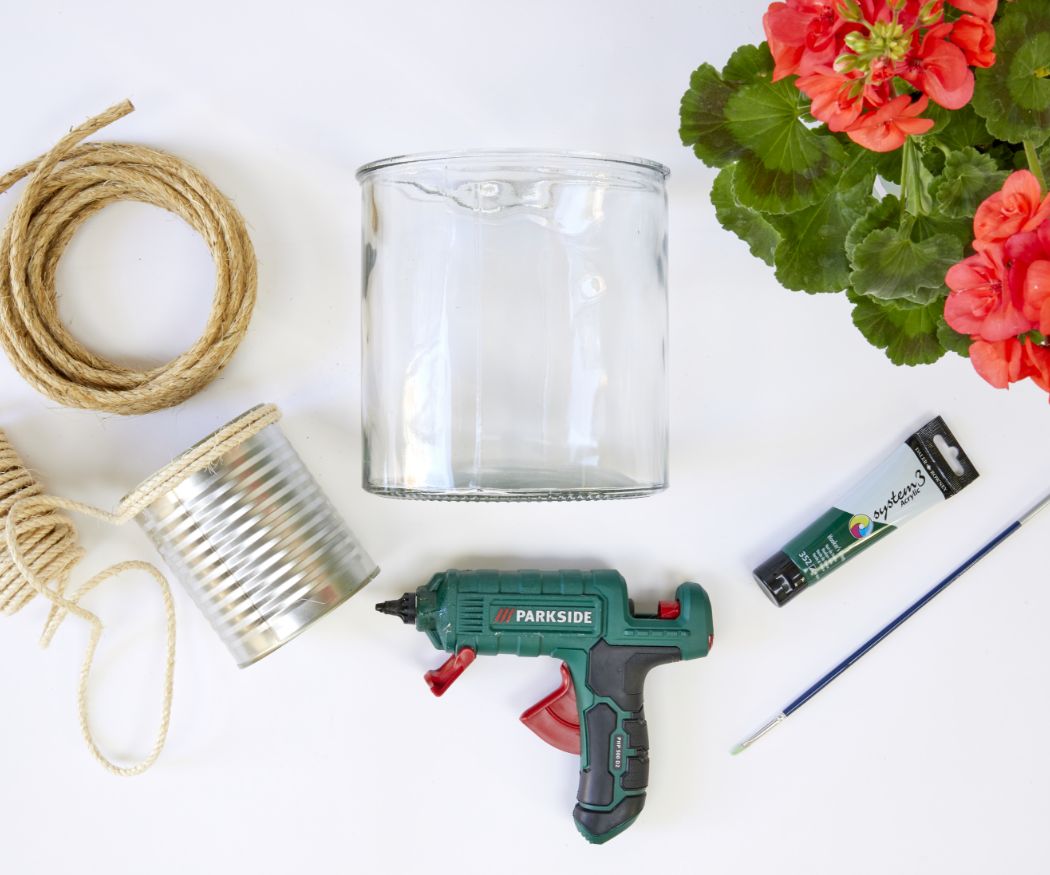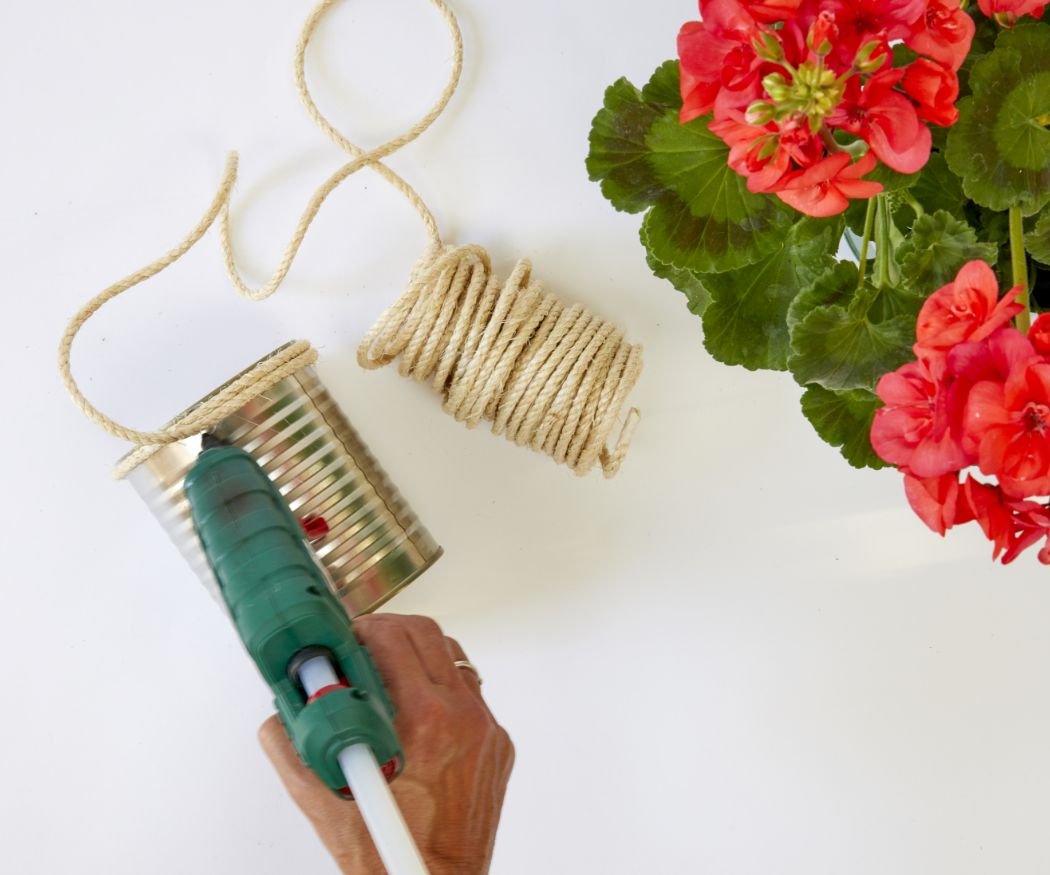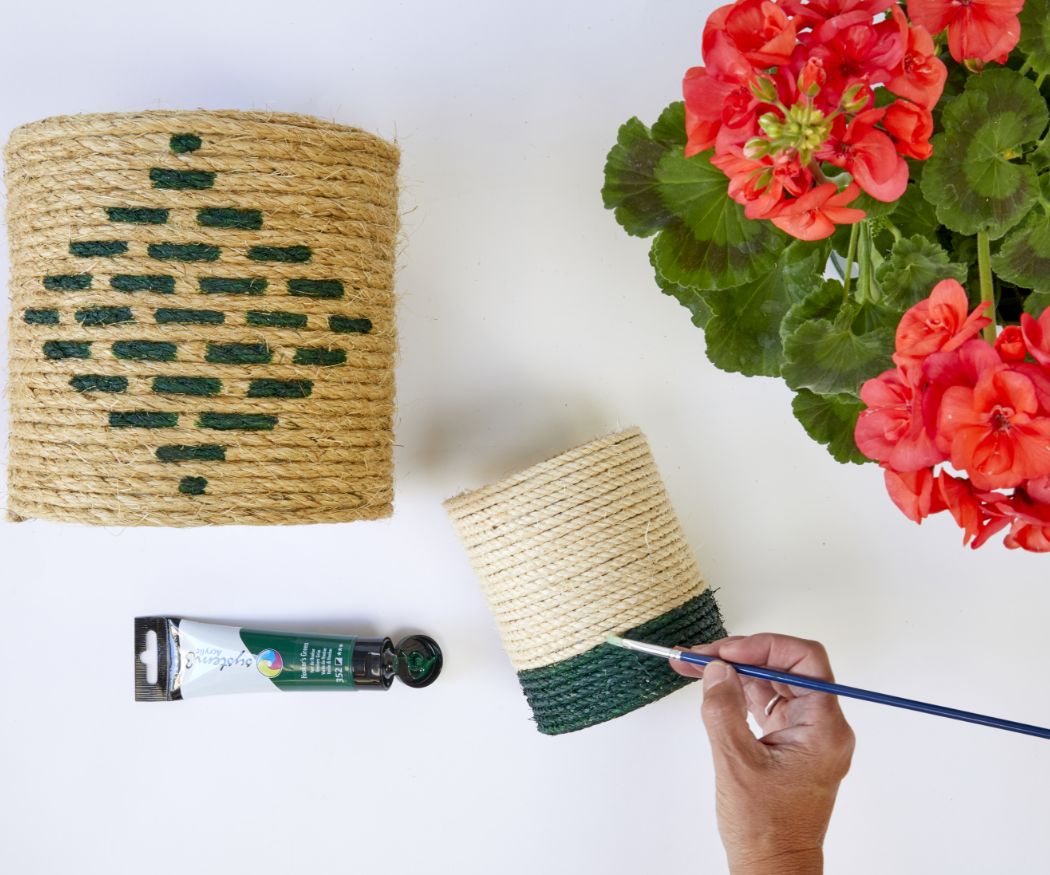 Instructions: Starting at the top of the jar or tin, using the hot glue gun, apply a thin layer of hot glue to the tin or glass then wrap the string around it. As the hot glue dries very quickly, glue and wrap bit by bit.
Once the container is completely wrapped, paint it however you like. Finally, place a geranium in the planter for a fresh, unique look!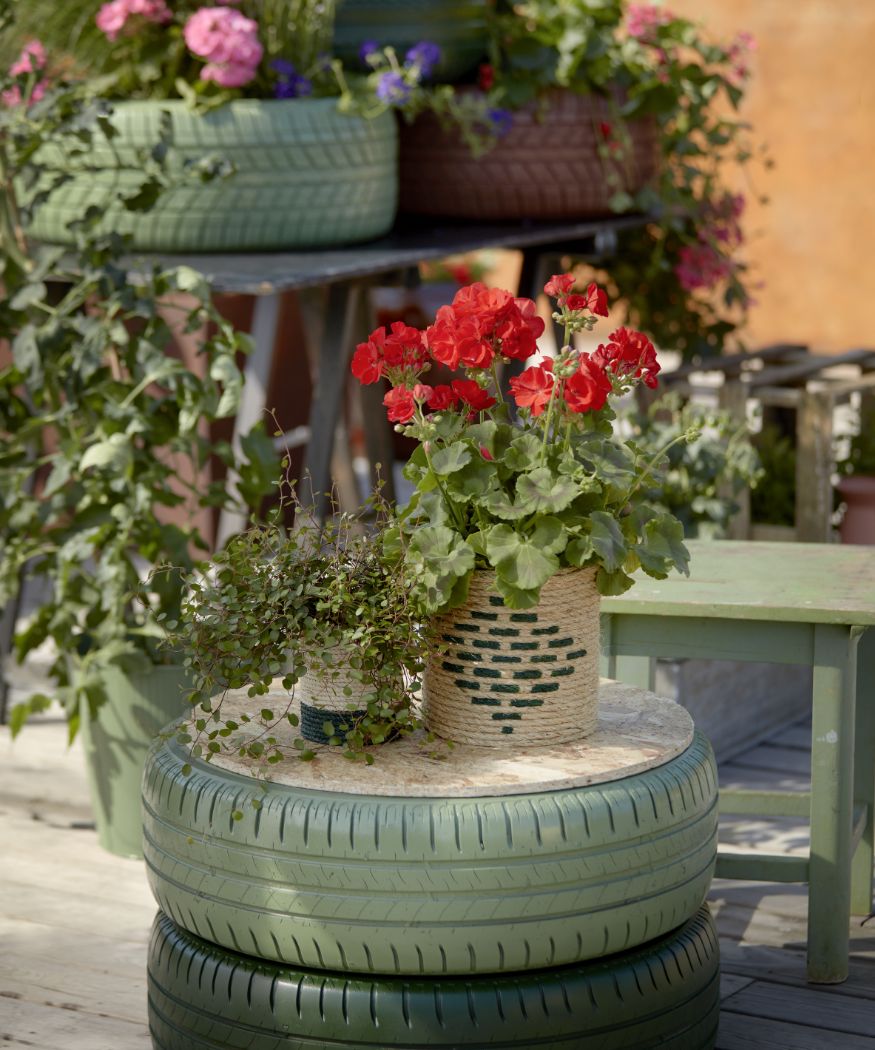 Colourful geranium cooking pot hanging basket
It's a shame to throw things away. With a little colour and sturdy string, old cooking pots can be converted instantly into colourful hanging baskets, giving gorgeous geraniums plenty of room to grow. When choosing a hanging location, make sure your plants will get enough sunlight.
All you need for these quirky hanging baskets is an old cooking pot, ideally with handles, waterproof spray paint and sturdy twine. Depending on the height of your hanging baskets, plant either trailing or upright geraniums. If your pot is big enough, you can add a second plant.
Important: make sure the care requirements of all the plant you choose are similar. To avoid waterlogging, water sparingly any plants in enclosed containers, such as pans or glasses, and protect them from heavy rain.