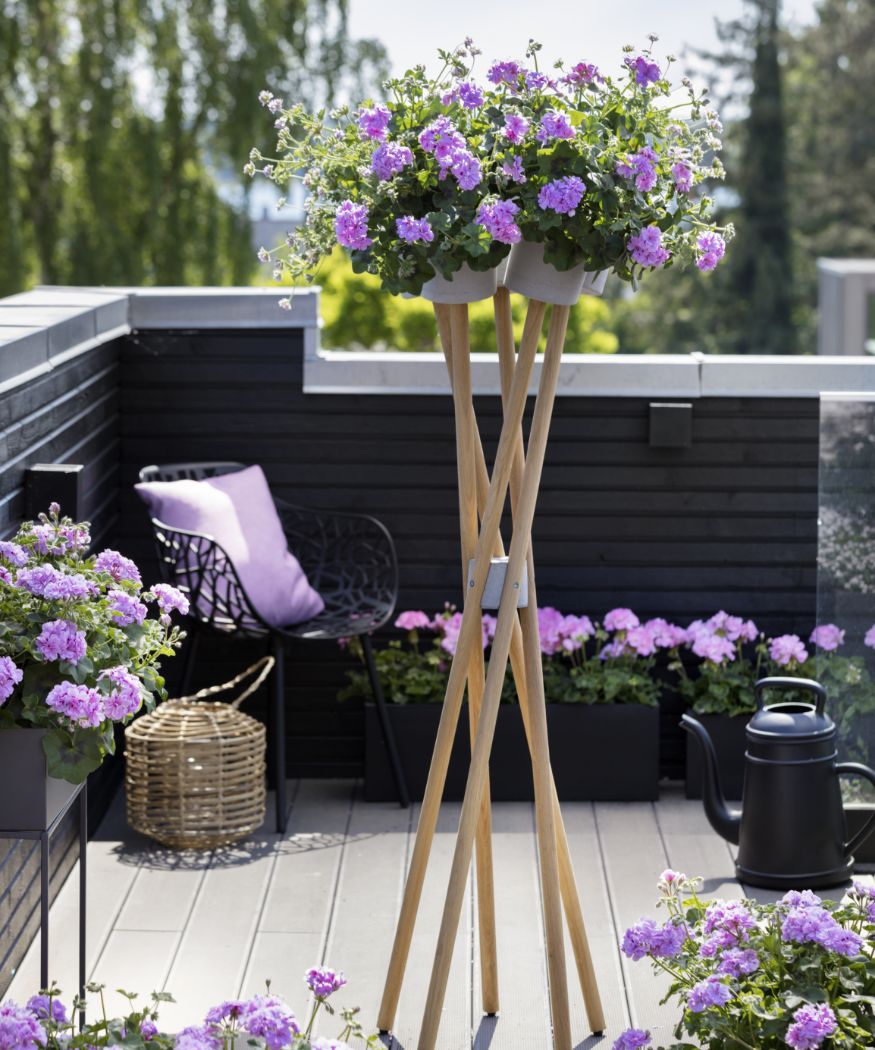 Surprisingly up-to-date. Modern decorations with geraniums.
Modern geranium? Contrary to what some might believe, this is no longer a contradiction of terms. The classic summer bloomer, which was already adorning terraces, balconies and windowsills all over Europe in the 19th century, today presents itself as an easy-care lifestyle beauty that stands out with a vast diversity of varieties and can be given a surprisingly contemporary look in trendy planters.
Many of the modern geranium varieties are only remotely reminiscent of the classic summer plant in grandma's window boxes. With numerous colour shades and an impressive wealth of different flower shapes and growth patterns, the newer breeds in particular are popular among younger people. Aside from red, pink and white geraniums, meanwhile there are also yellow, orange, hot pink, lilac and countless multicoloured varieties. In addition to the standard varieties and growth patterns, you will also find geraniums in pyramids, as shrubs, topiaries, climbers or houseplants.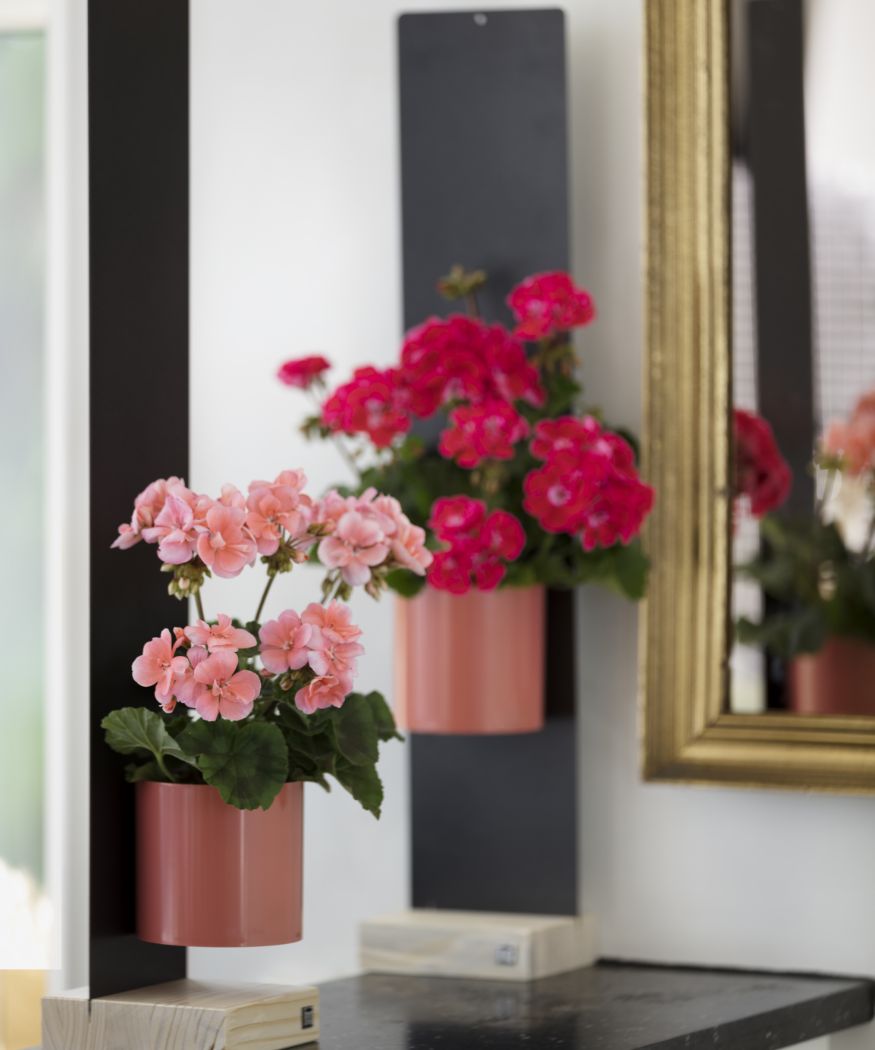 Colourful trendsetter indoors
Indoors, the regal geranium is a particular favourite. The beauty queen among geraniums was originally cultivated as a houseplant. It fits in very well with modern interiors and brings a blaze of colour into the house with its gorgeous blooms. But other geranium varieties will also create a cheerful, summery mood, as long as they are given enough daylight. The magnetic boards and pots from KalaMitica shown here offer a modern plant presentation with their clear lines and simple design, shedding a whole new light on the classic upright geranium.
Flowering welcome committee: geraniums on the porch
Geraniums are colourful, bloom profusely and are very easy to care for. This makes them the ideal line-up for a flowering welcome committee in front of the house.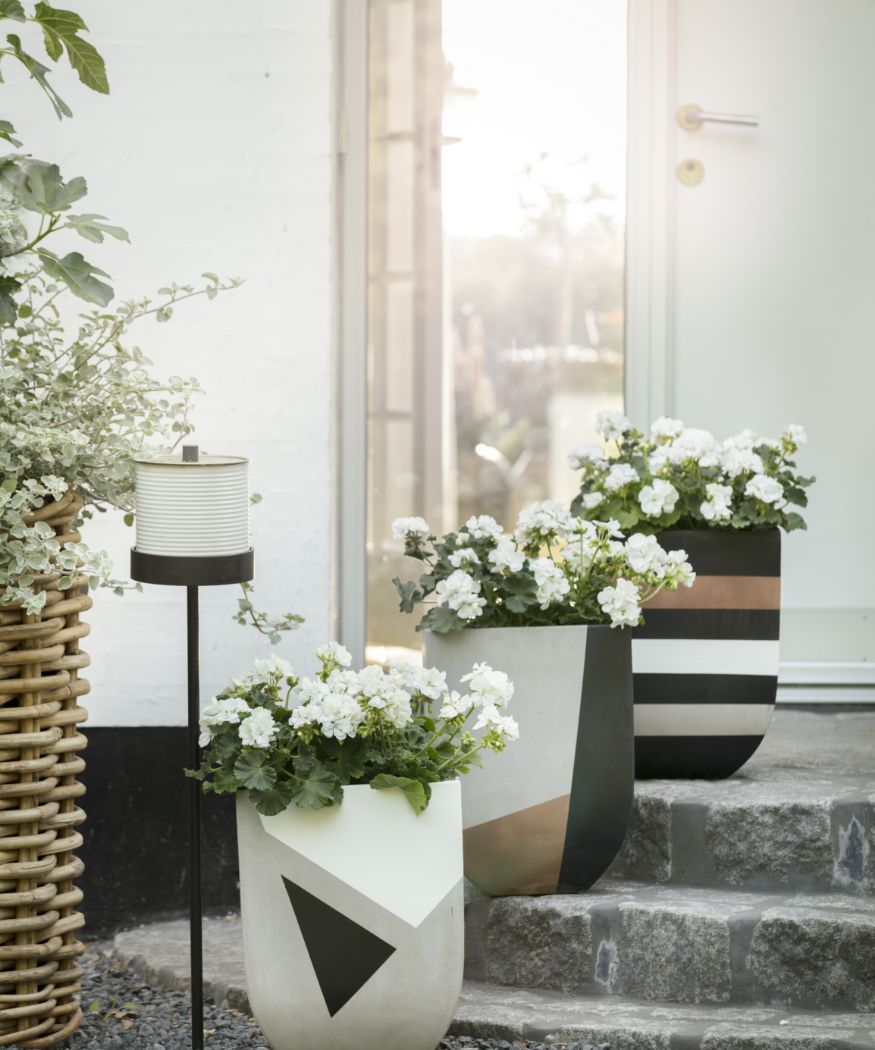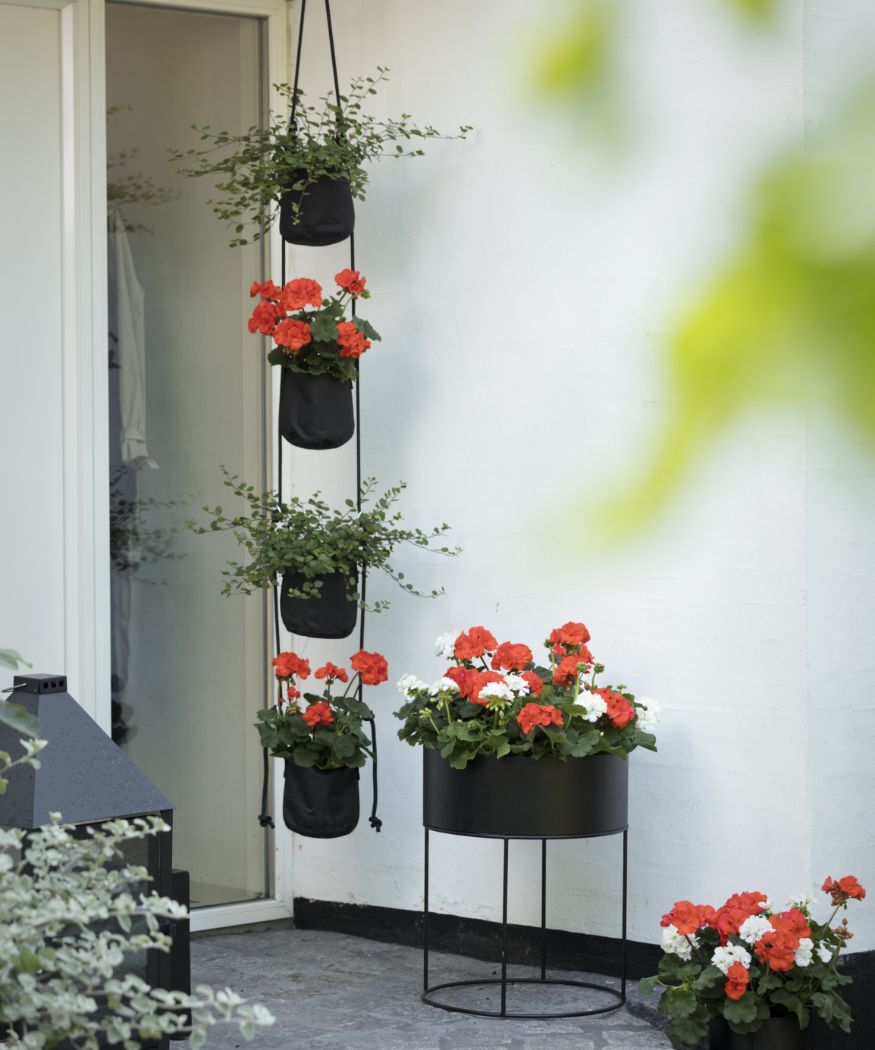 This DIY idea turns any planter into a unique pot. The concrete containers bearing your own design make great eye-catchers for a modern front porch and provide profusely flowering white geraniums ample space to grow and bloom. Simple containers from the hardware store are transformed into unique deco objects in no time with just a bit of masking tape and spray paint.
And here's how to do it:
Simply apply masking tape to the concrete planters in the desired pattern and spray on the colours of choice. As soon as the paint has dried, carefully remove the tape. You can vary the patterns and colours as you like.
Tip: Make sure to provide a sufficient drainage layer when planting as geraniums do not tolerate waterlogging.
For those who don't feel so creative, there's a large selection of modern planters out there that will make even classic geranium varieties look anything but old-fashioned. Trailing geraniums, also known as peltatums, are particularly suitable for hanging planters and other floating plant pots. Here, a combination with green climbing plants adds variety.
Tip: Aside from plenty of space and water, geraniums also need sufficient light. So the ideal location for them is full sun or at least partial shade.
Eye-catchers on balcony and terrace
Geraniums in contemporary colours in modern planters become gorgeous eye-catchers on a balcony or terrace. This plant stand from Urbanature (left) raises up the opulently blooming geraniums to a lofty perch 1.50 metres high. With five self-watering pots there is plenty of space for maximum flowering performance. This plant stand is an extraordinary alternative to classic hanging planters and can even be used where there is no ceiling for holding hooks.
A further advantage:
Taking up only 40 centimetres of floor space, this decorative plant stand will fit on even the smallest balcony. A wide range of different types of geraniums and a great selection of appealing planters are available at any well-stocked garden centre.