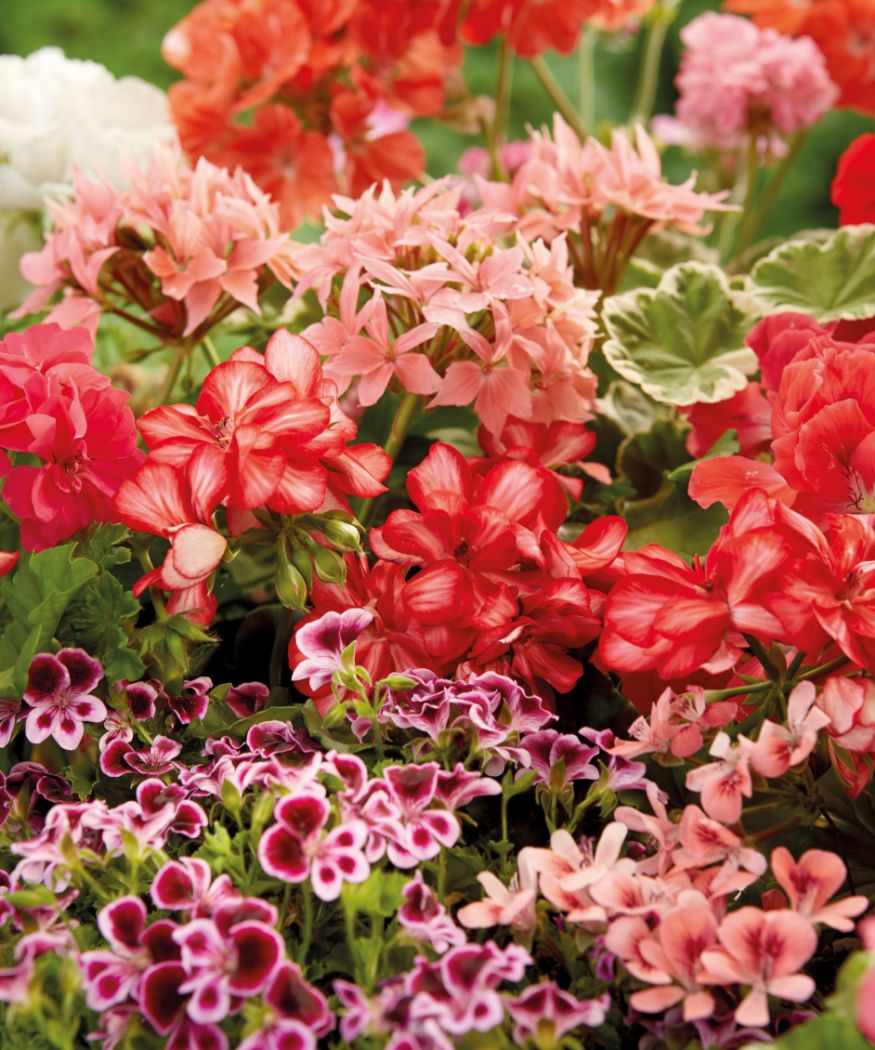 Geraniums are the absolute stars among bedding and balcony plants. With their joyful flowers and huge variety of colours and shapes, they bring a summery vibe, promote happiness and enhance your sense of wellbeing. At the same time, this low-maintenance South African native is far more versatile than many people think. Geraniums are perfect for every lifestyle. They can grace urban balconies and terraces, add a splash of colour to gardens, shine as summer table decor or wall hangings, give accessories an extra special touch and brighten up interiors.
No wonder more and more young people are discovering these summertime beauties for themselves. The experts at Pelargonium for Europe show you the endless possibilities of this summer beauty.
Urban balconies and terraces with geraniums
Plant paradise in the city:
Plants are a great way to enhance the feel-good factor of urban balconies and terraces. Geraniums make the perfect choice for a floral retreat in sunny to semi-shady locations. They grow fast, have tons of long-lasting flowers and are easy to care for and tough at the same time.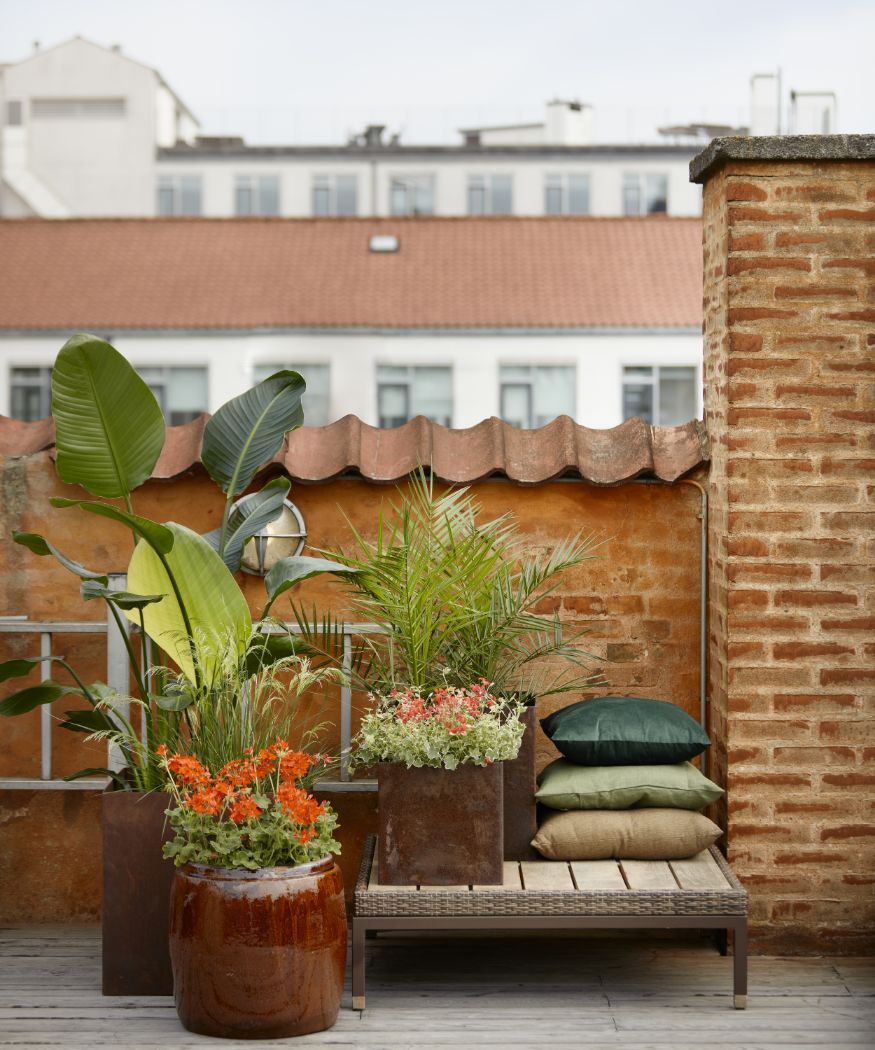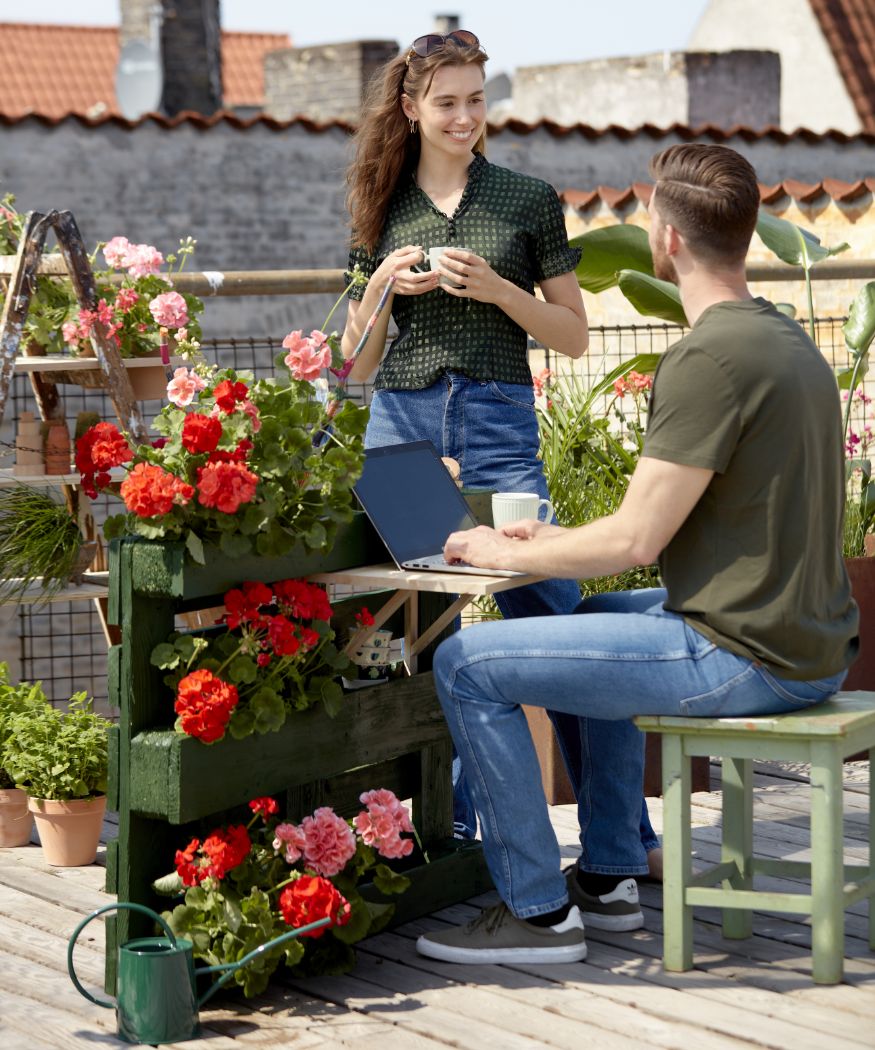 Left: Here bright red geraniums in glazed, brown planters make a great contrast to a selection of tall foliage plants.
Right: Geraniums also work well with with handmade décor and furniture, like this modern combination of vertical planters and workstation, made from simple pallets. On a city roof terrace, surrounded by loads of colourful geraniums, you can conjure up a holiday vibe while you work.
A city balcony make:
Several tyres placed next to and on top of each other create an alternative city balcony planter for an on-trend upcycled look, filled with vivid geraniums and other flowering and foliage plants.
Tip: To benefit insects, especially bees, combine geraniums with other sun-loving plants attractive to them. By doing so your flowering balcony in the middle of the city becomes a wellbeing sanctuary for both people and wildlife.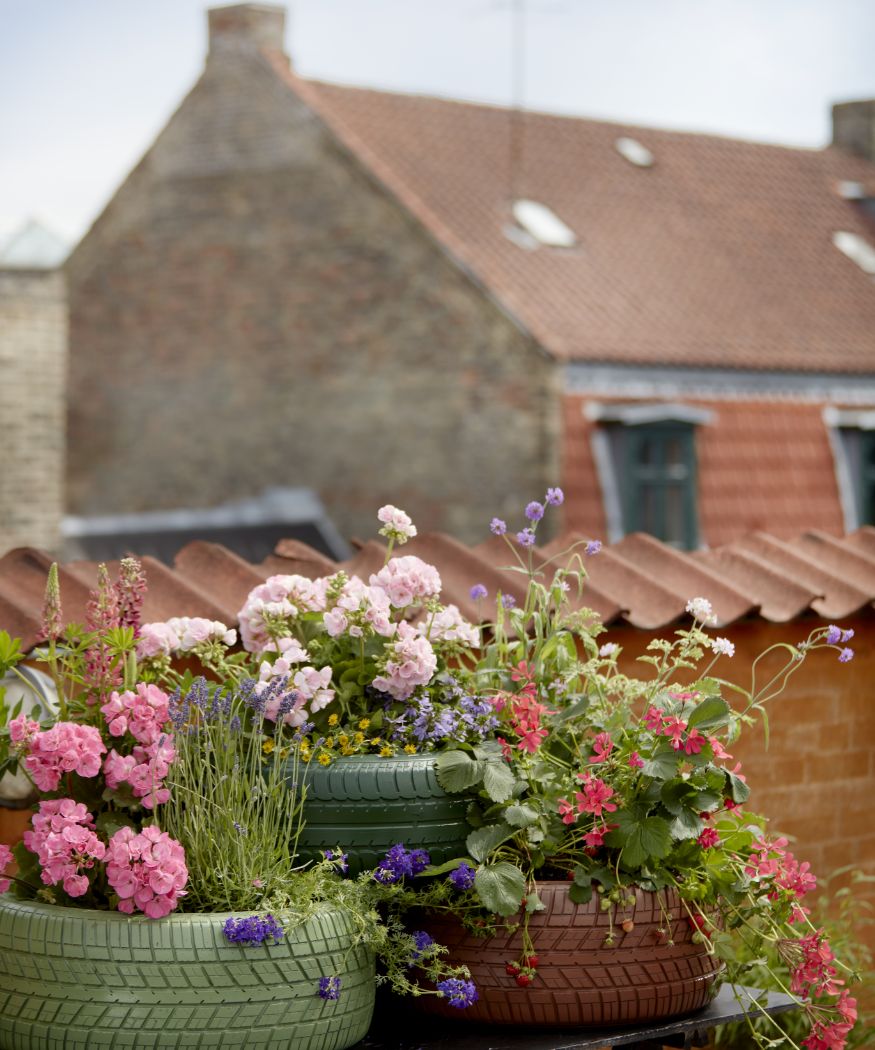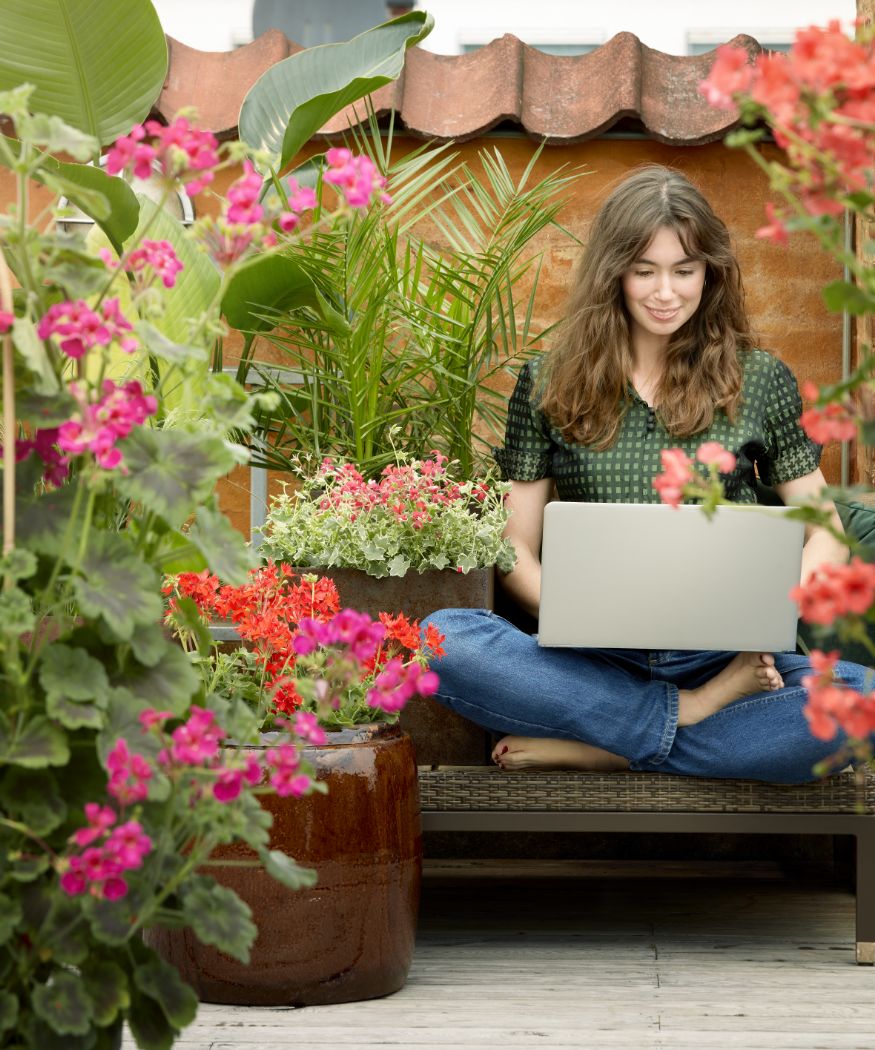 Garden retreats with geraniums
A garden, whether in the country or city, offers the perfect hideaway for a little escape from everyday life. Surrounded by the restfulness of foliage and colourful flowers, they invite you to relax and unwind. With their vibrant shades, geraniums as potted plants add bright splashes of colour and create an irresistible summer vibe. Make sure there's plenty of light when choosing their location, as these low-maintenance South African natives need a sunny to semi-shaded location to thrive.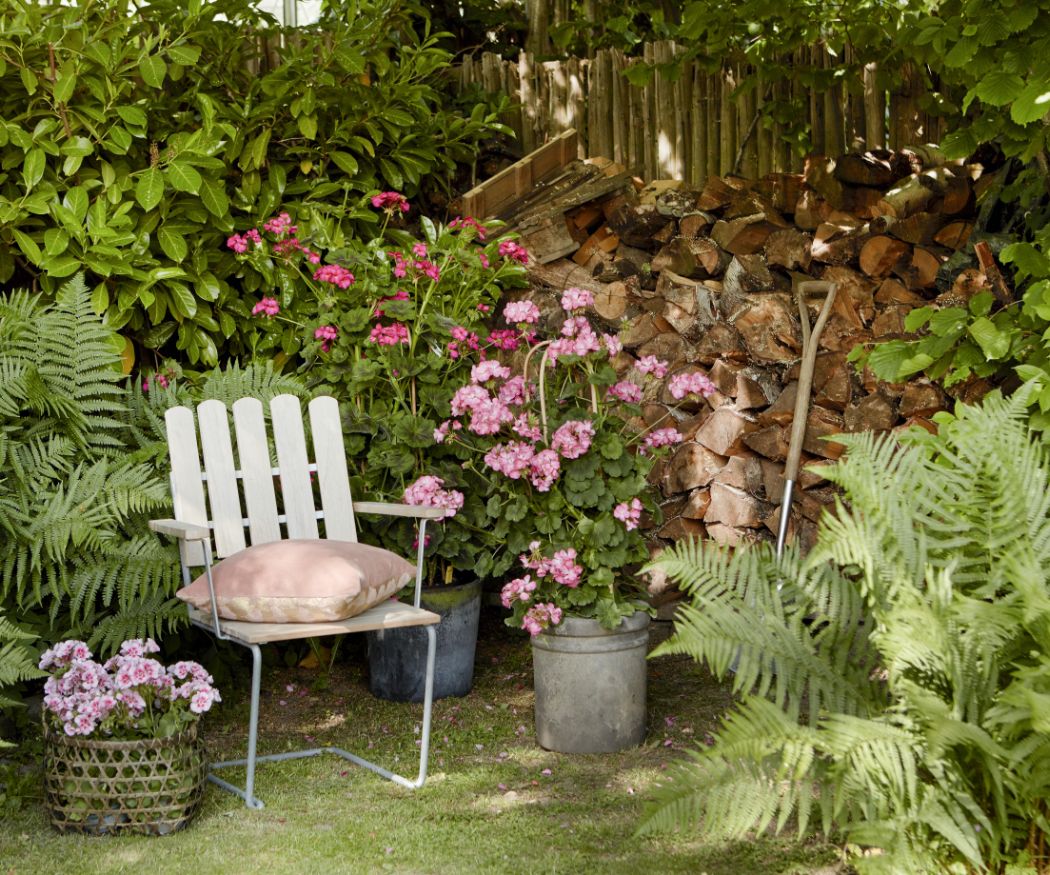 Geraniums are not only diverse, free-flowering and easy to care for, they also combine well with other plants. They work brilliantly with other flowering and foliage plants which, like them, prefer sunny locations.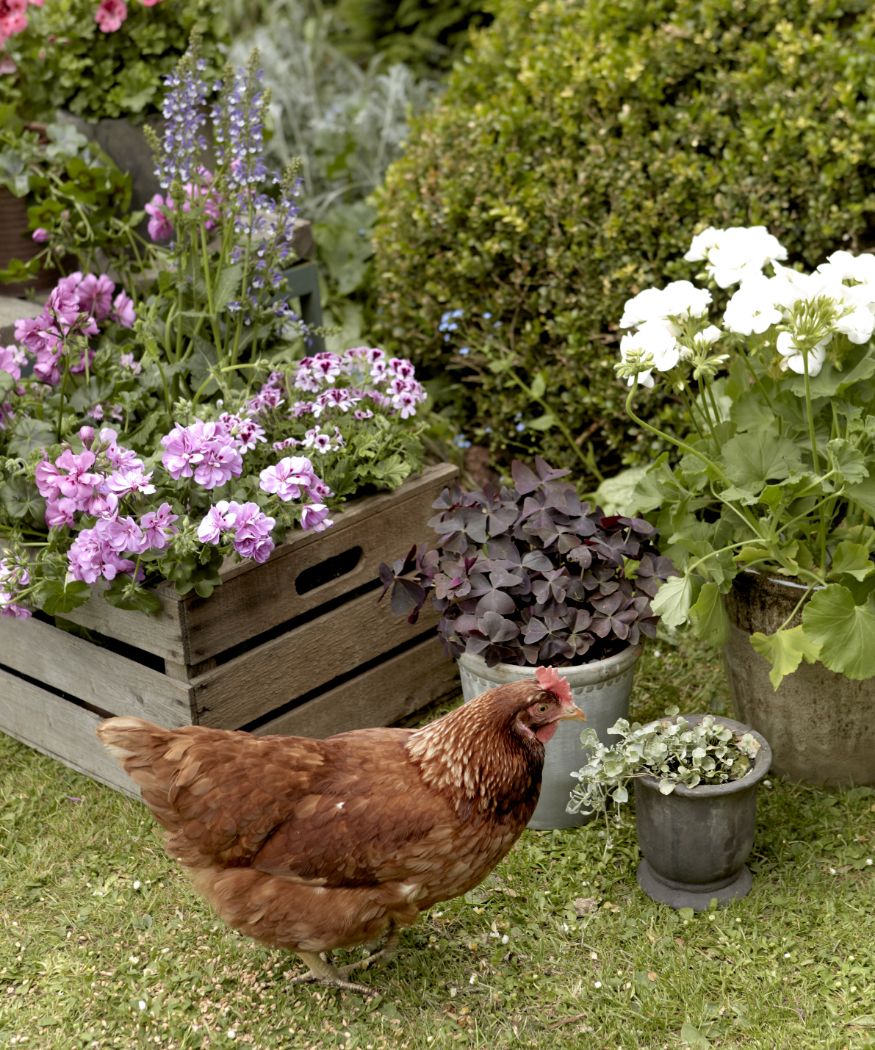 Left: Sage, mandevilla and yarrow (achillea) belong to the same sun-worshipping plant group as geraniums. They also provide bees and other insects with lots of food.
Right: Spider plants, Mediterranean lemon and clementine trees, and various herbs are also ideal partners for the geranium.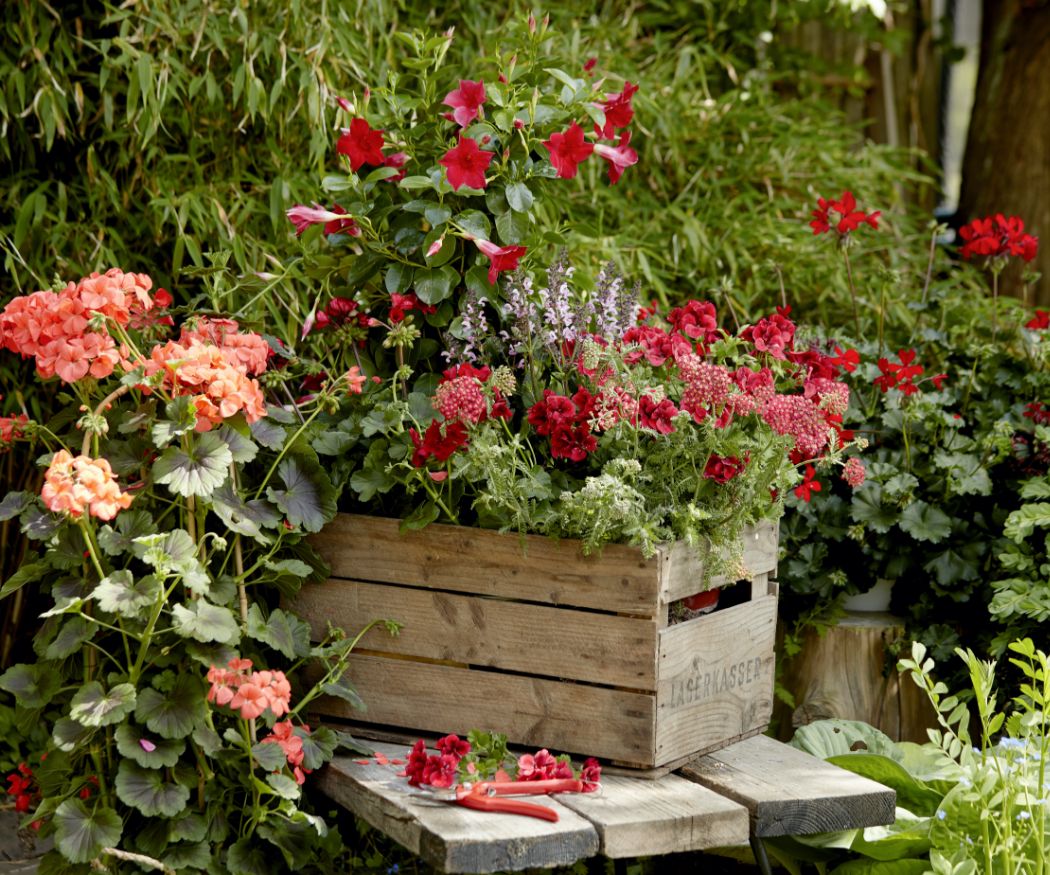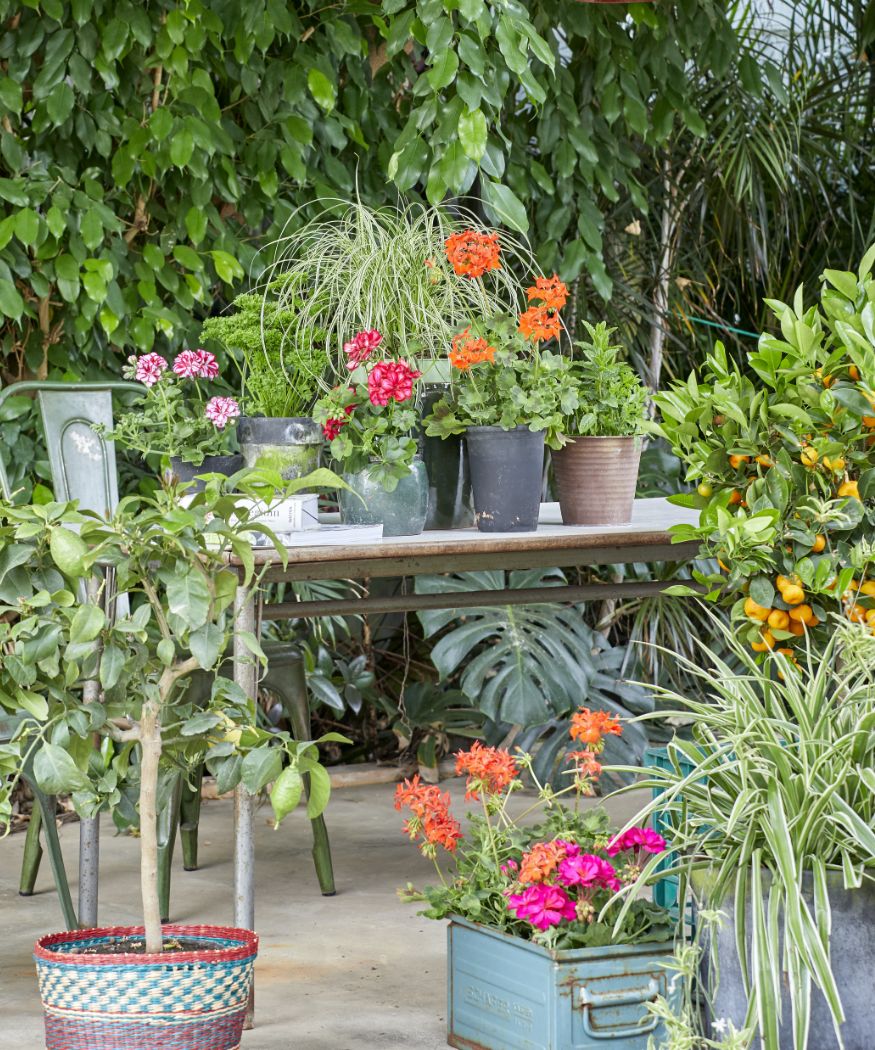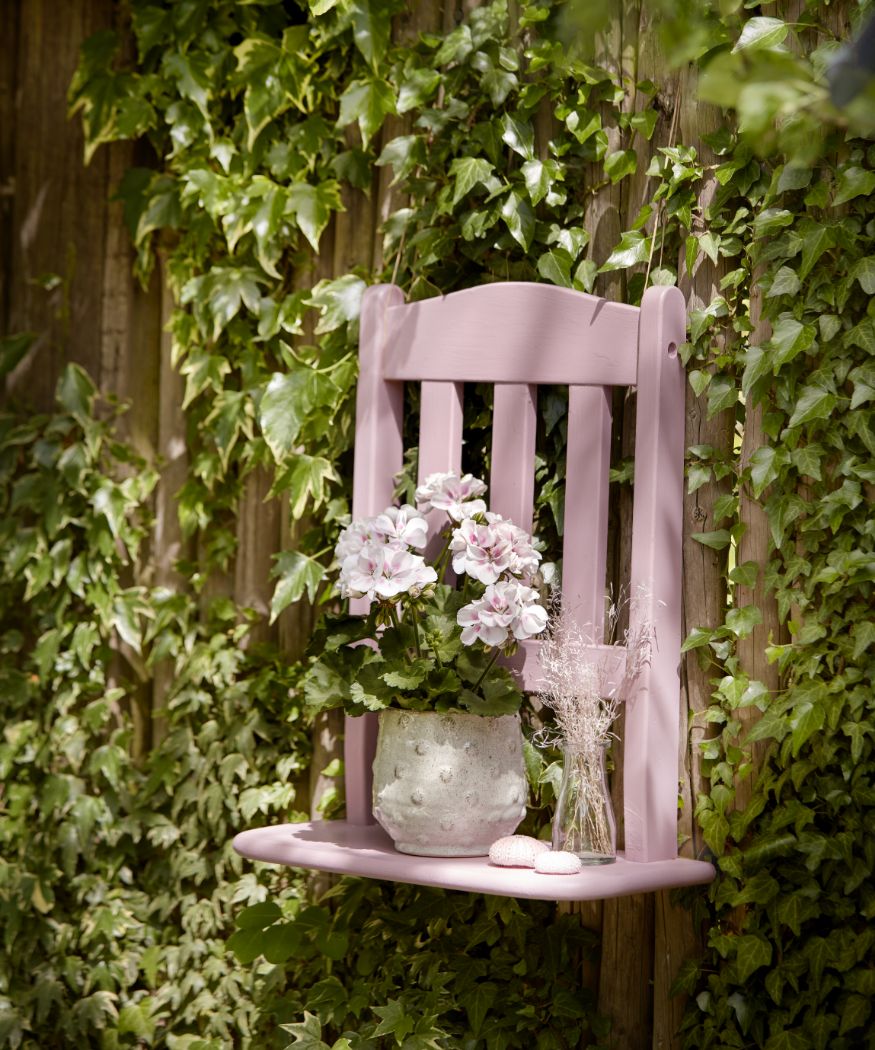 Anything but old-fashioned, geraniums look great included in creative projects like this vertical bike wheel garden. When hung on a wall, they make a quirky, eye-catching backdrop for colourful flowerpots. Simply attach pots to the spokes with wire. Flowering geraniums in a mix of shades give a real explosion of colour.
Right: Quirky garden display: With a few simple steps, an old wooden chair can be transformed into an original hanging shelf to beautifully display a single flowering geranium.
Geraniums as cut flowers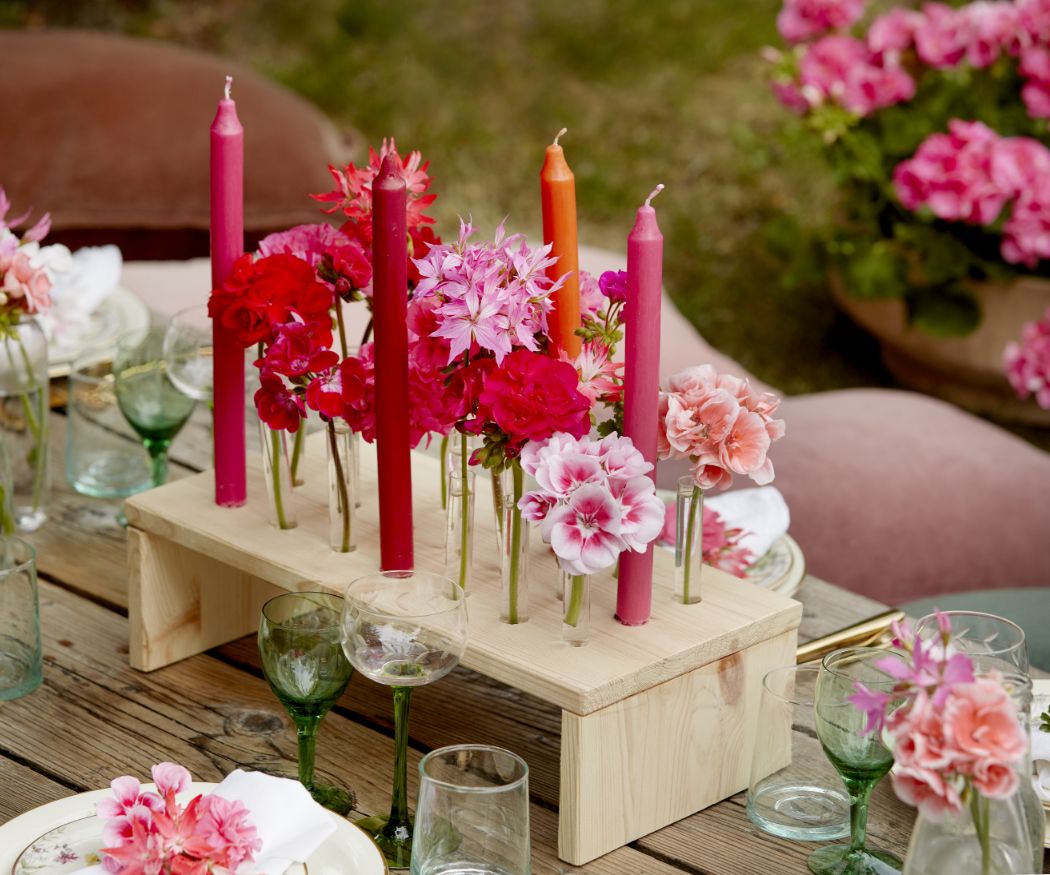 Be it summer table decor, a wall hanging or a floral accessory, with their varied flowers in a range of different colours, shapes and sizes, geraniums also look great as cut flowers. Even individual florets can even be used for to create decorative details.
Wow effect guaranteed:
A floral centrepiece featuring cut geraniums and candles in matching colours is sure to capture attention at your next garden party. With a little skill and time, you can create this pretty centrepiece yourself.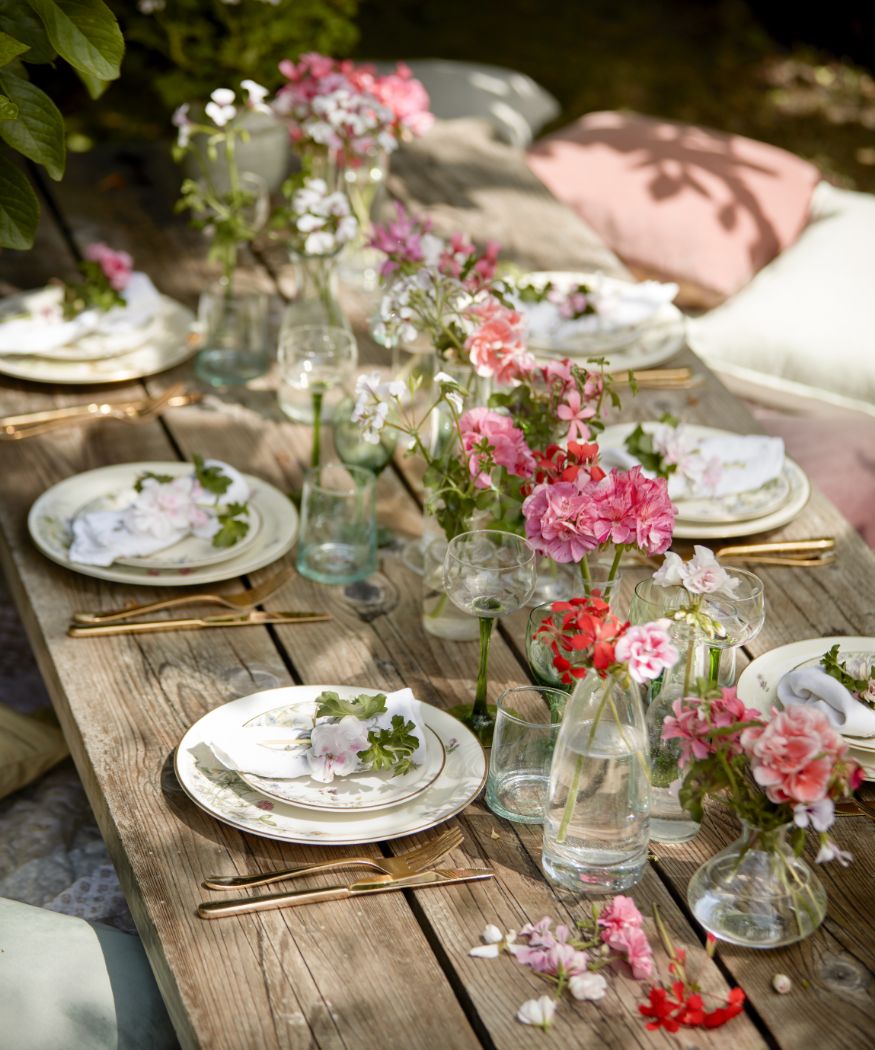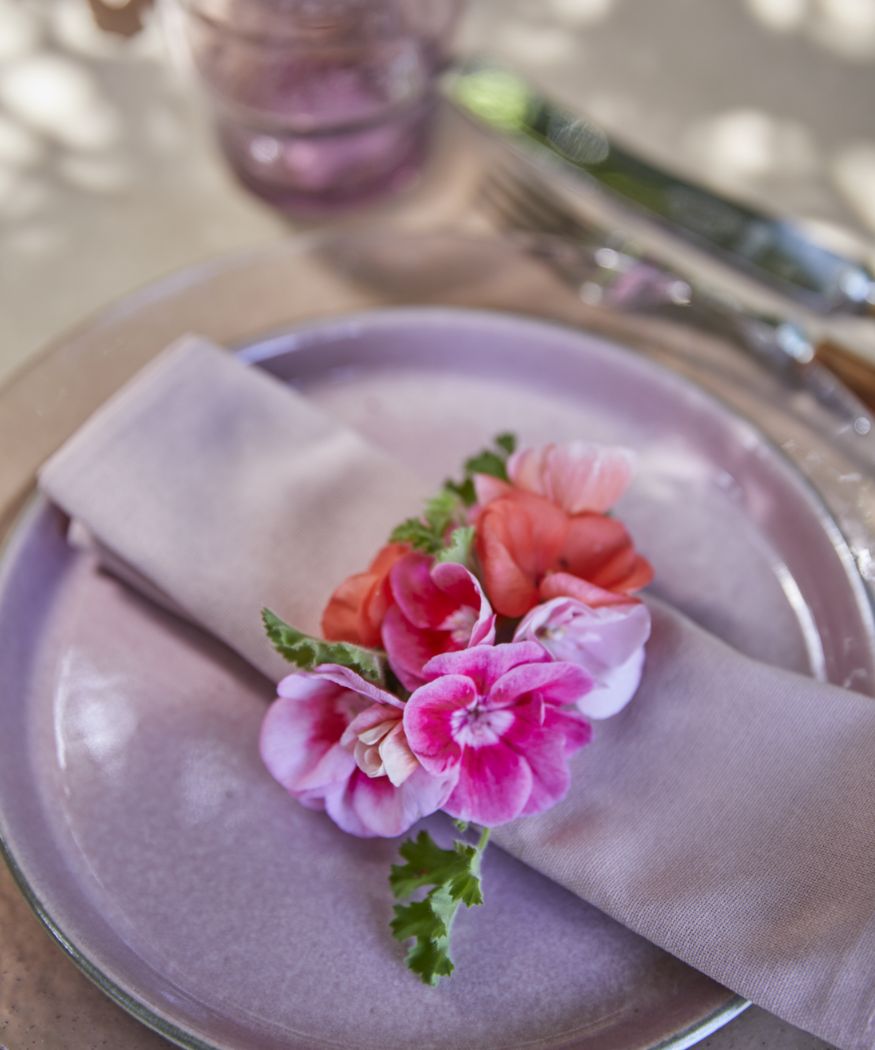 Right: Decorate a tastefully set table with brightly coloured cut geraniums in a selection of glass containers to create a summery mood and positive vibes. As a floral place setting, lie a single blush geranium stem on each plate.
Left: Handmade napkin rings using fresh geranium florets are a real treat on any summer dinner table and the perfect complement to floral table decor.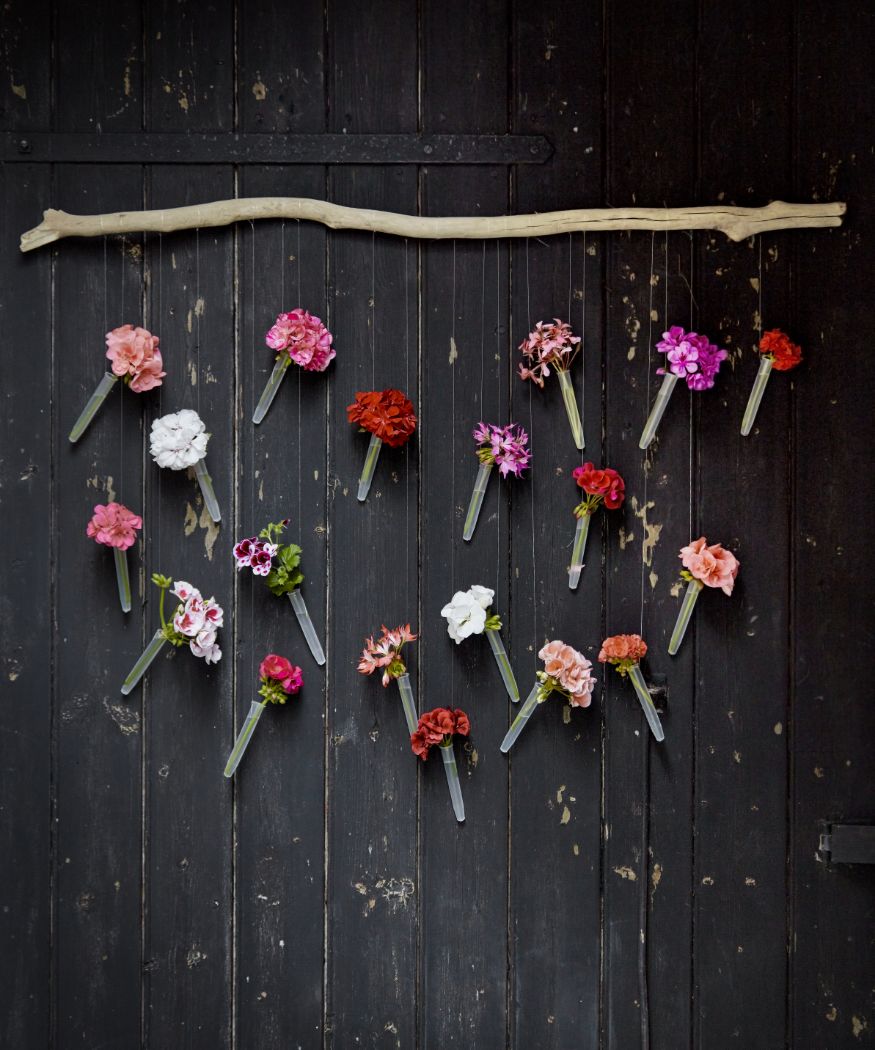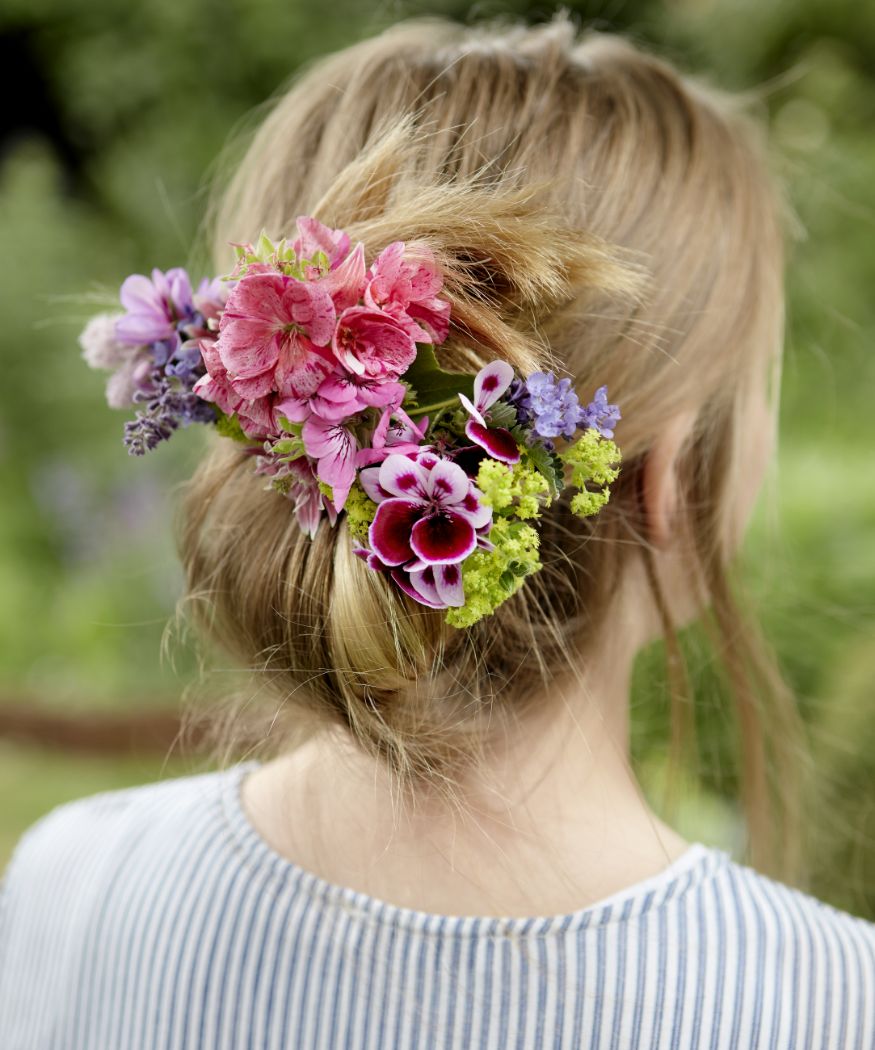 No more bare, unsightly walls:
This original hanging design using cut geraniums in a varoety of colours and shapes looks like a summer curtain of flowers. Place geranium stems in flower tubes filled with water, and attach them to a decorative branch with clear nylon thread. This quirky wall hanging gives off a real summer vibe, is quick to make and will enhance any terrace or balcony as well as interiors.
A fresh flower hairpiece makes a cute accessory and nature-inspired statement at any summer party. For this colourful hairpiece (right), pretty geranium heads are teamed with lady's mantle, columbine and catmint, all attached to a large hair clip.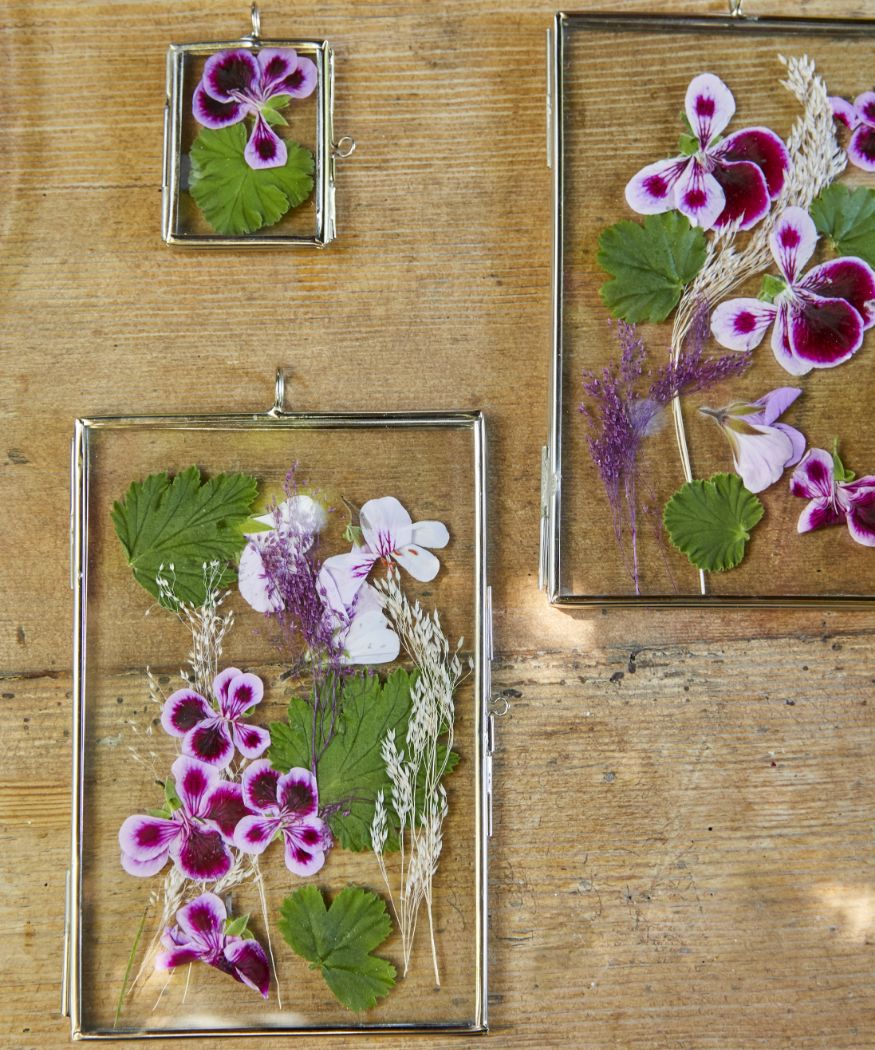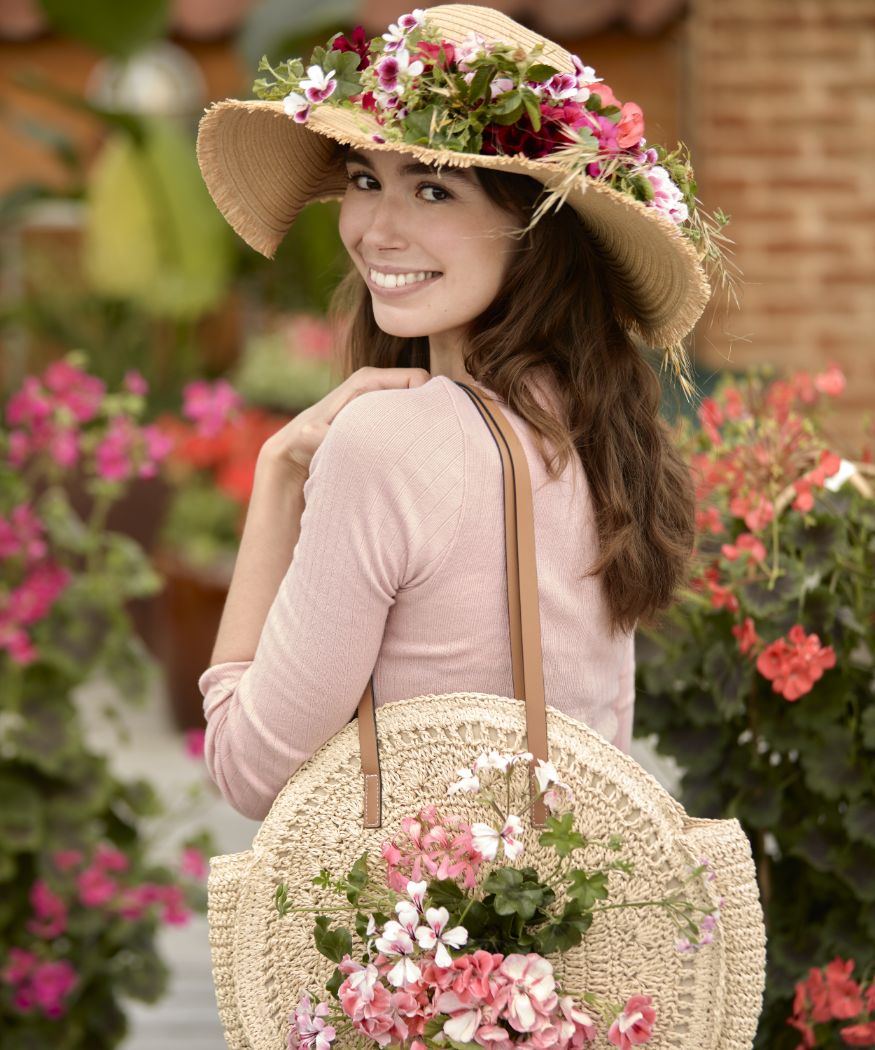 Summer, sun and good vibes:
Geranium blossoms in many different colours and shapes transform a simple straw hat and shoulder bag into unique, summer accessories with colourful touches for any special occasion.
Pressed geranium florets and leaves in a double-sided glass picture frame are a great way to enjoy these vibrant balcony gems all year round.
Tip: When pressing, make sure the flowers are freshly-picked. This ensures they keep their original colour and structure when dry.
Filled with pressed geranium florets, these frames make a pretty wall feature. They can also be used as coasters to go with other summer table decor.
Another idea guaranteed to be a hit at summer party is ice cubes with edible geranium flowers. Simply fill an ice cube tray to halfway with sparkling water, add the geranium florets and carefully place the tray in the freezer. Once the cubes are partially frozen, top up the tray and place it back in the freezer until the water has frozen solid. As the cubes melt, the flowers will float beautifully on the surface.
Tip: For use in drinks, we recommend organically grown scented geraniums
Green Living: Geraniums as interior decor
Good news for those without a balcony or terrace:
Nobody has to do without geraniums. With the right care, this versatile bloomer can also survive in a bright indoor spot and, with its vibrant pops of colour, creates a summer vibe and an upbeat mood.
The noble geranium is best suited for this. With its saturated colours, often with a dark eye in the centre, it's the beauty queen of geraniums. The noble geranium was originally bred as an indoor plant and, unlike the classic outdoor geraniums, it blooms in early spring. There are also summer-flowering varieties that thrive outdoors in locations protected from wind and rain.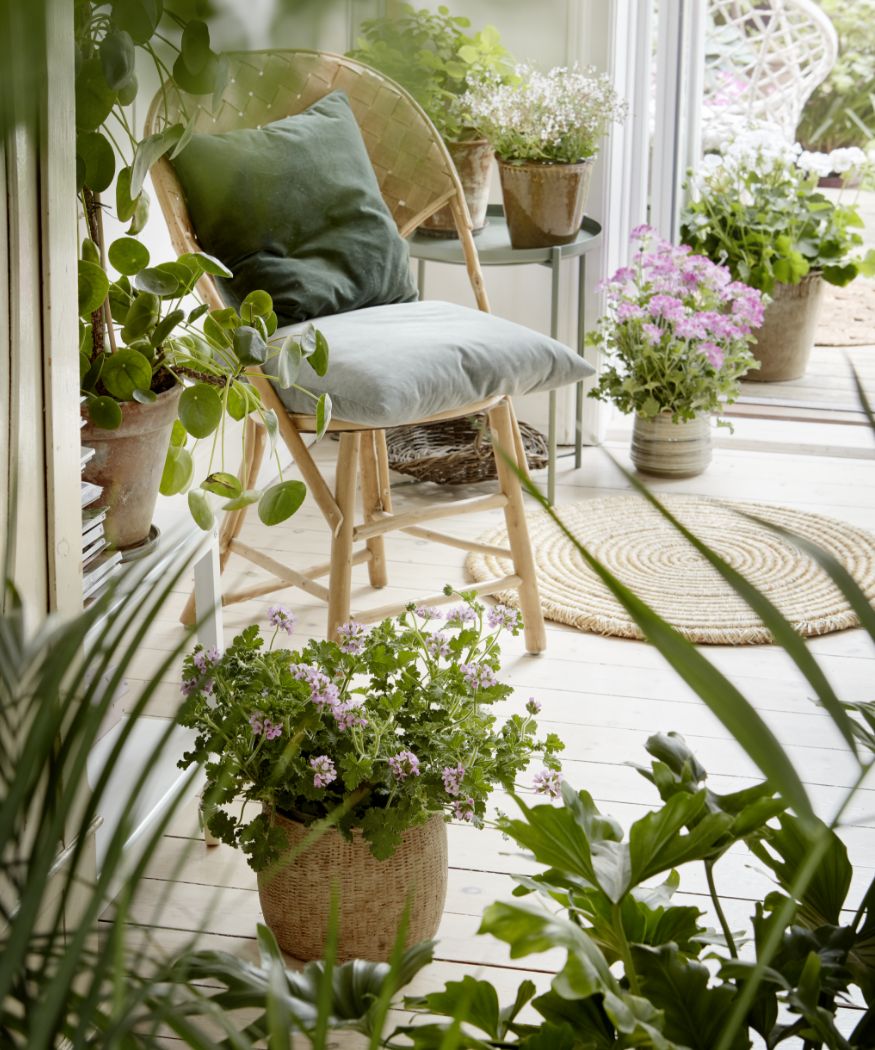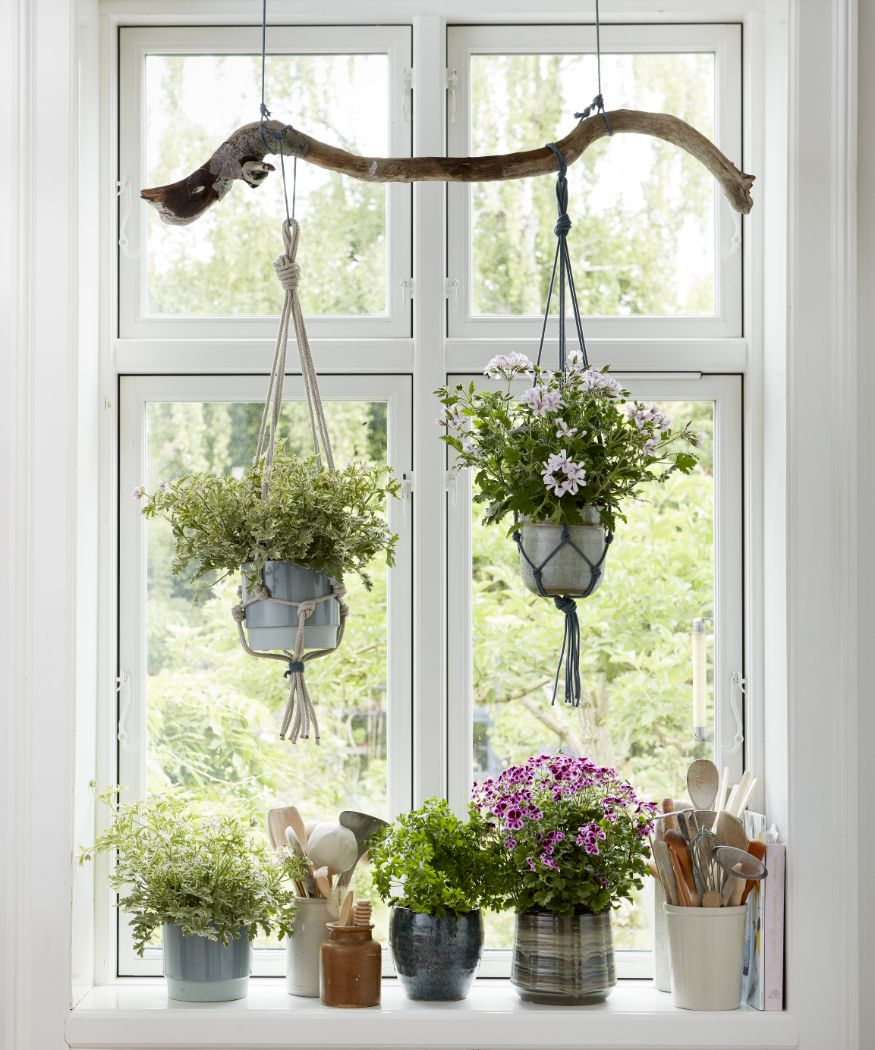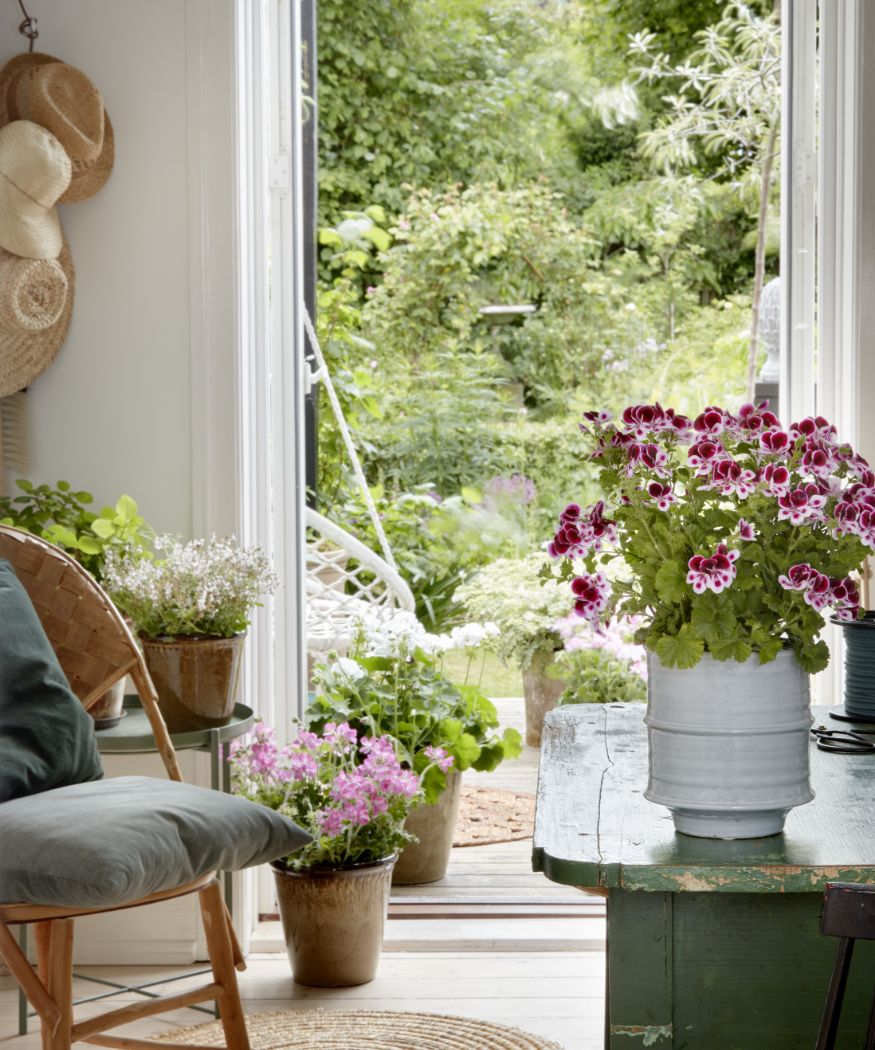 Edible scented geraniums score highly with their wide range of scents. From lemon, mint and rose to nutmeg, ginger, apple and orange or peach, chocolate and cola, you can find just about every scent. Fragrant geraniums make a great addition to classic herbs and can be used in a variety of ways in creative cuisine.