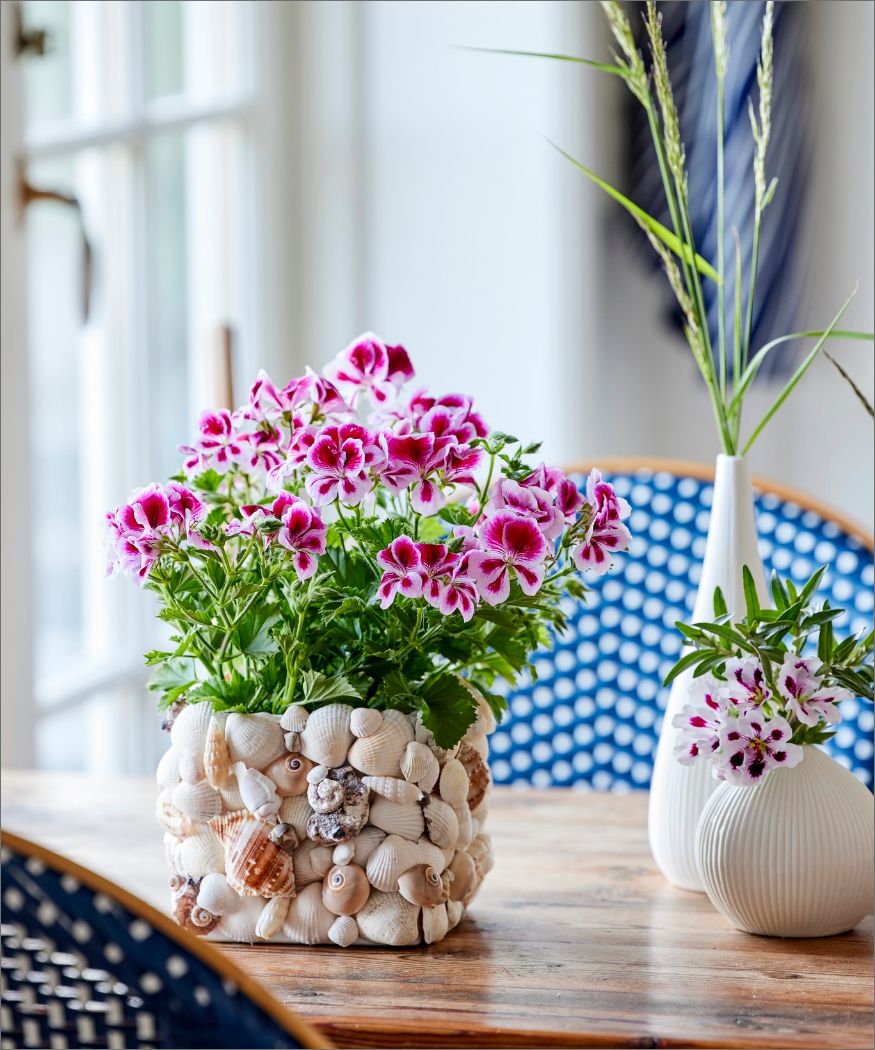 Styling geraniums creatively. Crafted floral decorations featuring geraniums
If you want to showcase geraniums beautifully, you don't have to spend a lot of money. Homemade flower displays are not only more individual than ready-made products, they are also often much cheaper. The experts at Pelargonium for Europe (PfE) share new ideas for colourful homemade decorations featuring geraniums that are easy to make and sure to raise your mood.
Nautical flowering geranium tower
With this crafted asymmetric three-storey tower made of flower pots in seaside blue tones, pure white geraniums can be displayed in a summery way. This decorative idea looks like a cool breeze and can be made in just a few steps. You will need three flower pots in different sizes, spray paints, a wooden bar with a square section, a saw, glue sticks, a hot glue gun, compost and geraniums.
Here's how to make it: Clean the pots, spray them in different shades of blue and let them dry.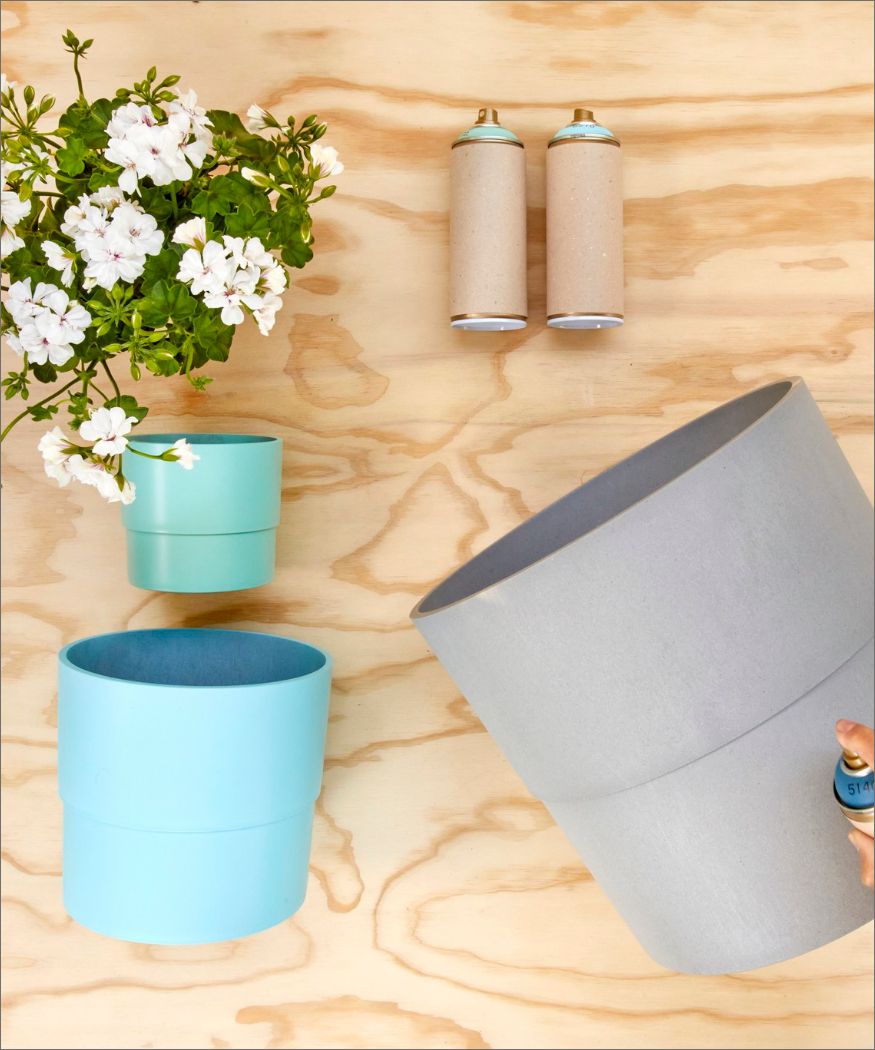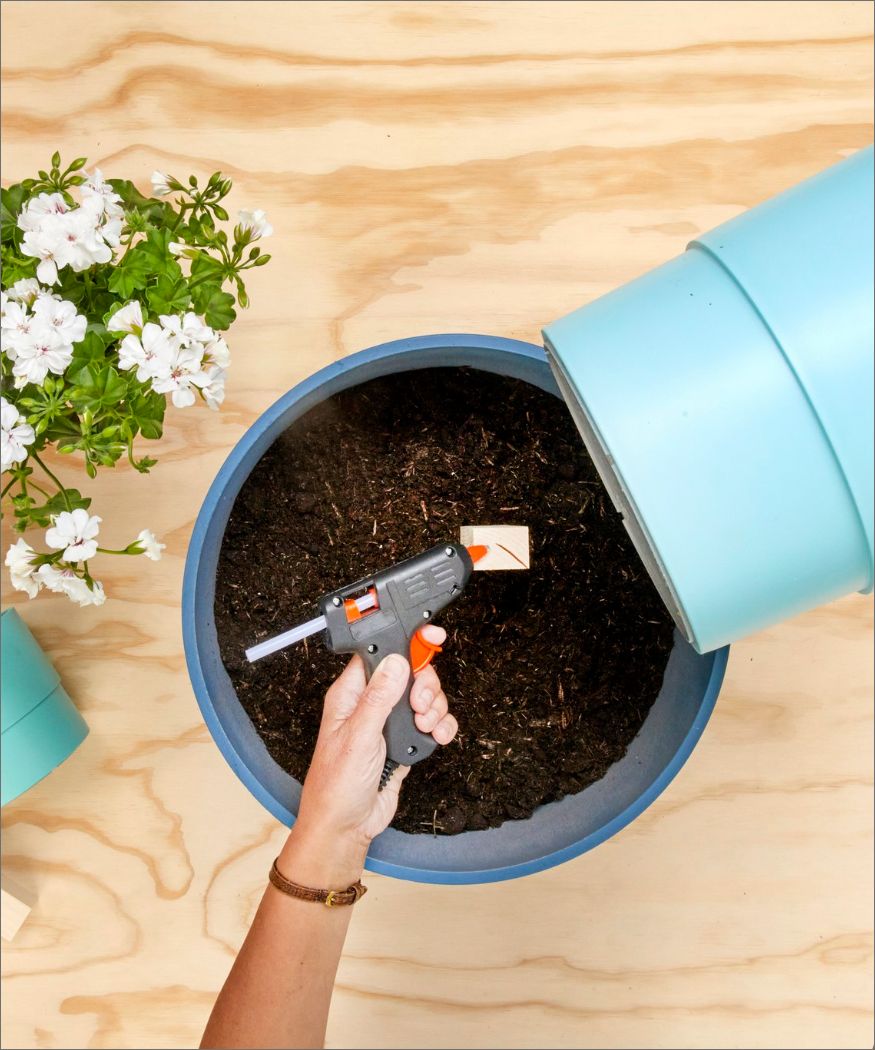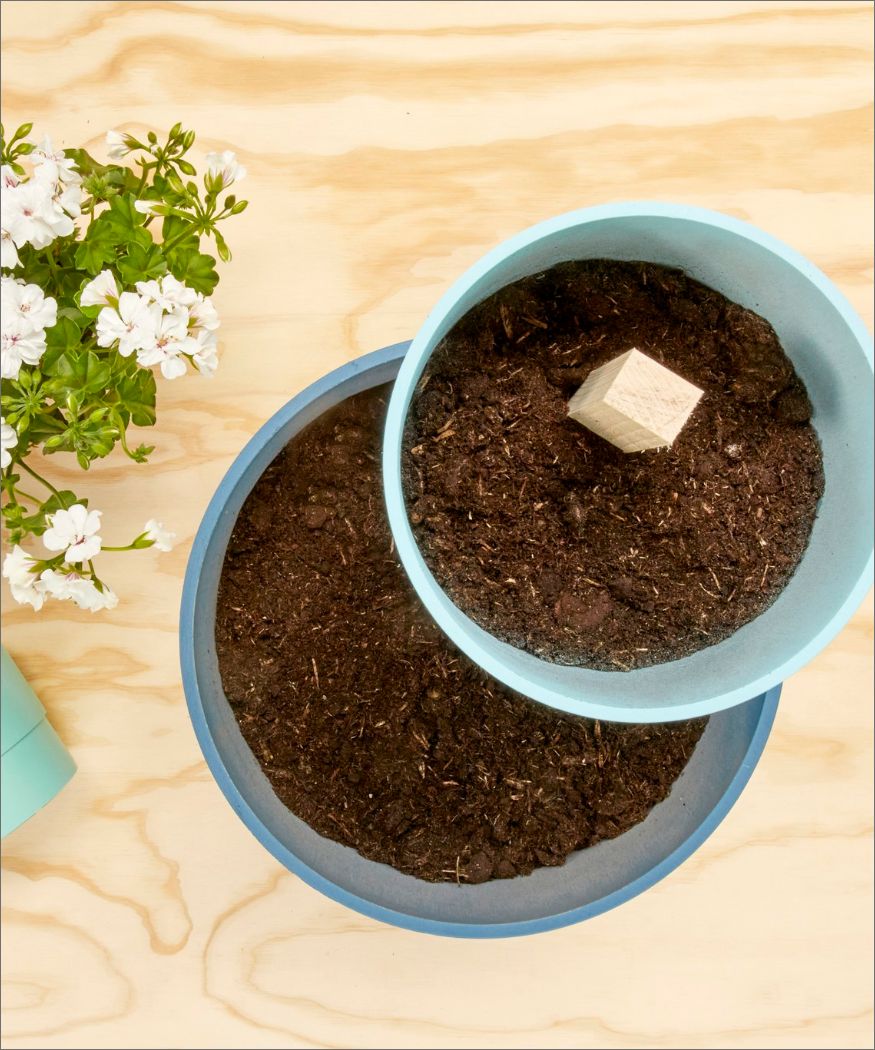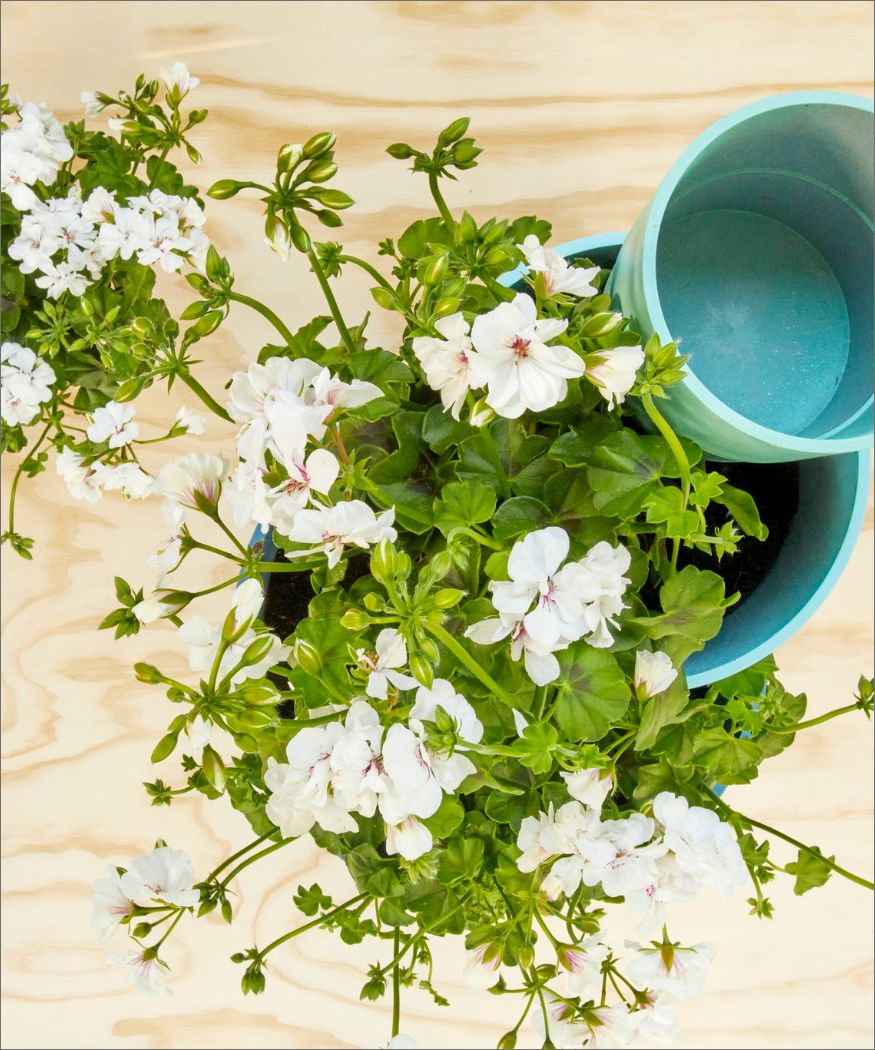 Cut two lengths from the wooden bar. One should be the same length as the interior height of your largest pot. The other should be the same length as the interior height of your medium-sized pot. Place the longer piece of wood on its end as a support in the largest of the three pots and fill the pot with soil.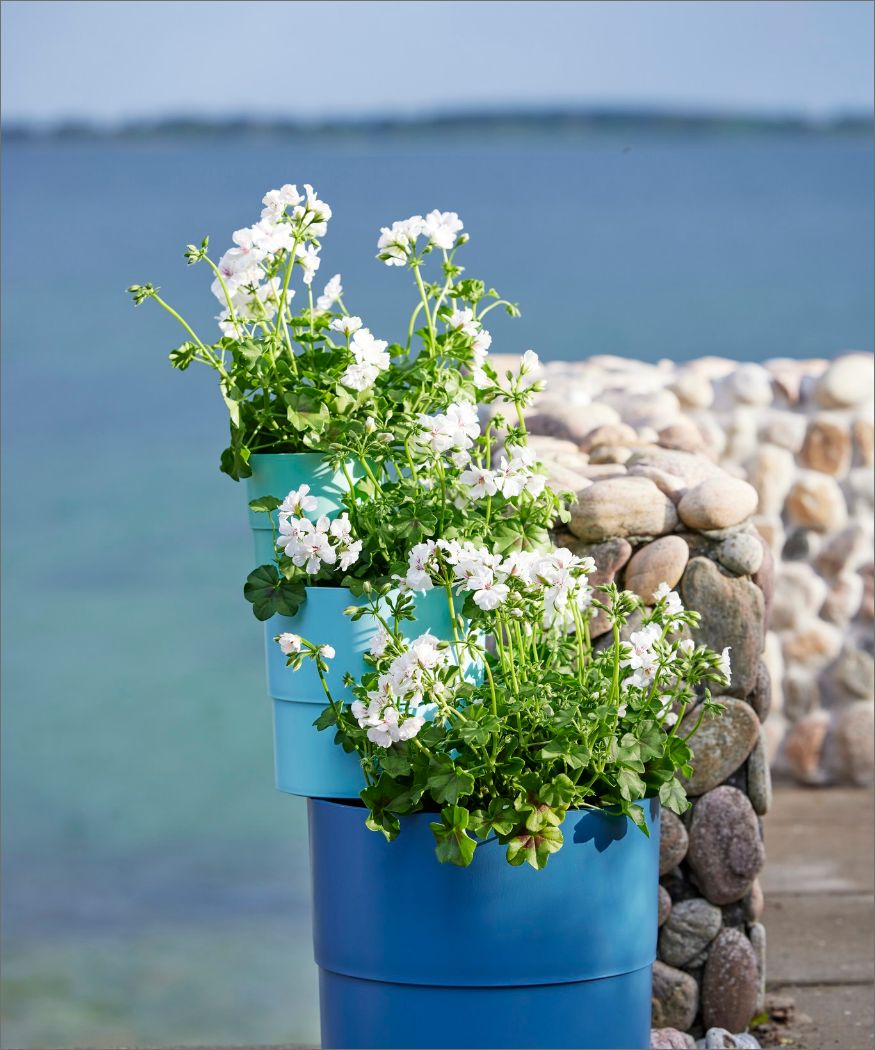 Apply hot glue to the upper end of your wooden bar and to the rim of the largest pot where you wish to place your medium pot. Glue the medium pot in place so it rests on both the rim of the largest pot and the end of the wooden bar.
Once the hot glue is dry, repeat the process with the medium pot and glue the smallest pot in place. This creates a three-storey tower. Finally, plant the pots with geraniums.
Tip: To prevent your tower from swaying, choose as large a pot as possible for the base pot.
Upcycled floral bed table
Both noble and scented geraniums are popular houseplants. To flourish well, they need plenty of daylight. These abundantly flowering and fragrant geraniums make breakfast in bed a delight for all the senses. An upcycled bed table made from coat hangers provides an extra slice of comfort in this cosy sleeping corner. This original homemade piece of furniture offers space for breakfast items as well as a vase of geraniums.
To make this bed table, you will need four wooden coat hangers with a bar, two pieces of board, spray paint, a cordless drill, screws, sandpaper and a saw.
Here's how to make it: First remove the hooks from the hangers. Then place the hangers opposite each other with the hook holes touching to determine the size of your table's shelves. Measure the distance across both hangers. Saw each of your boards into a square of this size. Next, on one hanger, pre-drill holes at either end and one in the central section. Repeat this with the other three hangers. Take one board and drill a hole at each end on the board's edge. These holes must correspond with the outer holes in your hangers. Repeat on the opposite side of the board. This will be your upper shelf.
On the second board repeat the previous step, then add two more holes in the central section of the board's edge. These holes should correspond with the holes in centre of your hangers. This will be your lower shelf. Sand both boards lightly to remove rough edges.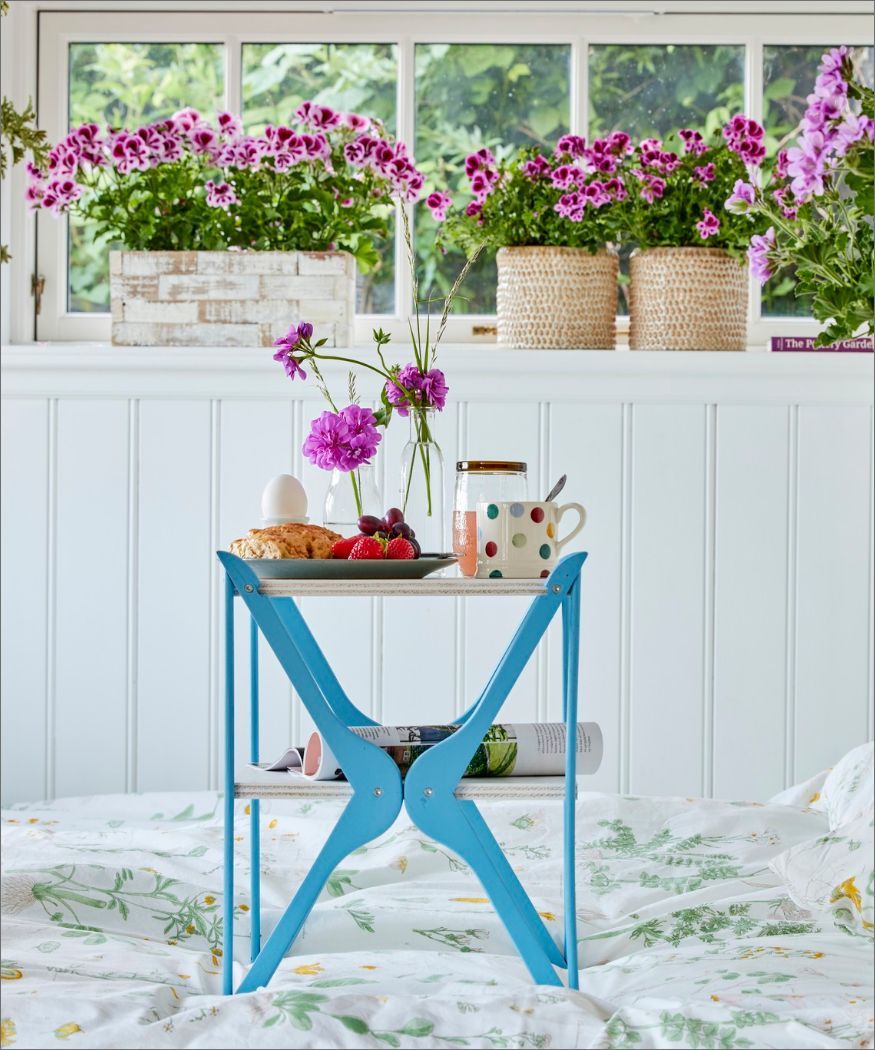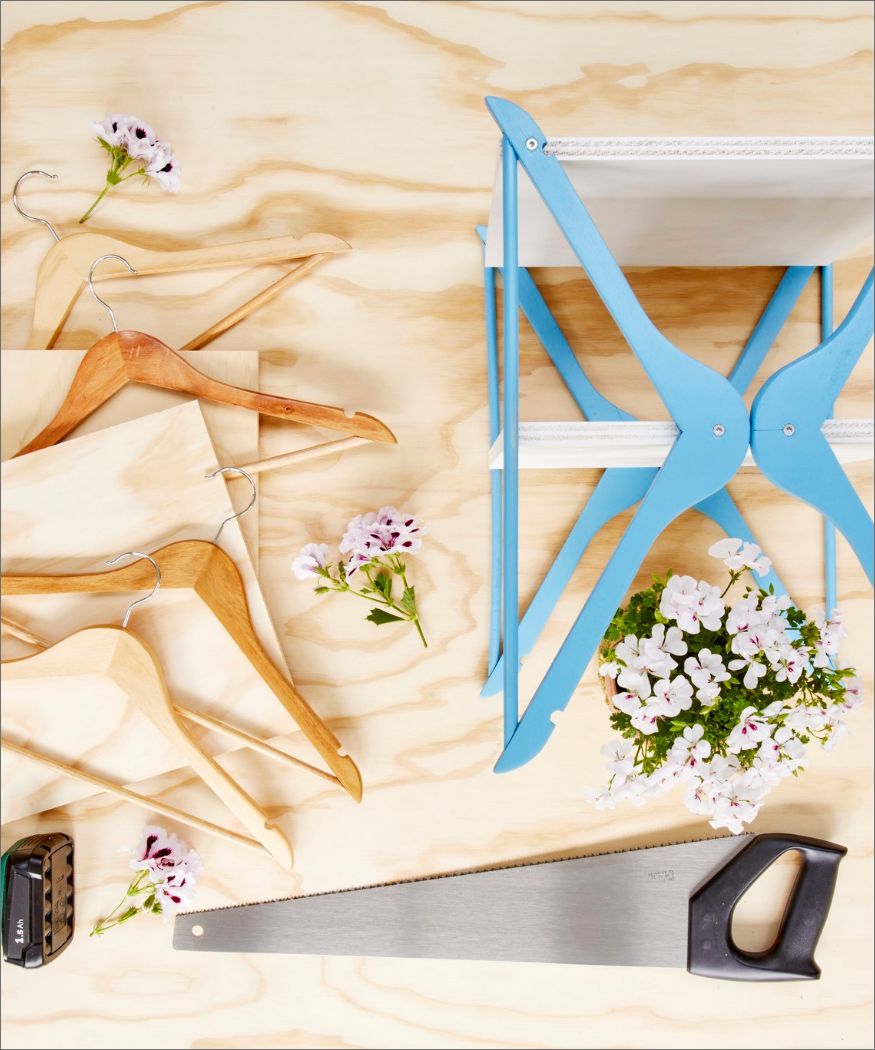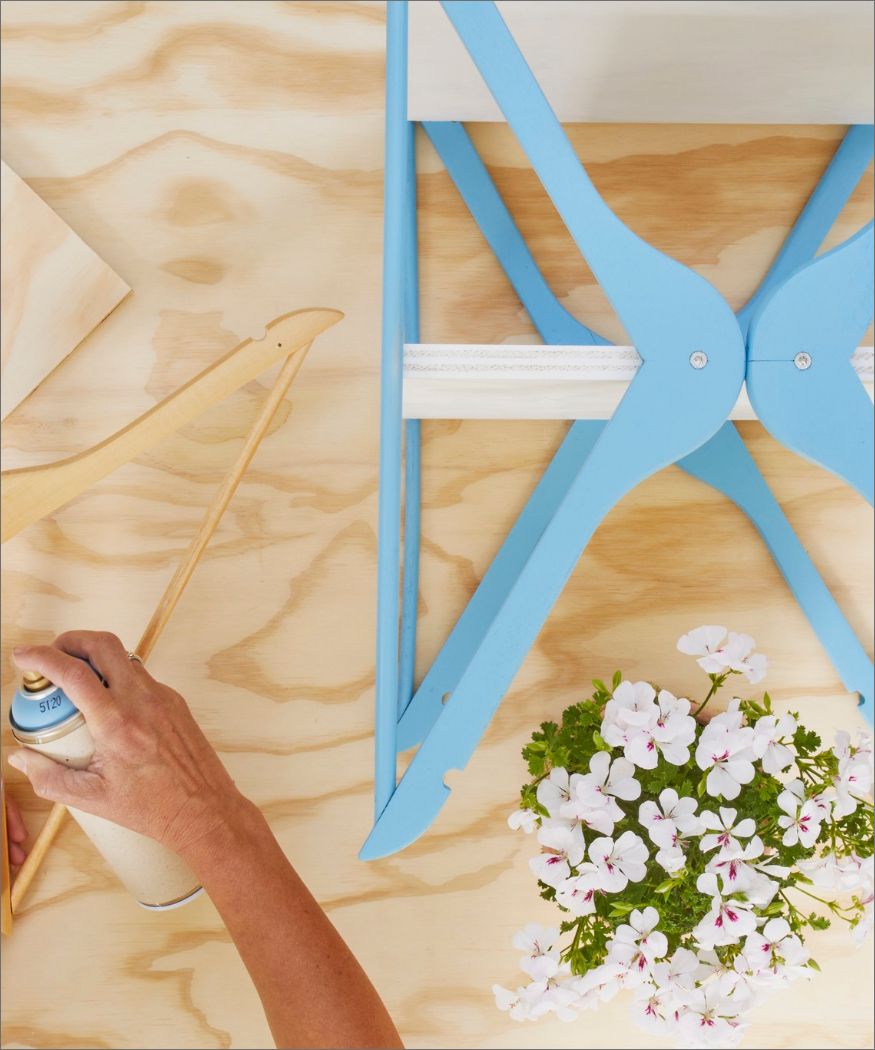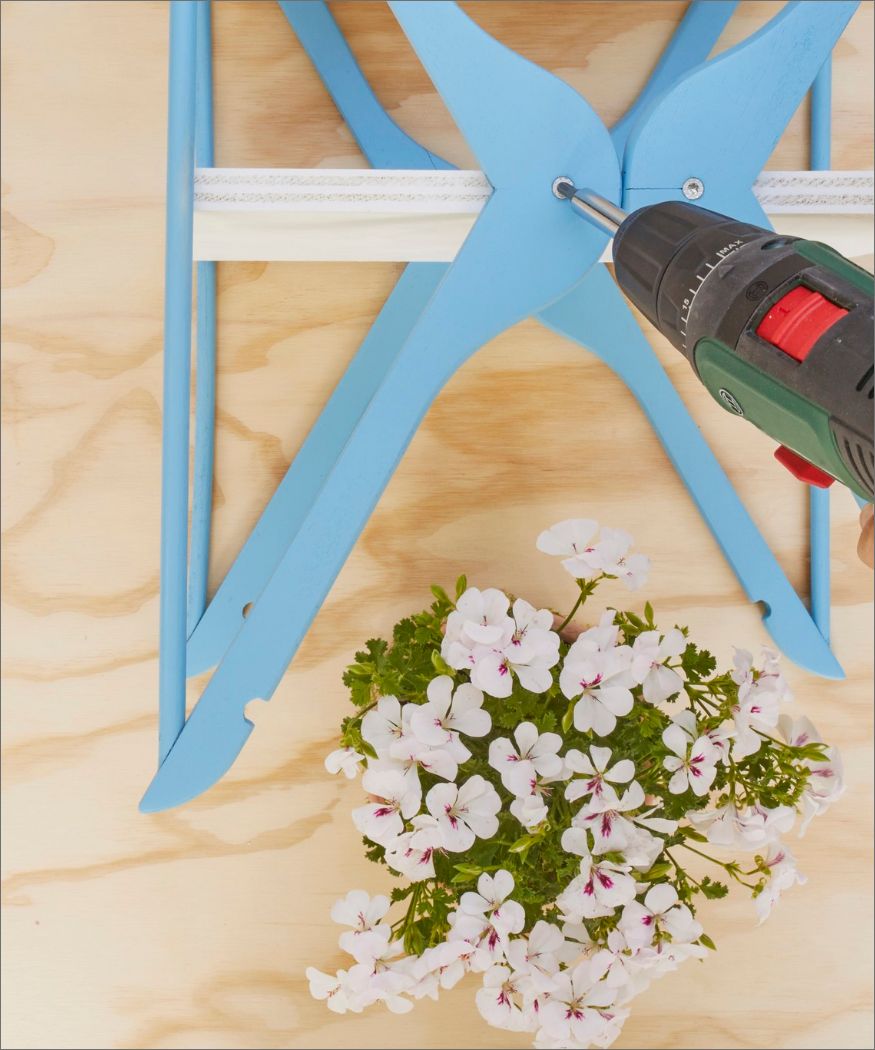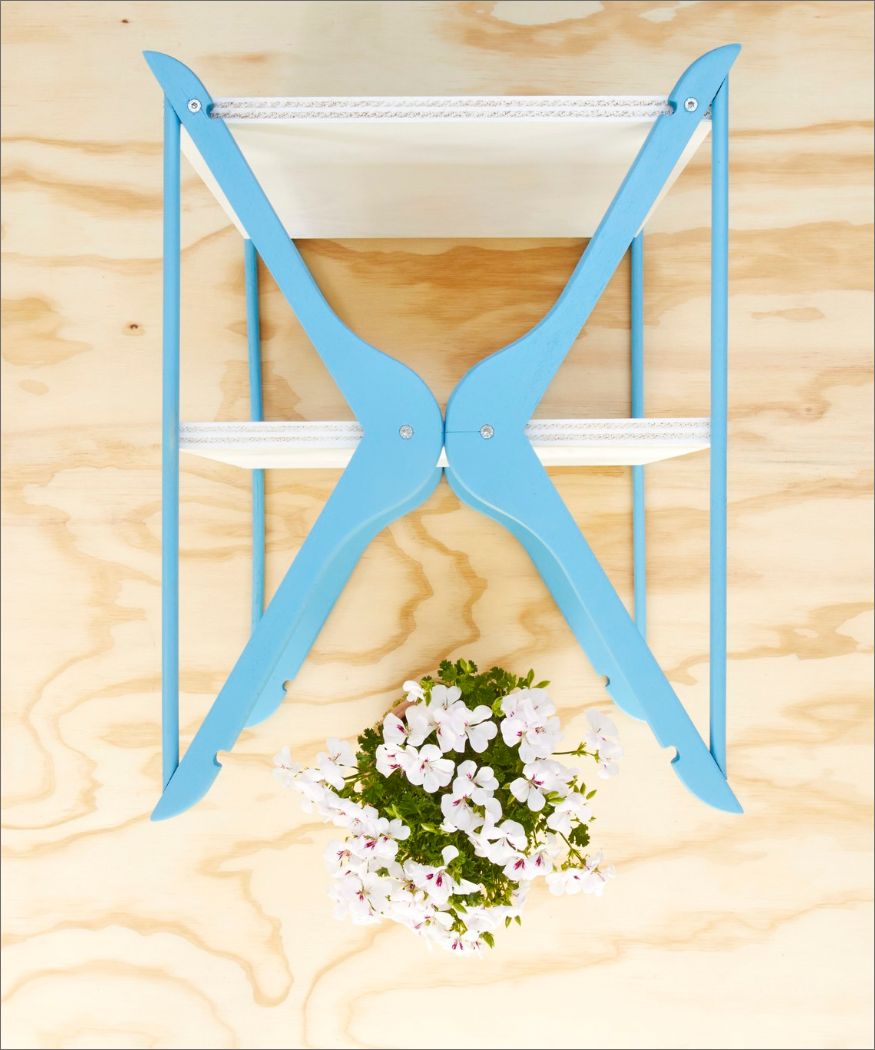 This also helps the paint adhere better. Spray the hangers and boards in your chosen colour and leave to dry.
Once the paint is dry, screw the lower and upper shelves in place. Your upcycled bed table is ready.
Tip: When having breakfast in bed, don't forget to add a geranium. This floral morning greeting will put you in a good mood and ensure a positive start to your day!
Floral wall hanging in natural boho style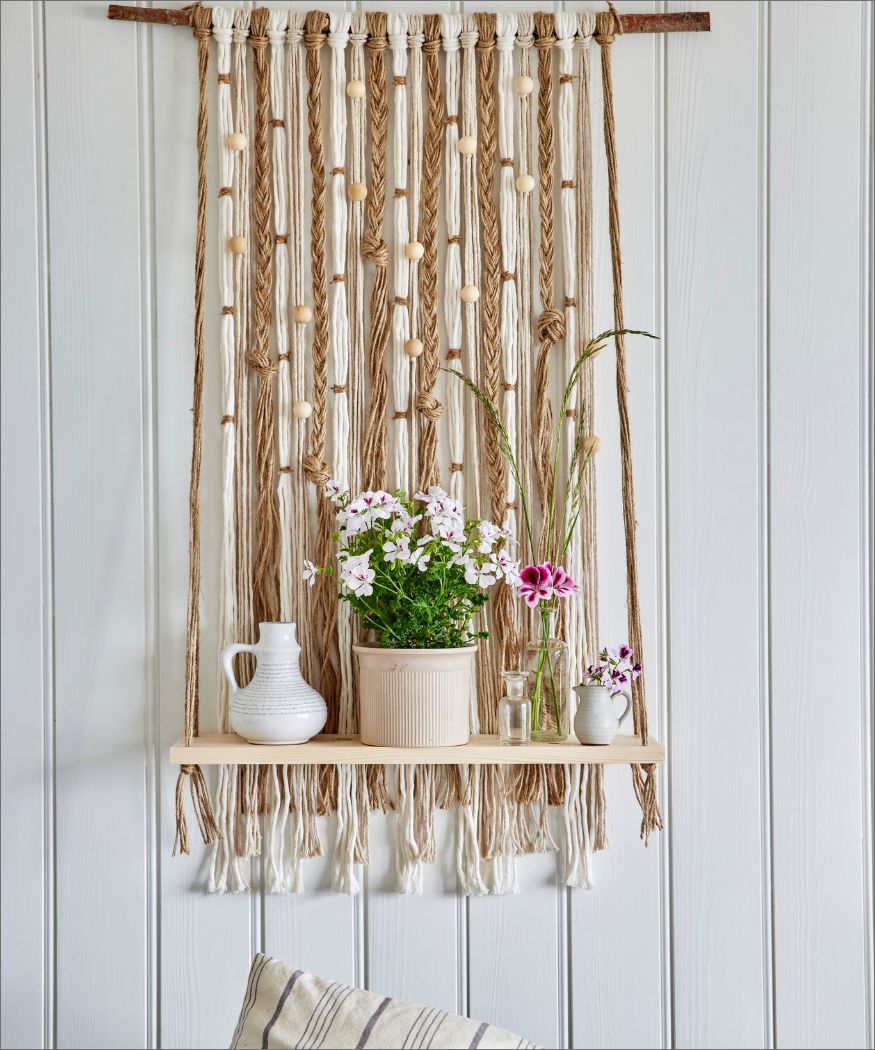 Dieser This boho style wall hanging makes a natural focal point. It holds a hanging shelf for displaying geraniums.
For this DIY wall hanging, you will need a branch, a board, a drill, strong jute twine, macramé yarn, wooden beads, scissors, geraniums and other decorations to place on the shelf. Important: Your branch should be slightly longer than the intended width of the finished hanging.
Here's how to make it:
First cut a length of jute string and tie it to the ends of the branch. This loop will later be used to hang your wall display. Cut more twine and macramé yarn to your desired length, then loop them over the branch in bundles of three to five lengths.
Pass the ends of the twine or yarn through the loop you made and tighten. In the next step, weave braids from some bundles and finish each braid with a knot. For others, let the individual strings hang loosely. Tie other bundles together at different points down their length with different coloured twine or string them with beads. Don't work on the outer bundles on either side of the wall hanging for the time being.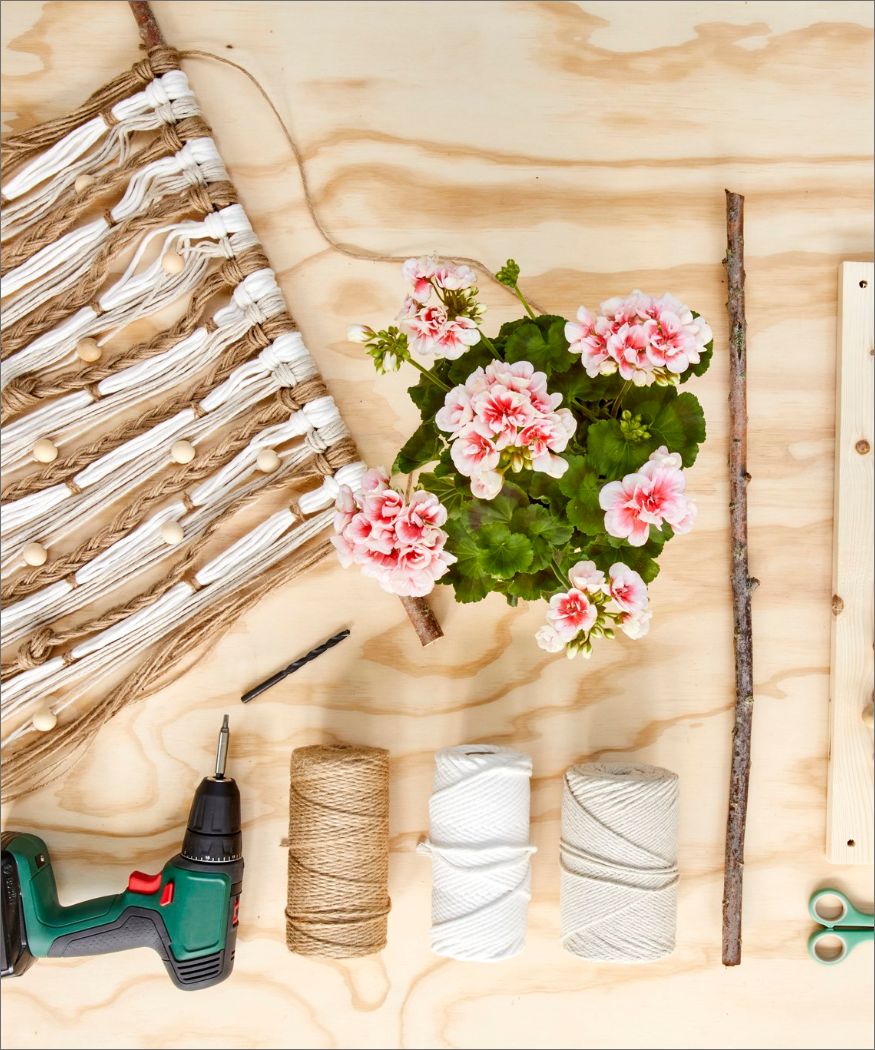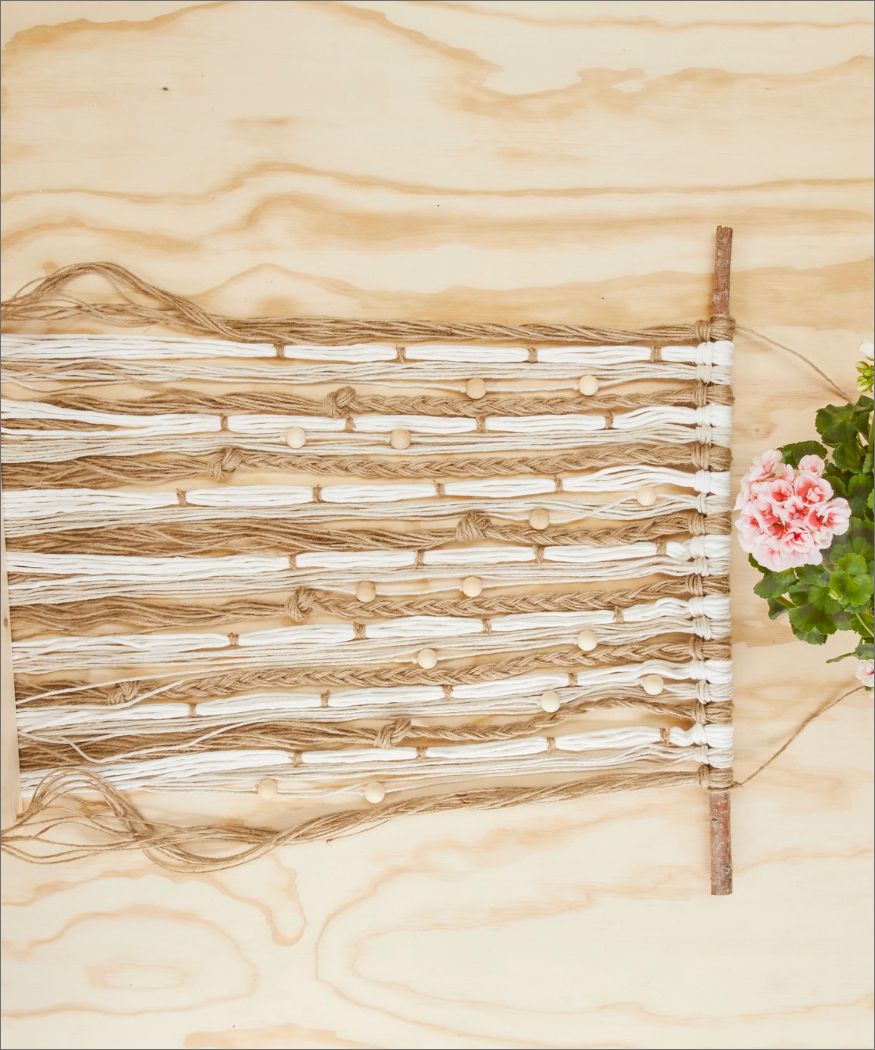 Saw the board to the width you'd like your wall hanging to be (remember to make it slightly shorter than your branch) and drill a hole in all four corners. Divide the outer two bundles and put half of the strings through each of the pre-drilled holes. Then tie the strings under the board so the knots hold the it level and in place. Finally, suspend up your wall hanging using the hanging loop and dress the shelf with a flowering geranium and other decorative accessories.
Shell flower pot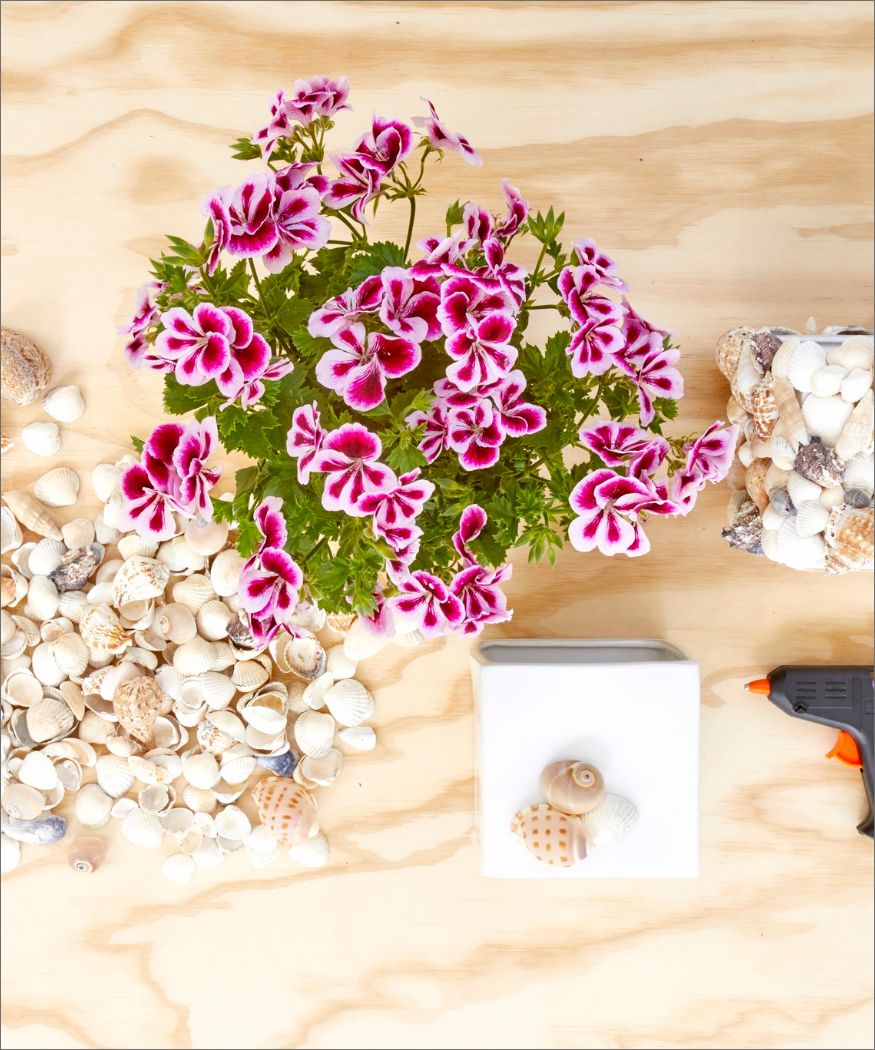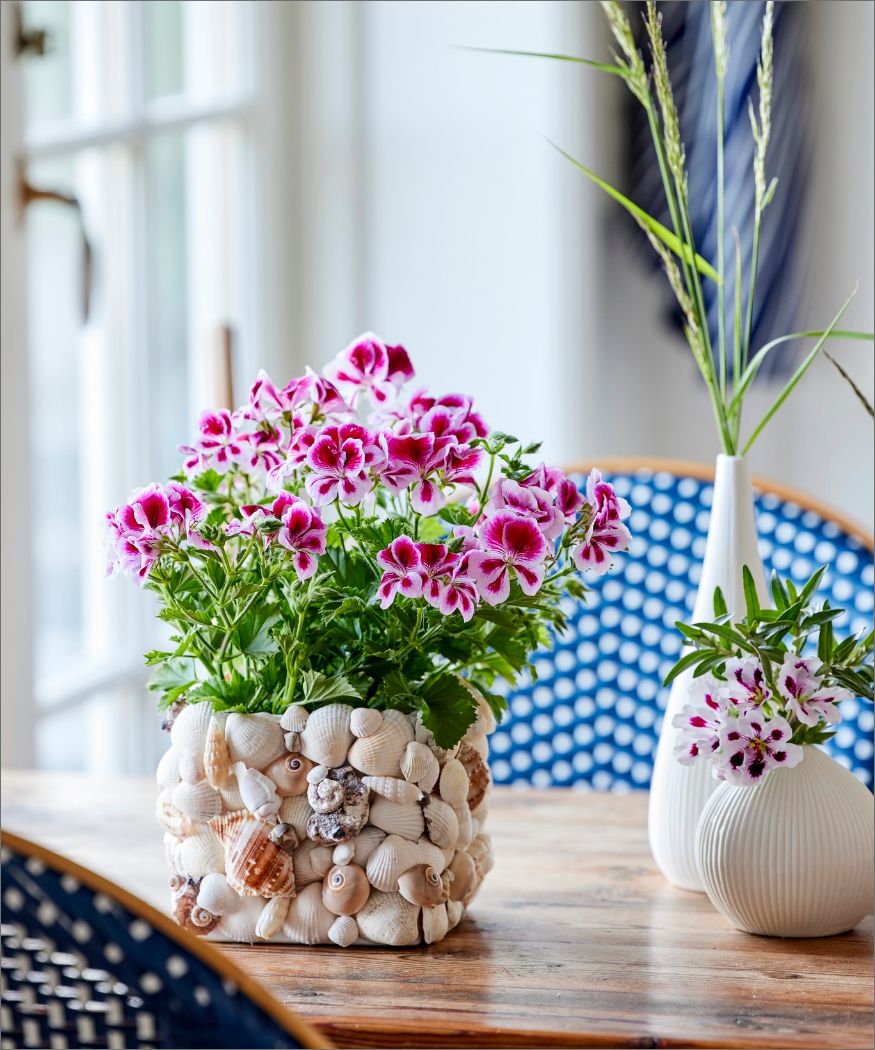 A nautical centrepiece: this flower pot, covered with collected seashells, is a beautiful way to display a noble geranium. With a plain planter and some hot glue, you can create this simple craft idea quickly and easily.
Easel flower stand
A charming homemade idea for your garden: with an easel, a wooden frame and a flower box, you can create an original flower stand to beautifully display geraniums.
Tip: This vibrant 'painting' works especially well with hanging geraniums.