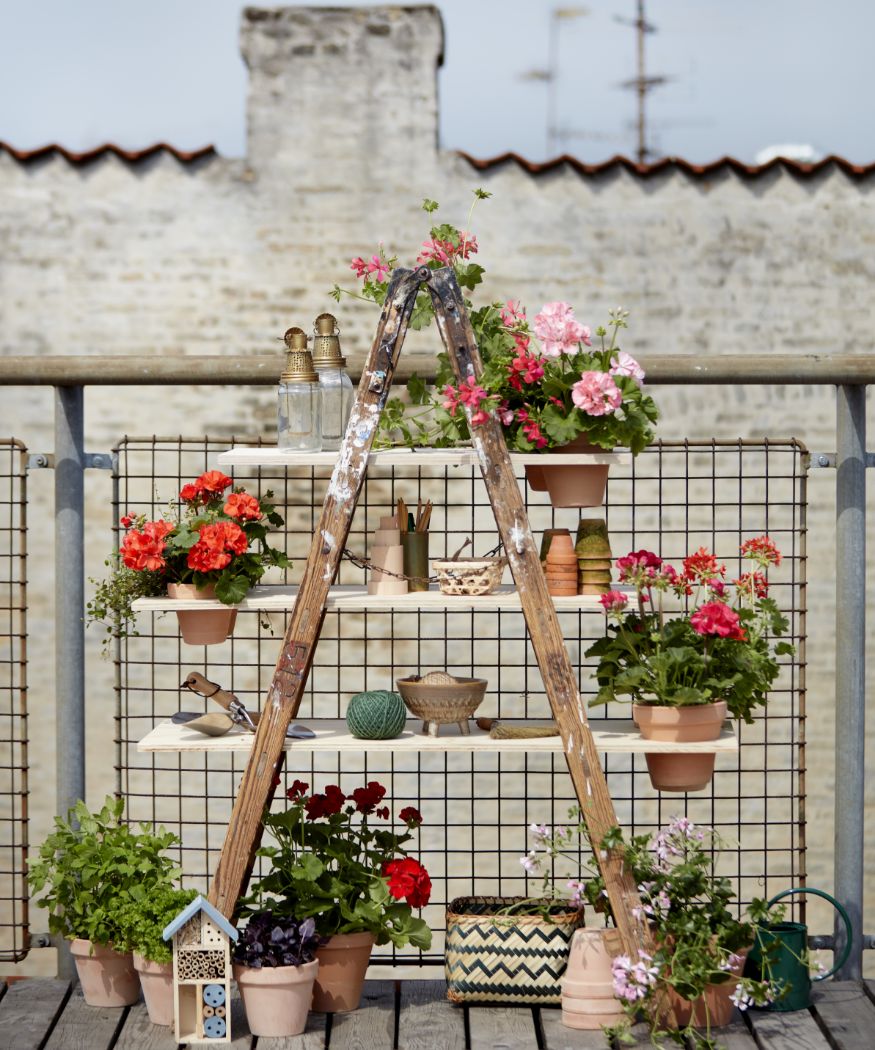 Small urban spaces . DIY makes for urban havens using geraniums & other plants.
Planted terraces or balconies are the perfect retreat to escape hectic city life and enjoy the summer.In an urban jungle of flowering and foliage plants, you'll soon feel in a holiday mood.
Easy-care geraniums make a great first choice for sunny to semi-shady spots:
They score highly with their bright colours, varied shapes and the sheer joy their blooms give. The experts at Pelargonium for Europe show you some fresh ideas to create a plant paradise in the city and explain why geraniums are better suited to urban climates than many other plants.
DIY make: Outdoor ladder shelf unit
This DIY outdoor shelf unit for a city balcony isn't just decorative, it's also practical, offering plenty of space and also works well as a room divider or privacy screen.
Its key feature: the terracotta pots filled with geranium are recessed into the shelves so that they can't fall over.
To recreate this on-trend ladder shelf unit, you need a stepladder, three to four 16mm thick boards, a cordless drill, screws and a screwdriver, a jigsaw, sandpaper, a compass, a pencil and a ruler, as well as several terracotta pots filled with different coloured geraniums. You can have the boards cut to size at a DIY store. They should be slightly narrower than the ladder rungs so they can easily be pushed between the uprights. Calculate their length so the boards protrude 20 to 30cm beyond the ladder frame on each side, so there's enough space for the geraniums.
Instructions:
Step 1: To determine how big the circular holes in the boards should be, first measure the upper diameter of your terracotta pots. The diameter of the holes should be about 1cm less, to hold each pot in place and stop it slipping through.
Step 2: Once you've worked out where to place each pot, use the compass and pencil to draw the appropriate circles on the boards. When planning, bear in mind that a balanced positioning of the pots is important to create a harmonious look.
Step 3: To get the jigsaw blade through the board, first drill holes at the edge of each circle with the cordless drill.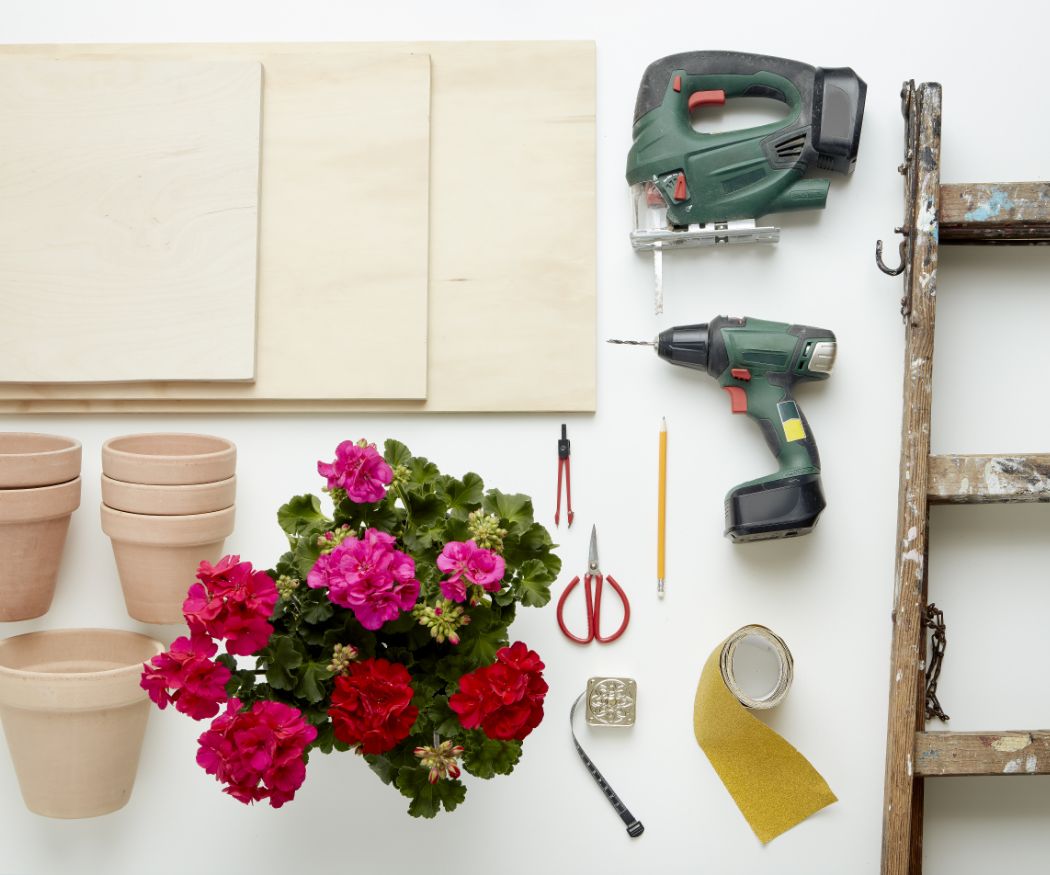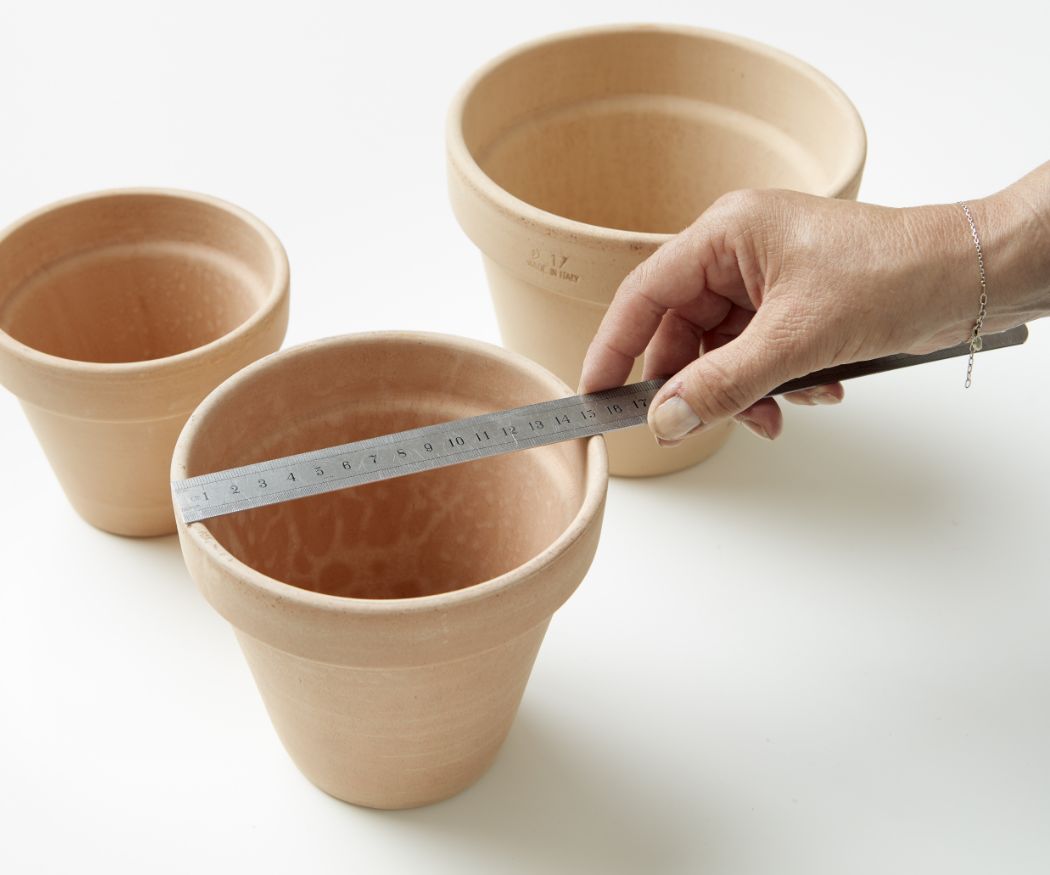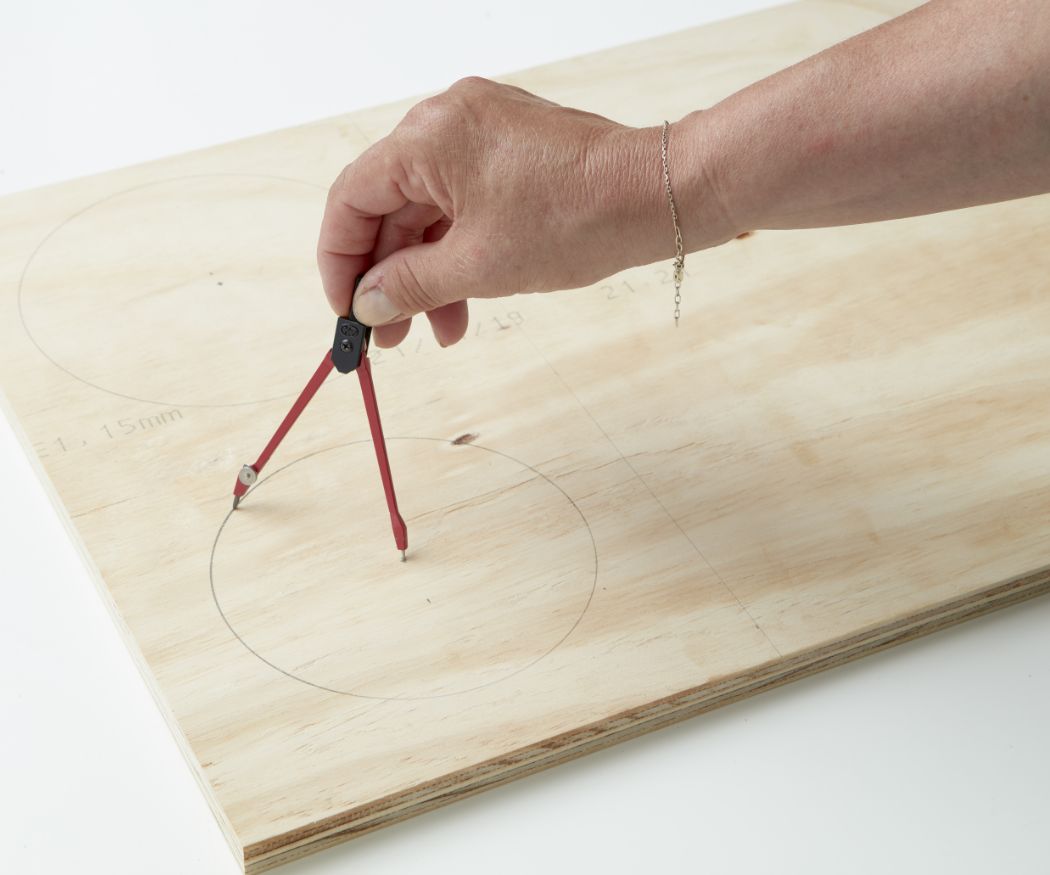 Step 4: Use the jigsaw to cut out around the edge of your circles.
Step 5: Smooth the sawn edges with sandpaper.
Step 6: Finally, place the boards on the ladder rungs and the geranium pots in the holes. Tip: Instead of placing a single geranium pot in the centre of the board, two geranium pots can also be placed next to each other. Important: When placing two pots side by side, make sure you leave enough space between each hole.
Step 7: For extra security, you could also drill a hole through each board and into the ladder rung below it and secure the boards in place with the screws and screwdriver.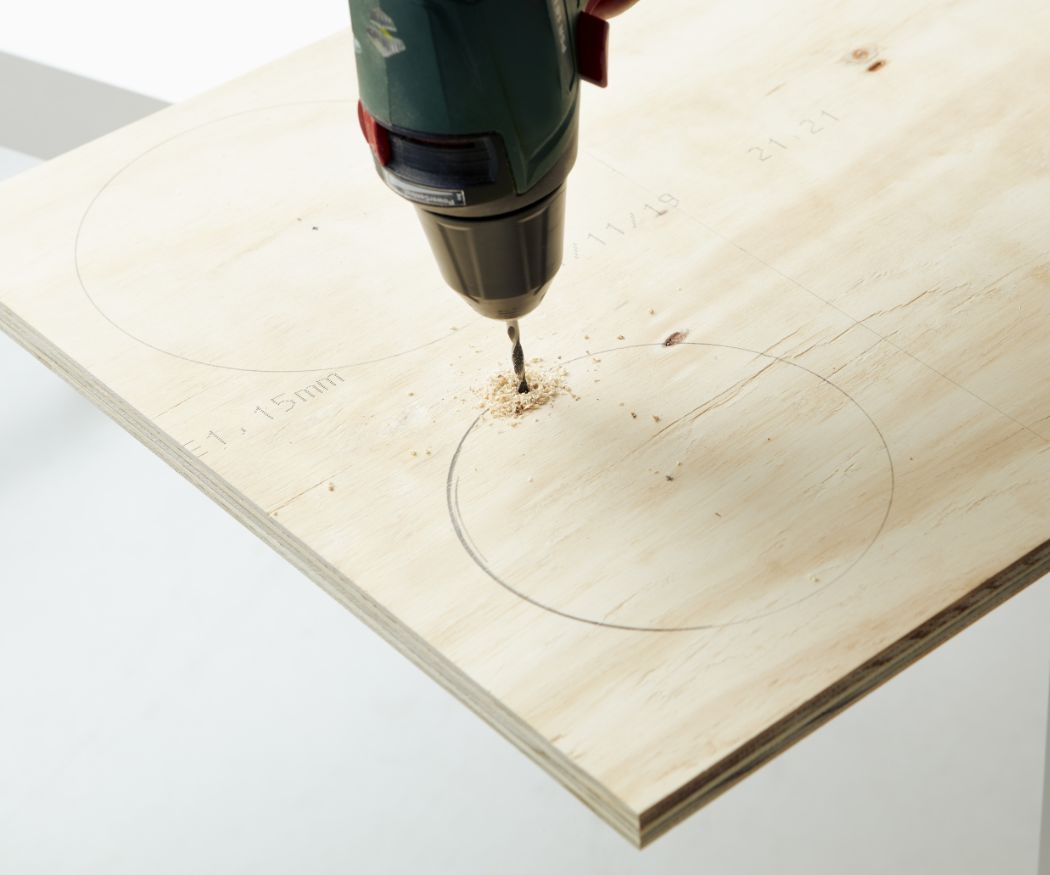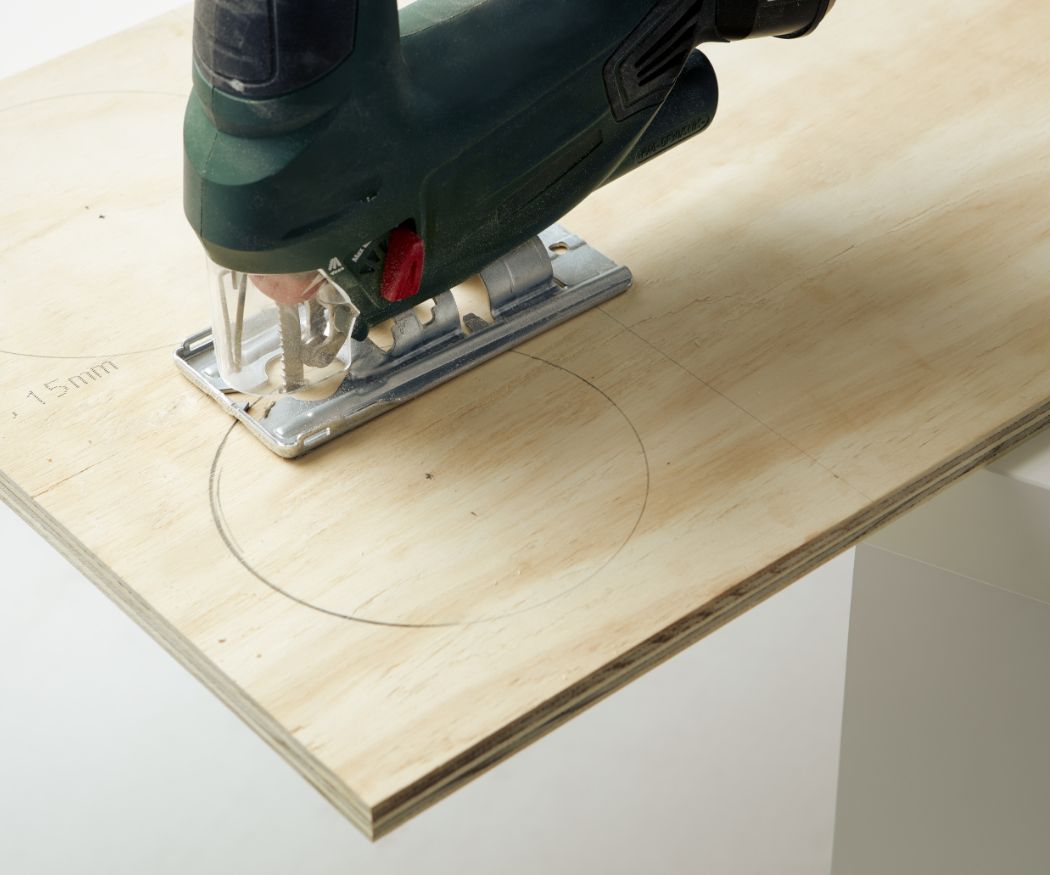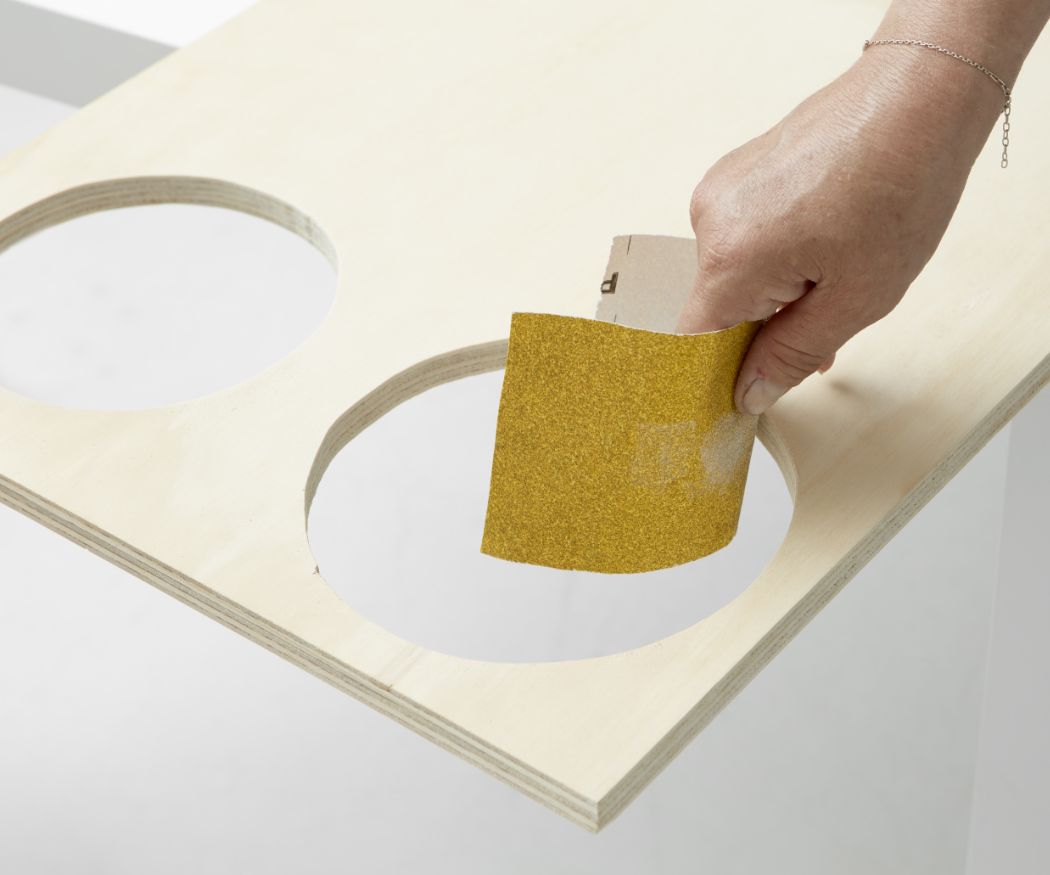 Unique designs for a city balcony: decorative nail polish pots
A city balcony feature:
nail polish transforms plain white planters into quirky designs to set off geraniums and other balcony plants decoratively. A DIY project that's as simple as it is quick, all you need is white pots, nail varnish in a variety of colours, wooden sticks for stirring and a large bowl or other container of water.
Instructions:
First drip nail polish in your chosen colours into a bowl filled with water. Then carefully swirl with the wooden stick until an interesting pattern forms. Finally, quickly submerge the whole pot in the water until the entire outer surface is wet. Drain the pot and leave to dry. Your unique artwork is finished.
Tip: As no two finished pots are alike, several of them standing next to each make a great feature.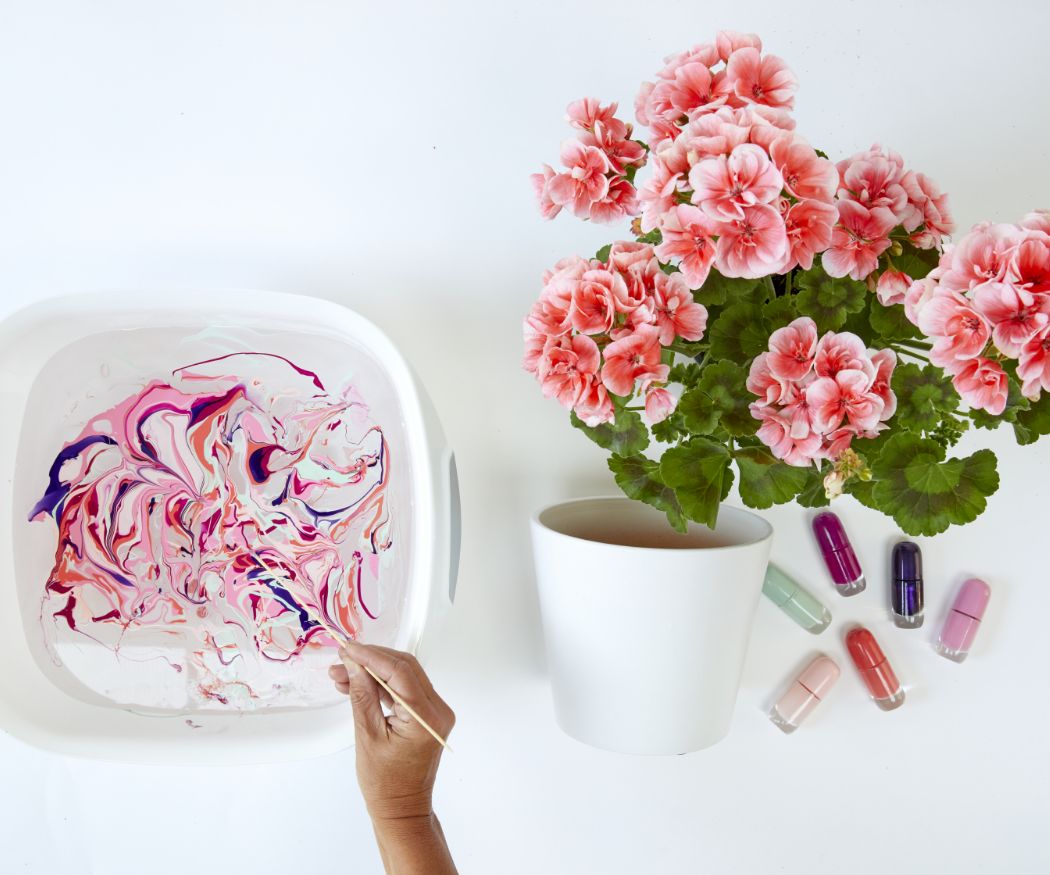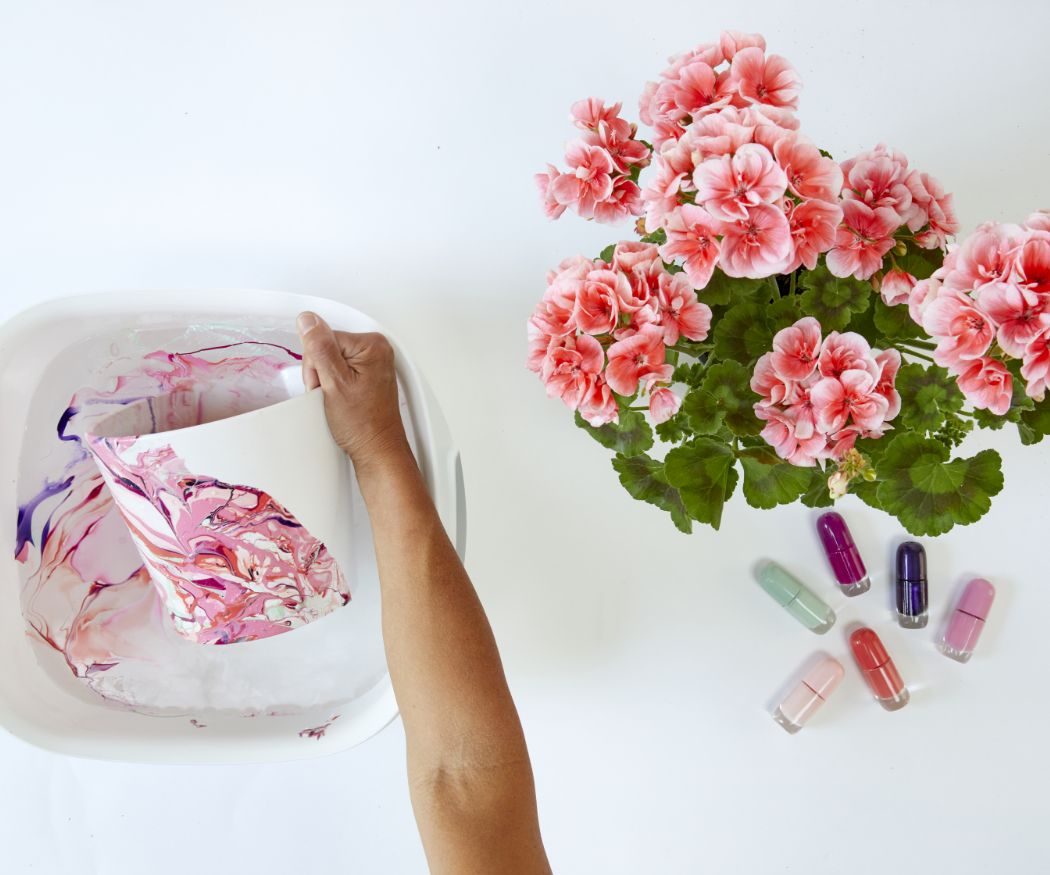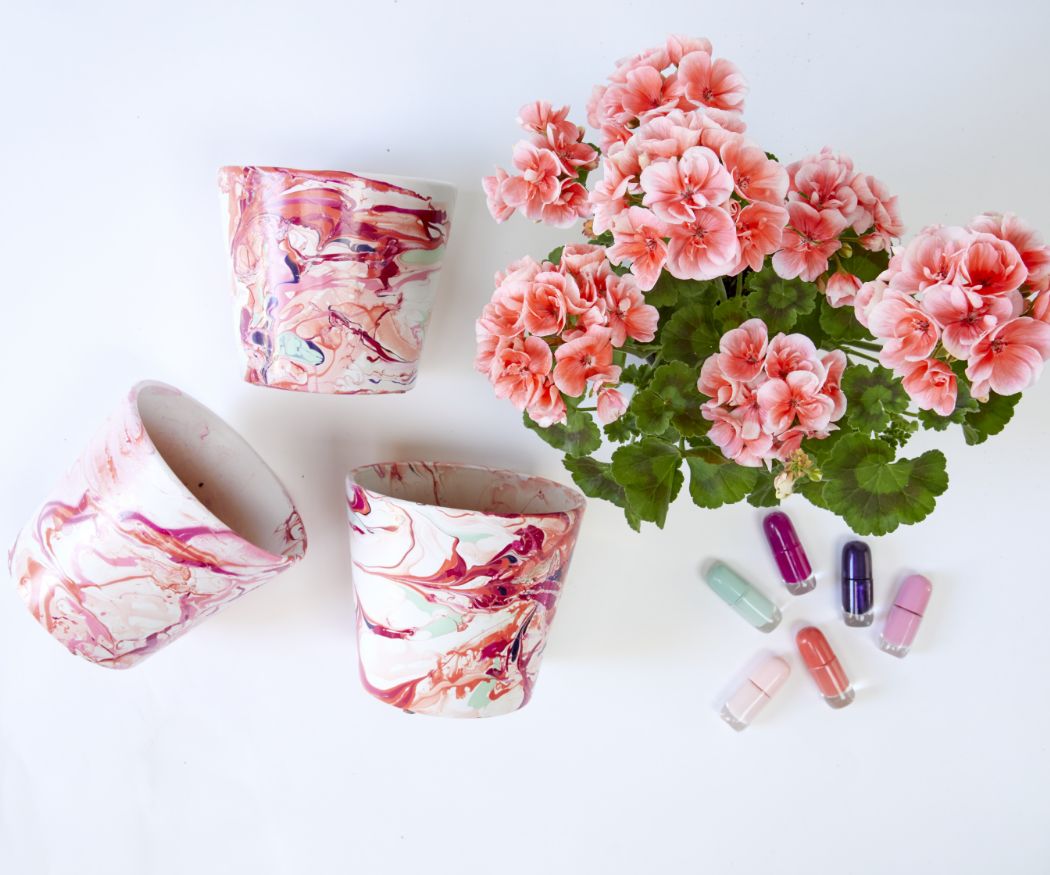 Transform the humble potted geranium into an original artwork
Artfully painted branches from the garden transform a geranium in a simple terracotta pot into a quirky decoration and original gift idea to take to your next garden party. This cute DIY make takes no time at all.
To make this decorative arrangement yourself, you'll need a flowering geranium, a terracotta pot, a few branches from the garden, adhesive tape, acrylic paints, brushes and coloured pencils.
Instructions:
To get a clean line between painted and unpainted surfaces, first divide each branch into several sections with adhesive tape. Then paint each section with the paints. Once the colours have dried, decorate the painted areas with the pens in whatever style you like. Finally remove the tape and push the branches into the compost around the geranium. Done!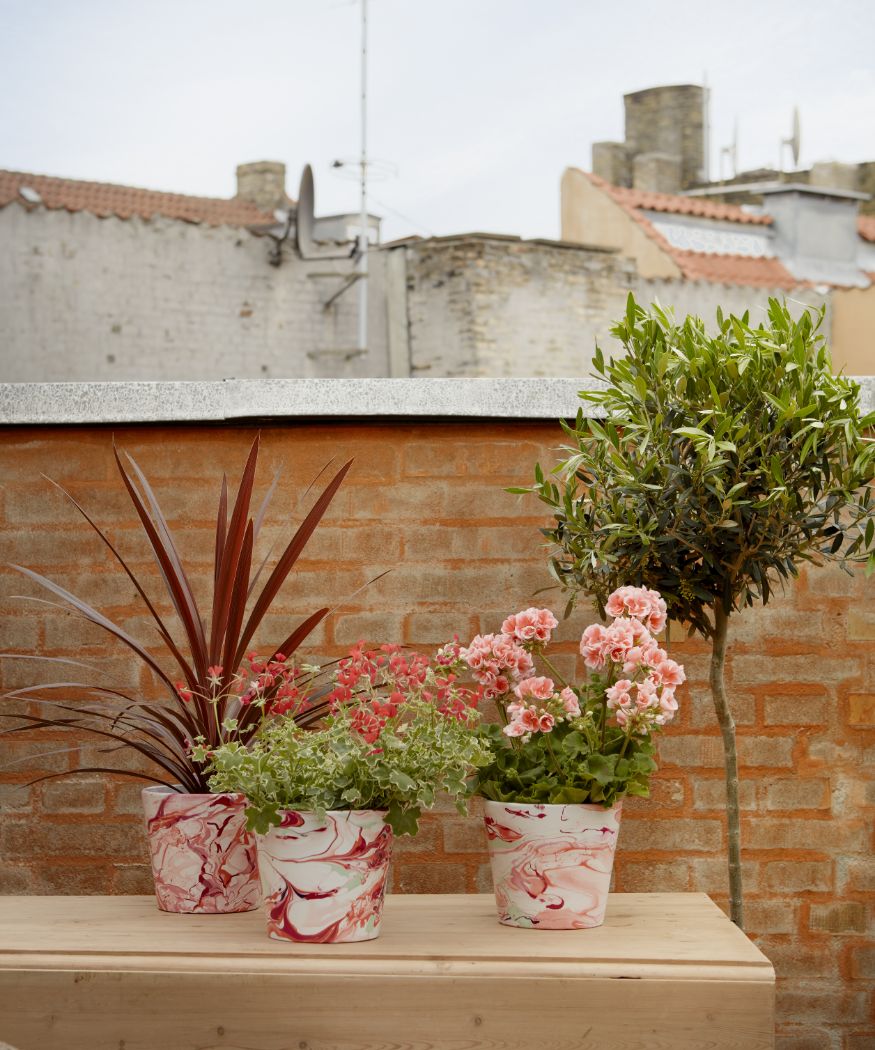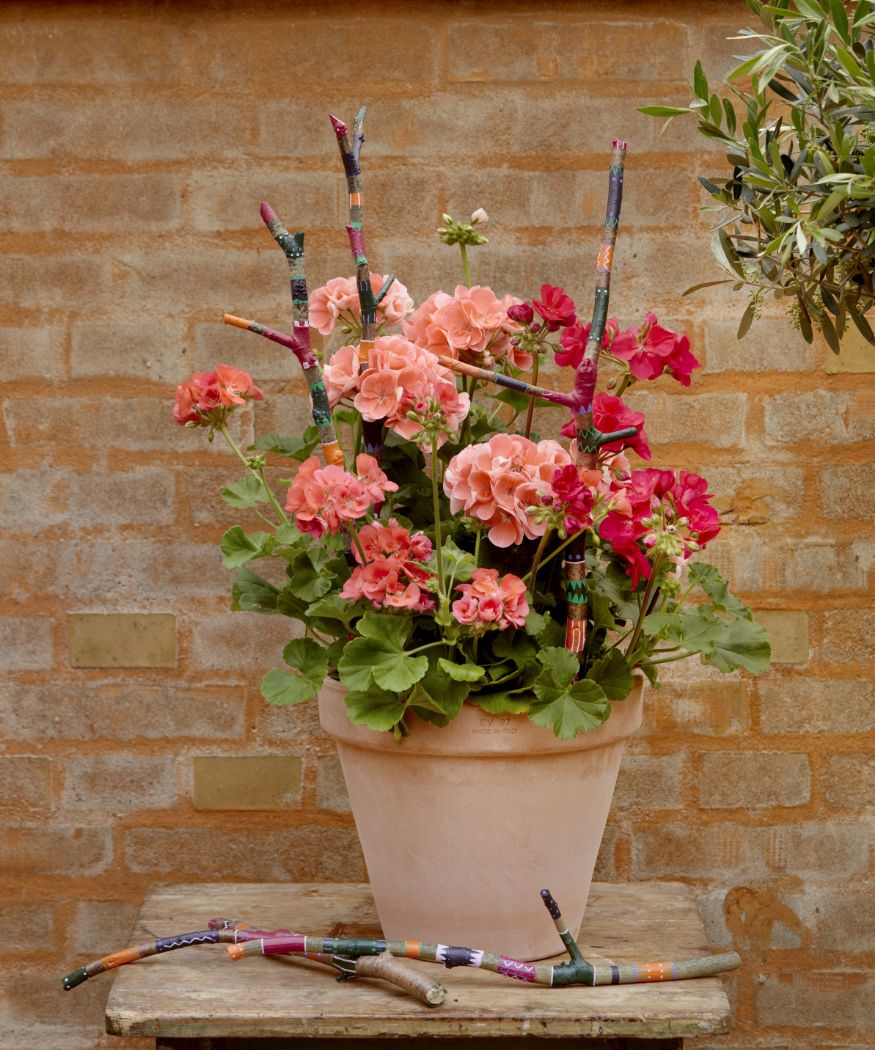 Geraniums: drought-resistant flowering beauties for sunny city balconies
In recent years, heatwaves have become increasingly common in summer. These are a huge challenge, especially in cities, as asphalt and concrete store heat for a long time. As a result, the air in urban areas heats up much more than in the countryside and even at night it often hardly cools down at all. To survive on sunny urban balconies and terraces in summer, plants in the city need to be particularly heat-tolerant. The geranium is perfect for this, as it originally comes from the region around Table Mountain in South Africa. In summer, the climate there is hot and dry, making this easy-care plant well-equipped to withstand even extreme heat. It loves sunlight and can even withstand temporary droughts without suffering permanent damage, because its stems and fleshy leaves store plenty of water. To ensure lots of flower, geraniums should still be watered regularly during prolonged heat and drought. Water reservoirs are great to help keep care costs down.