How a low-maintenance South African plant brightens urban life with floral colours
Say the word geranium and many will automatically think of profusely flowering balcony boxes on traditional Bavarian houses. But the pelargonium – the technical term for geranium – is not just at home in the country. Thanks to its many colour, flower and leaf variations as well as low maintenance resilience, it transforms urban balconies, terraces and courtyards into colourful feel-good oases. These heat-resistant easy-care plants adapt to the city climate just as perfectly as to the urban lifestyle.
Whether as outdoor or indoor plant:
the geranium is always a part of the urban gardening and green living trend.
Grey city? Colourful city!
There is no better place to enjoy summer in the city than a green terrace, high above the rooftops, filled with flowers. Geraniums are perfect for this environment, offering immediate colour and style, but without the need to invest a great deal of time and energy in plant care – making them the most popular bedding plant for balconies.
They are available in a variety of different sizes and an abundance of colours – try vibrant hues of orange, red and apricot, planted in large sunny yellow metal flower boxes to guarantee a fantastic "summer sunset" every day! Their growth habit and abundance of flowers absorb the last rays of sun and reflect them with a brilliant and beautiful intensity.
Easy-care geraniums: Simply made for the city!
But the love story between the geranium and the sun doesn't end with reflections of evening light: Originally from South Africa, the geranium loves the direct sunlight on a south facing balcony. While they also tolerate partial shade, the rule of thumb is: The more sun they get, the more flowers they produce. Even summer heat waves affecting today's city climate more intensively than ever, present no problem for the sun-loving geranium. In extreme temperatures just ensure sure the soil doesn't dry out completely and that the plants are watered regularly – self-watering pots are particularly convenient. The dry heat of cities also works to the geranium's advantage as they prefer dry heat.
And if you're planning a weekend away, the hardy, hard-working geranium won't spoil your plans as they store plenty of water in their thick stems and leaves – so can survive short dry spells, even on really hot days.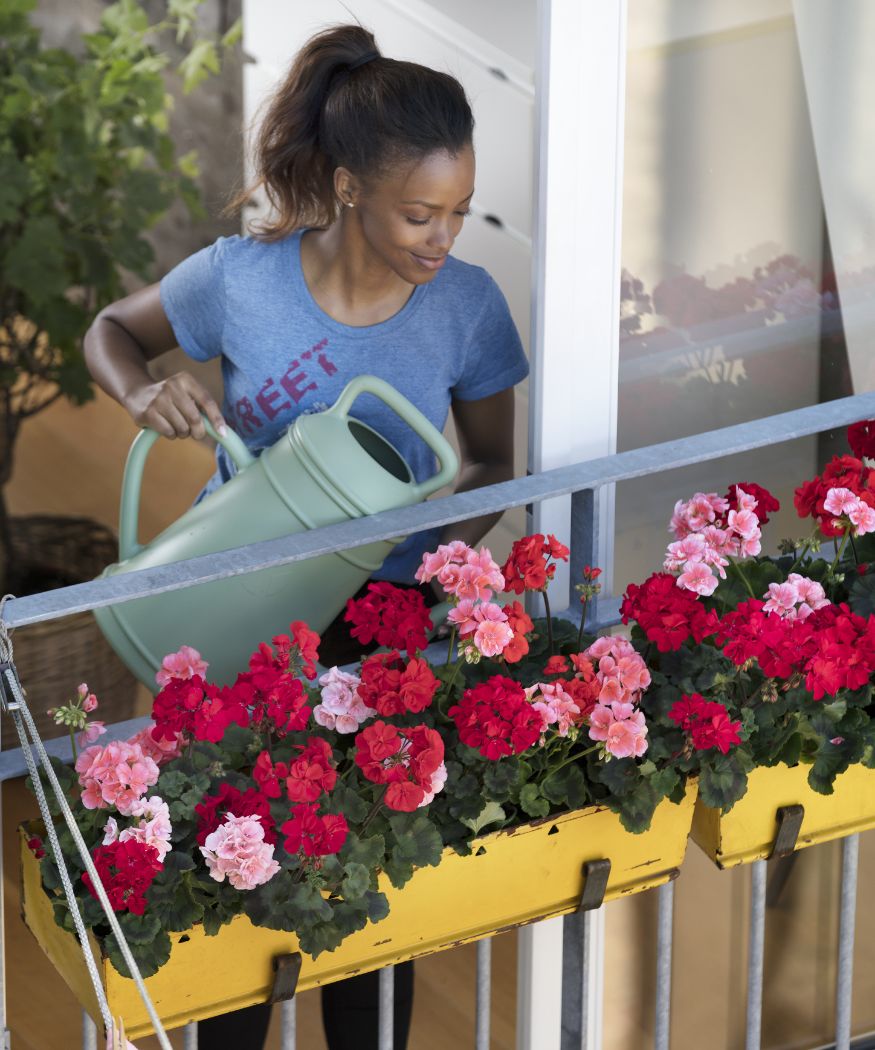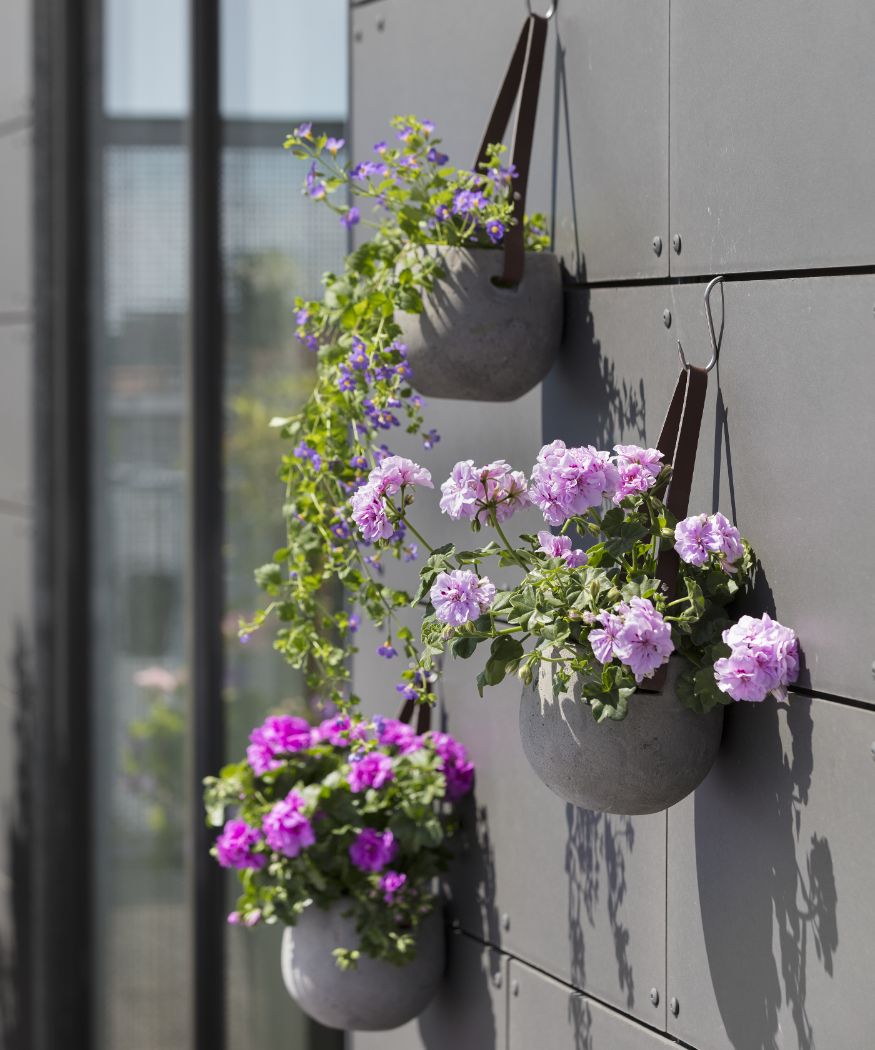 Urban feel-good oases with geraniums
This hardy, versatile plant can be planted on its own or combined with any number of other plants to create a tranquil place to relax and unwind.
Plant with hostas in a shady corner, or try combining ice white traiing geraniums with lilies of the Nile, silvergrass and marsh plants, planted in zinc pots for a cool, modern look.
Add in a small DIY fountain to enjoy a murmur of water to complete the perfect atmosphere on the home balcony and a relaxing alternative to traffic and city noise.
Pelargoniums in fashionable hues of lilac or purple are a great match for the concrete and metal grey city surroundings.
So-called bridge balcony boxes that are simply positioned over the railing, make planting on the balcony even easier. Where there's no room for planters or balcony boxes, plant pots can also be hung directly on the wall.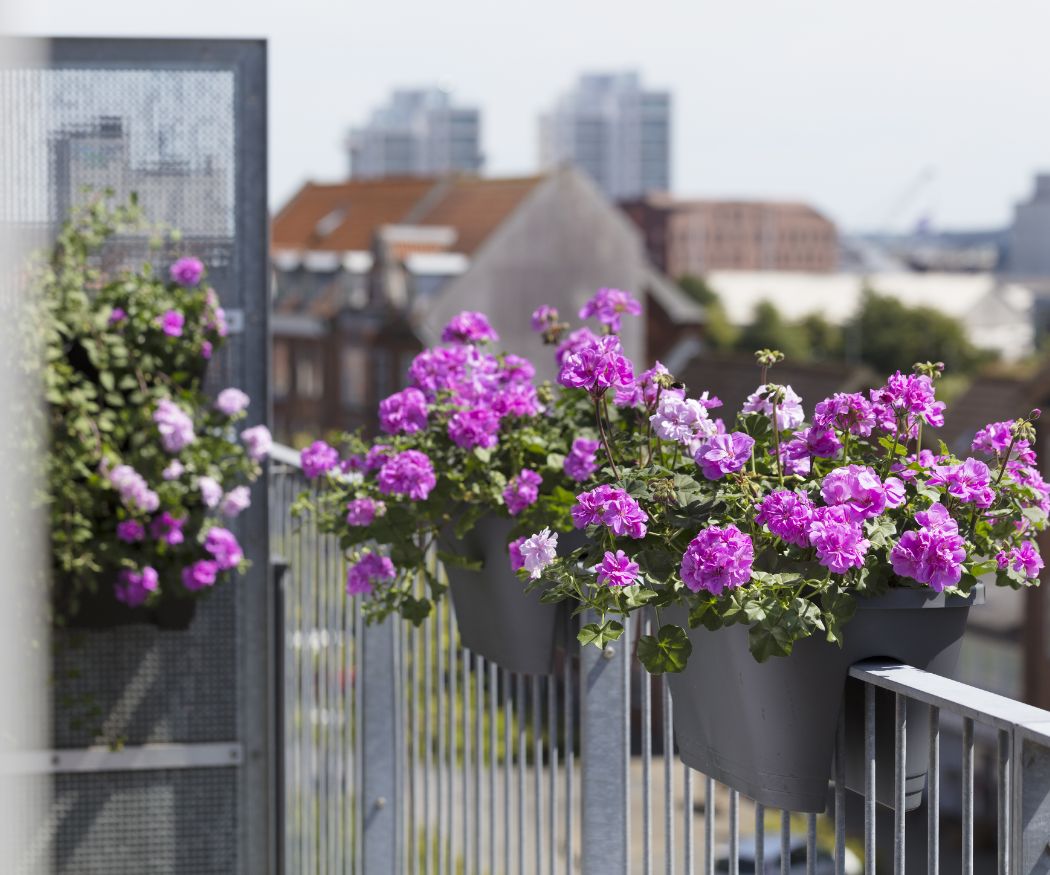 Summer party in the city: Modern table deco with the flick of a wrist

In the heart of the city enjoy breakfast or dinner outdoors, yet still be surrounded by the country.
These summery table decorations are quick and easy to make:
Simply pick a few geraniums from the flower boxes, place them in small glass bottles and arrange on the table for a relaxed and stylish look.
"Welcome home": Classic summer plants meet industrial style
There doesn't always have to be a garden to throw a successful garden party! It is easy to create a welcoming atmosphere even in a city courtyard.
To create an instant garden, just add some zinc pots, wooden crates, old industrial trolley carts and metal shelves to create an eclectic variety of planting opportunities, then add easy-care trailing and upright geraniums in colours of your choice.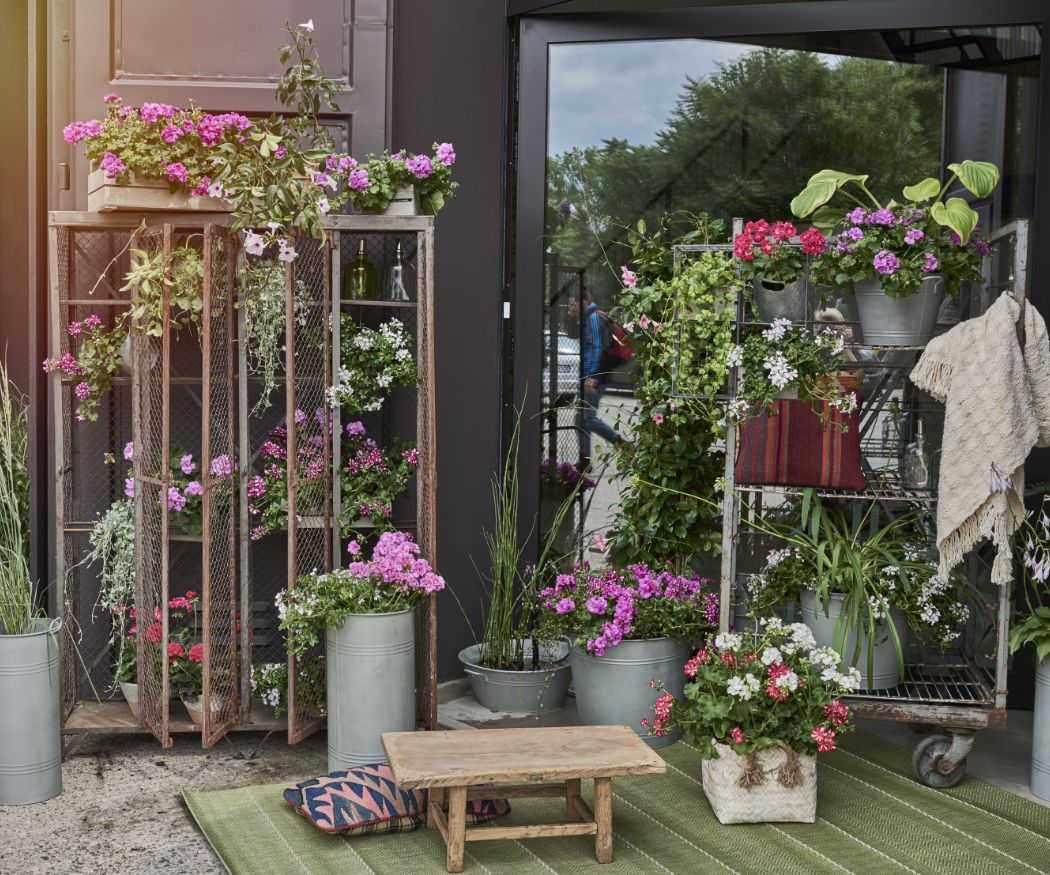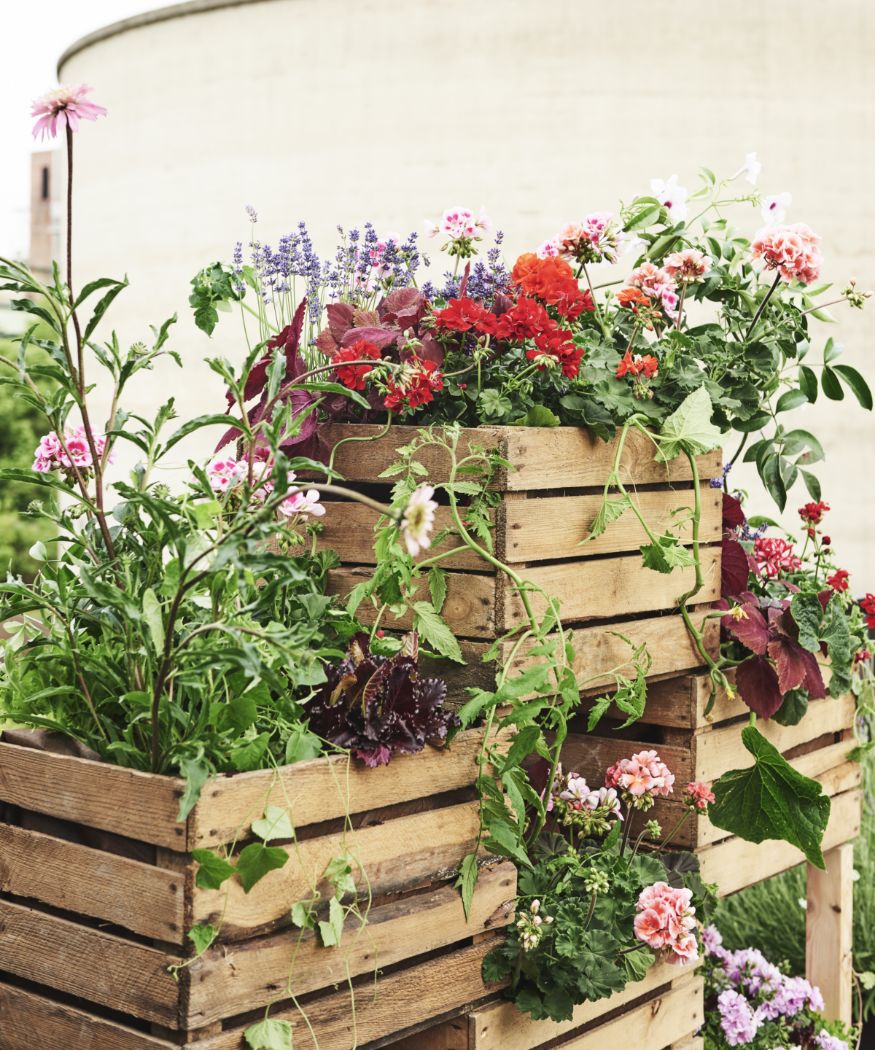 Between herbs and lettuce: Urban gardening with geraniums
In city gardening, nature softens everything and it is possible to create a jungle look even in the smallest of urban corners.
This urban jungle wall is made of old wooden fruit crates, planted with a mixture of upright and trailing geraniums, summery vines and lettuce. Scented and fancy-leaf geraniums complete the jungle feeling perfectly. An easy and eyecatching way to create a vertical garden in a city balcony adding much needed privacy and screening too.
At home in the city: Urban interior decorating with regal geraniums
No balcony? No problem! In no time at all, you can conjure up the "green living" feeling inside your home. Use baskets, handmade felt pots and wooden boxes as containers and combine with opulent regal geraniums in vivid summery colours to create an oasis.
"Pelargonium grandiflorum" is the beauty queen among geraniums, with its big showy flowers and especially vivid colours.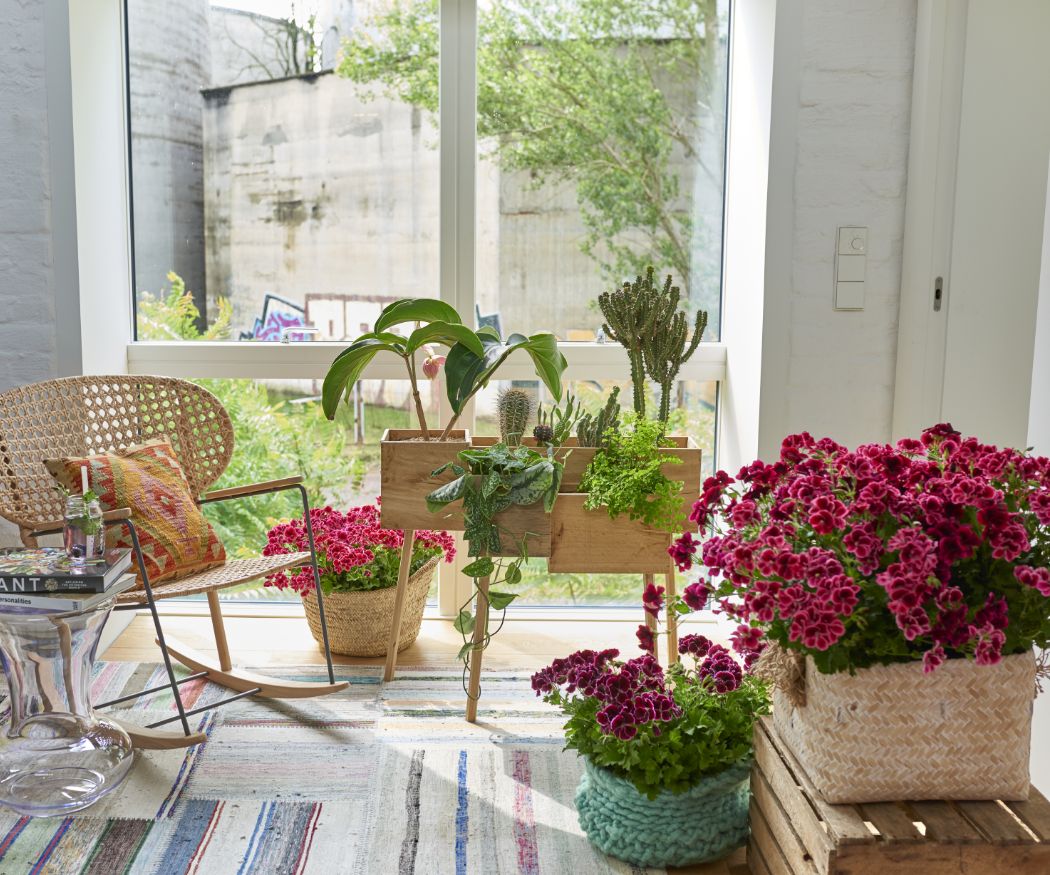 Tip: regal geraniums that are cultivated as houseplants, unlike their outdoor cousins, start blooming from the beginning of spring – making summer even longer!
Reprint free of charge with reference to the "Pelargonium for Europe" image source, specimen copy requested.