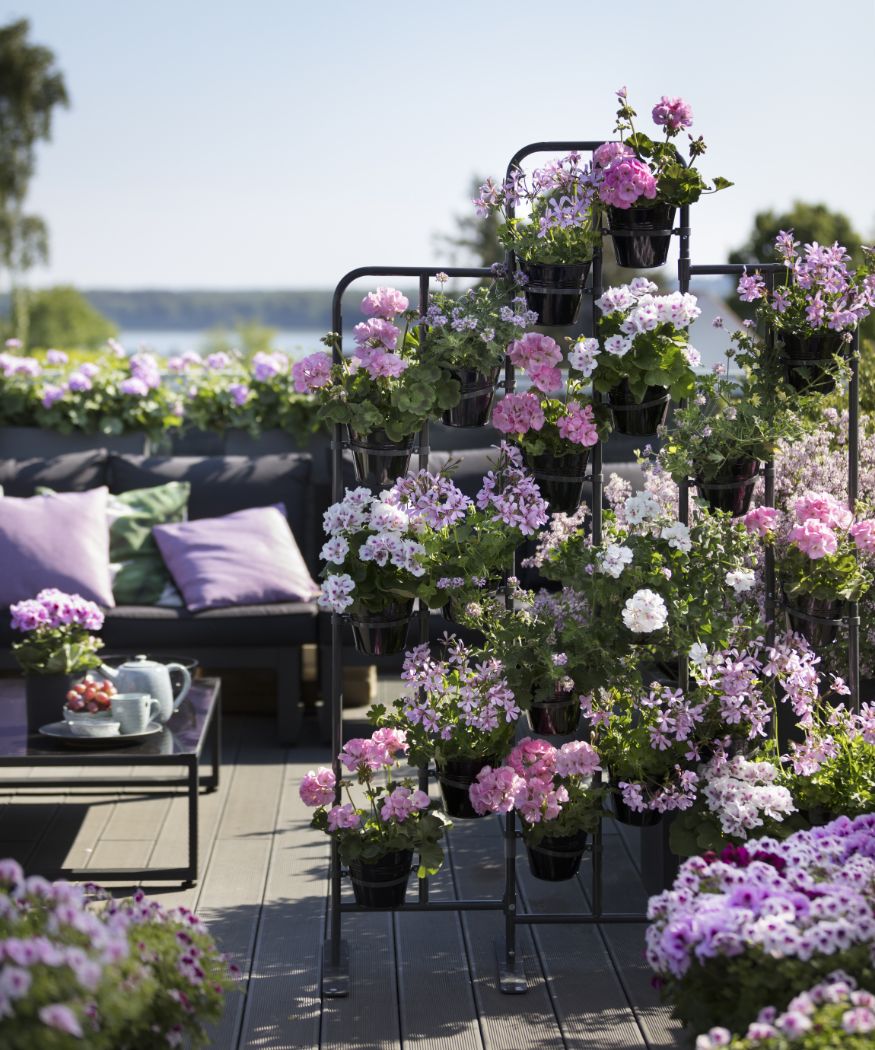 Flowering eye-catchers on balcony and terrace. Geranium dividers: flexible, pretty and easy-care.
Dividers on a balcony or terrace allow you to separate areas while shielding your space from prying eyes. They add privacy and a cosy atmosphere to large outdoor areas that might be more open to the public gaze. Aside from permanent dividers such as walls or hedges, a wide range of versatile dividing elements are available. Particularly decorative are dividing walls planted with flowers. They offer a maximum of flowering performance. In addition to more permanent dividers like walls and hedges, there are many options for flexible dividing elements. A particularly decorative idea: screens planted with flowers.
These floral walls offer the highest level of flower power and take up very little space. With a flick of the wrist, outdoor living areas become islands of relaxation and serenity. And geraniums are the best choice for planting such screens in full-sun or partial-shade spaces. These popular summer beauties are easy-care, profuse bloomers and captivating with their impressive range of colours and shapes.
Blooming dividers: more than just a pretty face
In the wink of an eye, brightly-coloured flowers transform balconies and terraces into inviting feel-good oases. Dividing elements and plant stands planted with seasonal flowers significantly boost the relax factor of outdoor living spaces. Because unlike stationary hedges and walls, which block the view even when there is no need for a privacy screen or create unwanted shade where a bit of sun would have been appreciated, mobile dividers can be designed completely in line with personal taste and moved around at will. And contrary to permanent dividers, there is never a feeling of being closed in. Anyone who wants lots of flowering splendour without having to invest a lot of time and effort will be happy with geraniums. This easy-care South African presents herself in a vast range of colour shades and with an impressive wealth of flower shapes and growth patterns, offering limitless possibilities for creating a diversity of floral compositions for every personal preference. For privacy screens not only upright but also ivy-leaf or trailing varieties are very suitable.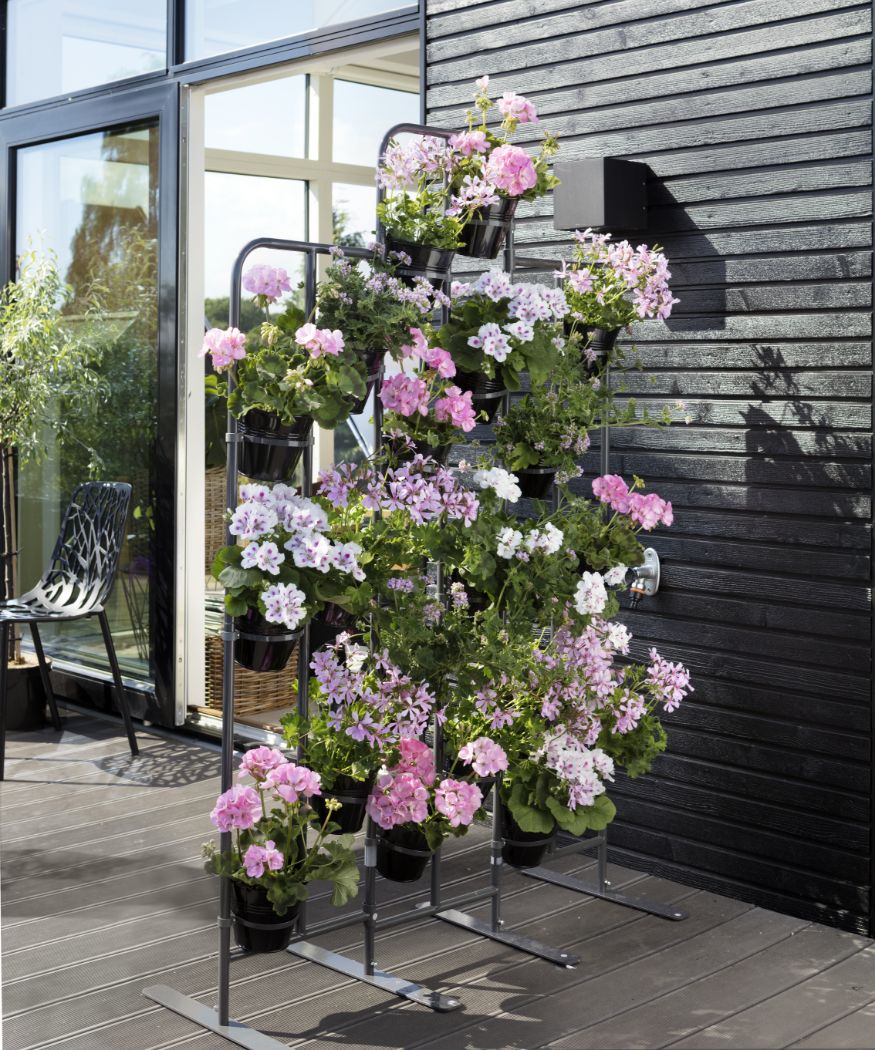 Another advantage of geraniums:
When given proper care they will continue to bloom bountifully from springtime into autumn, which means that such mobile dividing elements only have to be planted once for the entire gardening season, which does not end until the chill in the air makes it impossible to spend as much time on the balcony or terrace. During the cold months of the year there is generally no need for privacy screens, so the mobile plant wall can be put away until next year.
By the way: Geraniums can also overwinter in a bright spot that is well protected from night frost. However, as a rule this only makes sense in the case of particularly large or rare plants.
Radiant beauty on centre stage
Similar to vertical gardens, the plants in mobile dividers automatically get a lot of attention, as they are on eye level. All the more important to make sure the flowers really look good. With geraniums the prospects for abundant blooming and lush growth are particularly good, because this beautiful South African is frugal, hardy and easy to care for. It can withstand intense sunlight and very hot days or even brief dry spells and is therefore the perfect choice for those without a green thumb or a lot of time for plant care. If geraniums are to flourish and produce abundant flowers throughout the season, however, they should be watered often and generously. At the same time, waterlogging should be avoided at all cost. About once a week plant food should be added when watering. Alternatively, a time-release fertilizer or pre-fertilized geranium substrate can be used.