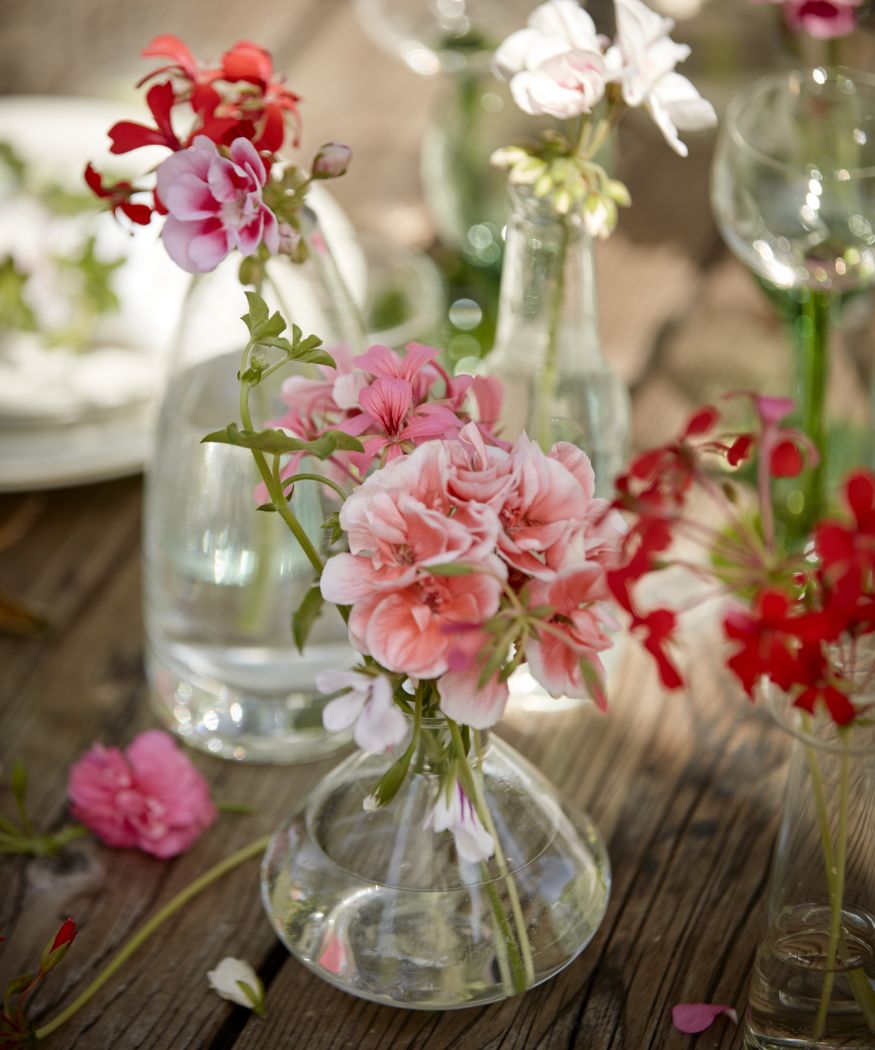 Floral tablescapes. Colourful table decor with cut geraniums.
Flower arrangements instantly transform a simply set table into a celebration. During the flowering season, the choice of colourful blooms is huge, but only a few summer flowers bloom in such variety as the geranium. Thanks to its countless shades and flower shapes, this beautiful native of South Africa can be used to conjure up a wealth of different table arrangements.
The experts at Pelargonium for Europe show you a host of different ideas for summer celebration tables with cut geraniums, for you to pull up a seat and enjoy:
From individual flowers or bouquets in vases, to a creative centrepiece or floral napkin rings.
Sit back and relax: A luxury picnic on the lawn
A luxe, on-trend, boho-style picnic:
Instead of a simple blanket, place a carpet and low table with cushions on your lawn or outdoor space. Decorate a tastefully set table with brightly coloured cut geraniums in a selection of glass containers to create a summery mood and positive vibes. As a floral place setting, lie a single blush pink geranium stem on each plate. With such a welcome, you can sit back and indulge all your senses!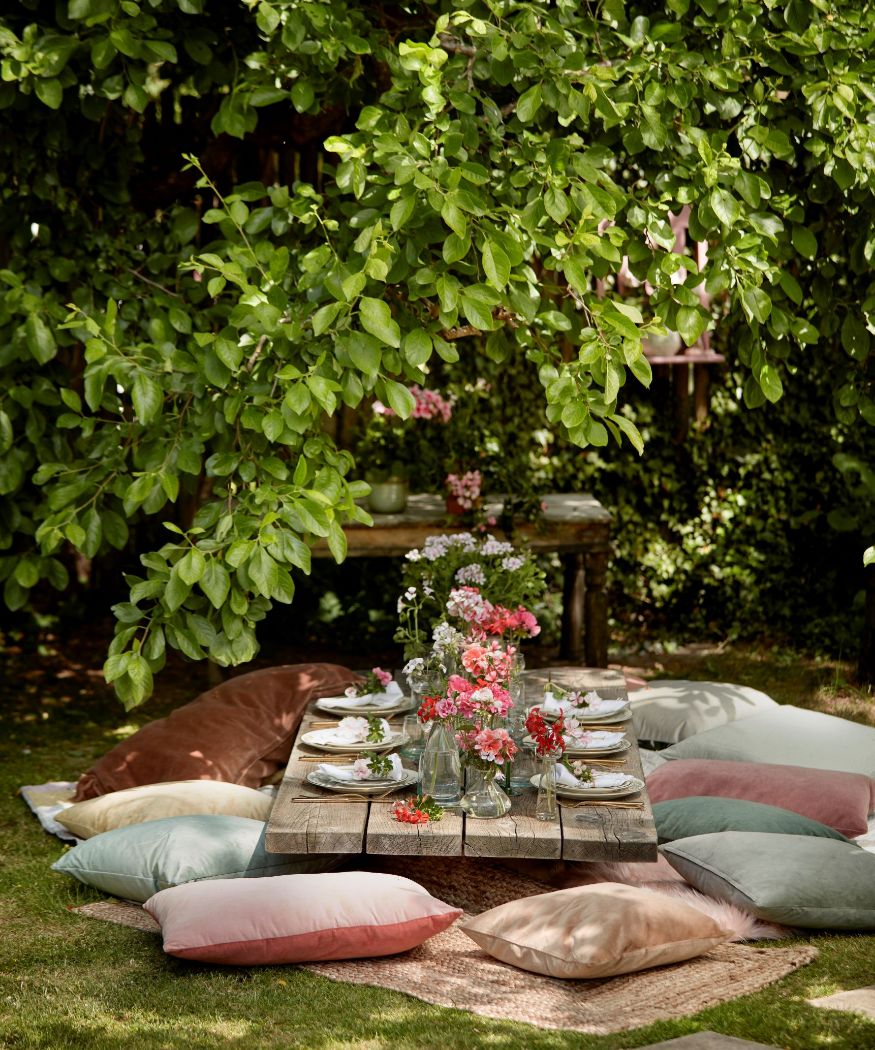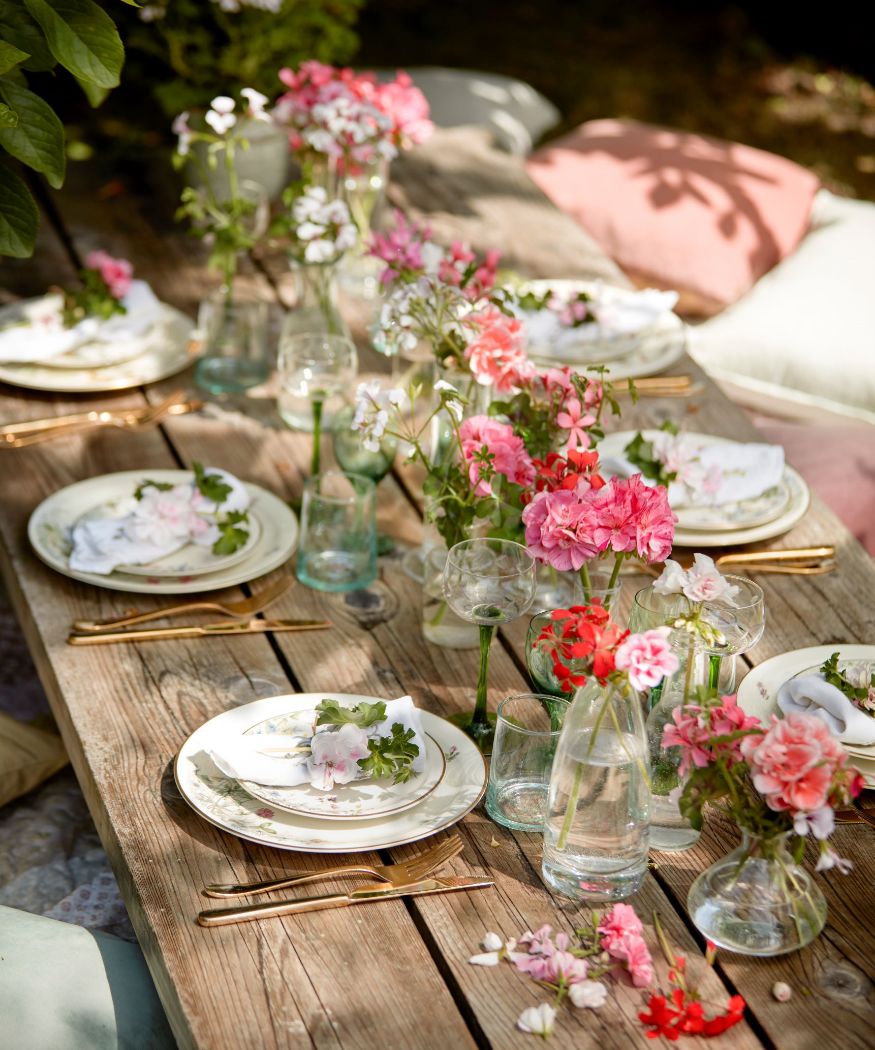 DIY make: A floral centrepiece
This beautiful flowering centrepiece with cut geraniums and matching candles is an original focal point for a summer dinner party table. It takes a bit of time and skill to make this unique design, but you can use it again and again.
To make this wooden centrepiece measuring 20cm x 40cm x 19 cm high, as well as different coloured, long-stemmed geraniums, you'll need: a solid wooden 15-20mm thick board, measuring 20 x 60 cm, wood glue, sandpaper, test tubes that taper slightly towards the bottom, candles in matching colours, a drill adapted to the diameter of the test tubes, a clamp, a jigsaw, a pencil and a ruler.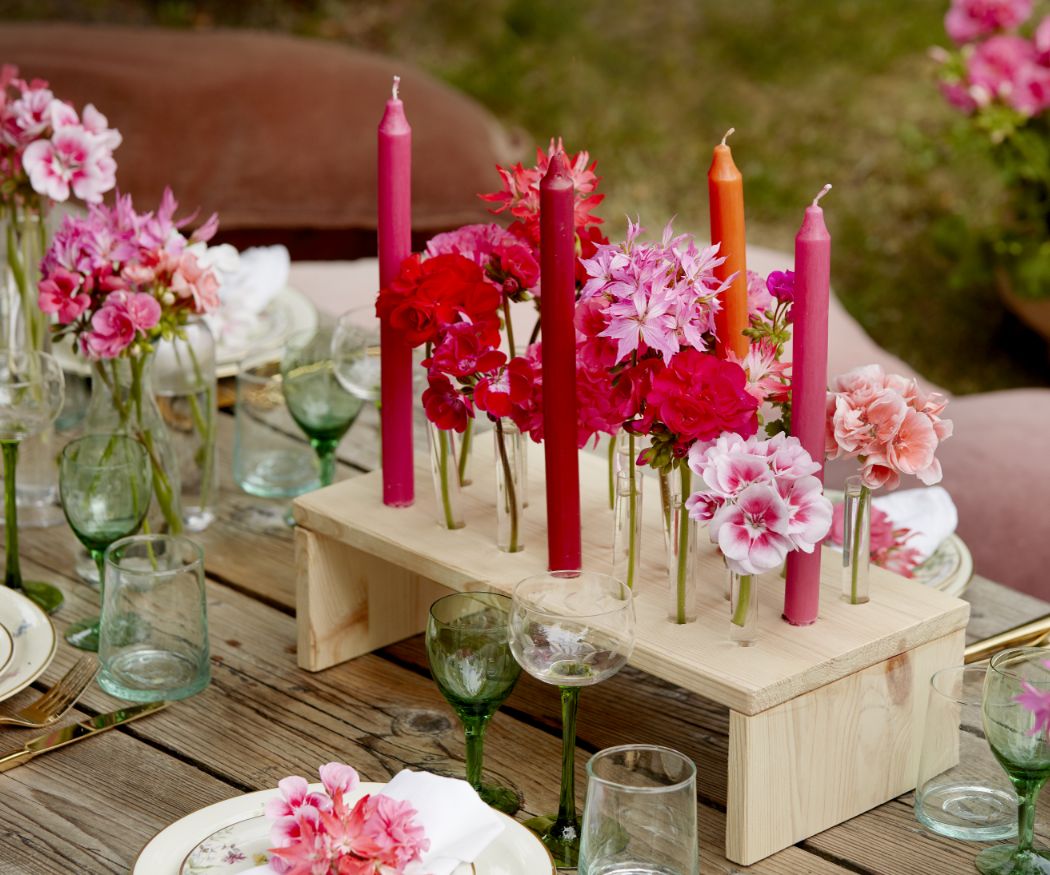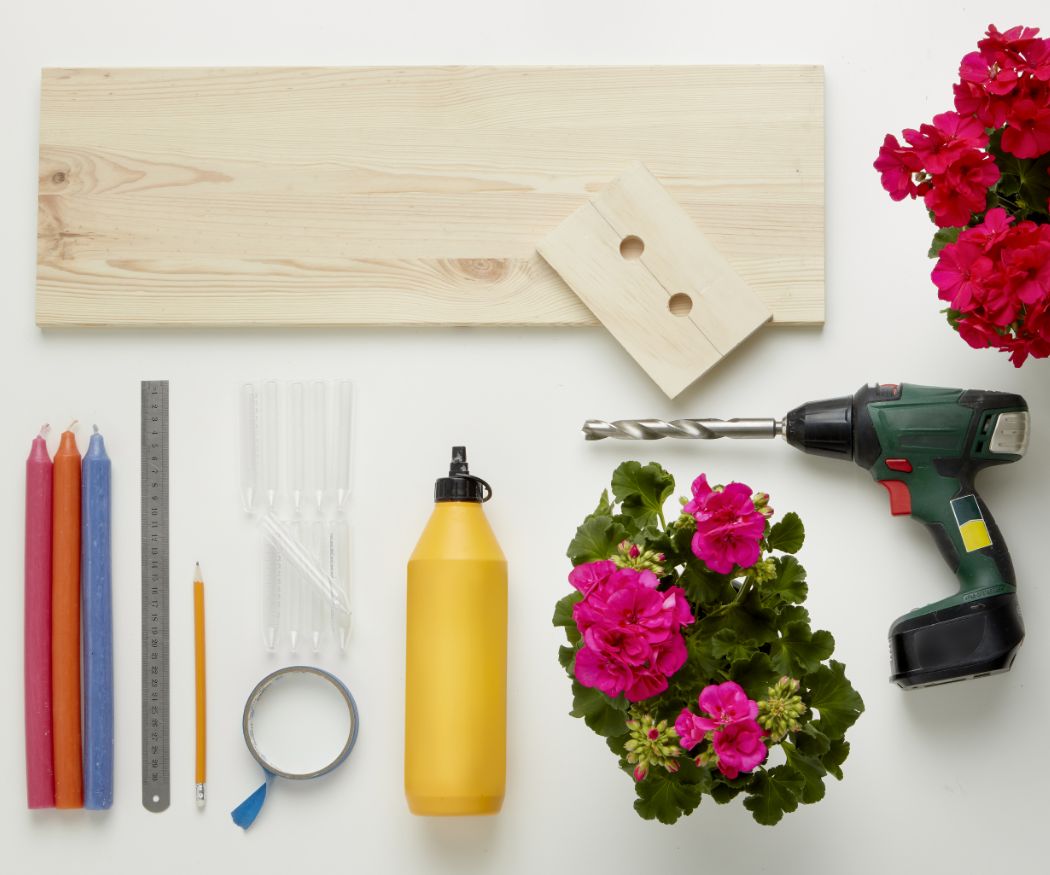 Instructions:
Step 1: With the pencil and ruler, draw guidelines on the underside of the board. First, 10cm in from the short edges of the board, draw the sawing lines for what will become the legs of the centrepiece stand. Next draw a grid pattern consisting of 12 x 5 x5cm squares in the middle of the central section of board. This helps determine the exact position of the drill holes. In our example, the distance between the grid and the edges of the wood is 5cm on all sides.
Step 2: Cut off the two end sections with the jigsaw. These are the legs of your stand.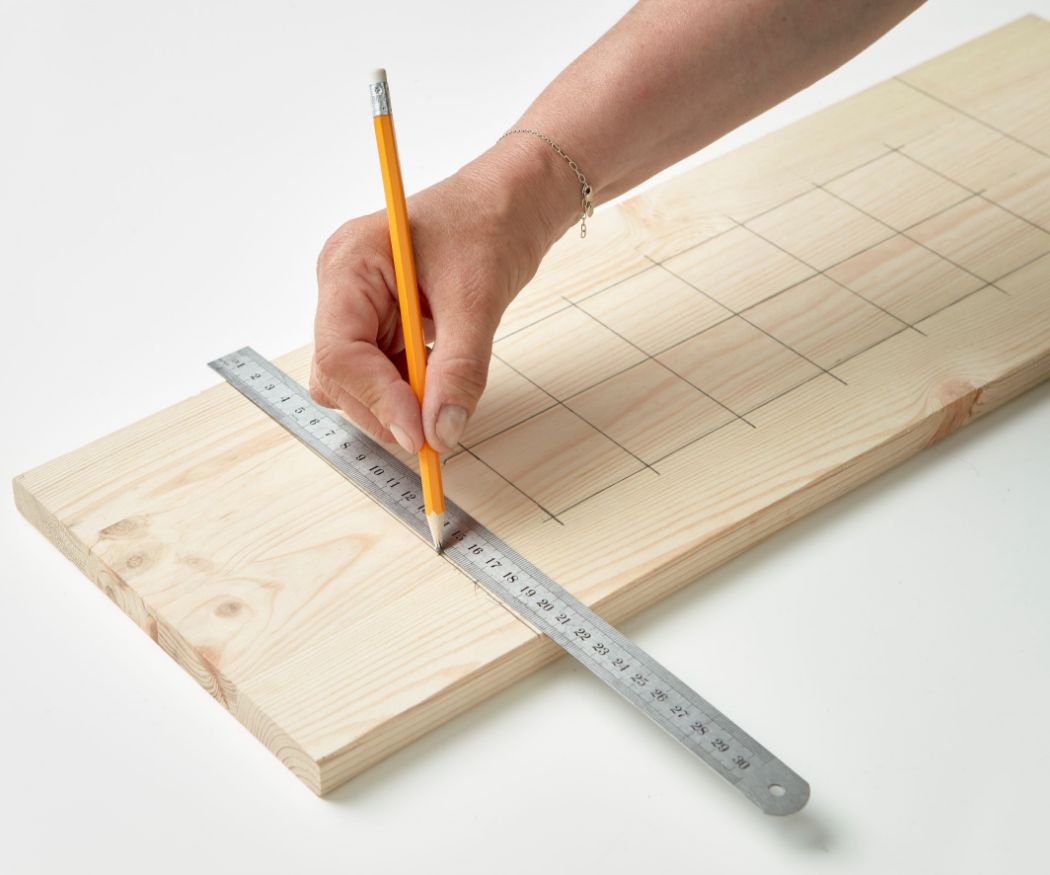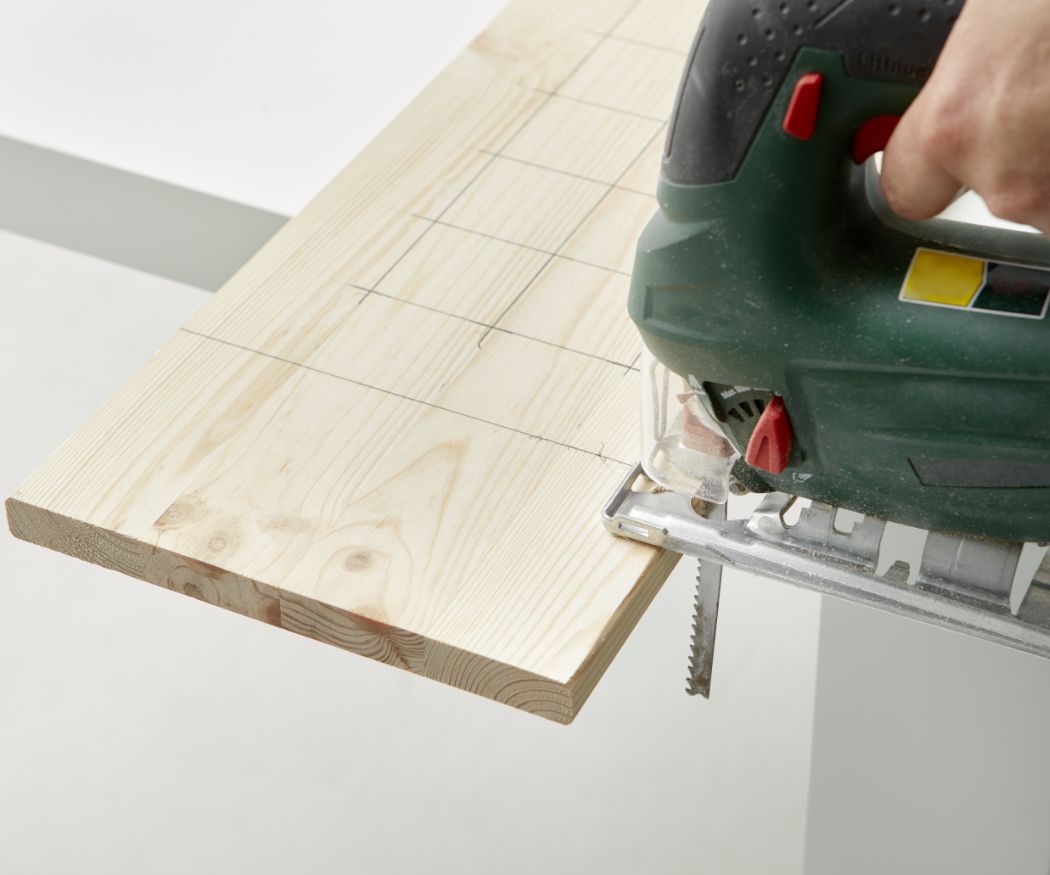 Step 3: Drill holes at each intersection of the grid. Our design has a total of 21. We recommend pre-drilling two sample holes the right size and distance from each other on a small piece of wood and use this as a guide. To do this, with the screw clamp, attach the small piece of wood to the board you're working on so the pre-drilled holes are aligned with the grid intersections. Then simply drill straight down through the existing holes. Place a third piece of wood under the board you're drilling through to protect the work surface below.
Step 4: Fix the legs to the centrepiece with wood glue and allow to dry. A screw clamp ensures they won't slip during drying.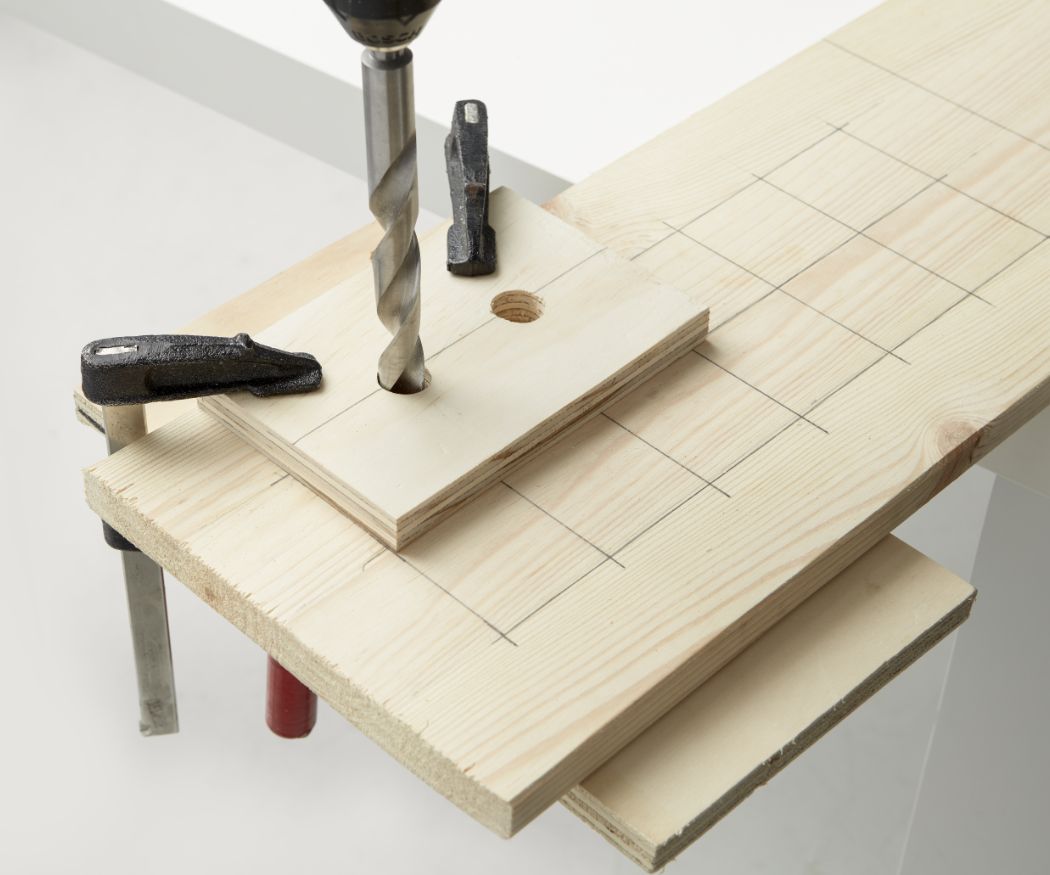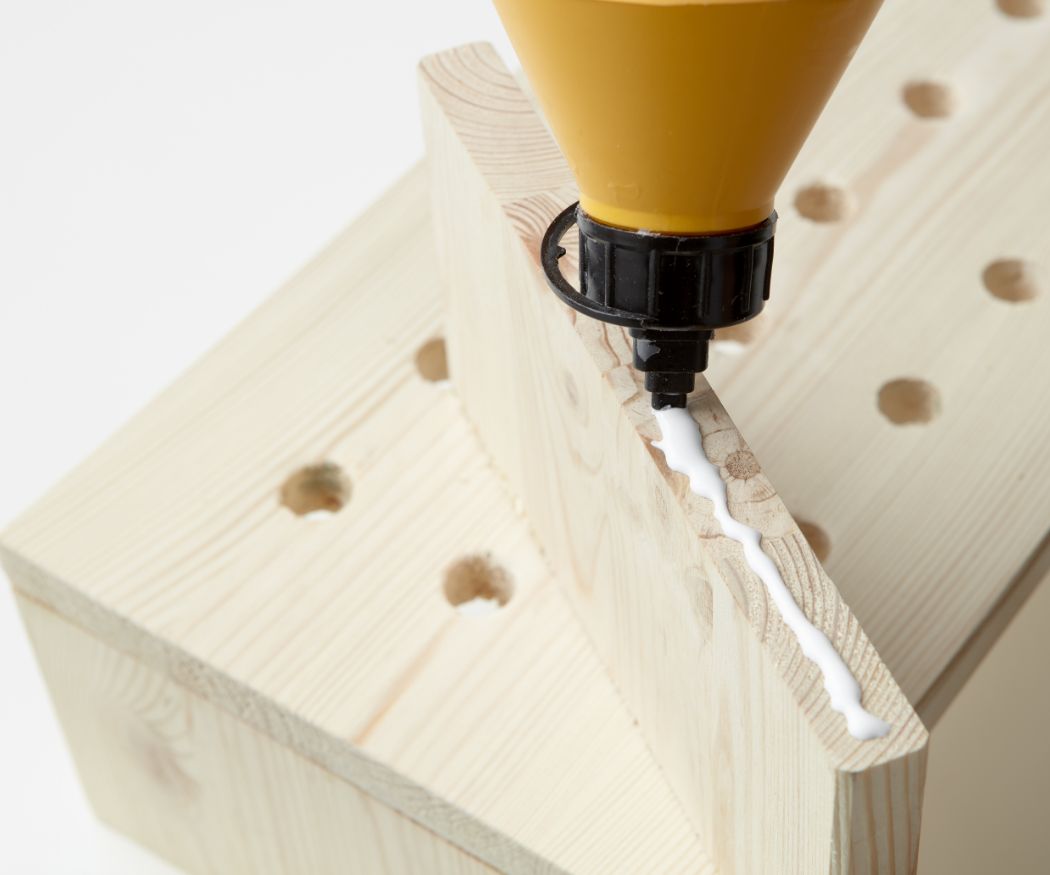 Step 5: Place the test tubes filled with water and the candles into the holes of your homemade frame. Finally, fill the test tubes with freshly cut geranium stems. Done!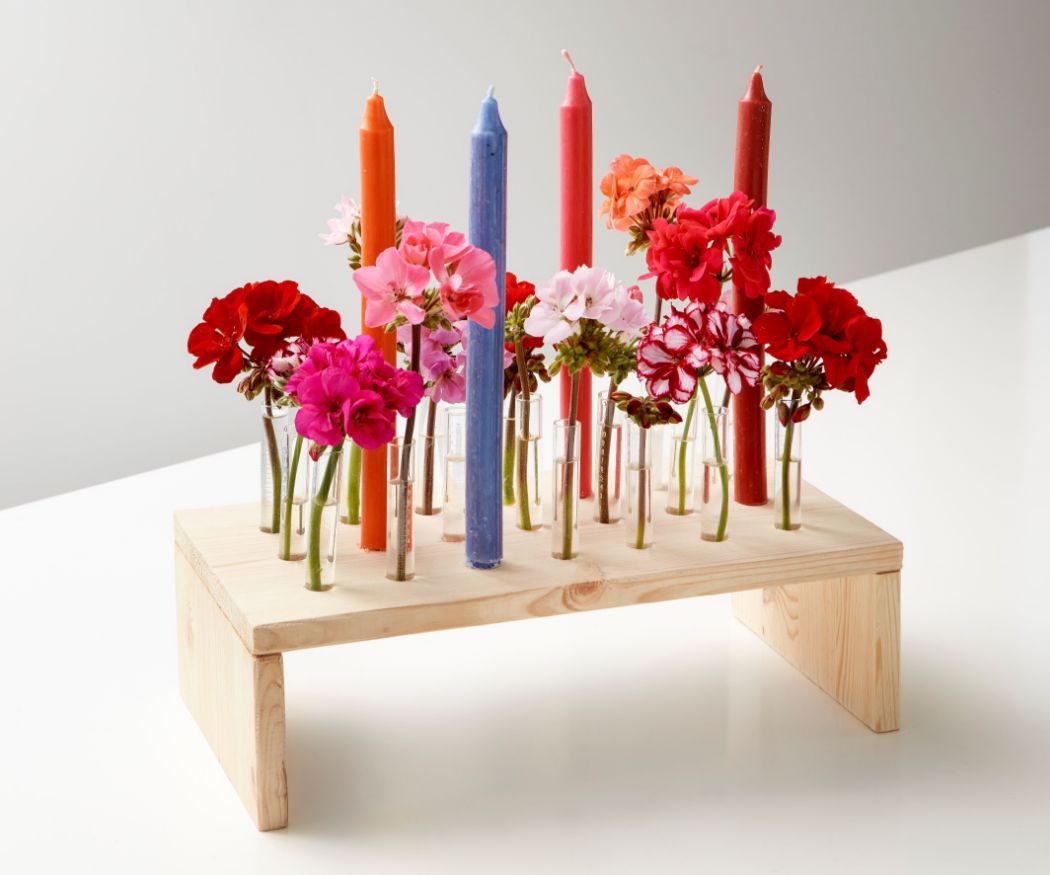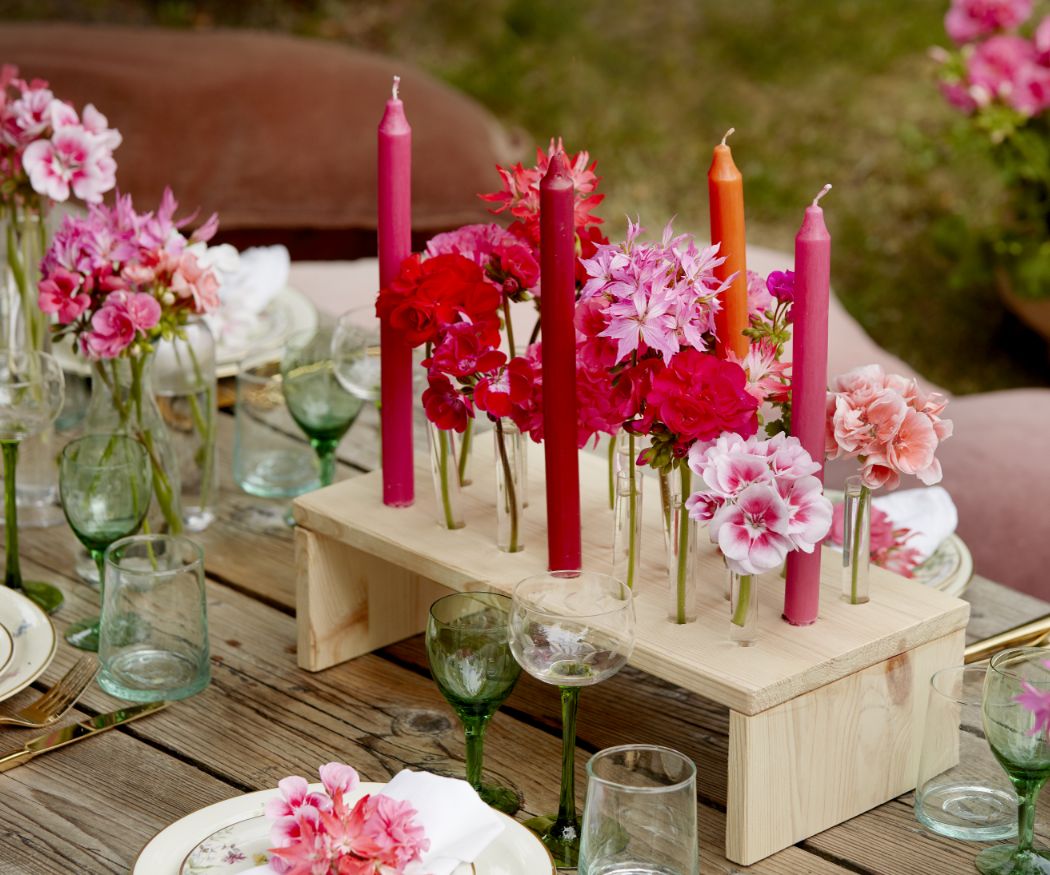 A perfect match: floral napkin rings
On a beautifully laid table, every detail counts. Handmade napkin rings made from real flowers are an absolute treat on any summer dinner table and are the perfect complement to floral table decorations.
On the left: A sweet arrangement of geranium blossoms in pink and coral teams perfectly with an adorable mini-bouquet in a low bowl.
Right: Here, miniature clusters of cut geraniums adorn cutlery and napkin sets.
Tip: An old plastic cut orchid tube with a rubber lid filled with water will keep your geraniums fresh for even longer.