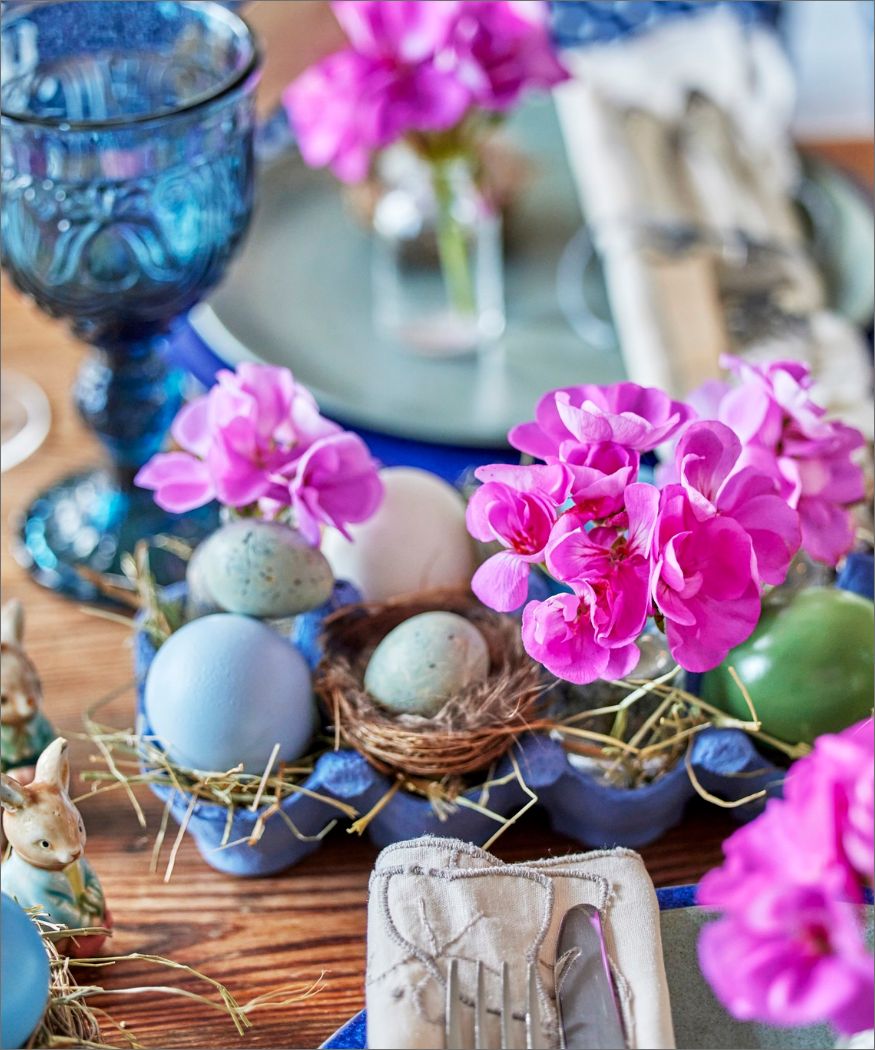 Floral scene-setters. Ideas for table and party decor featuring geraniums
Sunshine and warm temperatures in summer put people in a good mood and make them want to celebrate. Whether it's a birthday, Easter, Mother's Day, a garden party or a spontaneous barbecue on a balmy summer evening, there are many occasions. The most important ingredients for a successful party are not only good people, tasty food and plenty of drinks, but also beautiful decorations. Colourful flowers are a must. The experts at Pelargonium for Europe (PfE) share ideas for colourful table and party decorations using geraniums that are sure to put you in a good mood.
An explosion of colour: table decorations for special occasions
This modern table decoration is both simple and splendid. Upright geraniums with their varied, lush blooms create a blaze of colour. The cut geranium stems on the plates pick up on the colours of the potted plants in the centre of the table and complete the overall celebratory picture.
A single geranium stem and name tag attached with red ribbon is a quick alternative to a place card. Tip: The stems will stay fresher for longer in a flower tube filled with water.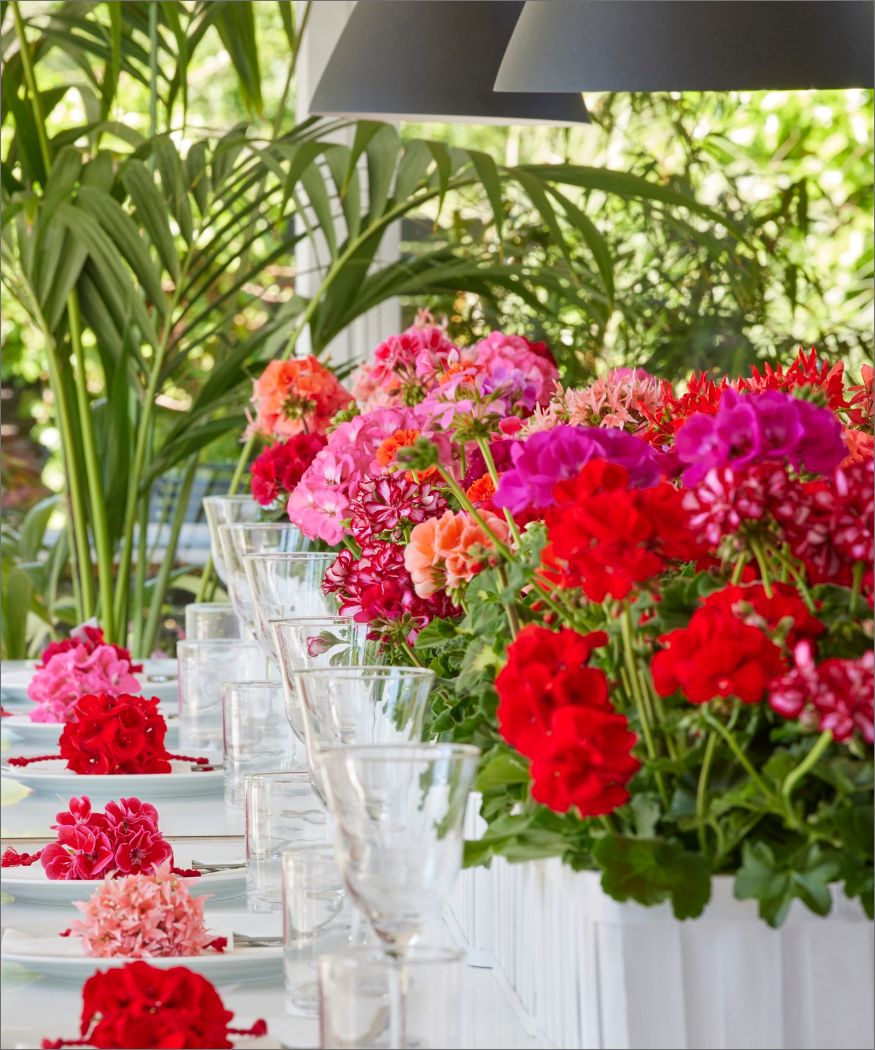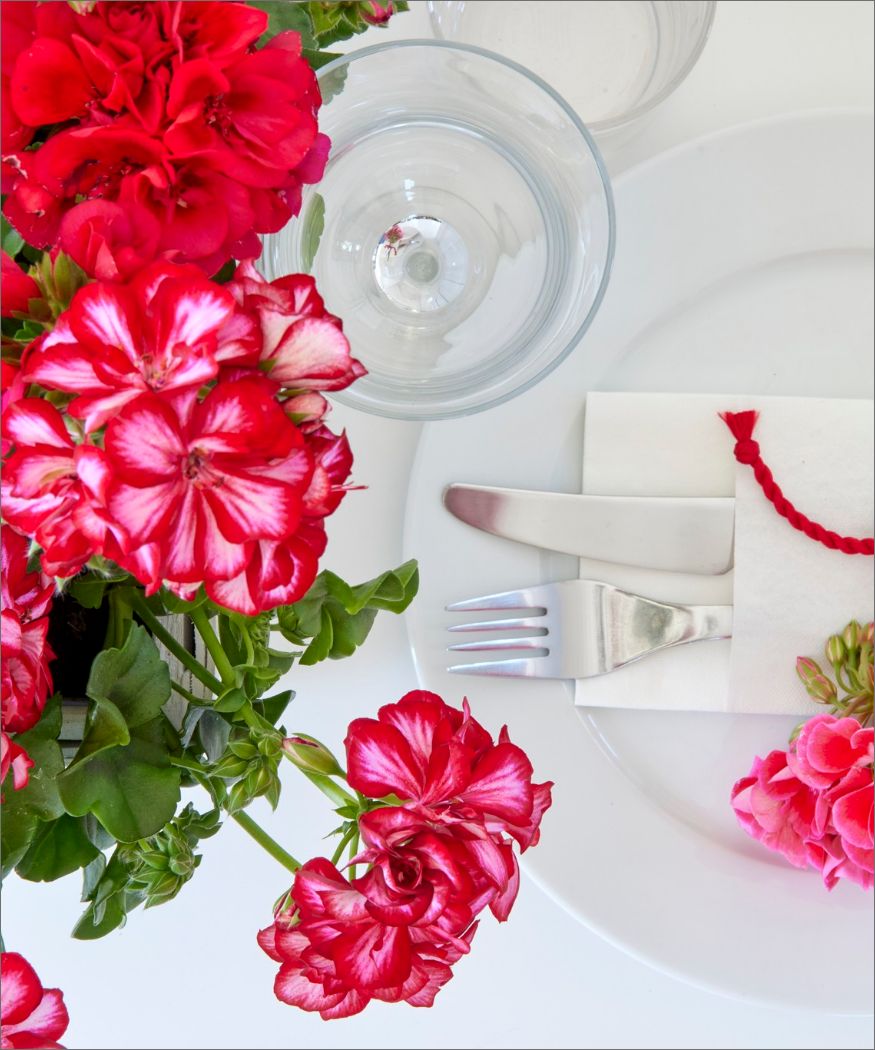 Relaxed country chic table centrepiece
On this modern country chic garden table, pink potted geraniums with lush blossoms create summer vibes and a cheerful mood.
Individually decorated pots highlight the geraniums prettily. You can create this table display in just a few steps.
You will need a geranium, a terracotta pot, a bunch of dried wheat, a hot glue gun glue sticks, scissors and twine.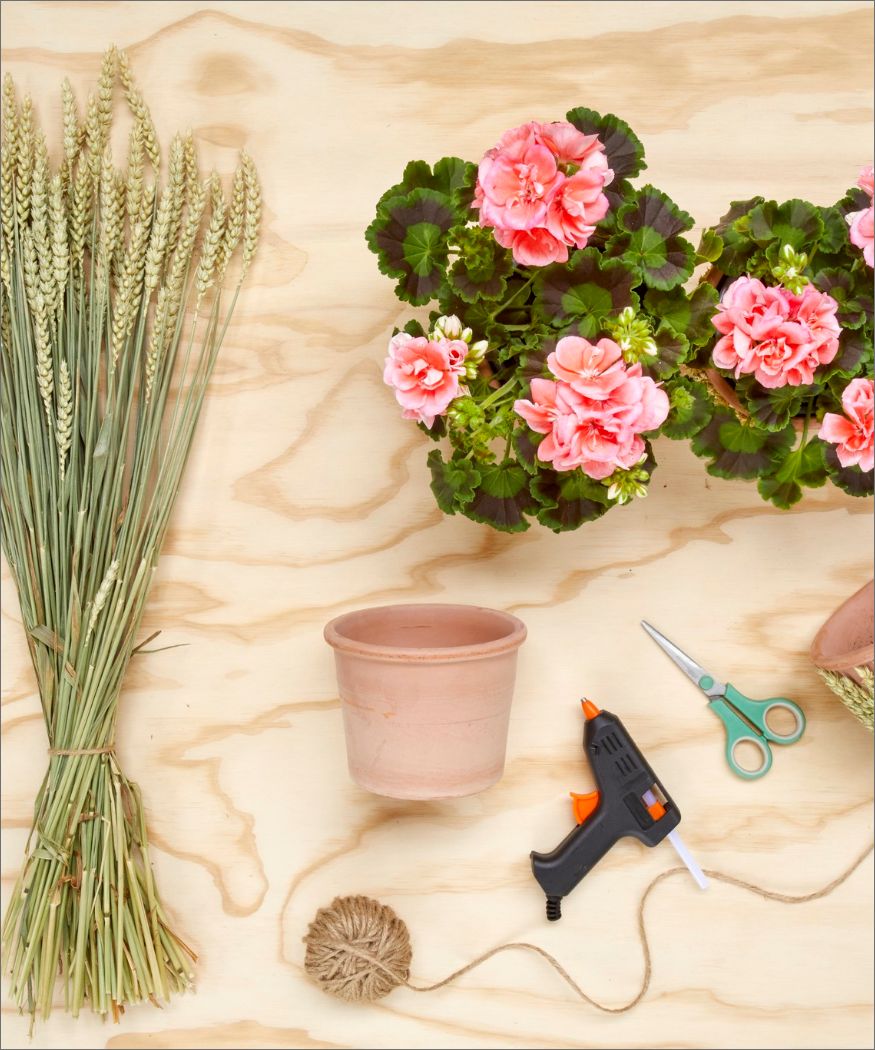 Here's how to make it: Cut the wheat stems down and glue just the ears all-round the terracotta pot, starting at its base. Tip: Ears of different lengths give a more dynamic effect.
Measure the circumference of your pot's base and multiply it by 2. Cut nine equal lengths of twine to this length and knot them all together at one end. Next, gather three of the lengths into a bunch. Create two more bunches of three with the other six strands, then braid the three bunches together into a plait.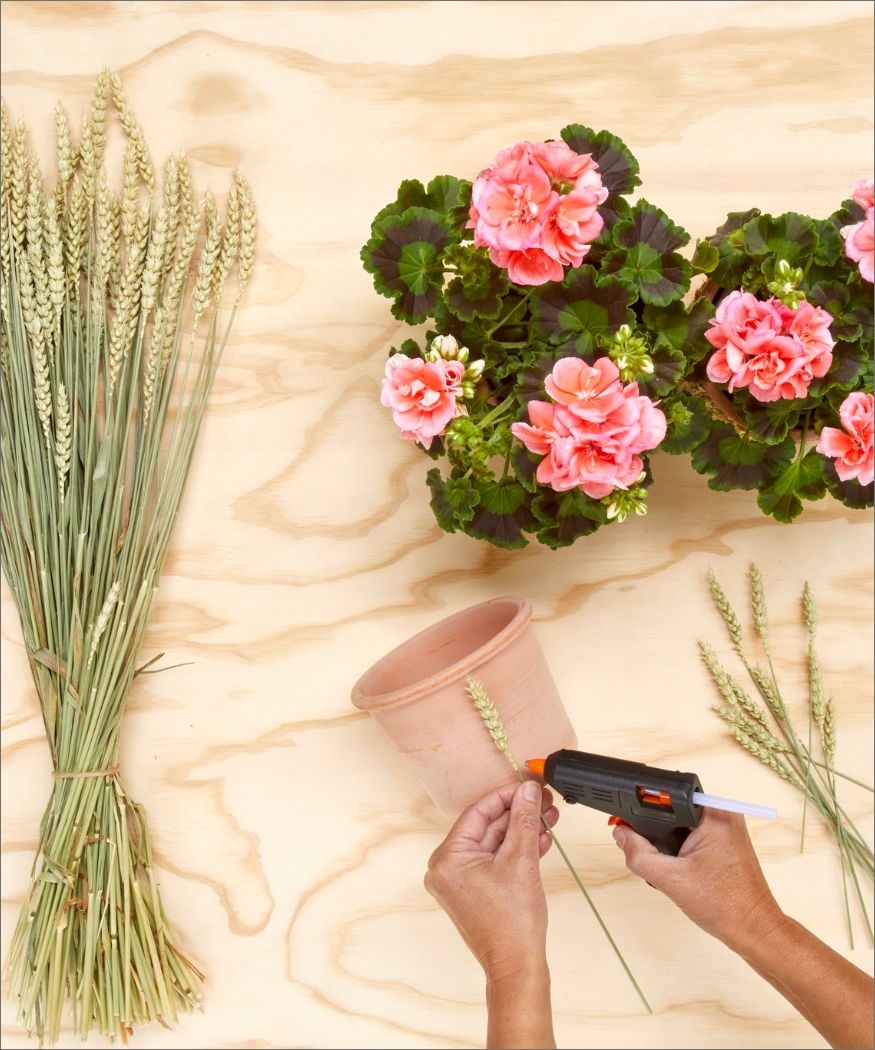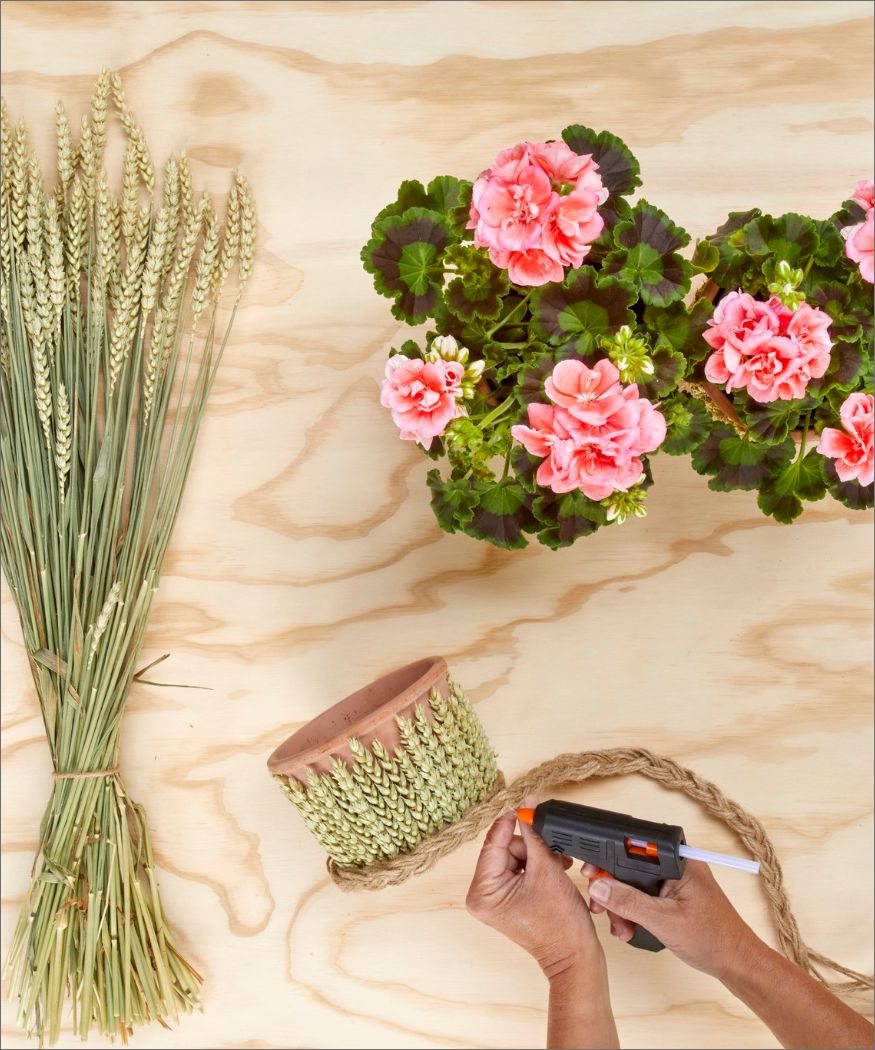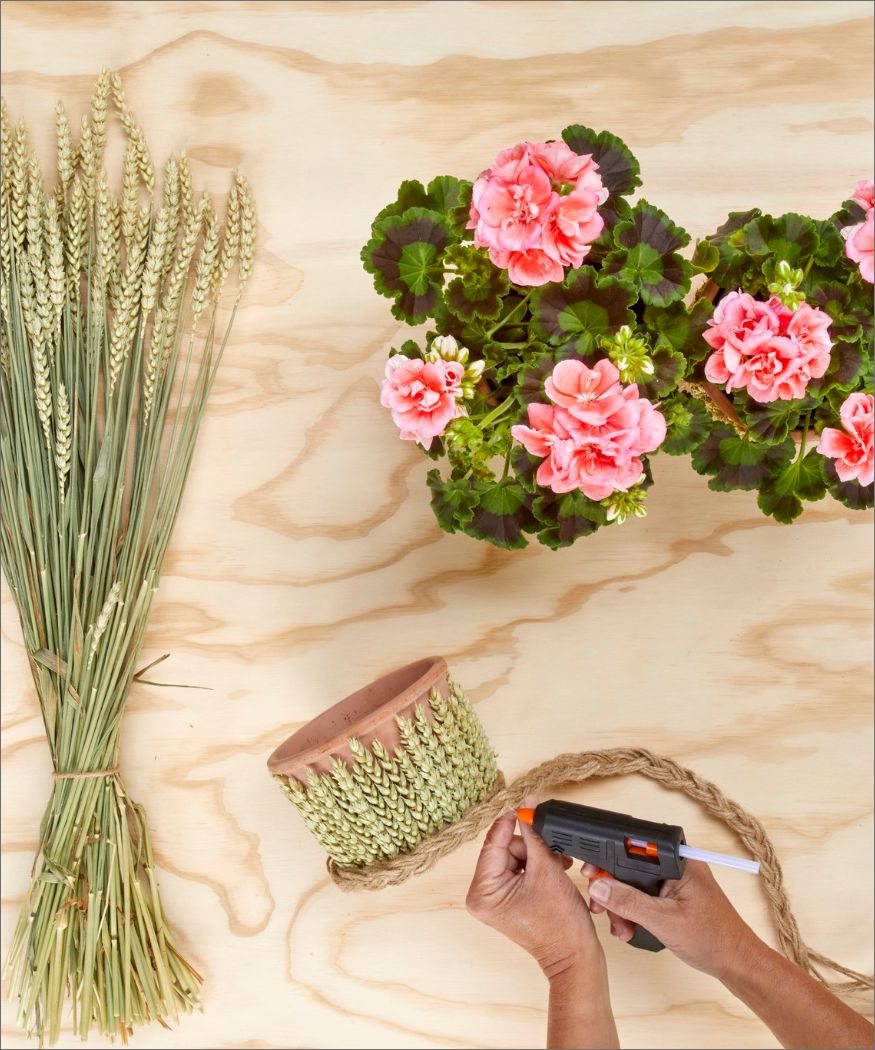 Place the plait around the bottom of the pot as a decorative border and fix it in place with hot glue. You may need to trim the end of your plait if it is too long, as the final length will depend how tight you make it. Once the glue is dry, place the geranium in the pot and place the pot on the table.
Tip: You can also make matching plaited napkin rings from twine in the same way.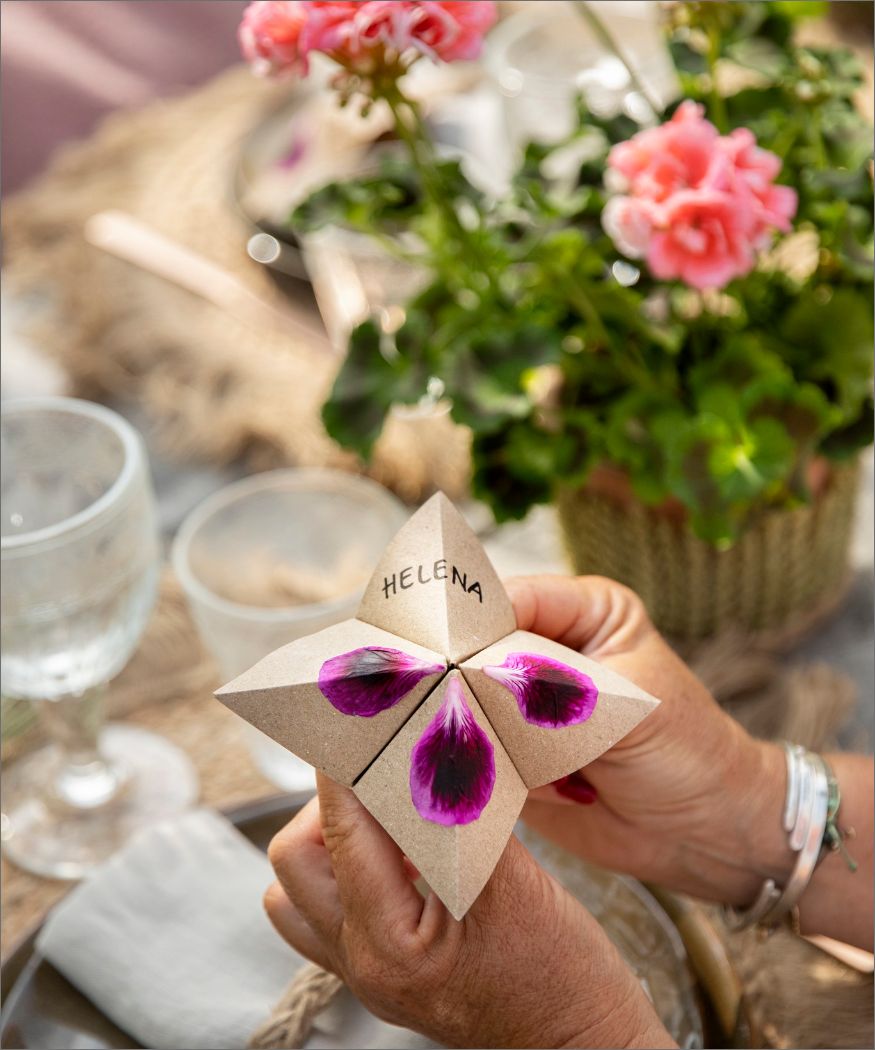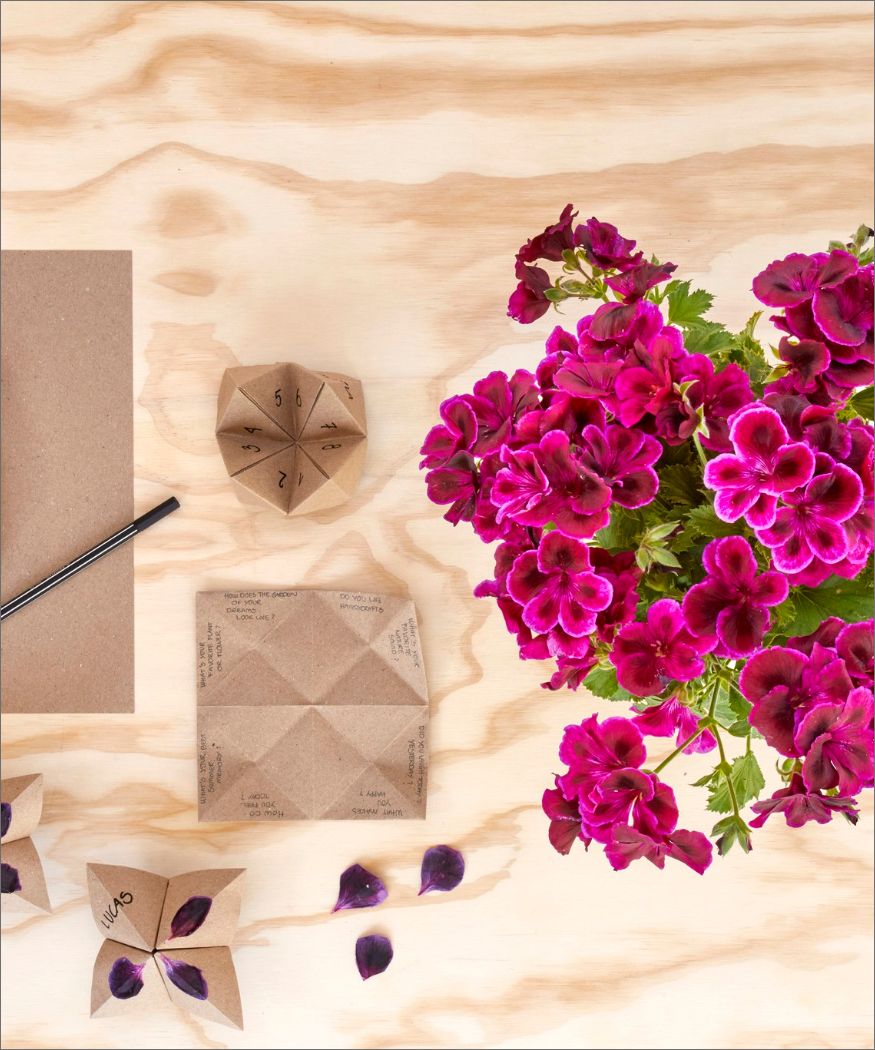 Welcome your guests with a paper fortune teller game at each place. There are different versions of this well-known finger game. Whichever one you choose, they all offer fun and something to talk about. If you add names to your folded paper designs and decorate them with dried and pressed geranium petals, they also make an attractive alternative to the classic name tag.
Paper, pen, scissors, glue and dried, pressed geranium petals are all you need for the finger game. Look online for folding instructions.
Colourful party decorations for lively celebrations
Whether it's a birthday or garden party, celebrating outside is a wonderful thing. On this terrace, lush flowering geraniums in bright colours, together with lanterns, create a party atmosphere.
The table is decorated with cut geraniums in upcycled vases made from old drinks cans. Spray paint and targeted reshaping transform them into colourful unique pieces.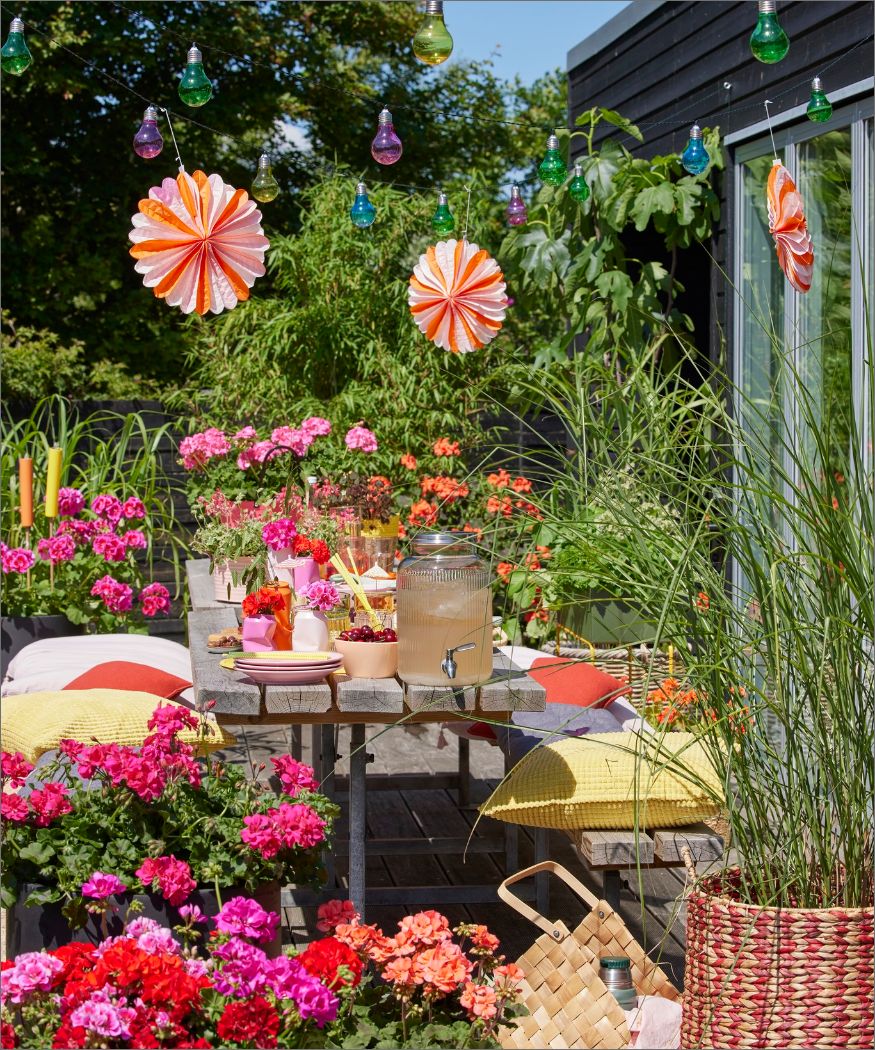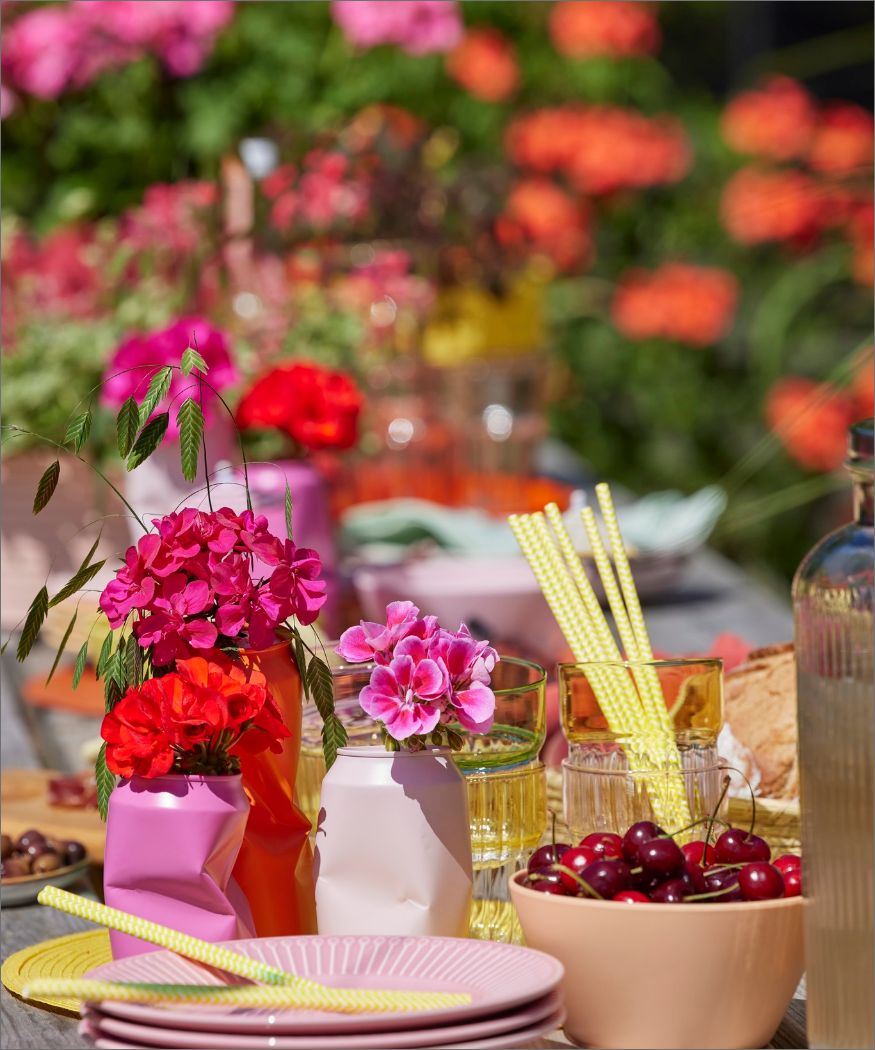 Colourful geraniums for Easter
With their beautiful, colourful blooms, geraniums are ideal for floral Easter tables. In flower tubes and small vases, they can decorate Easter nests and place settings and, together with coloured eggs, create holiday accents.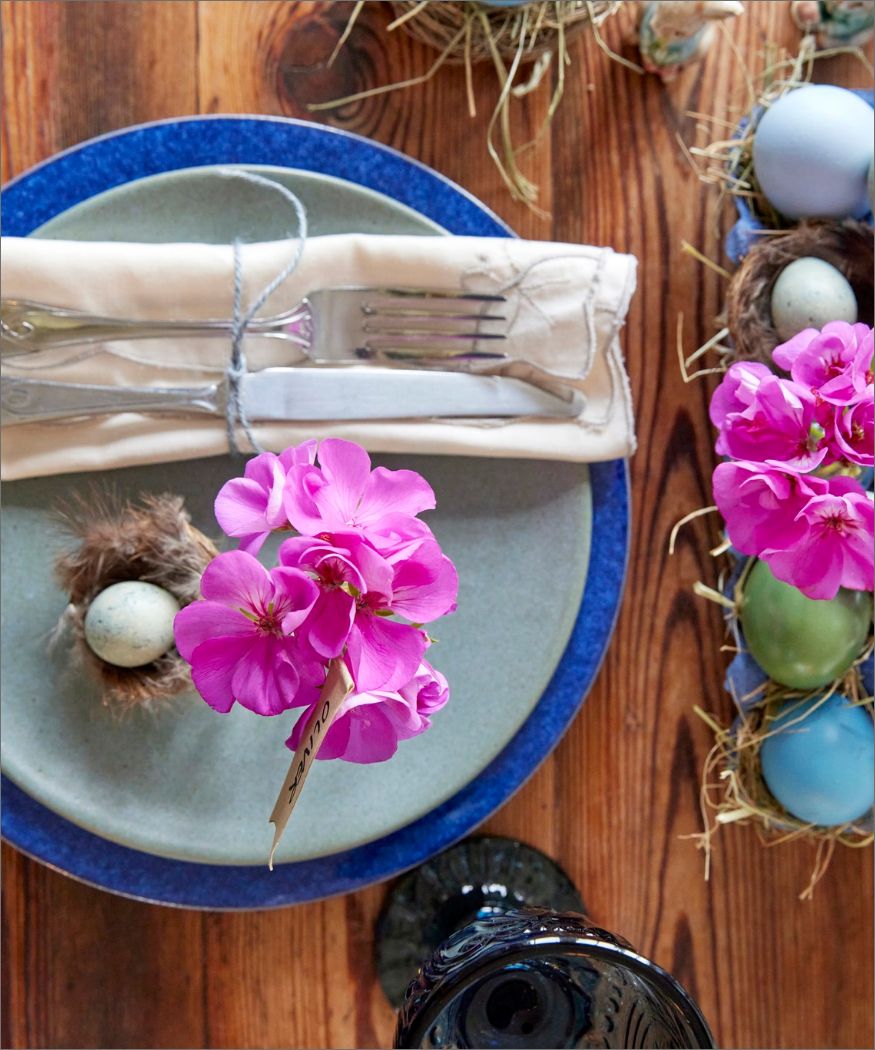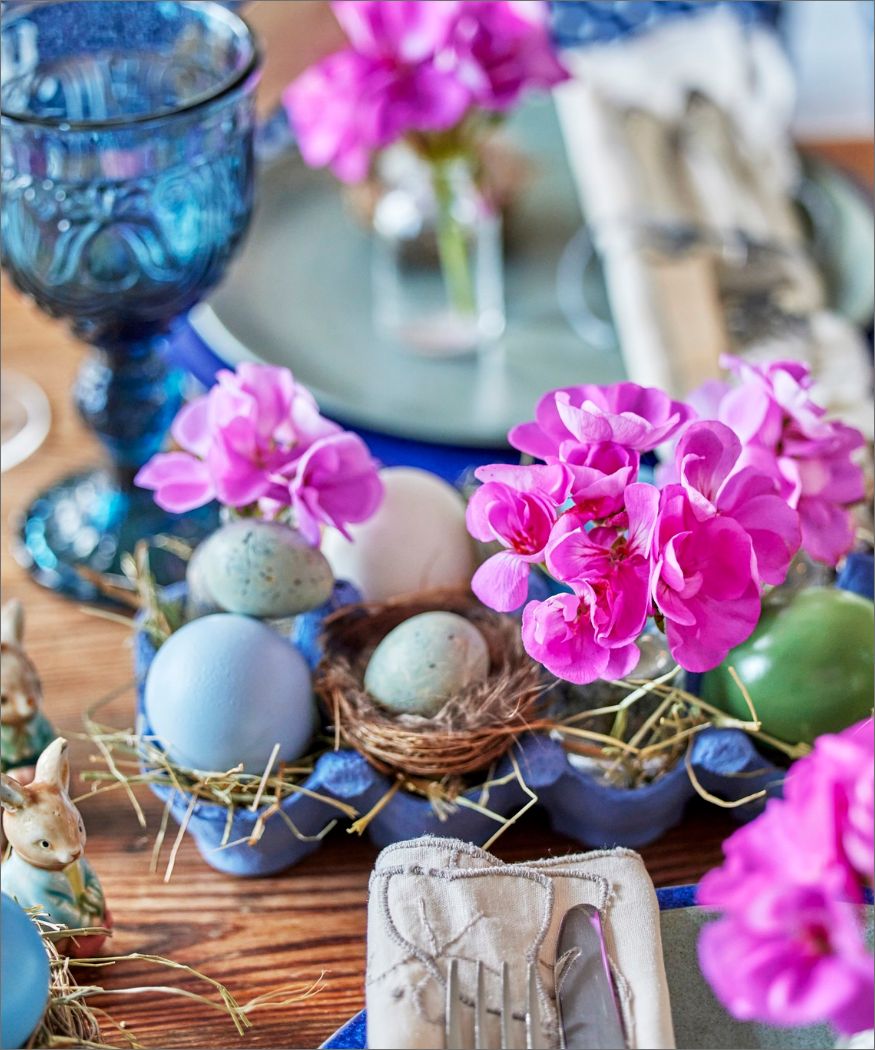 Floral scene-setters with cut geraniums
Cut geraniums can be used to create beautiful, floral centrepieces that attract attention at parties and create a summer mood and positive vibes.
A simple yet effective idea for balmy summer evenings is a glass bowl with water in which colour-coordinated candles and geranium flowers float.
Floral ice cream cones are also a fantastic DIY idea for a garden party or summer celebration. Thanks to their varied, dense blooms, geraniums are a perfect choice for unexpected decoration. With ice cream cones, floral foam, geraniums and cylindrical glasses, you can create this feature piece super quickly.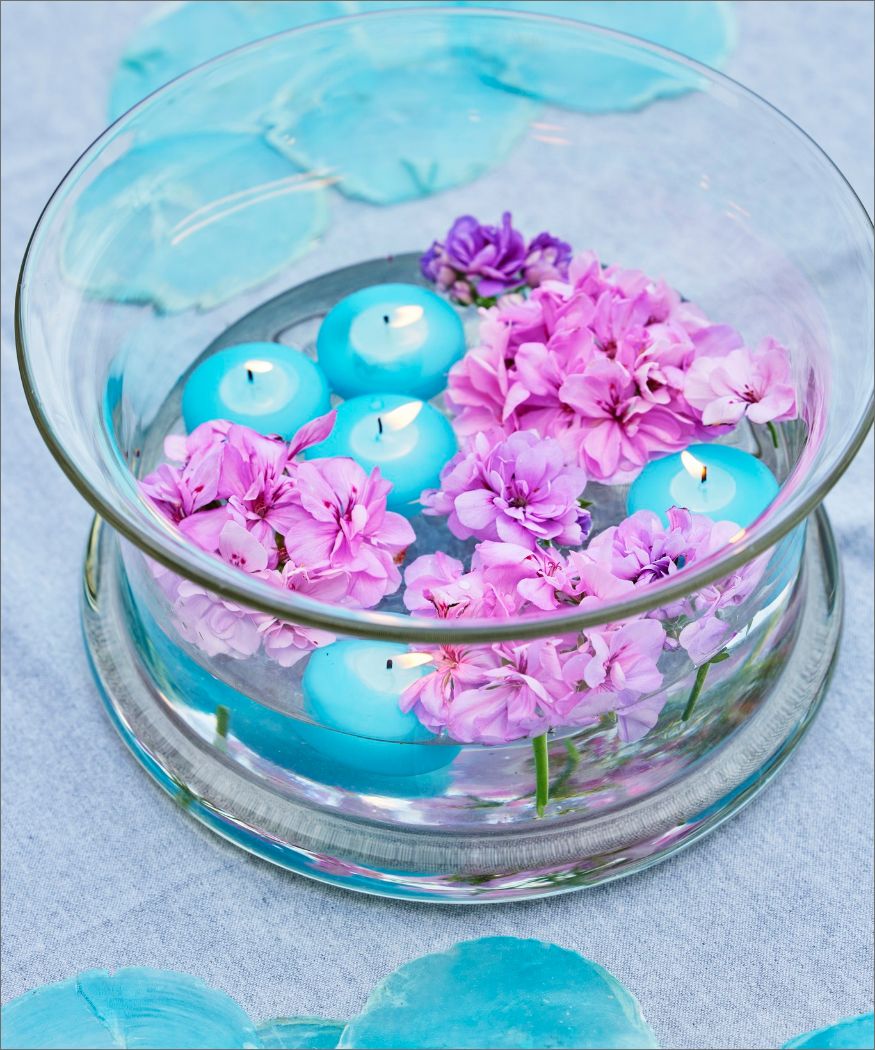 You need upright geraniums in different colours, ice cream cones, cylindrical drinking glasses, a knife, floral foam and clear cellophane.
Here's how to make it:
Place the cones point down in the glasses. Cut the foam with a knife, soak it in water and place it inside little cones made of your cellophane. Place these inside the ice cream cones so they stick out about a centimetre at the top. Then push the geranium stems into the foam close together to form your 'ice-cream'.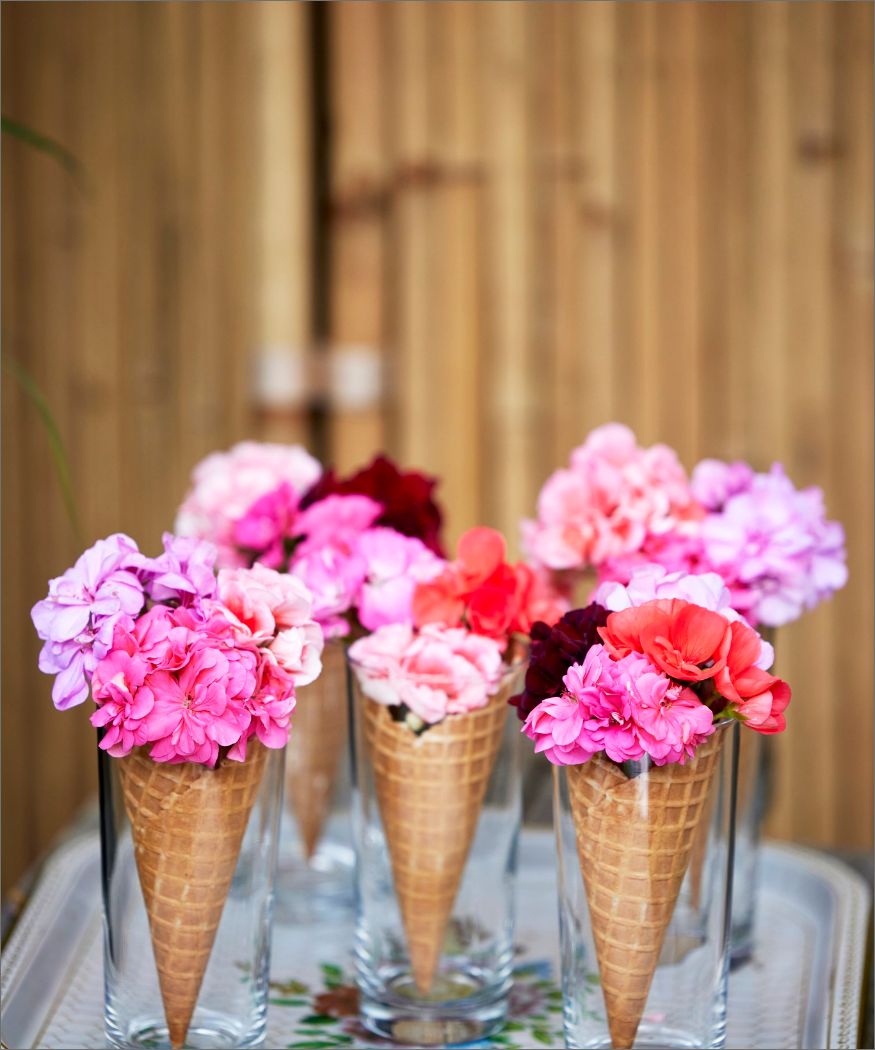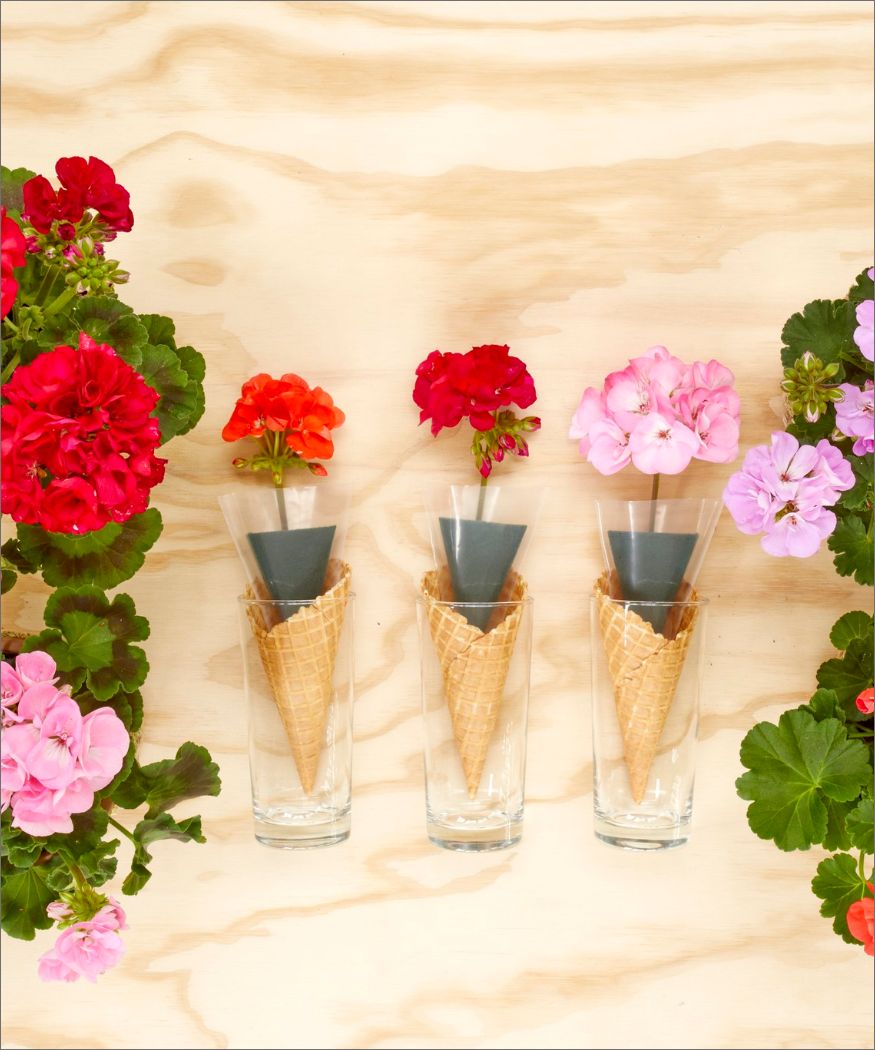 A pyramid of crockery decorated with geranium flowers and topped with a candle makes an original craft idea. This summery, repurposed decoration is simple to make. You need a tart mould, a jug, a shallow bowl, a cup, a hot glue gun and glue sticks, floral foam, a candle, thick florist's stub wires and cut geranium flowers in different colours.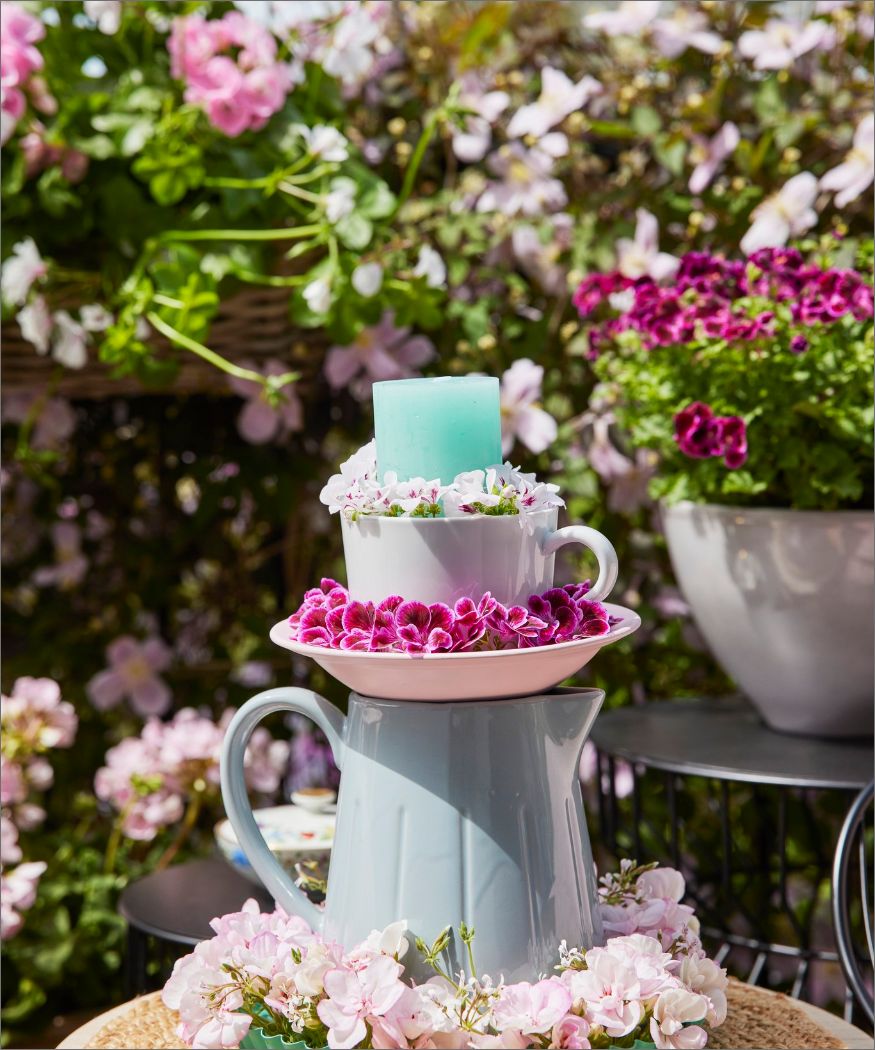 Here's how to make it: First, use hot glue to attach the jug to the tart tin, the plate to the jug and the cup to the plate. Leave until the glue is dry.
Next, fill the cup 2/3 full with soaked floral foam. Push 3-4 wire stubs into the base of the candle and push them into the floral foam in the centre of the cup.
Tip: If you heat one end of the wires first they will melt the candle wax and be easier to push in. Push the cut geranium stems into the foam around the candle. Fill the tart dish and shallow bowl with water and scatter the geranium blossoms in them. Your upcycled floral decoration is complete.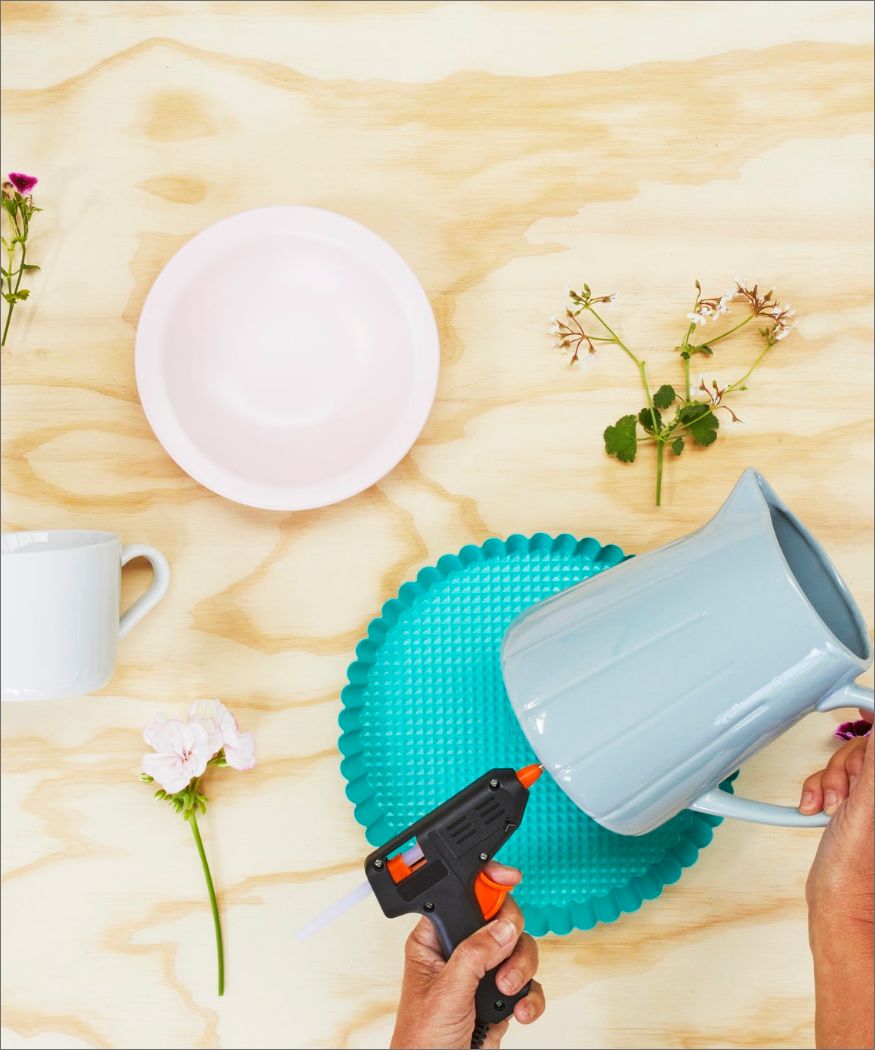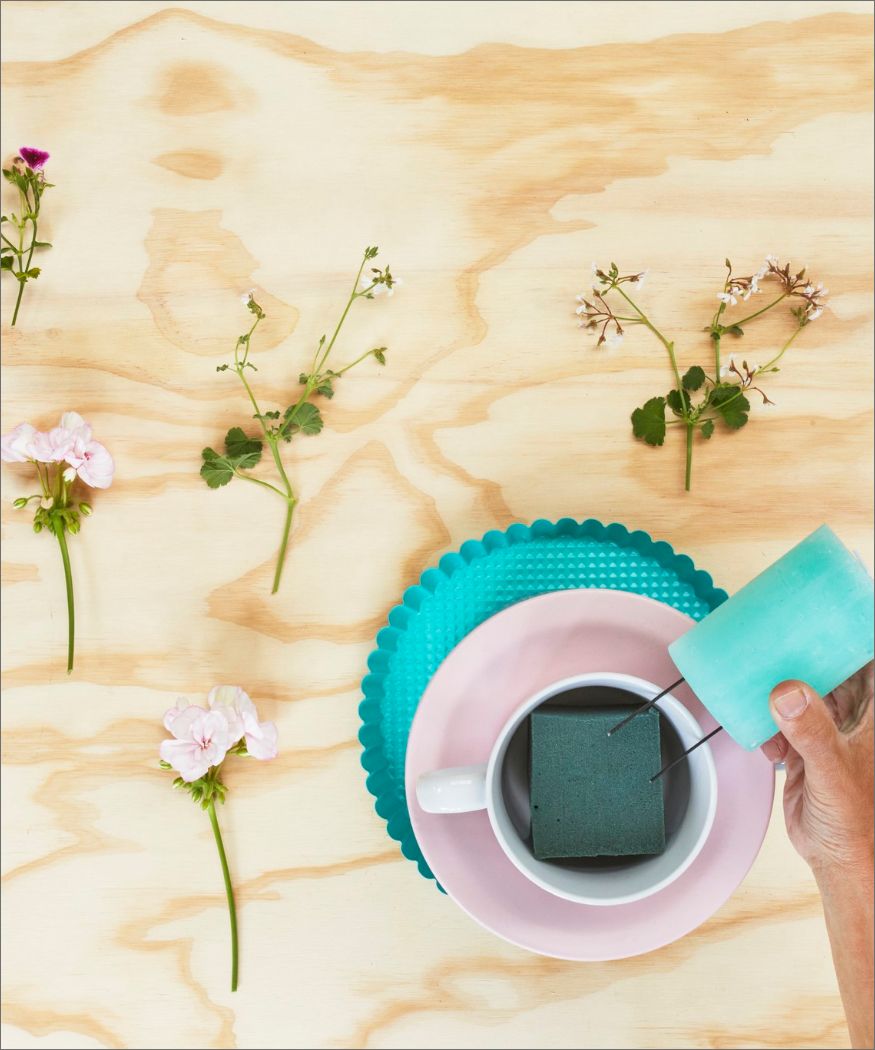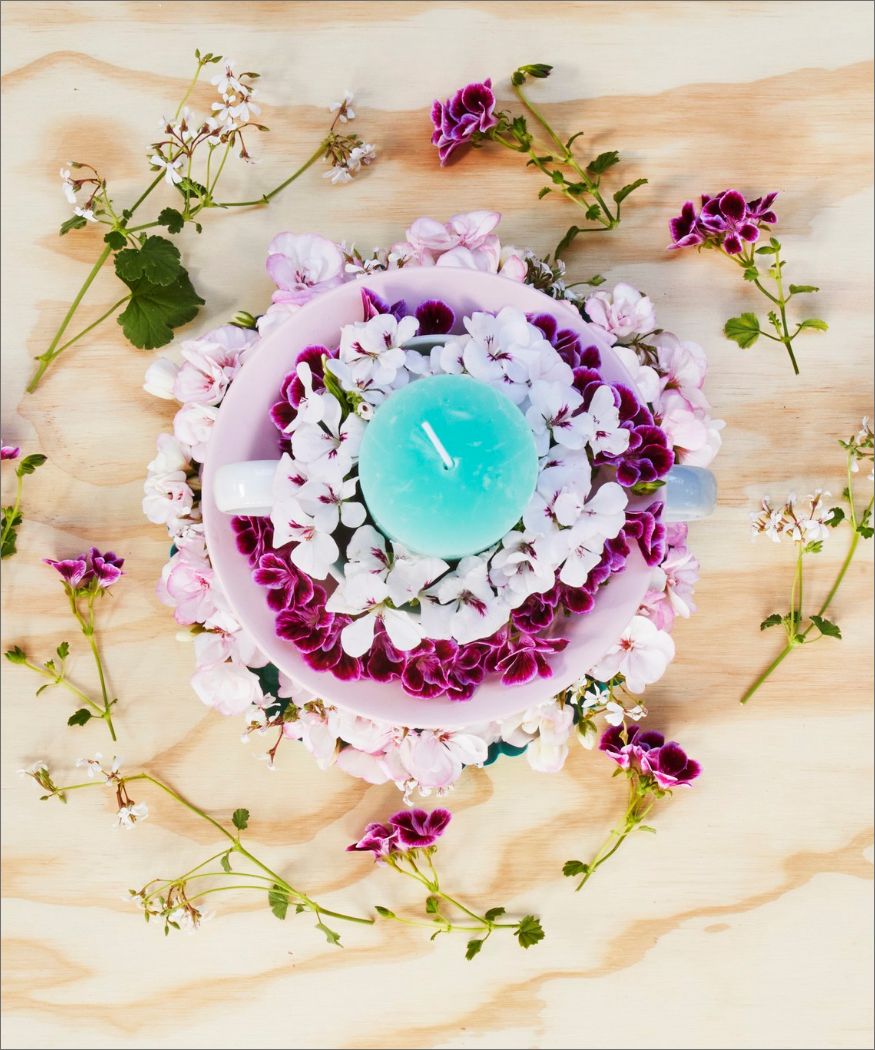 These crafted flower holders made from decorative pebbles, bonsai wire and test tubes are perfect for showcasing colourful cut geraniums at parties.
To create this nautical design idea, you need decorative pebbles with one flat side, wirecutters, bonsai or thick decorative wire, test tubes and geraniums. Here's how to make it: Using the wirecutters, cut lengths of the bonsai or decorative wire approximately 60cm long. Smaller pebbles may need shorter lengths. Loop the bonsai wire around the stone, then twist the ends together above the stone, with the flat side facing downwards, leaving one end of wire much longer than the other.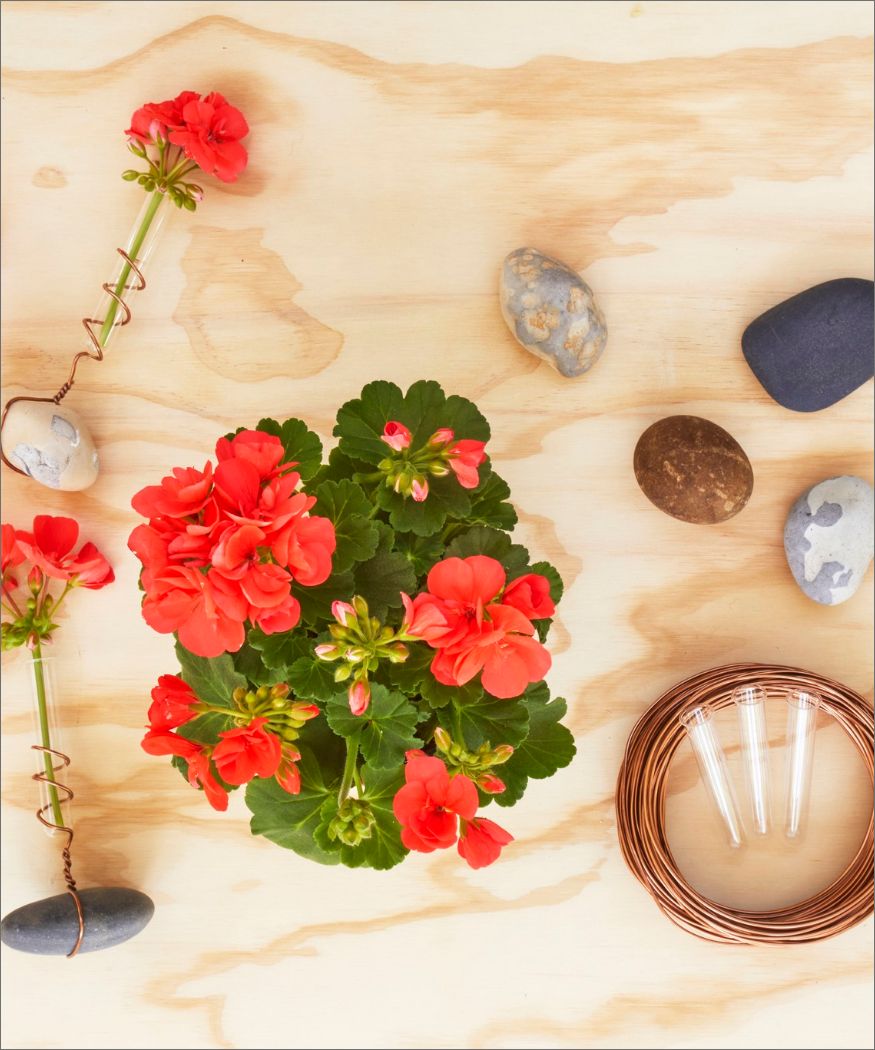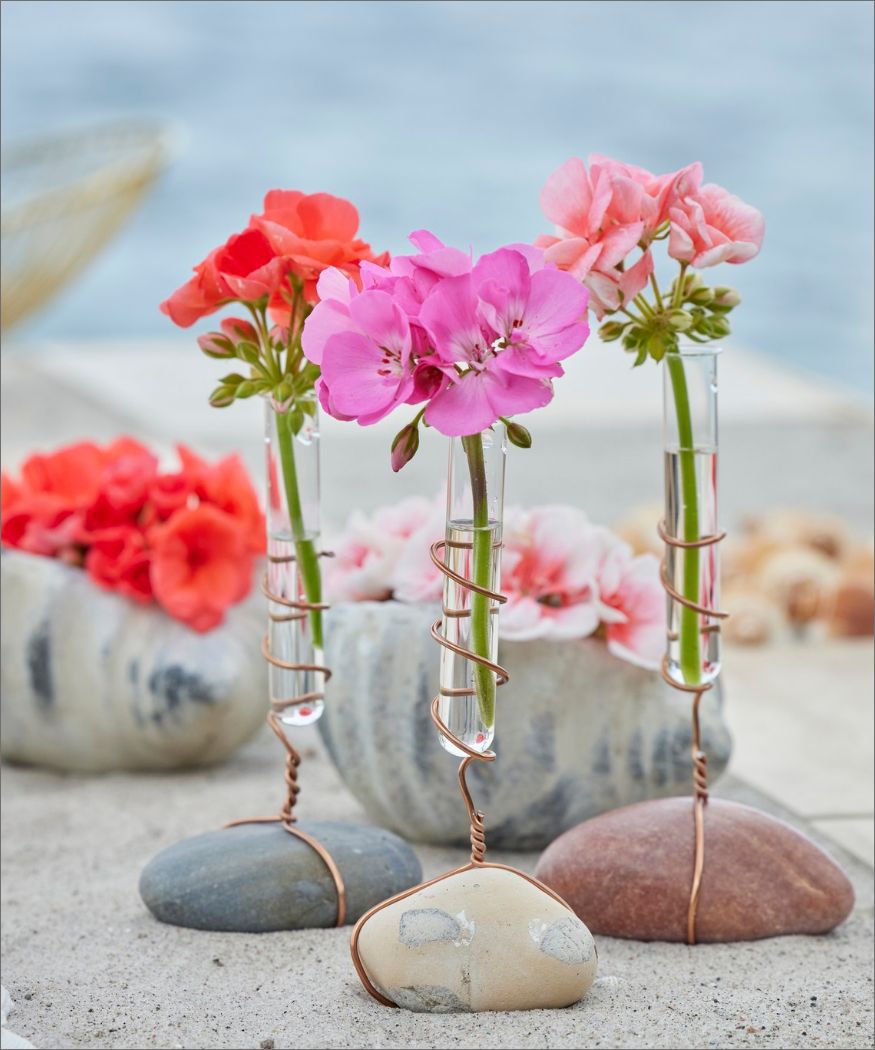 Form a spiral with the longer end of the wire around your test tube, being careful not to wind too tightly, or the tube may crack. Finally, fill the test tube with water, place a geranium stem in it and place your flower holder on the table. Tip: With a name tag, this idea can be used as an alternative place card.
With floral foam balls and the varied types of geranium blooms, you can create beautiful flower balls that make perfect party decorations.
Before inserting the flowers, place a foam ball on top of a bowl or bucket of water and allow it to sink down for one to two minutes until it is fully soaked. Then insert the flower stems into the foam close together, with heads touching.
Detailed advice on all aspects of geraniums is available from specialist retailers.
Reproduction is free of charge with the credit "Pelargonium for Europe". Further texts and images can be found at www.meine-geranien.de