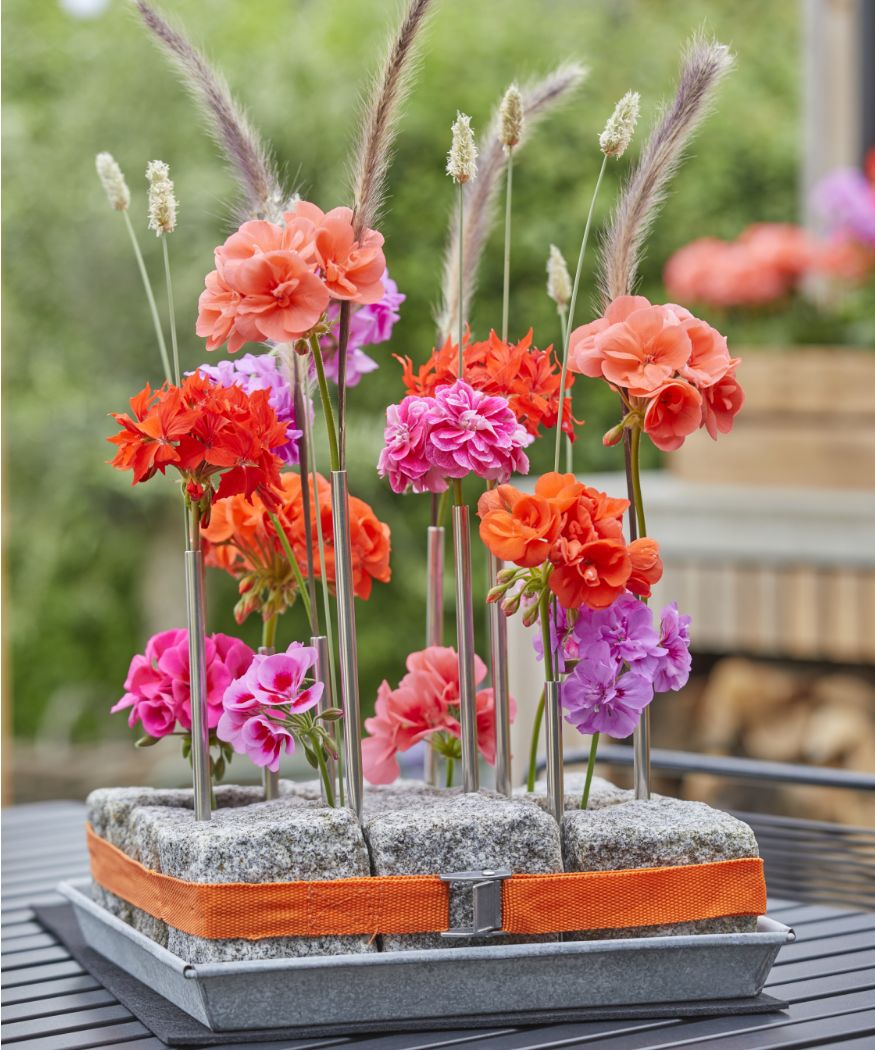 Enjoy with all your senses. Floral summer tables with geraniums.
When the weather is good in summer, the urge to enjoy carefree moments outdoors increases. Whether it's Sunday breakfast on the balcony, a birthday party in the garden or a barbecue on the terrace, there are many occasions for eating together and celebrating with friends and family. When people gather for meals, lovingly decorated tables also play an important role outside, because as we all know, we eat with our eyes too. The experts at Pelargonium for Europe present some summer table decorations with geraniums that are simple to recreate and encourage you to take a seat and enjoy with all your senses.
Colourful geranium stone flowerbed
A summer flowerbed on stones:
This quirky table design is impressive with its charming contrast between live grasses and colourful geraniums and the inanimate grey of the zinc bowl and cobblestones. With the right materials, craft enthusiasts can easily create this summer feature themselves. For this stone geranium arrangement, you will need nine cobbles, a flat, square zinc bowl big enough to fit the cobbles, metal drinking straws, a hammer, grasses and cut geraniums from the garden, and a tension strap to match the geraniums.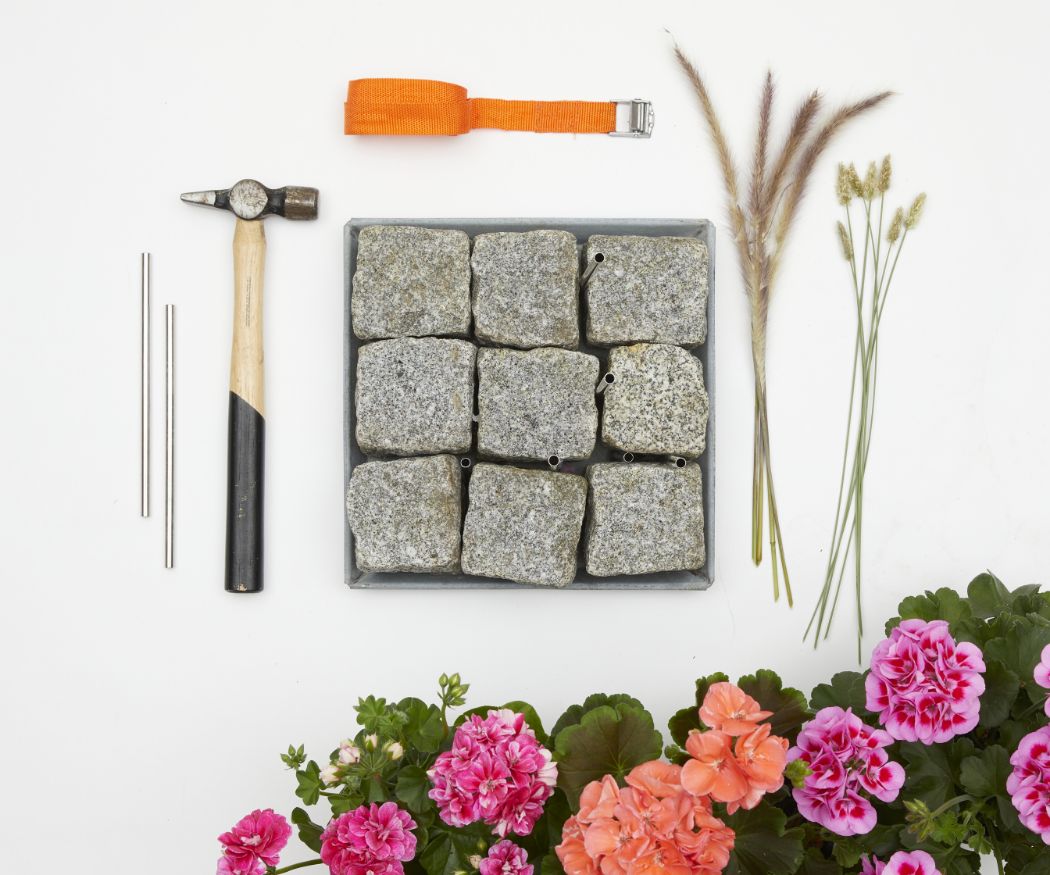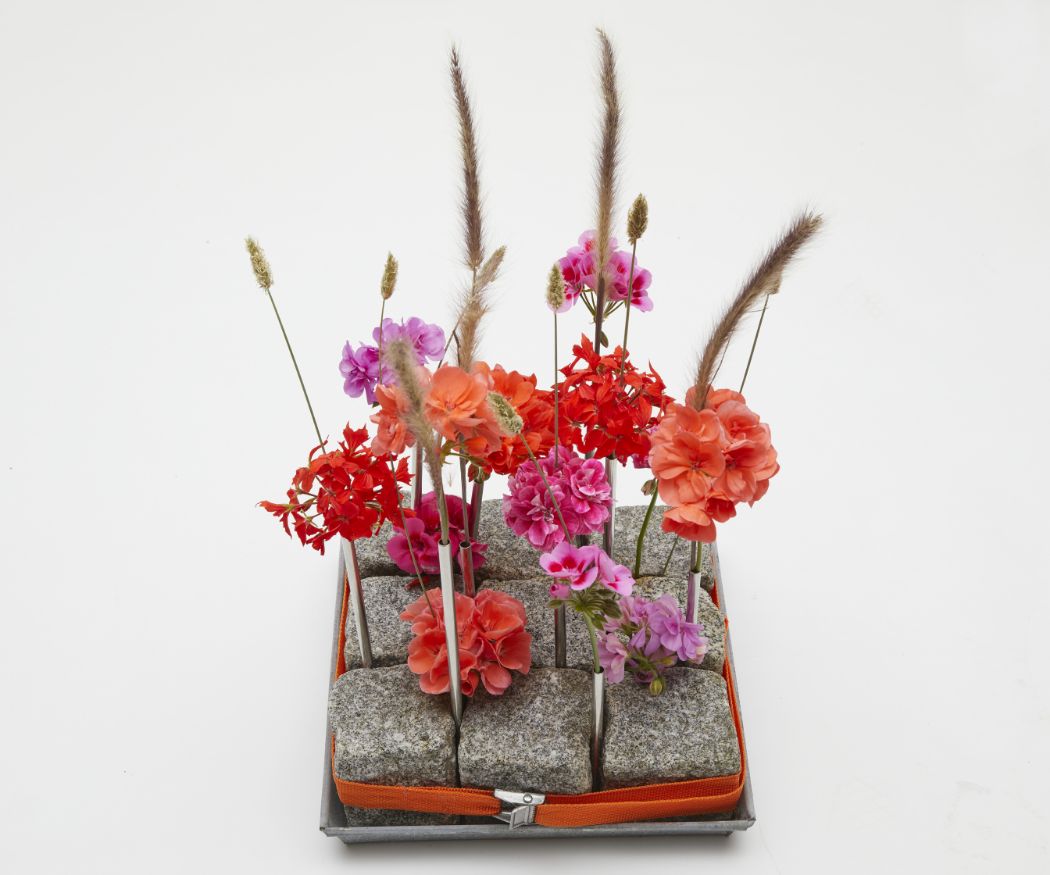 How to make it:
Place the cobblestones in the square zinc bowl and tie them together with the tension strap. Then, using the hammer, beat each metal drinking straw flat at one end until it is watertight. Do this at different heights for each straw. Now insert the flat end of the straws between the cobbles and fill them with water. Finally, add grasses and cut geraniums to the straws. Done!
Tip: Adding the geraniums at varying heights makes for a more dynamic display.
Geranium lantern in a jar
This floral geranium lantern in a jar creates an atmospheric glow on a garden table on balmy summer evenings. Making this pretty table decoration requires little skill so is a real pleasure for DIY fans with a flair for handicrafts..
To create this floral table decoration – you will need a flowering geranium, a small jar, pliers, floral stub wire, floral tape, coloured ribbon, reel wire, fine sand and taper candles.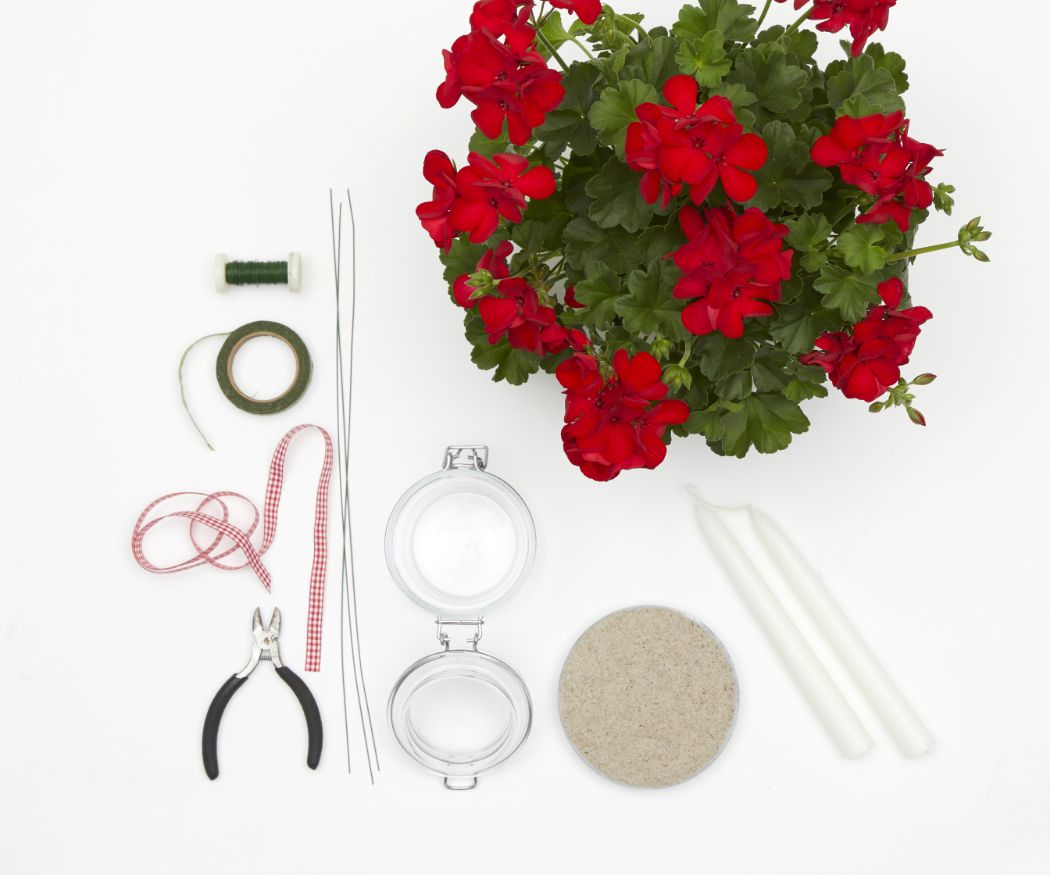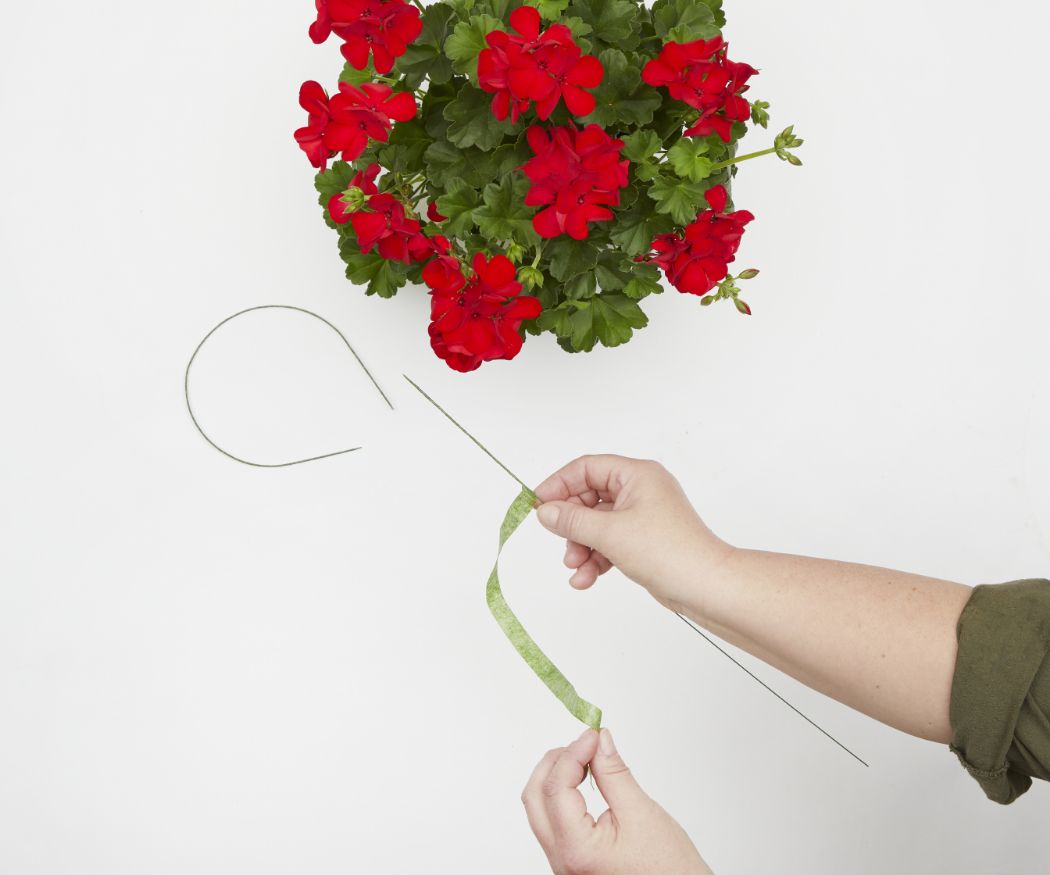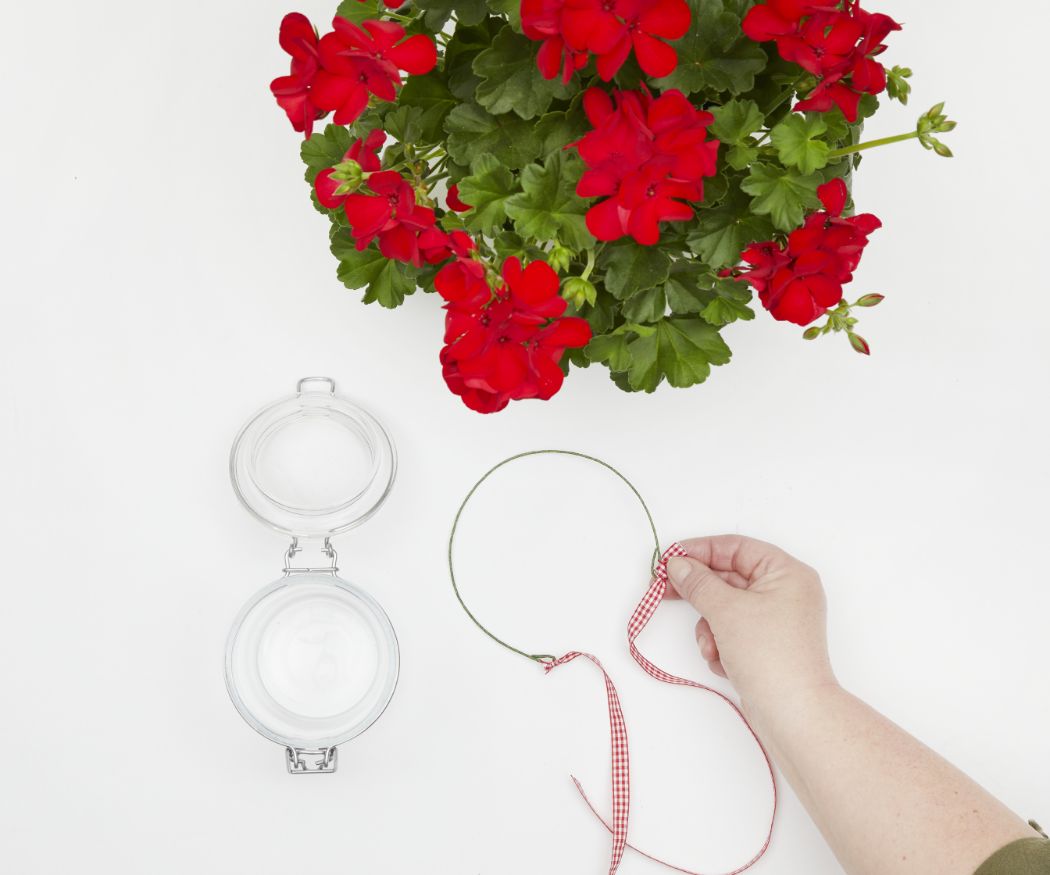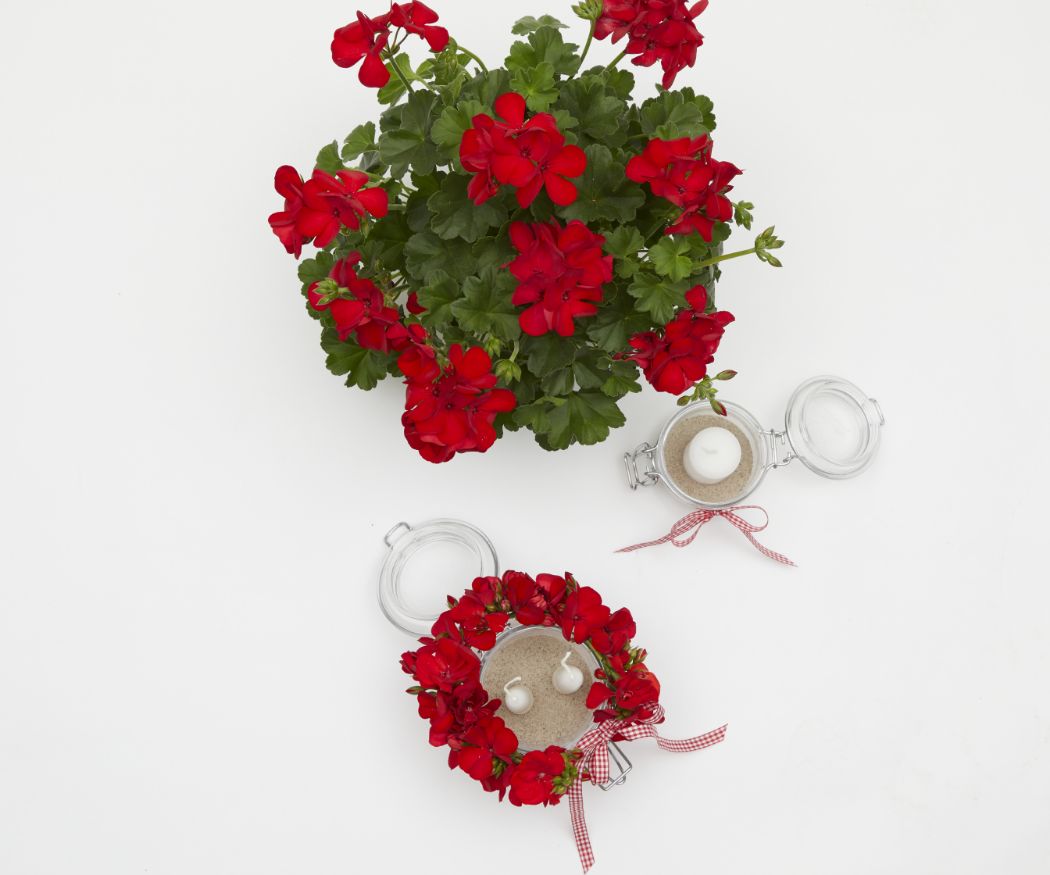 Step 1: Wrap the wire with coloured tape and shape it into an open ring. The diameter of the ring should be the same as the diameter of the glass it will be attached to later.
Step 2: Form a loop on each end of the wire using the pliers and attach a length of ribbon about 20cm long to each of these two loops.
Step 3: Pick geranium flowers and attach the stems to the wire with twine so that the flowers are close together and cover the wire as completely as possible.
Step 4: Place the finished geranium wreath around the top of the jar and tie it with the ribbons.
Step 5: Now fill the jar with sand and push the candles into it.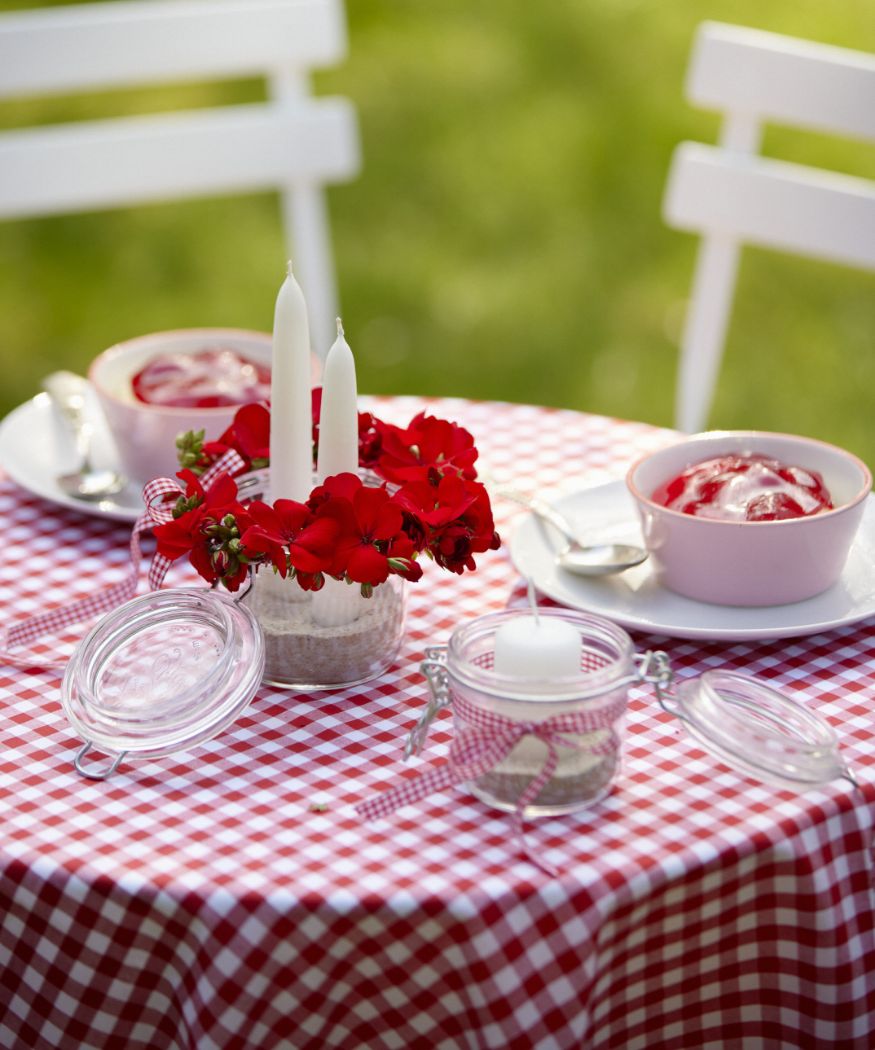 Tip: For a larger table, decorate more jars with ribbons only and fill them with sand and candles and place them on the table as additional decorations.
Tip: Depending on the size of the jar, there may be room for one or more candles in the floral geranium jar. Tip: By choosing different colours, this flowering geranium design can easily be adapted to different tastes and styles.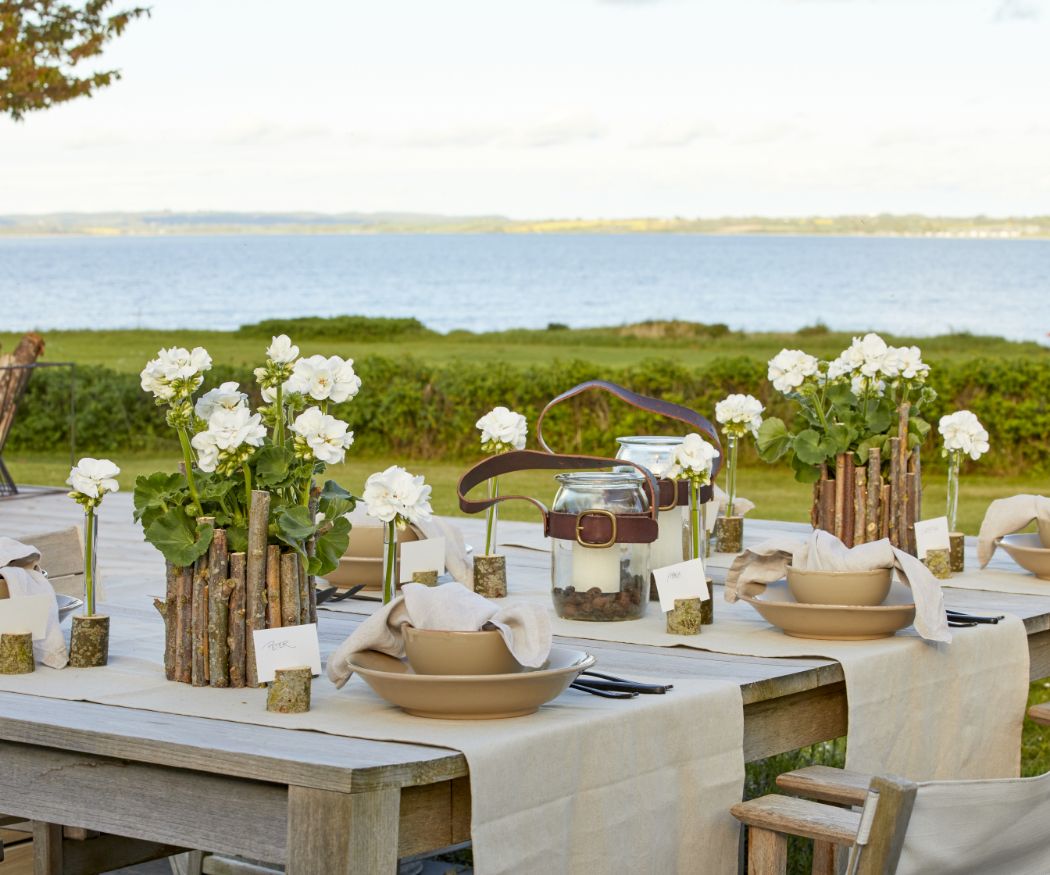 Summer table with geraniums and craft ideas in a fresh, natural style
This lovingly laid table looks light and airy in summer with bright white geraniums and other handmade decorations in the on-trend natural look.
By sawing slots or drilling holes, you can quickly transform short, thick sections of branch into original holders for name tags or flower tubes filled with cut geraniums to create a summer feel, while a collar of longer branch sections transforms a plain planter into an attractive centrepiece that gives lushly flowering white geraniums a beautiful, natural look.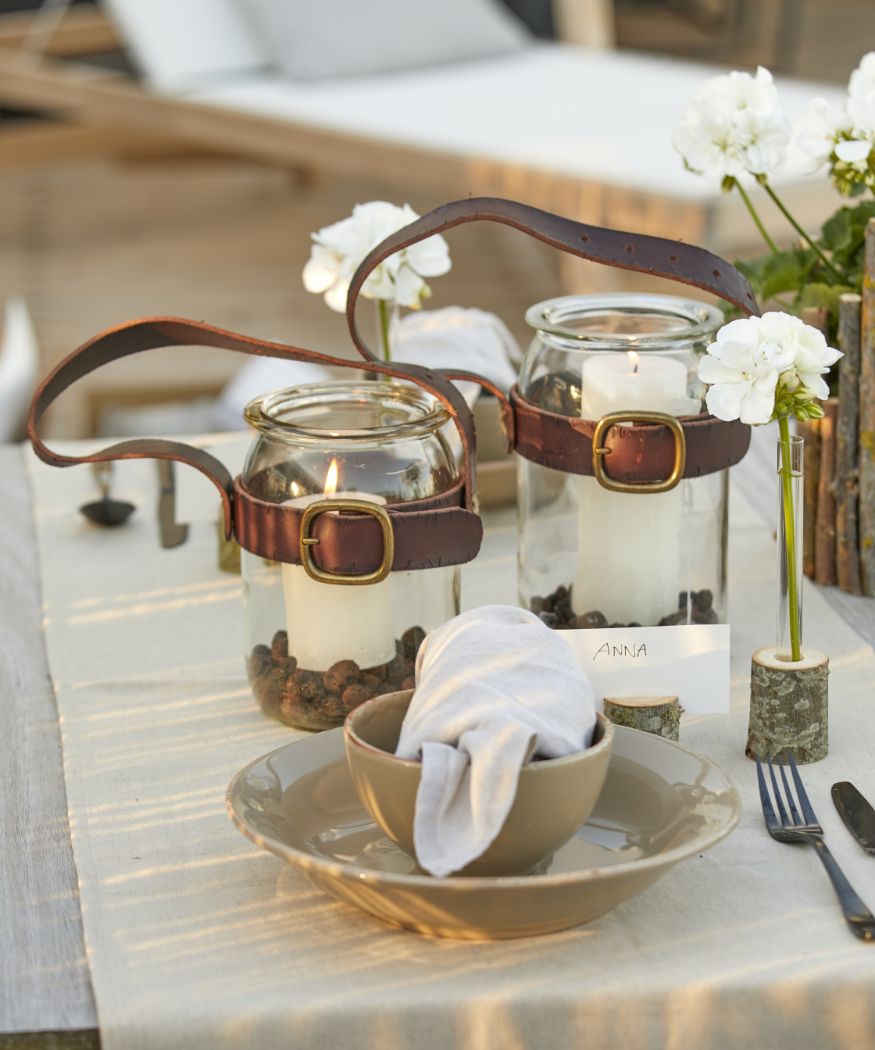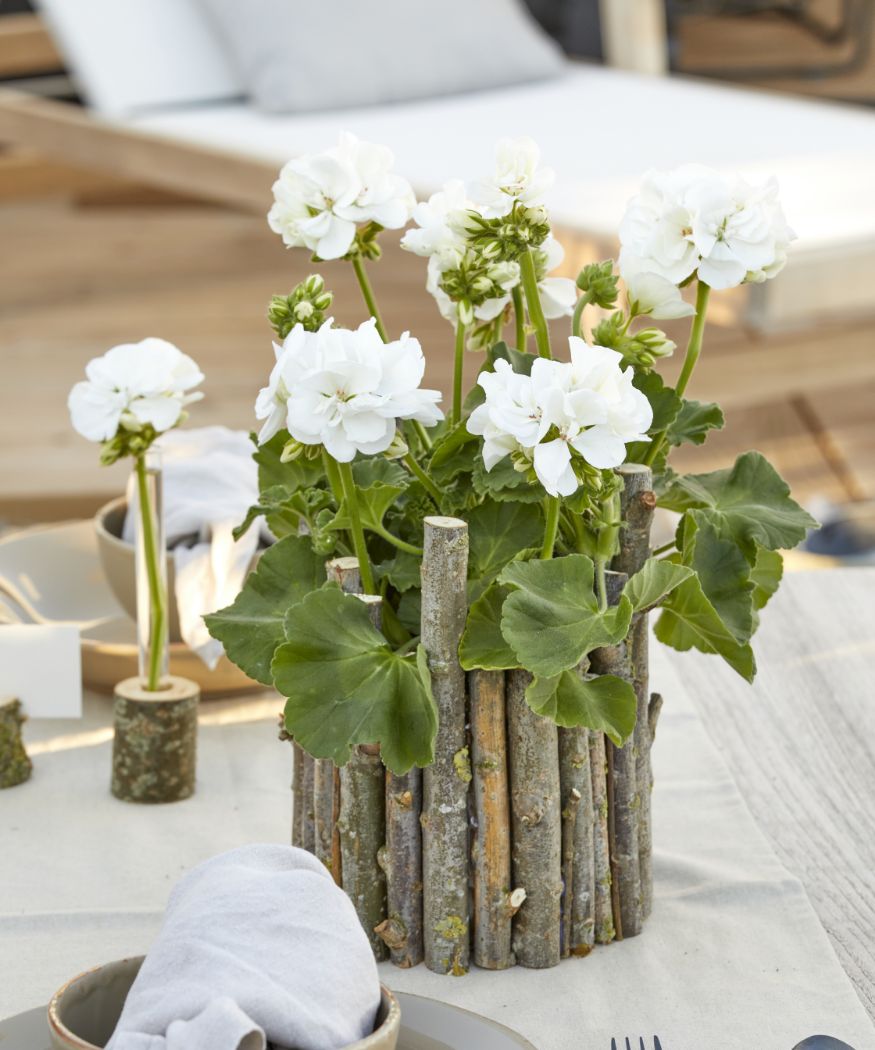 For atmospheric light on balmy summer evenings try these decorative, on-trend, upcycled lanterns. They are easy to make yourself with old jars and discarded leather belts. Carrying straps allow you to hang the lanterns up.
Tip: If the jars are big enough, you can also plant geraniums in them. If you do, make sure there is a sufficient drainage layer and only water very lightly to avoid waterlogging.
To make the lanterns you will need scissors, a hole punch, strong twine and a large needle as well as an empty jar with a corresponding sized candle or geranium for each lantern and an old leather belt, e.g. from a charity shop.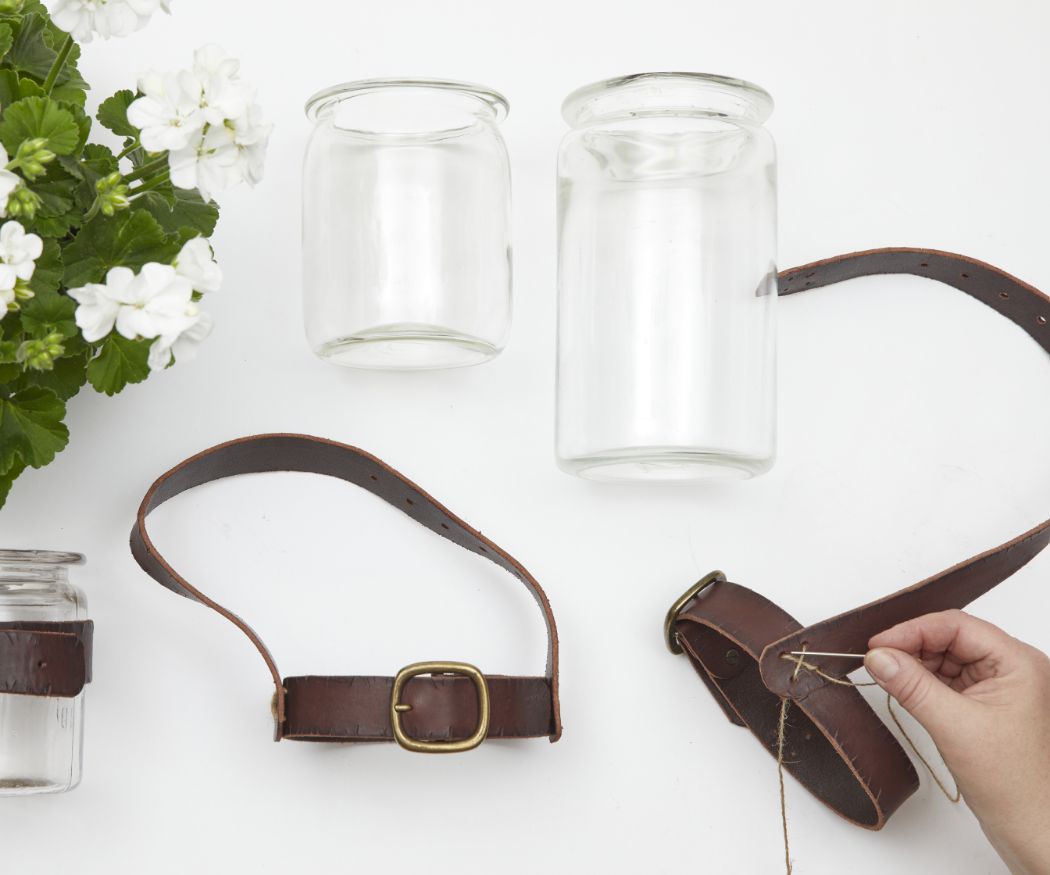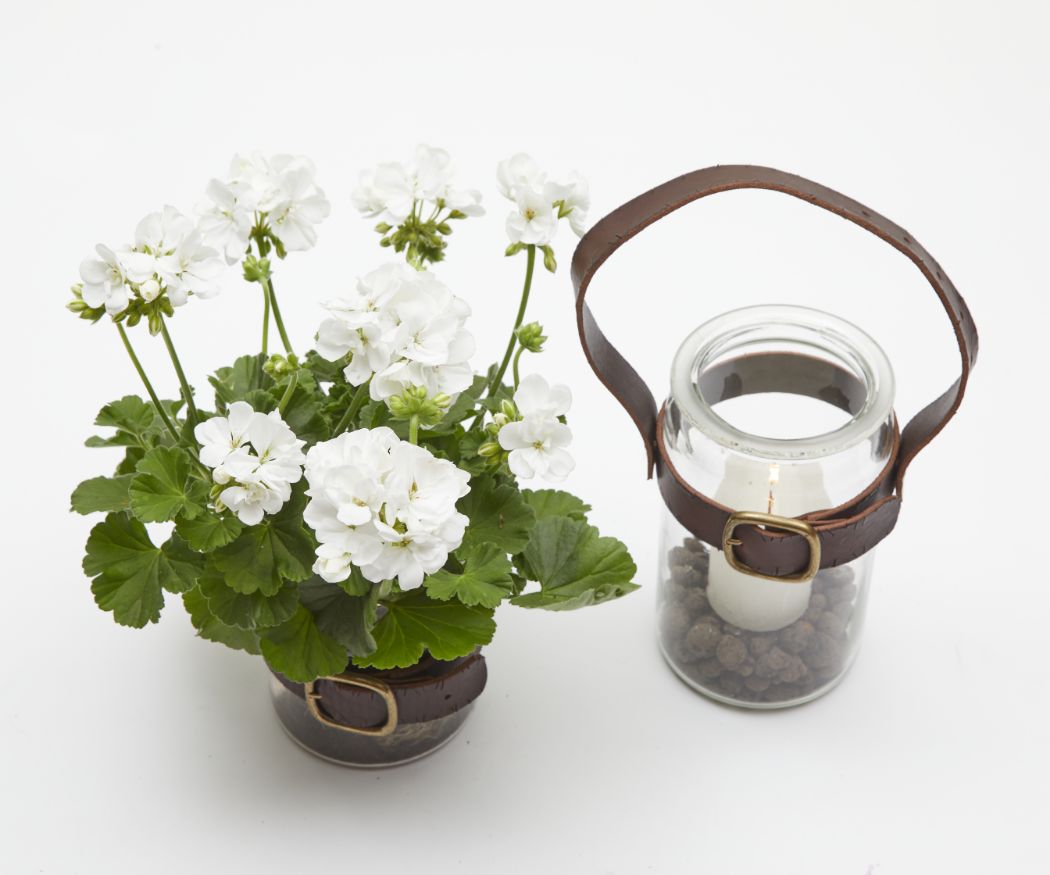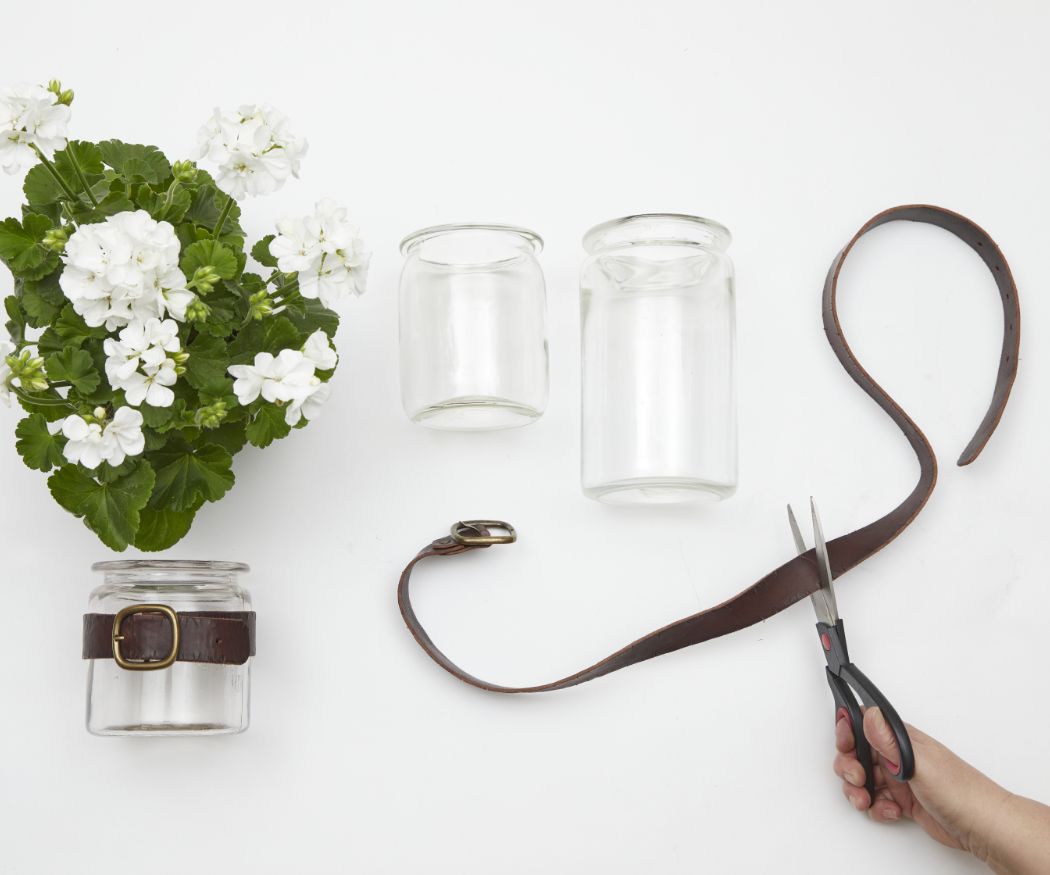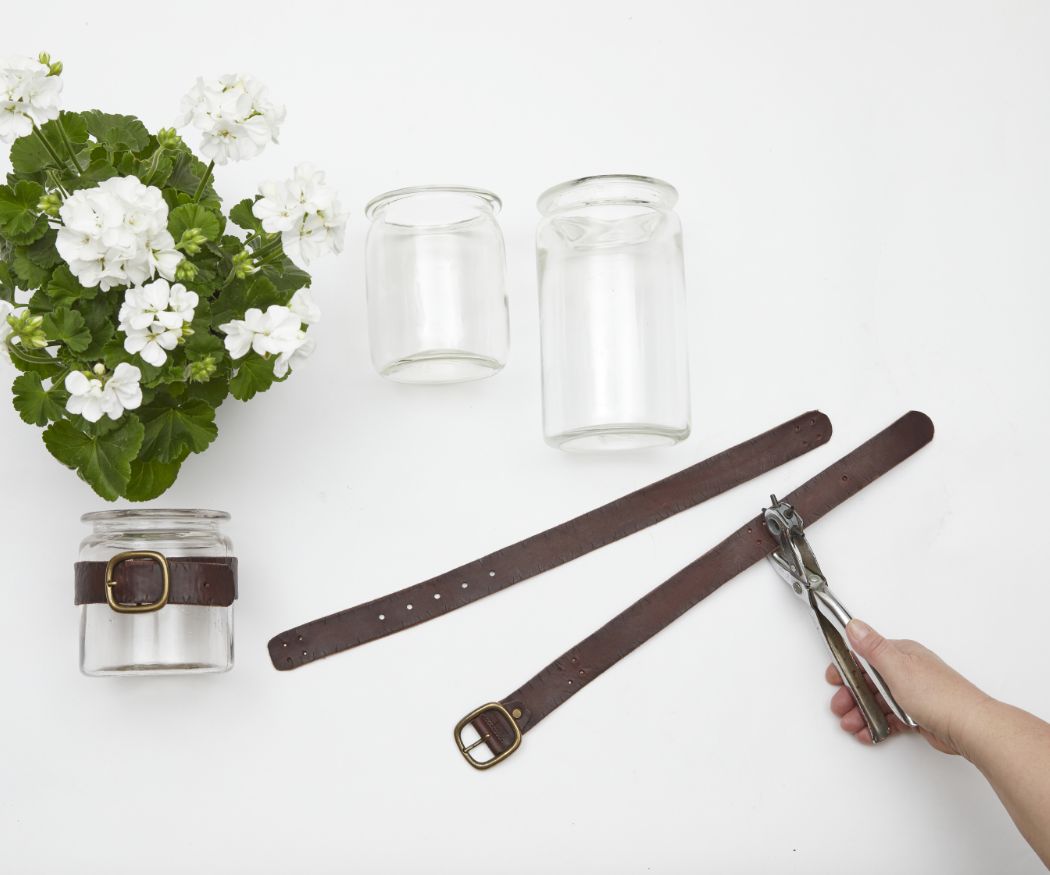 Here's how it's done:
Step 1: Cut the belt to the right length so it can be wrapped tightly around the jar and buckled.
Step 2: Punch several holes in the shortened leather belt with the hole punch.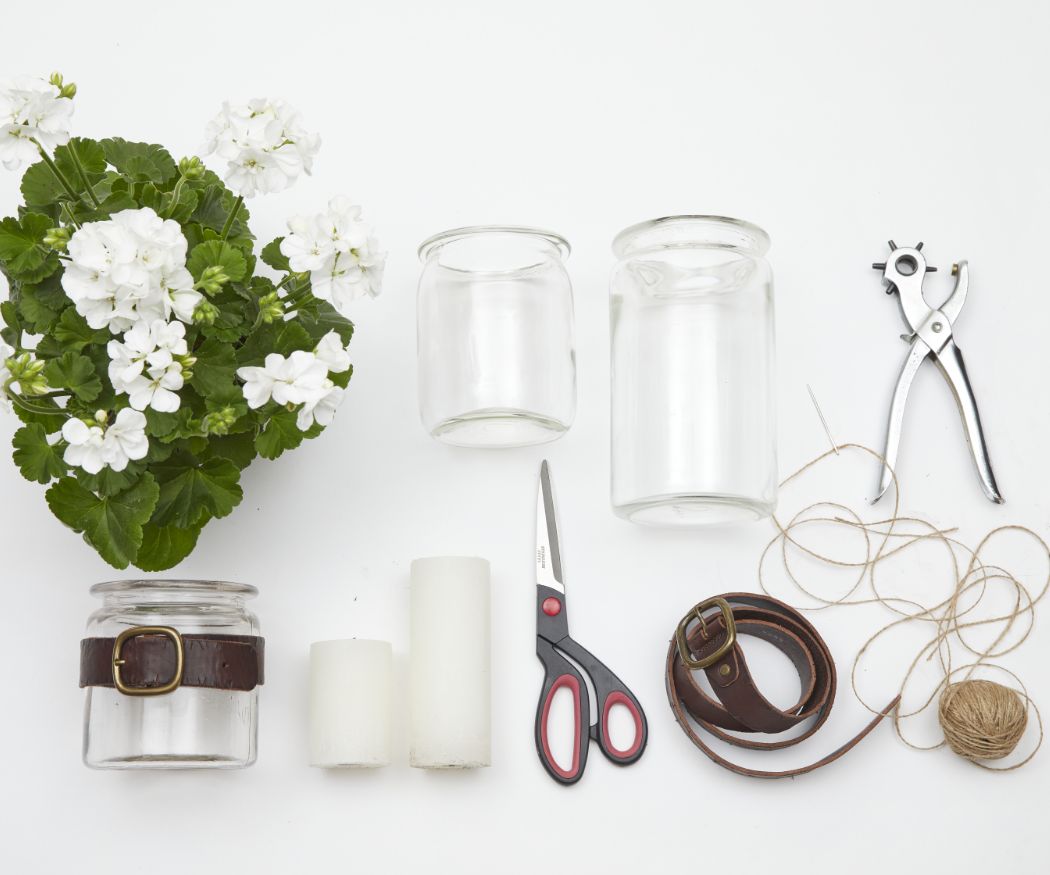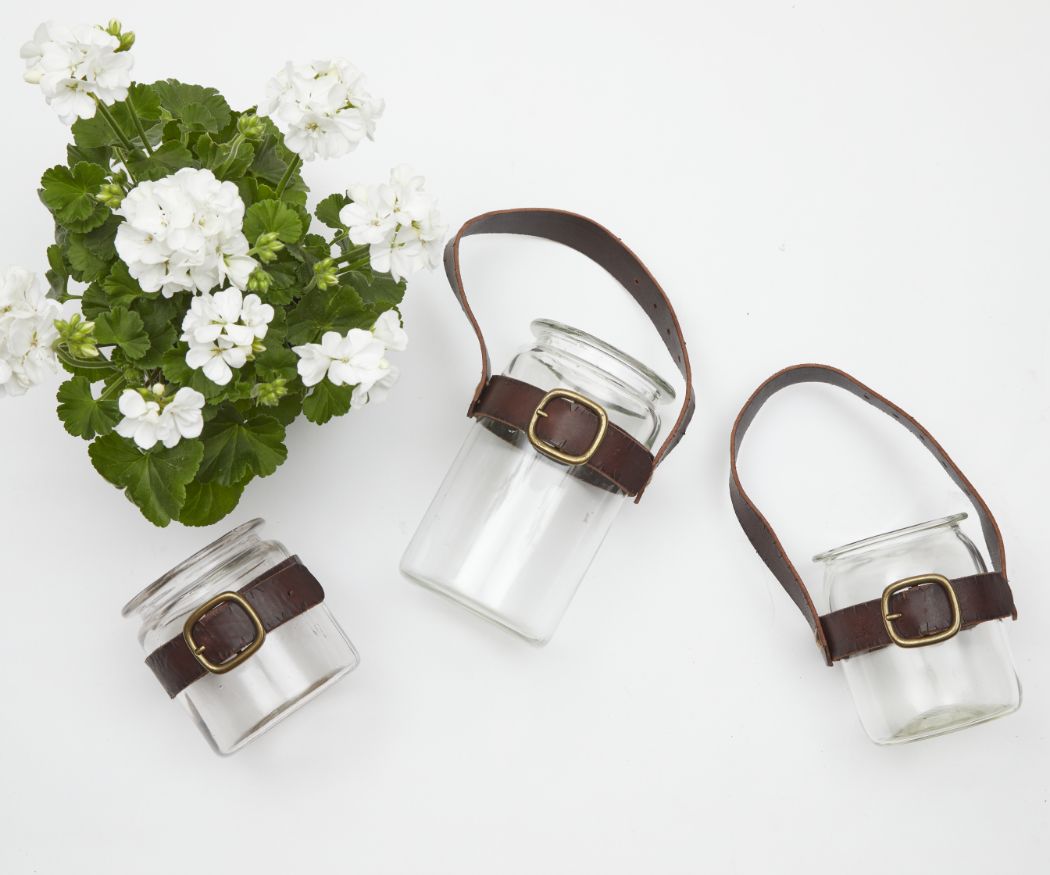 Step 3: Sew the remaining piece of belt with strong twine to opposite sides of the shortened leather belt so a strap is created with the buckle sitting in the middle.
Step 4: Now place the belt with the attached strap around the jar. The belt must be tight enough so it doesn't slip. If necessary, use specialist glue to fix it in place.
Step 5: Finally, place the candle in the jar or plant the geranium inside.If you like, you can scatter small pebbles, clay granules or woodchips around the candle for decoration. Done! Remember: Never leave a candle burning unattended.
Just beautiful: breezy, fresh geraniums
This pretty design idea is like a cool breeze, with grasses and brilliant white, cut geraniums adding a touch of summer to the table. To create this arrangement, all you need is a simple, oblong, handmade wooden box and several identical glass bottles.
Tip: The white geraniums give this design an unserstated, freshness and lightness. Geraniums in bold colours such as pink, red or purple create a much more dramatic impact.