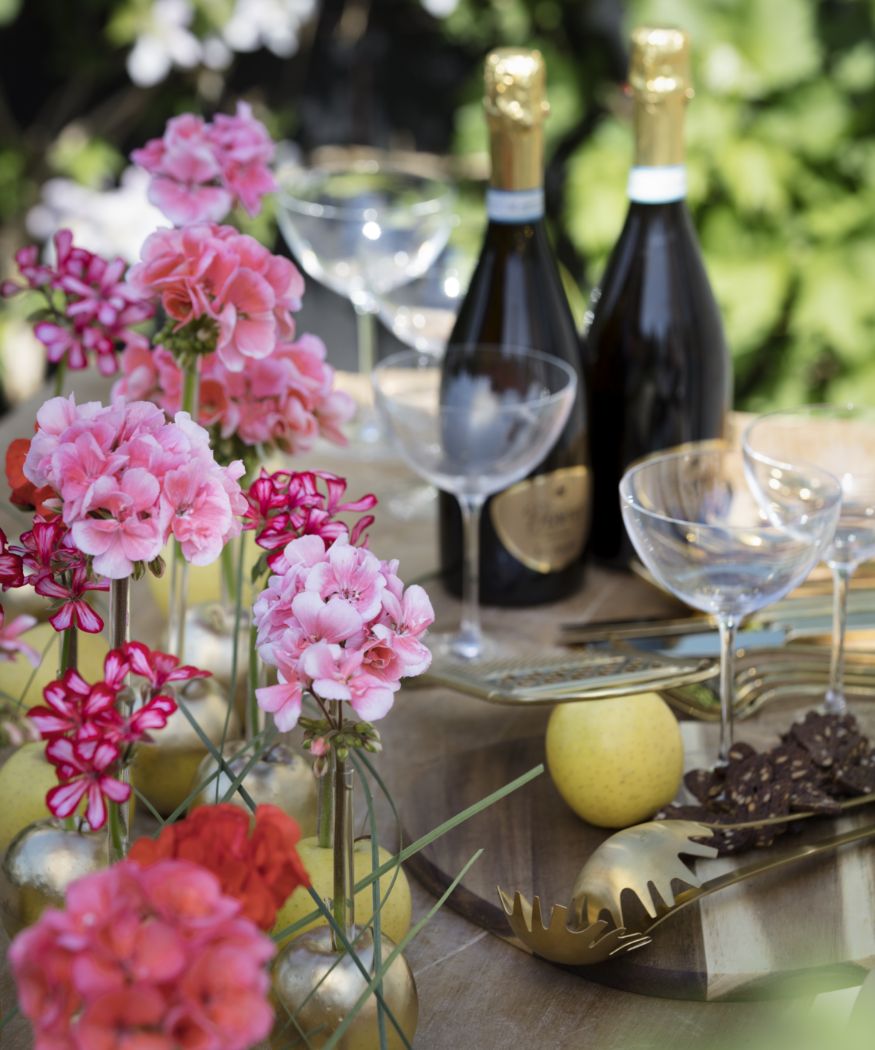 Colourful floral decorations for summer tables. Dining with geraniums.
Not matter if it's outdoors or in, having breakfast with the family, a summer party or dinner with friends, the table is the heart of any social gathering. And floral decorations are a must when turning this essential meeting place into a radiant festive table. There's a wide range of floral beauties to choose from during the warm season, but the absolute star among summer flowers is the geranium. This versatile South African cuts a fine figure not only in flower pots and balcony boxes, but is also perfect for colourful floral decorations on a festive table. Whether potted or cut flowers, with its impressive show of flowers and a wide range of vivid colours, geraniums bring a summer feeling to the table and spread a happy mood.
Garden party eye-catcher: geraniums in golden apples
Wow effect guaranteed:
This summery table decoration with geraniums and edible apples will be sure to fetch compliments at your next garden party. A festively coloured decoration idea that you can easily make yourself. All you need are some cut geraniums, apples, glass water tubes, gold spray paint, steel grass and pins.
And here's how to do it:
Remove the cores from the apples. The easiest way to do this is with a special fruit corer. Then cover some of the apples with the gold spray and allow to dry.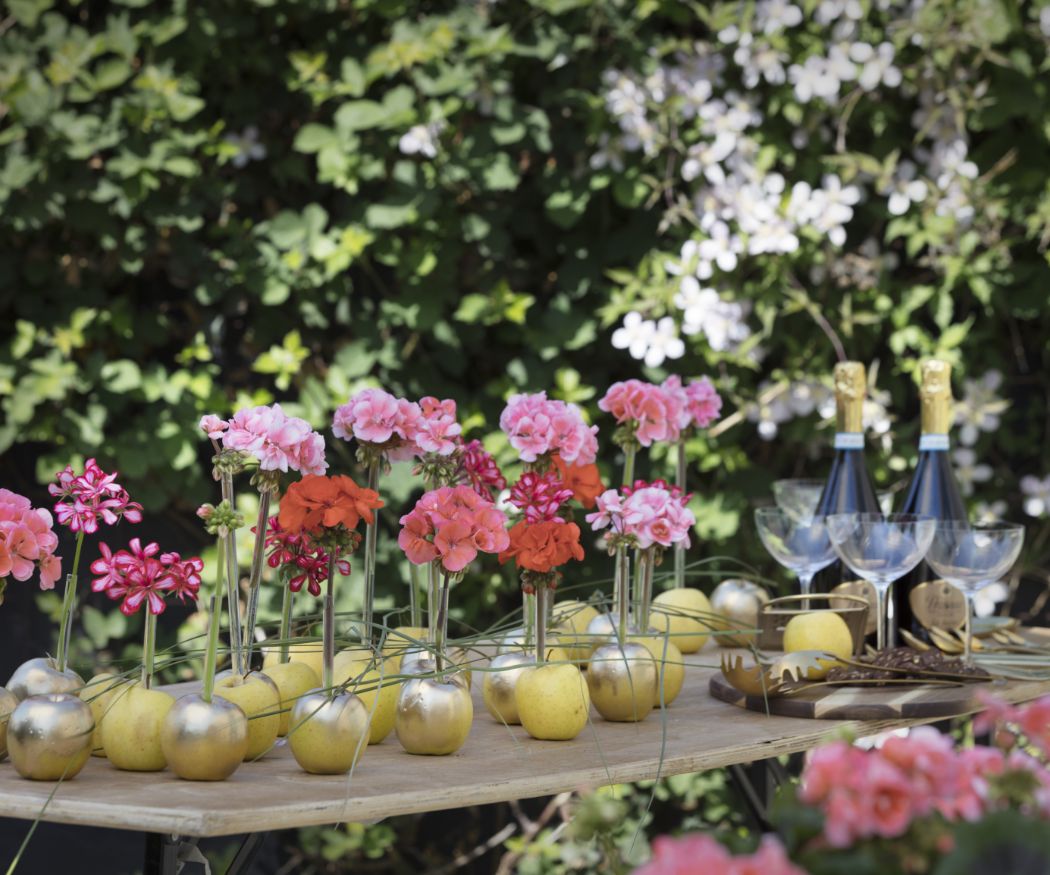 Next, insert a glass tube in each apple and add water until they are about half-full. Arrange the cut geraniums in the tubes, adorn the apples with blades of grass and secure with pins. Done!
Place card alternative: floral greetings
Floral decorations bearing your guests' names are a pretty alternative to the usual place cards and a lovely personal welcome for the guests.
Two design ideas:
The first version is suitable for any occasion and can be made in no time:
Wrap a single flower of an upright geranium in a cone of plain paper and attach a name tag with parcel string around the centre and arrange on a small plate. This makes the decorative flower heads of the zonal pelargonium appear like a tiny bouquet.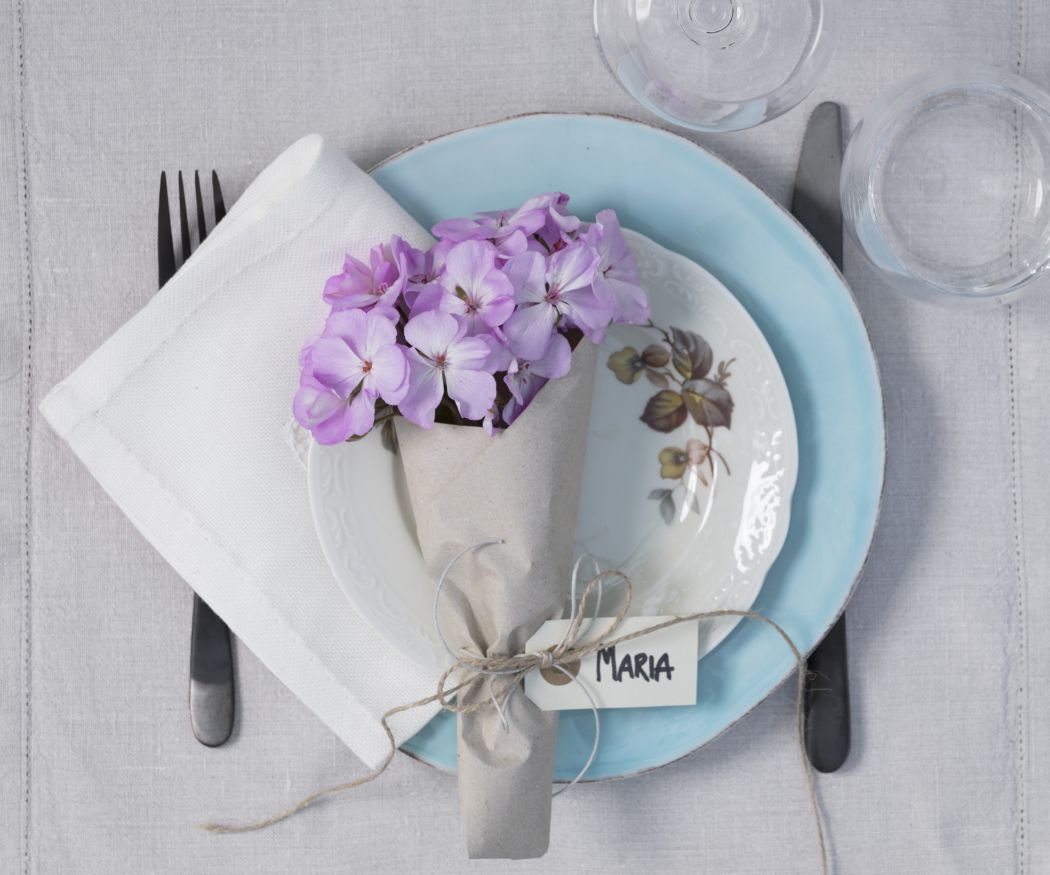 Cut geraniums will stay fresh longer in water-filled plastic tubes with rubber caps. Alternatively, you can wrap the stem in moistened moss and protect with plastic foil.
Tip: Thanks to the geranium's extensive variety of colours and flower shapes, this floral greeting can be made to match any surroundings. To create an entirely different effect, you can also use decorative wrapping paper and ribbon instead of simple parcel paper and string.
Happy Easter!
The second floral place card alternative is particularly suitable for festively set Easter tables.
It can be fashioned with a flick of the wrist as well:
Simply insert a freshly picked geraniums carefully through blown-out eggs and tie decorative bows around the stems. Write the names on the eggs. Done! If desired, you can use plastic tubes or moistened moss as a water supply.
Tip: Since classic outdoor geraniums are usually not in full bloom until after Easter, regal geraniums from indoors can be used here instead.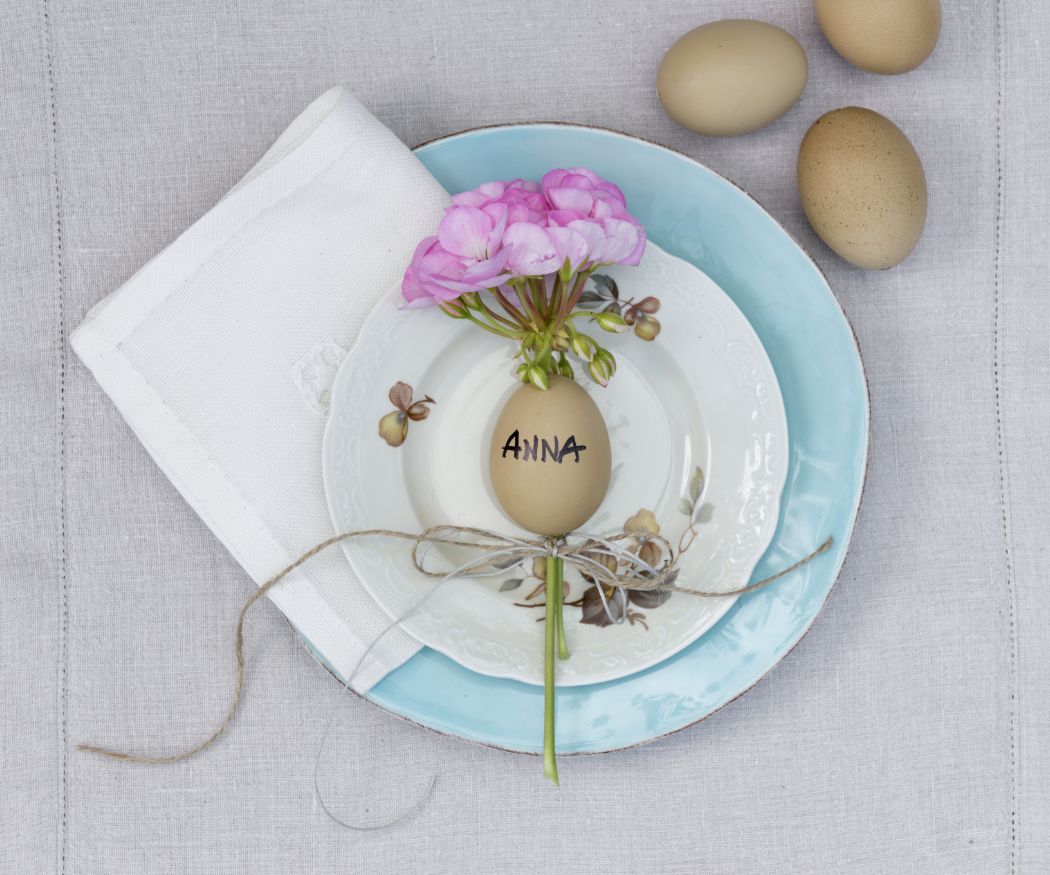 Potted geraniums as table decoration
Opulently flowering geraniums in decorative pots are a quick and easy way to create a floral table decoration. Placed in a row down the centre of the table, pink geraniums in matching pots are a simple yet eye-catching summer floral decoration.
Canned geraniums:
Empty tin cans are perfect for making flower pots for a summery table. The simple DIY idea can be made in no time. Remove the label and wash the can thoroughly. It's advisable to use a can opener that doesn't leave sharp edges. Then plant the geraniums directly in the tins and adorn as desired with ribbons or string.
Tip: A few holes in the bottom of the container and a drainage layer of aerated clay pebbles will ensure that excess water can drain off. It's best to water them before setting the table. Tea candles in storm lanterns made from jam jars are a great addition here.