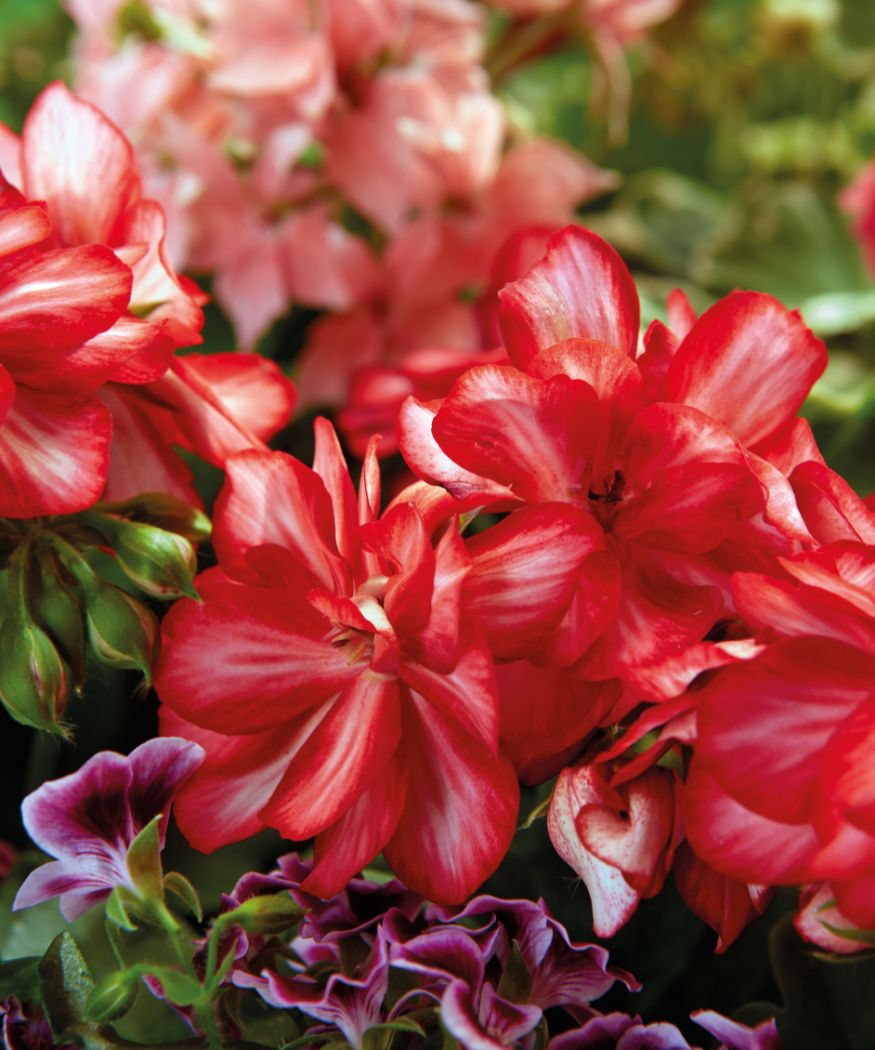 Blooming great ideas for summer. Deco ideas with cut geraniums.
With their wide variety of flowers in a huge range of colours, shapes and sizes, geraniums are not only perfect as bedding and balcony plants, but also make great cut flowers in bouquets, wreaths or flower arrangements. And even geranium florets, without their stems, can be used for unique decorative details. The experts at Pelargonium for Europe show how to use cut geraniums stems and florets to create a guaranteed summer vibe.
Geraniums: Endless variety
There's no other summer flower with such a wide variety of flowers as the geranium. Its colour spectrum ranges from white to blush pink, hot pink, lilac and violet to salmon or orange. In addition, there are various shades of red as well as countless two-tone or patterned variants with beautiful colour gradients, stripes or speckles. Geranium flowers can be sinlge, semi-double or double; large, medium or small. Some are shaped like butterflies, while others are star- or finger-shaped. There are flowers like rosebuds and those whose blooms resemble tulips.
As different as the flowers are, the arrangements you can create with them, are equally pretty, as the following examples show.
Summer flower hanging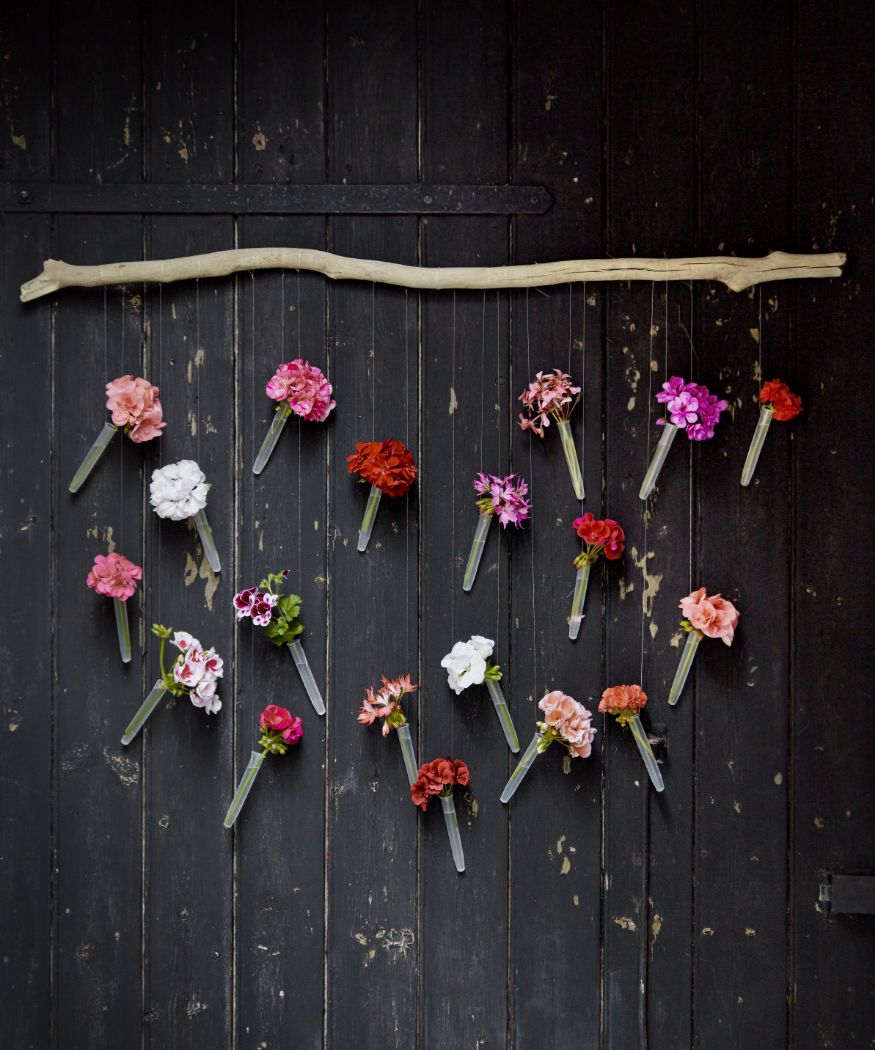 No more bare, unsightly walls:
This original hanging design using cut geraniums in various colours and shapes looks like a summer curtain of flowers. Place geranium stems in flower tubes filled with water, and attach it to a decorative branch with clear nylon thread. This quirky wall hanging gives off a real summer vibe, is quick to make and will enhances any terrace or balcony as well as interiors.
On-trend geranium accessories
Nature is big right now! Not only in interiors and outdoor spaces, it's also a key trend in fashion and beauty. Fresh flowers as fashion accessories are hot right now, and not just at weddings. In summer, hair, hats or bags decorated with geraniums are real attention-grabbers.
A fresh flower hairpiece makes a cute accessory and a nature-inspired statement at any summer party. For this colourful hairpiece (left), pretty geranium heads are teamed with lady's mantle, columbine and catmint, all attached to a large hair clip.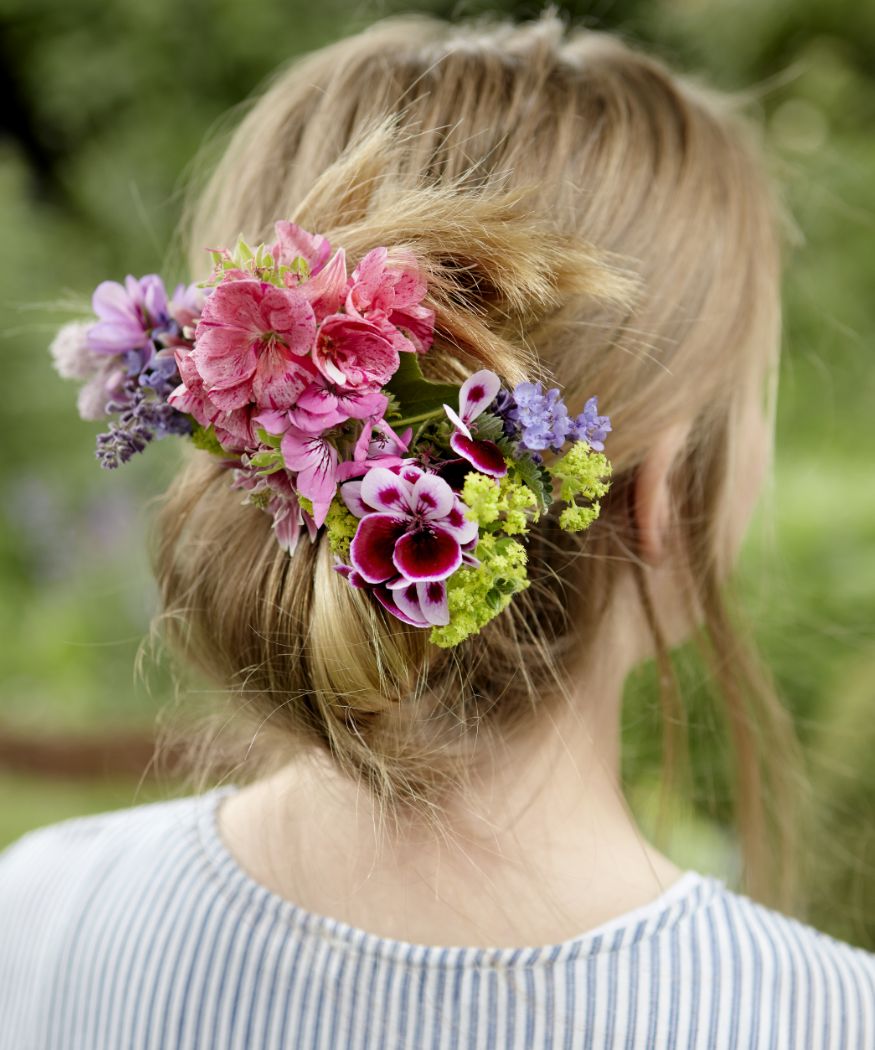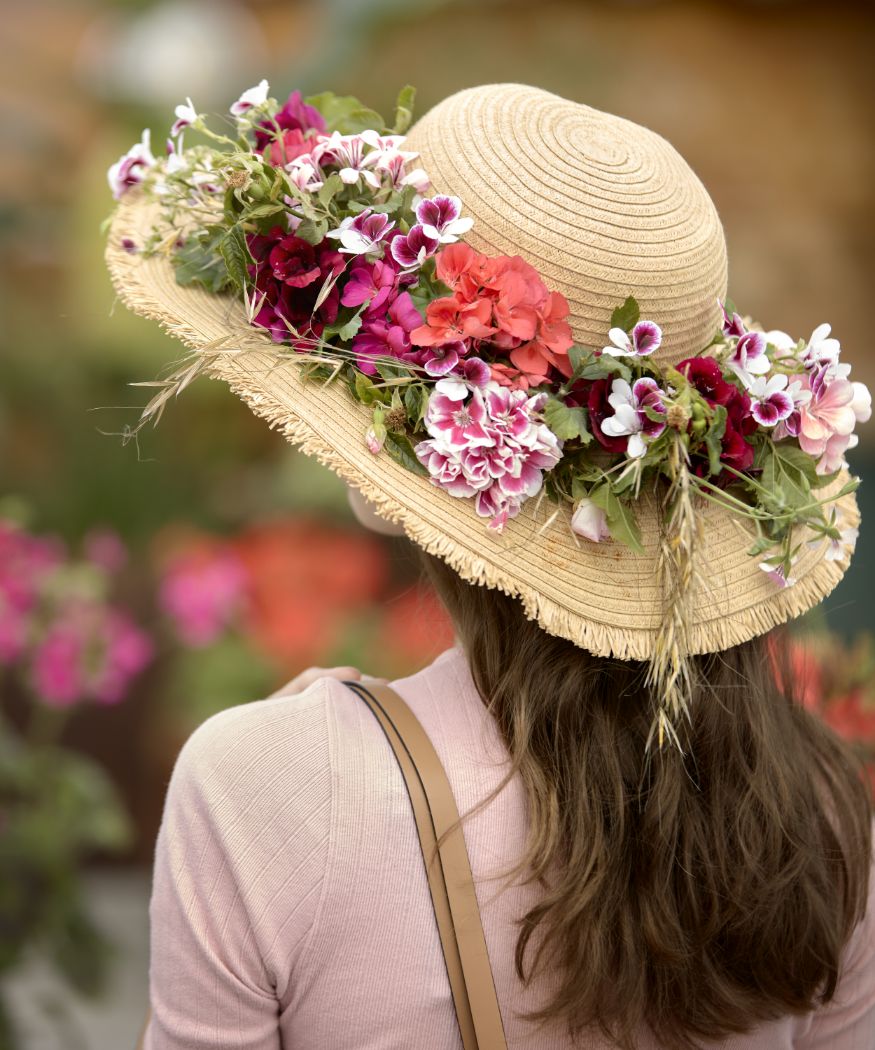 With their wide brim, classic straw hats have plenty of room for artistic floral creations. While the combination of white geranium, Lamb's Ear and Chinese Fountain Grass (below right) gives a subtle, elegant look, the other design (above right) uses different varities of geranium in every shade to evoke a colourful summer meadow with a cheerful, airy feel.
But cut geraniums are not only perfect for decorating hats or hair clips, they can also give other accessories a unique look, as the this summer shoulder bag design shows (left). Once you've discovered the creative possibilities of cut geraniums, you're sure to come up with lots more creative possibilities.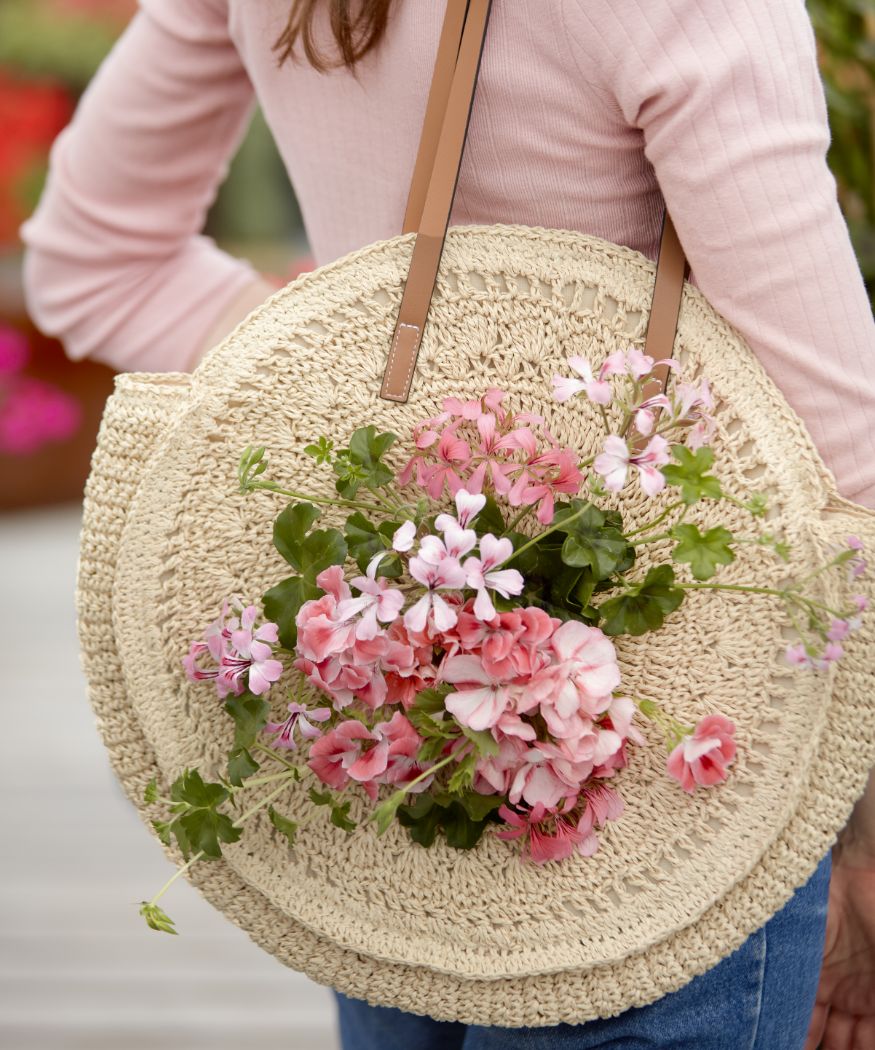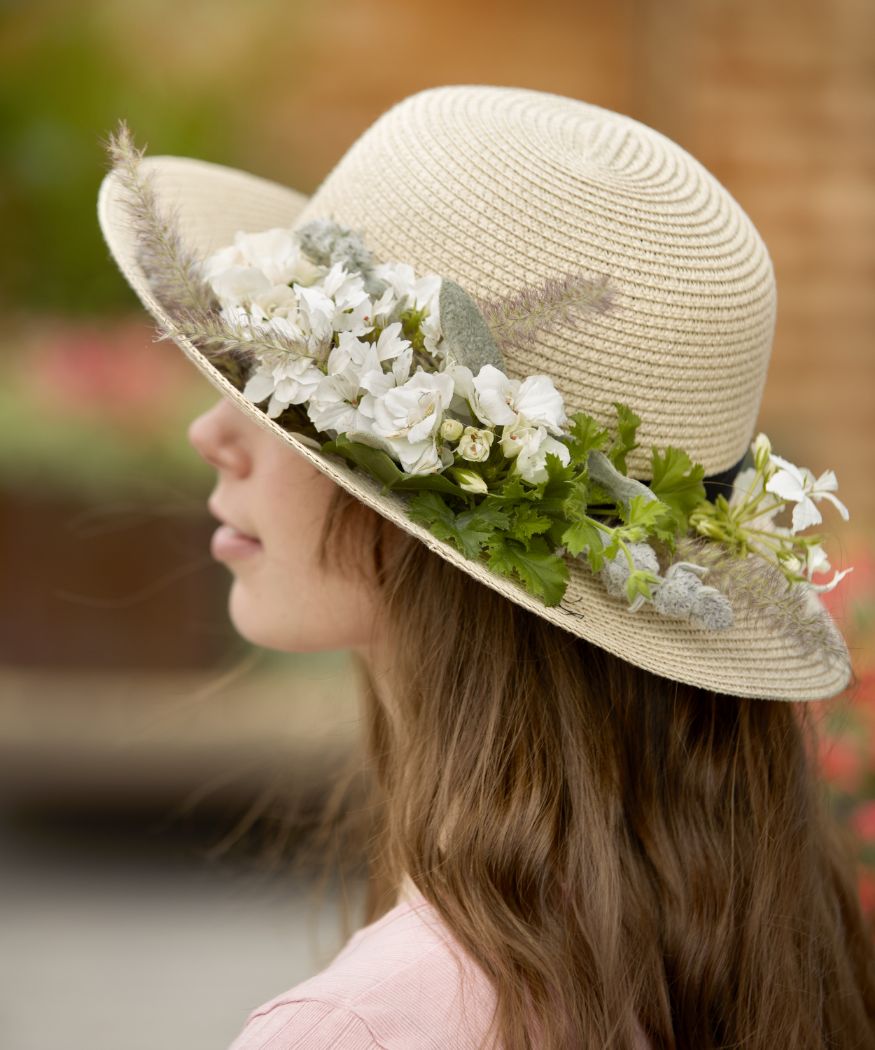 Summer geranium bouquets
Even those without a garden or balcony don't have to do without lush geraniums. One option is noble geraniums, originally grown as house plants, and another is, arrangements using cut geraniums. Even just a few stems in a bowl can create an uplifting summer vibe.
Geraniums also work really well with other cut flowers, as this gorgeous summer bouquet of different geranium varieties, eucalyptus stems, soft quaking grass (Briza media), astrantia and shaggy green Sweet Willams proves.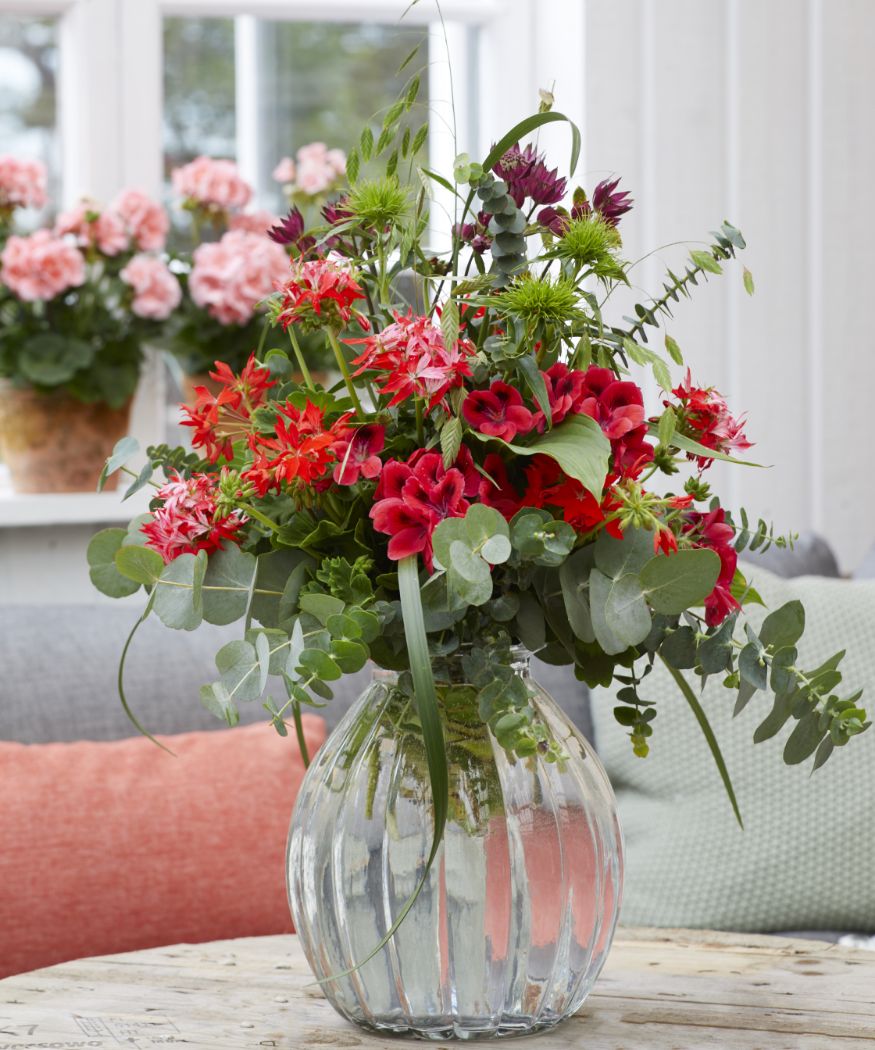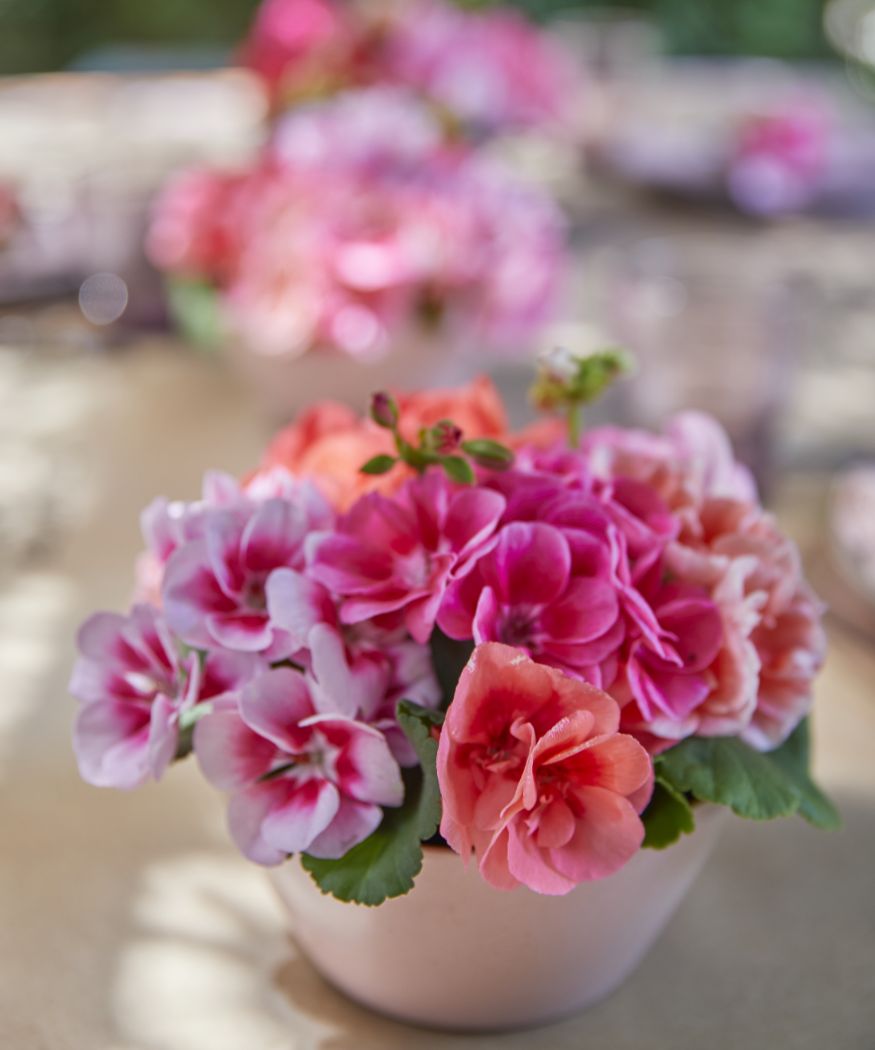 DIY makes with geranium flowers
Even without their stems, colourful geranium flowers can be used to create beautiful decorative designs.
Pressed geranium florets and leaves in a double-sided glass picture frame are a great way to enjoy these vibrant gems of the balcony all year round.
Tip: When pressing, make sure the flowers are freshly-picked. This ensures they keep their original colour and structure when dry.
Filled with pressed geranium florets, these frames make a pretty wall feature. They can also be used as coasters to go with other summer table decor.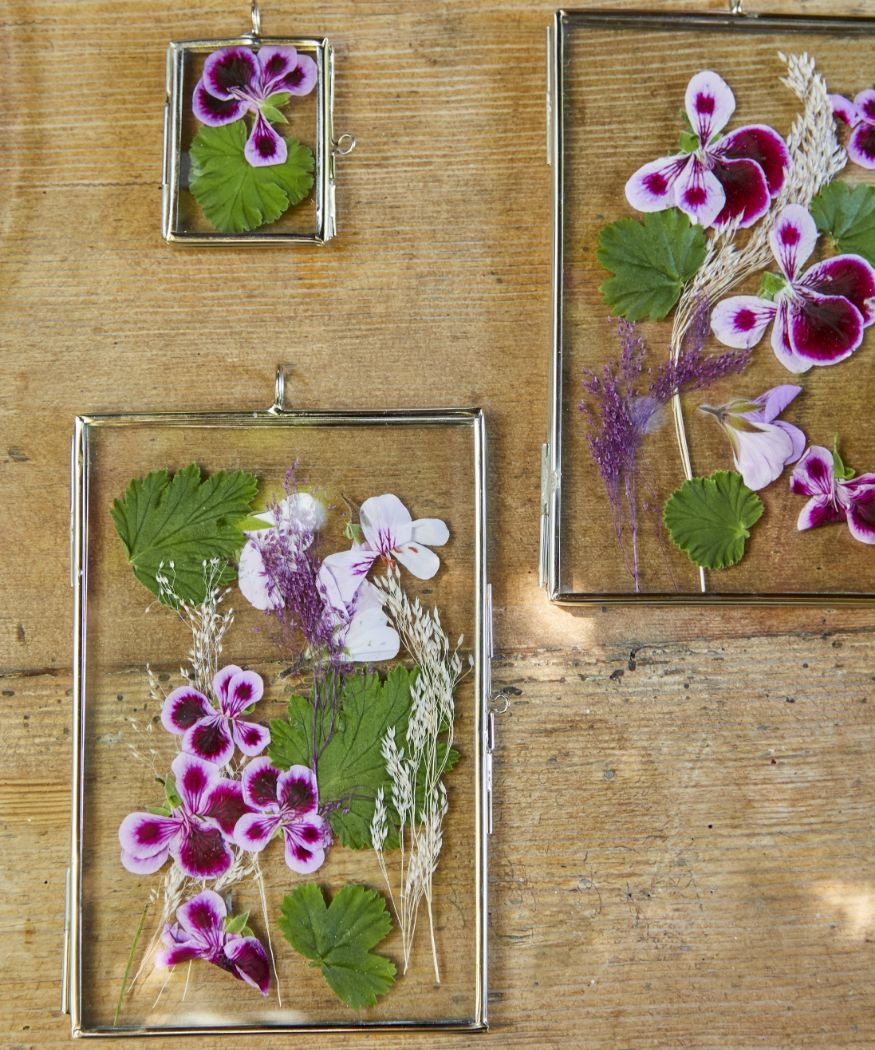 Another idea guaranteed to be a hit at summer party is ice cubes with edible geranium flowers. Simply fill an ice cube tray to halfway with sparkling water, add the geranium florets and carefully place the tray in the freezer. Once the cubes are partially frozen, top up the tray and place it back in the freezer until the water has frozen solid. As the cubes melt, the flowers will float beautifully on the surface.
Tip: For use in drinks, we recommend organically grown scented geraniums with a flavour that goes well with the drink.