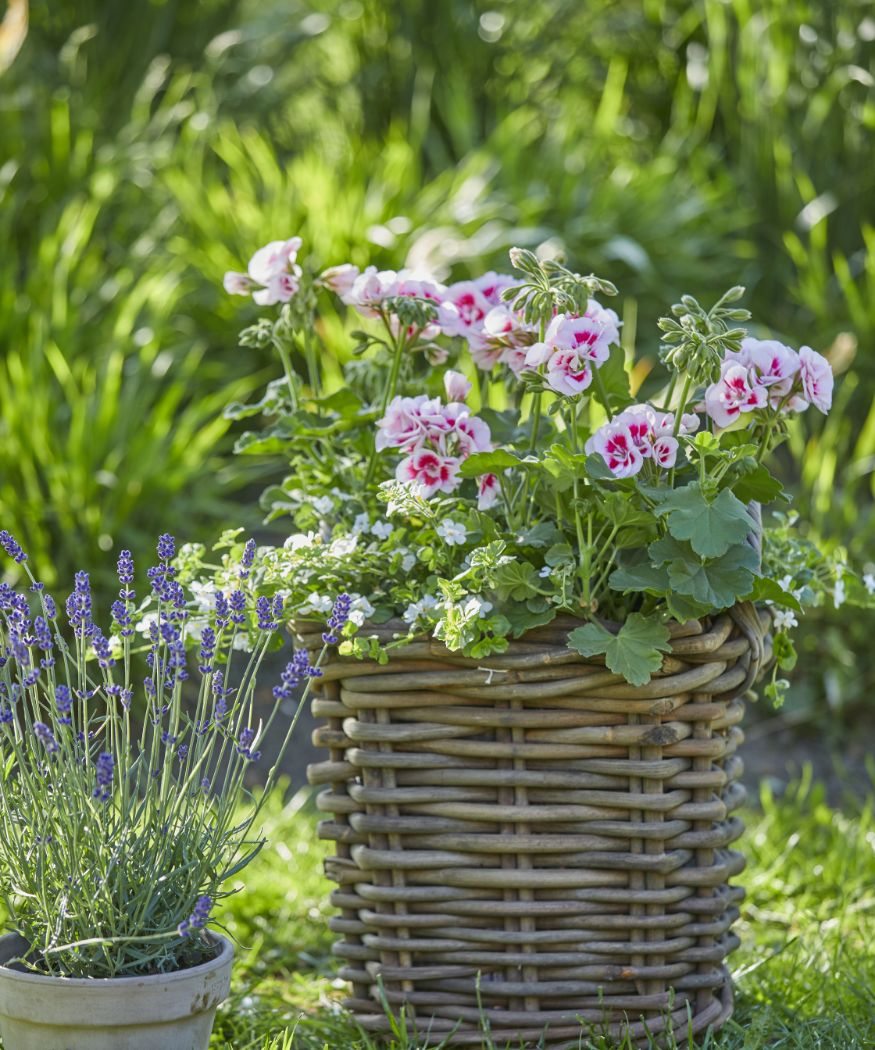 Blooming garden dreams with geraniums. How geraniums feature in current garden trends
More and more people are discovering the importance of gardens as places of peace and relaxation, allowing you to take time out from everyday life and also encouraging you to be creative and nurture yourself. At first glance, naturalistic gardens in particular sometimes look a bit chaotic.
But the apparent untidiness often hides the deliberate staging of lovingly selected accessories and plants. Geraniums play an important role in this. They grow and flower profusely and continuously from May to autumn, are easy to care for and score highly with their huge variety of shapes and colours. The experts at Pelargonium for Europe reveal which trends are currently influencing garden design and how geraniums fit in.
Shabby Chic garden trend: nostalgic charm with geraniums
In Shabby Chic or vintage style, objects with lots of wear and tear and patina become charming features when skillfully staged. Shabby Chic gardens have deliberately imperfect beauty, shabby and chic at the same time, and have been a popular trend for years. Lovingly arranged furniture and accessories with charmingly worn looks transform gardens into unique sanctuaries with a picturesque feel. Geraniums fit perfectly into these romantic Shabby Chic-style settings, giving them extra nostalgic charm.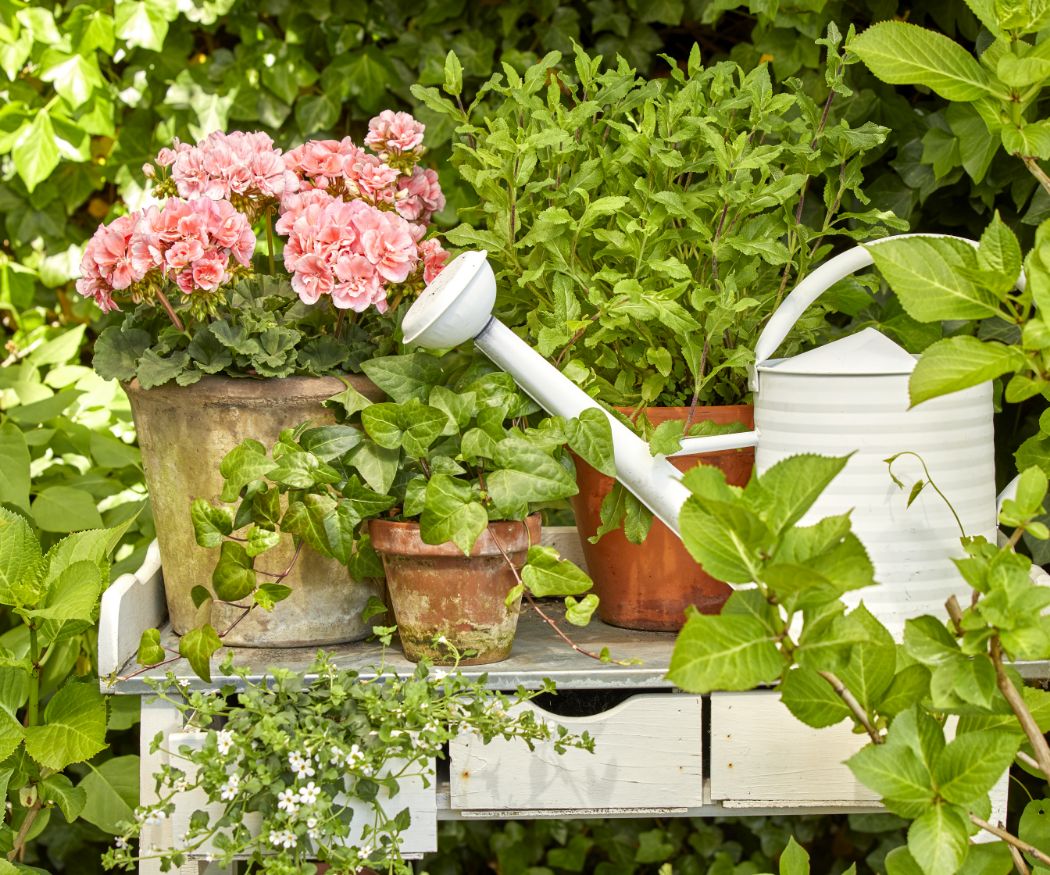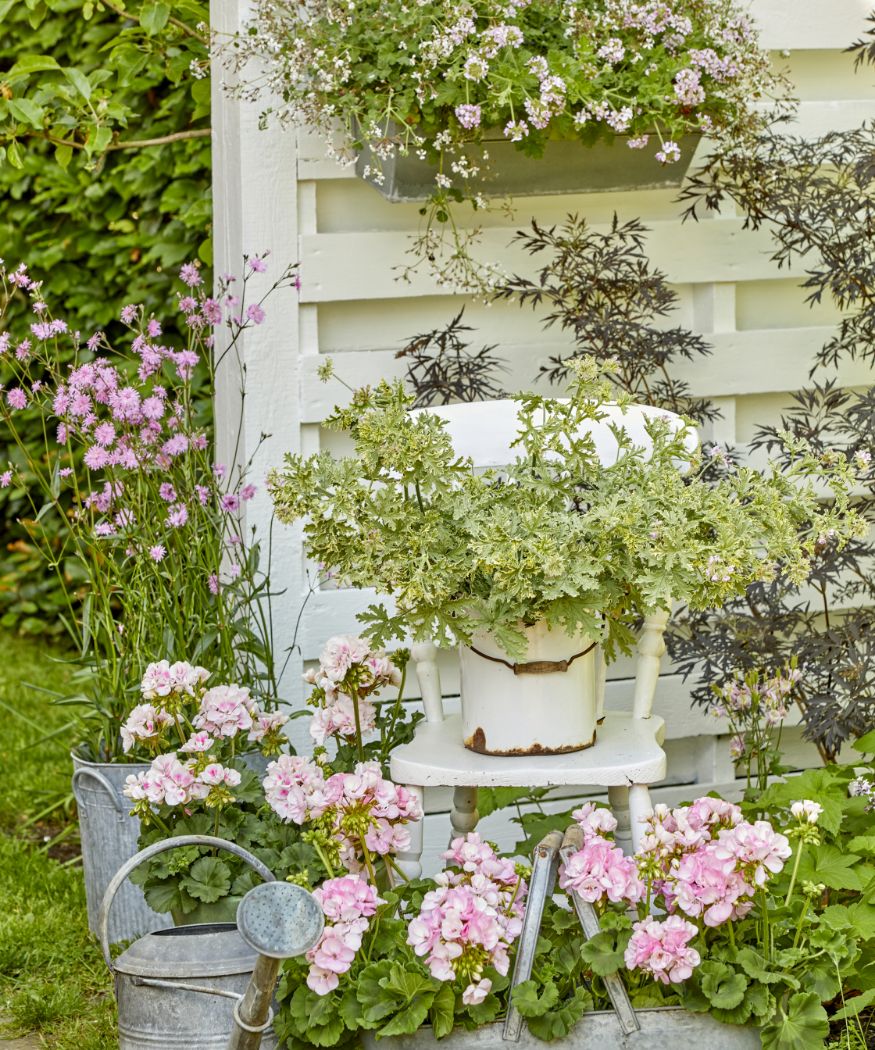 Right: This white wooden chest of drawers has seen better days. Surrounded by lush greenery, it makes an attractive garden feature on which the lush pink geranium in an attractively weathered terracotta pot, together with ivy, herbs, water hyssop and a white metal watering can, create a lovely still life.
Left: Glorious geraniums in soft pastel shades dominate this romantic, Shabby Chic garden paradise.
On a chair and against the wooden wall, scented geraniums give off an intense fragrance, while the soft pink of the beautiful upright geraniums forms a striking contrast with the metallic grey of the decorative zinc items.
Garden idyll in romantic vintage style:
This pink geranium is beautifully displayed in this decorative birdcage. The delicate design of the white metal cage gives the scene an almost fairytale atmosphere. With a little luck, you might find a decorative old birdcage like this at a flea market or junk shop. Otherwise, you can buy new cages made to look old, thanks to the latest Shabby Chic trend.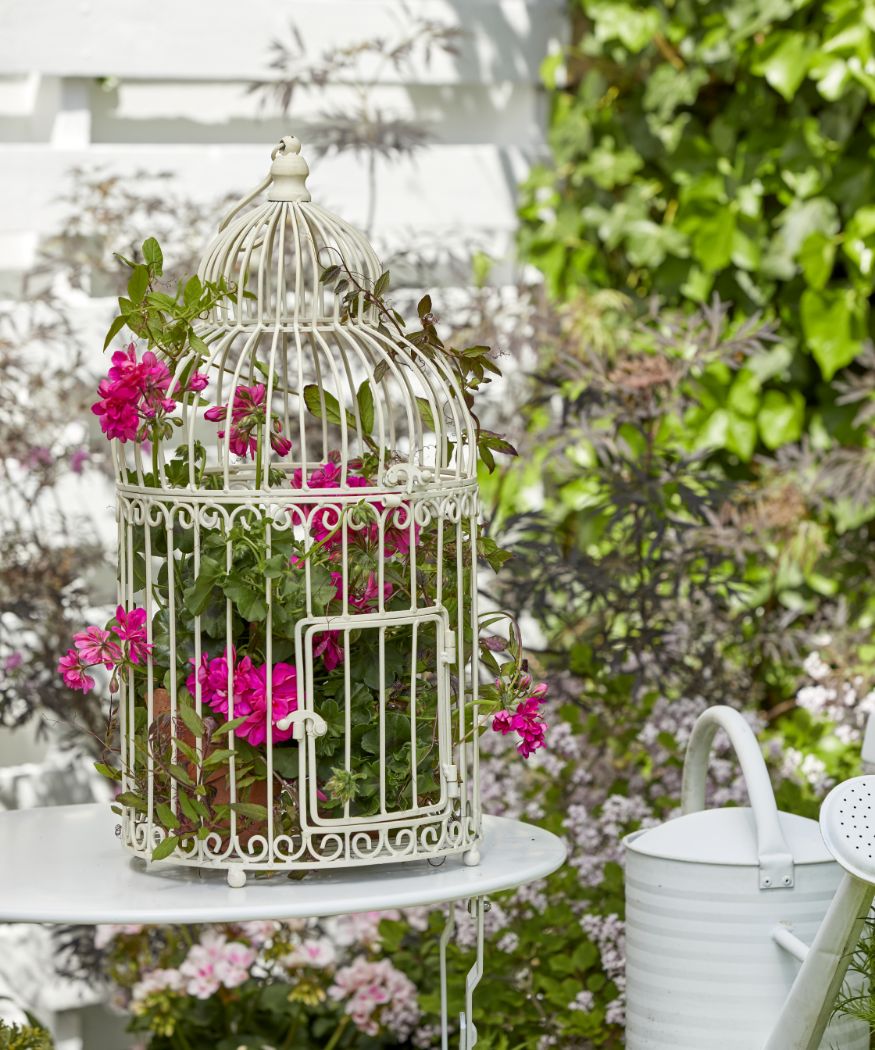 Cosy seating areas trend: geraniums provide colourful blooms
During the coronavirus pandemic, the garden has become an oasis of calm for many, a place of retreat where you can recharge your batteries and relax in close contact with nature.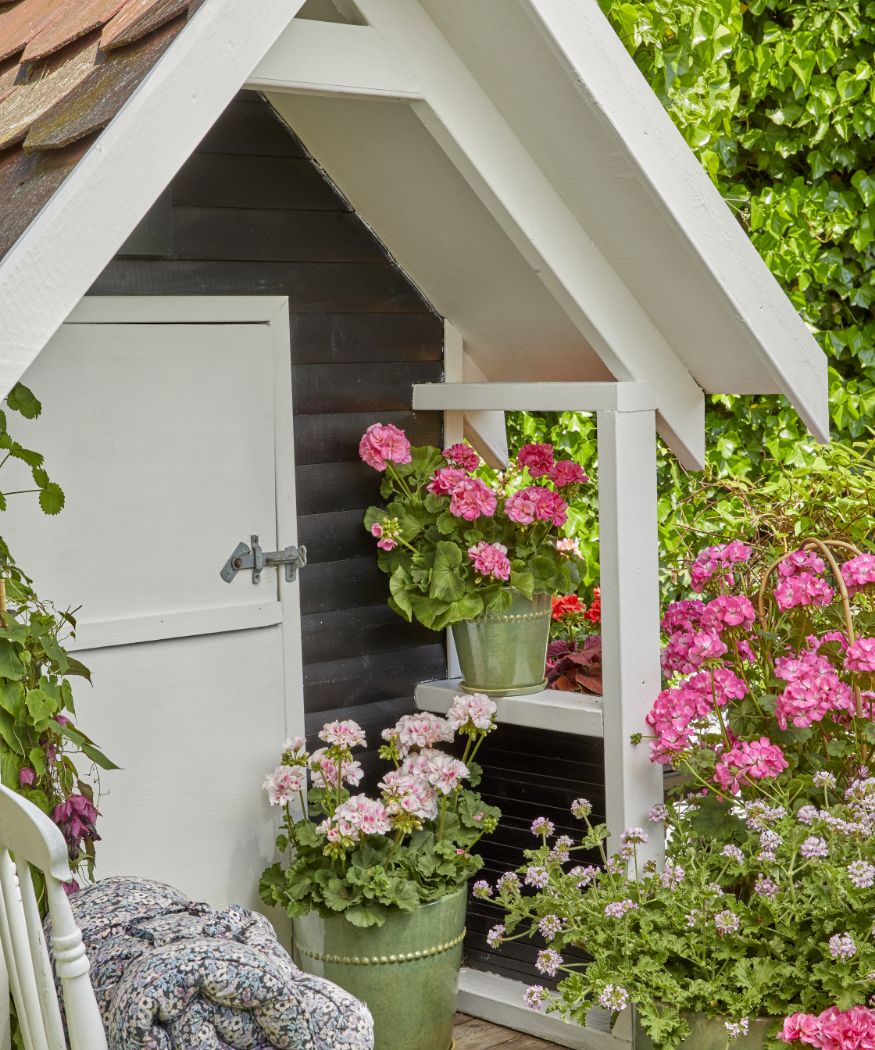 For those whose primary need is to rest, geraniums are ideal plants, as they charm with their bright colours, abundant blooms and delicious fragrances but need very little effort.
In order to enjoy colourful blooms and lush greenery to the full in a garden, you need picturesque seating areas.
The following examples show how such secluded nooks can look.
This little summerhouse is a wonderful retreat. It is a lovely place to relax among beautiful flowering geraniums.
Right: Surrounded by lush greenery and colourful blossoms, this romantic spot invites you to relax and unwind. On the wooden wall, scented geraniums release their intense aroma, while a planted arrangement of geraniums, lavender and Helichrysum petiolare (liquorice plant) on the table catches the eye. Cushions and cosy blankets keep you warm and allow you to stay outside even in cooler temperatures and fully enjoy the spectacle of flowering geraniums.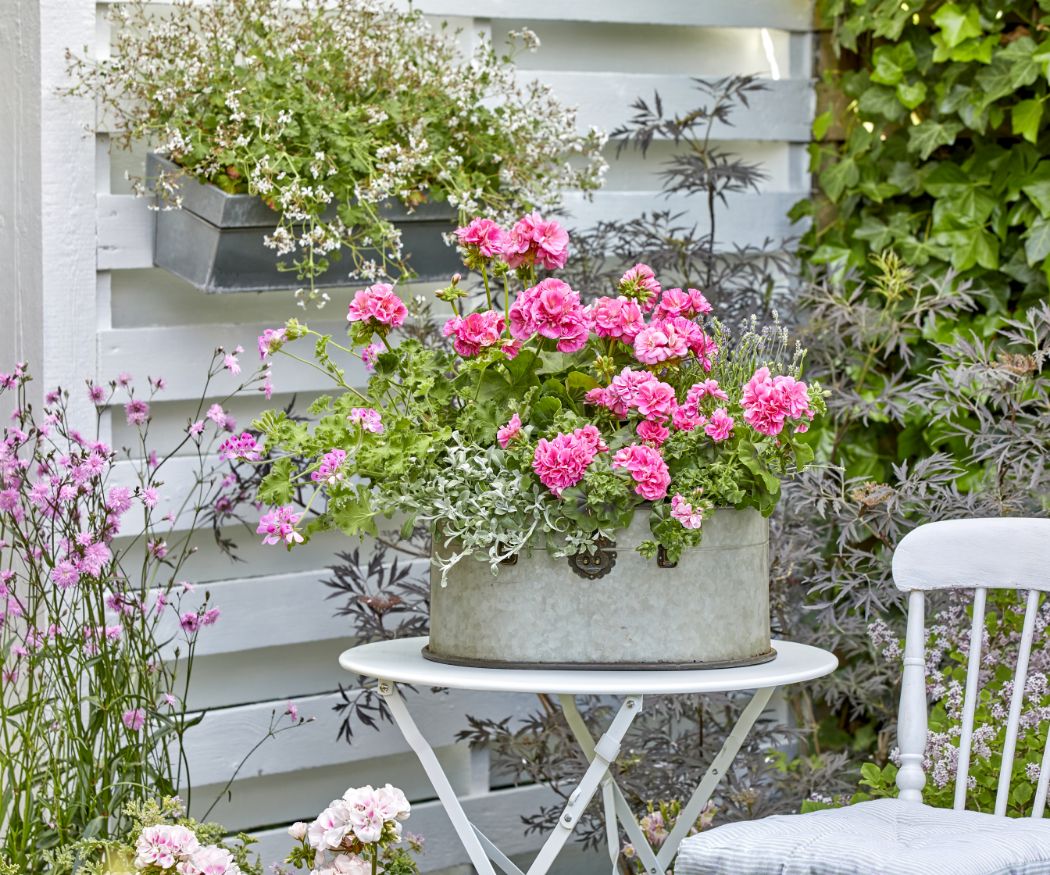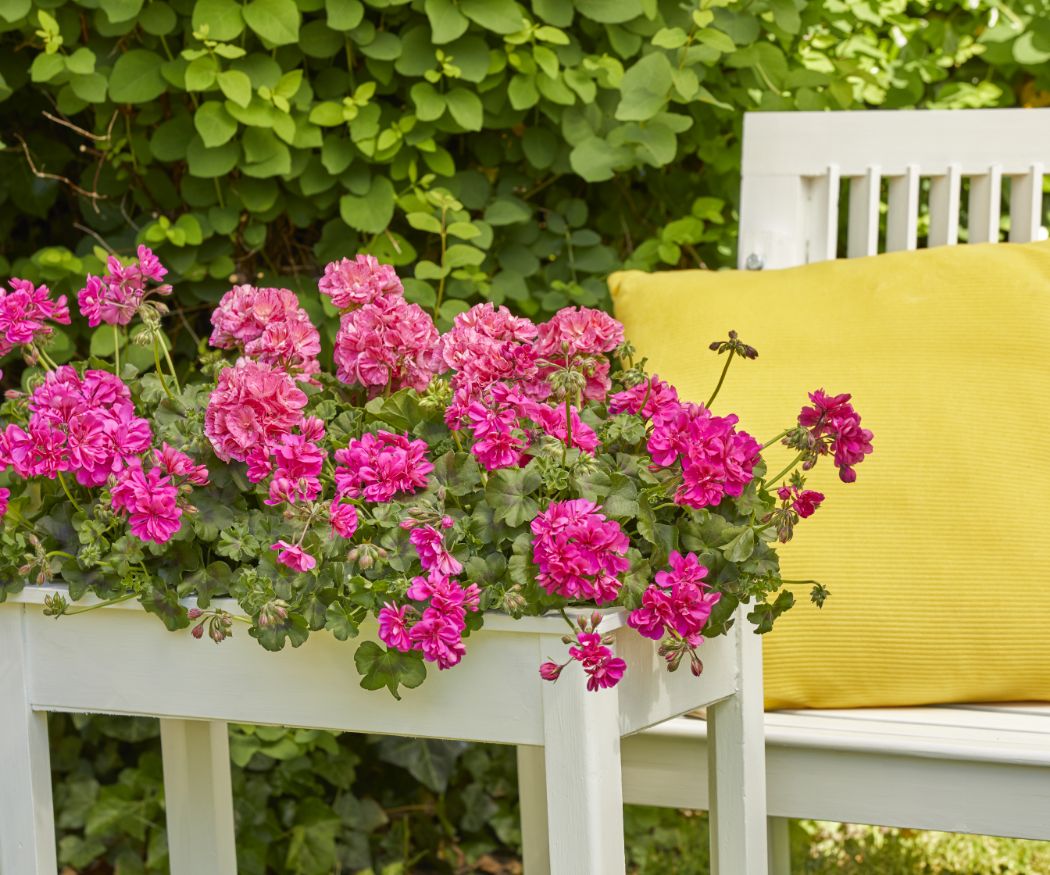 Trend: combining the beautiful and the useful
Nowadays, a garden should not only be a place of relaxation, but ideally also have a certain practical value. There is a trend to combine the beautiful and the useful by pairing attractive and useful plants to create a colourful mix that is as appealing to the eye as it is to the nose and palate.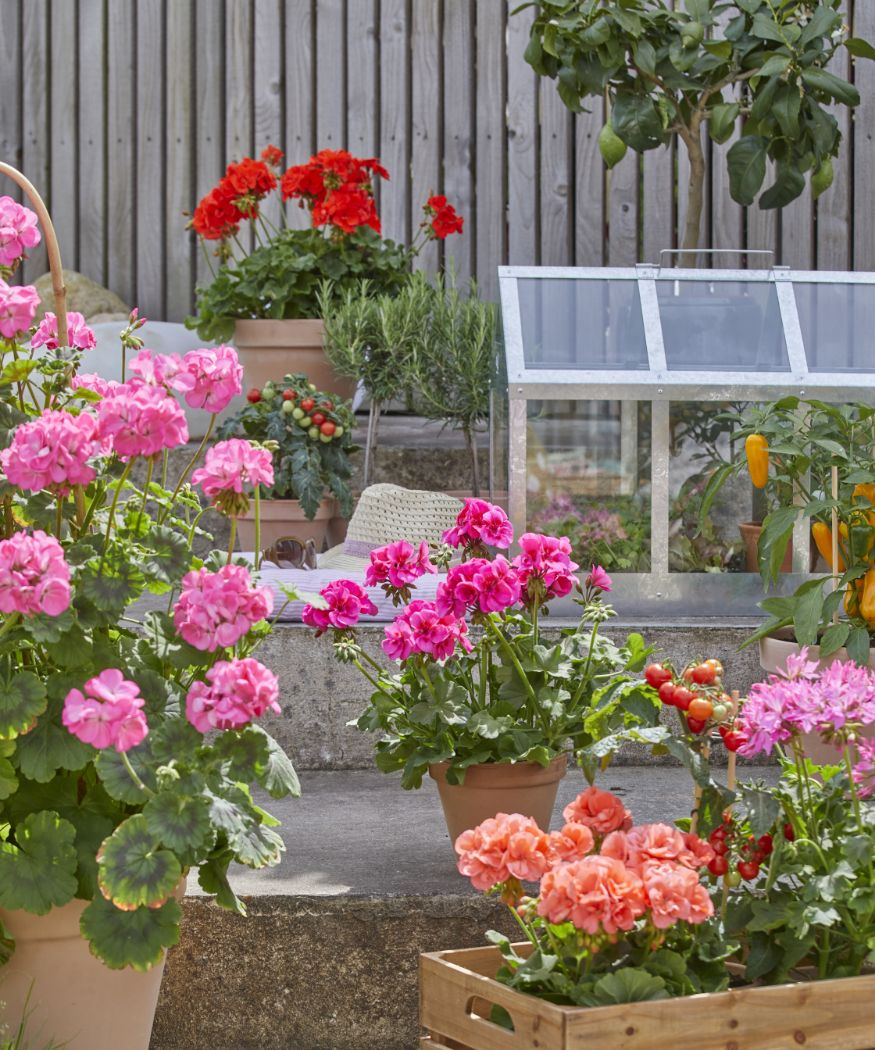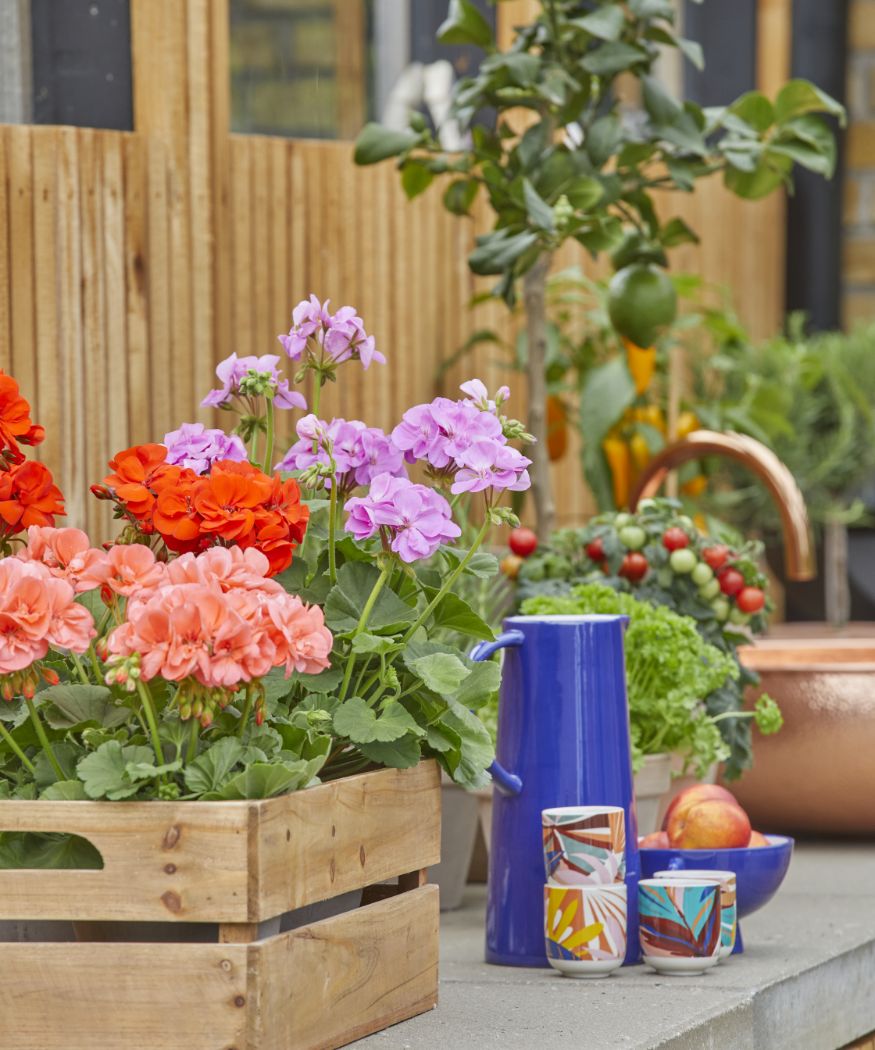 Like geraniums, Mediterranean herbs, tomatoes, peppers and citrus fruits need plenty of sun to thrive. So sunny corners are ideal for combining the beautiful with the useful and creating a flowering oasis that tempts you to nibble. With their delicious aromas, edible scented geraniums appeal to three senses at once; they look pretty, smell delicious and add a wonderful, creative touch to food and drinks. Enjoyment to the power of three.
Let's get colourful: the trend for bright hues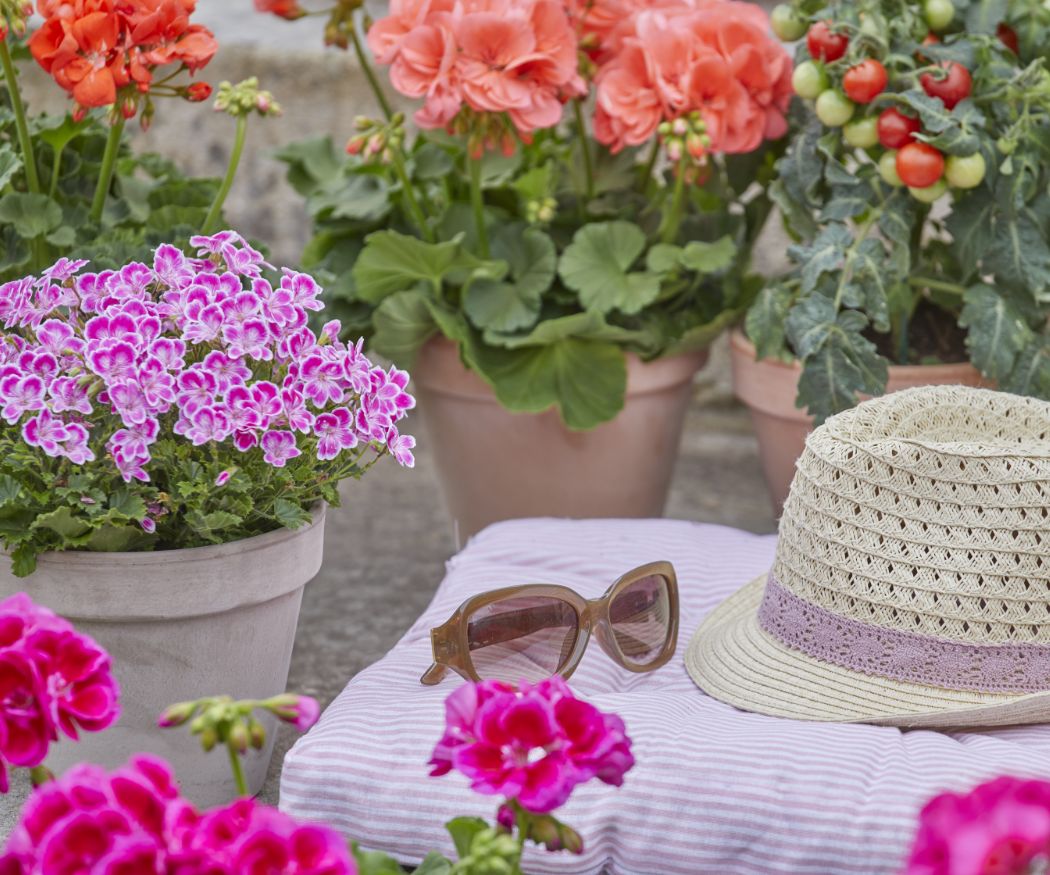 It's common knowledge that the sight of flowers is good for the soul. However, the effect varies depending on which flower colours you choose.
While white and delicate pastel shades tend to have a calming and relaxing effect, strong, bright colours are known to have an invigorating effect and spread positivity.
So gardens designed with colourful flowers become true oases of happiness giving gloomy thoughts no chance.
No wonder intense, bright colours are so popular at the moment.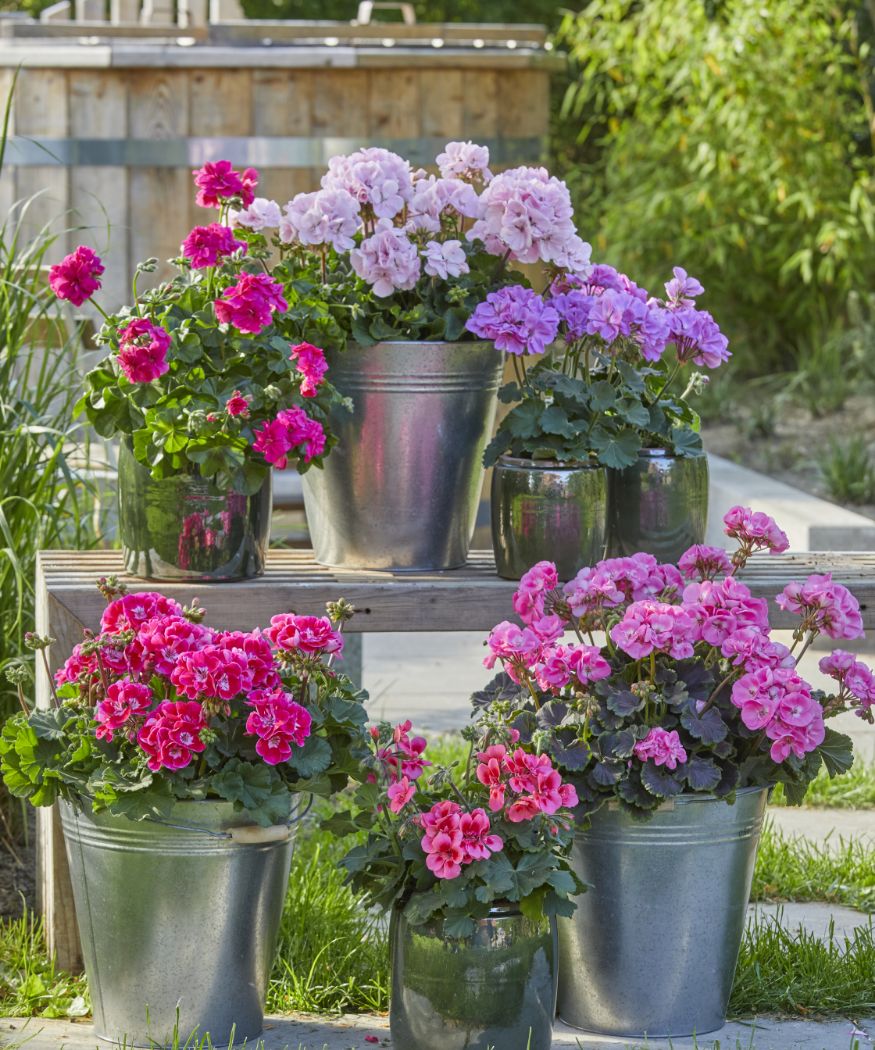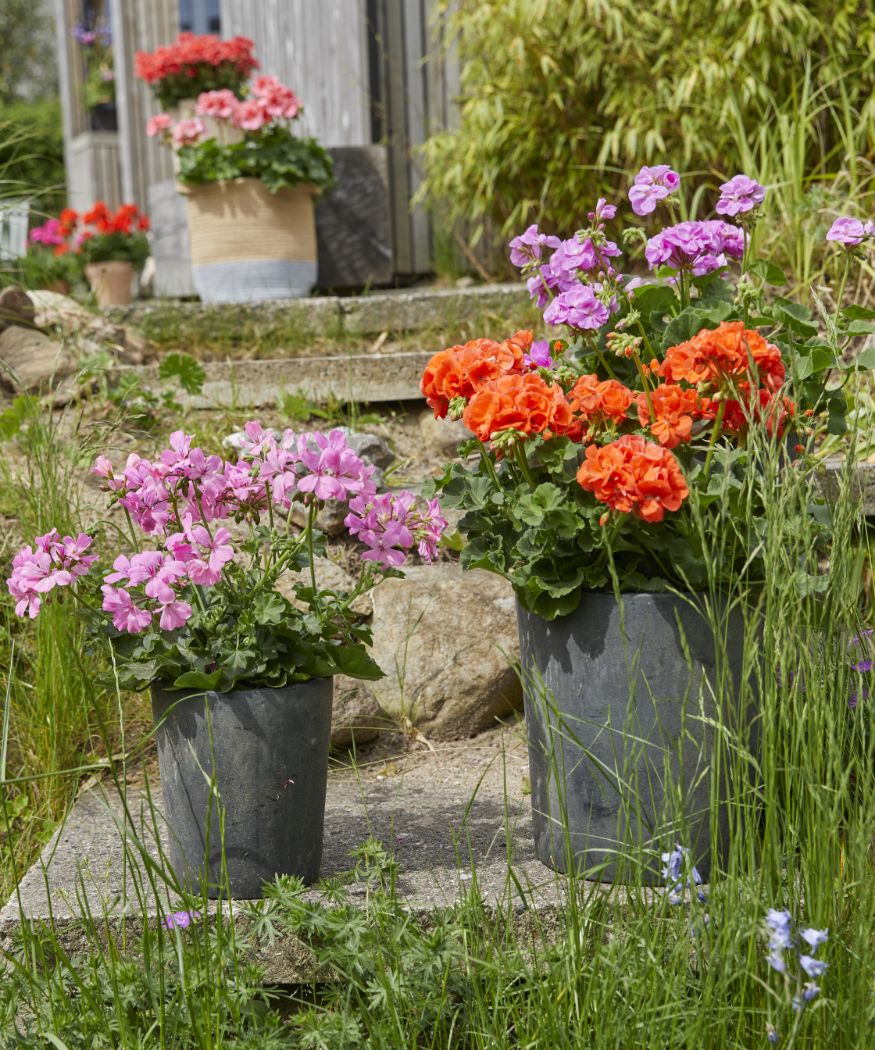 Geraniums are ideal for creating colourful oases of wellbeing. They flower not only in white and pink, but also in vibrant red, hot pink, violet, lilac, salmon or orange.
There are numerous two-tone varieties too. With their bright colours, they create a cheerful summer vibe in gardens as container plants and in flowerbeds for months on end.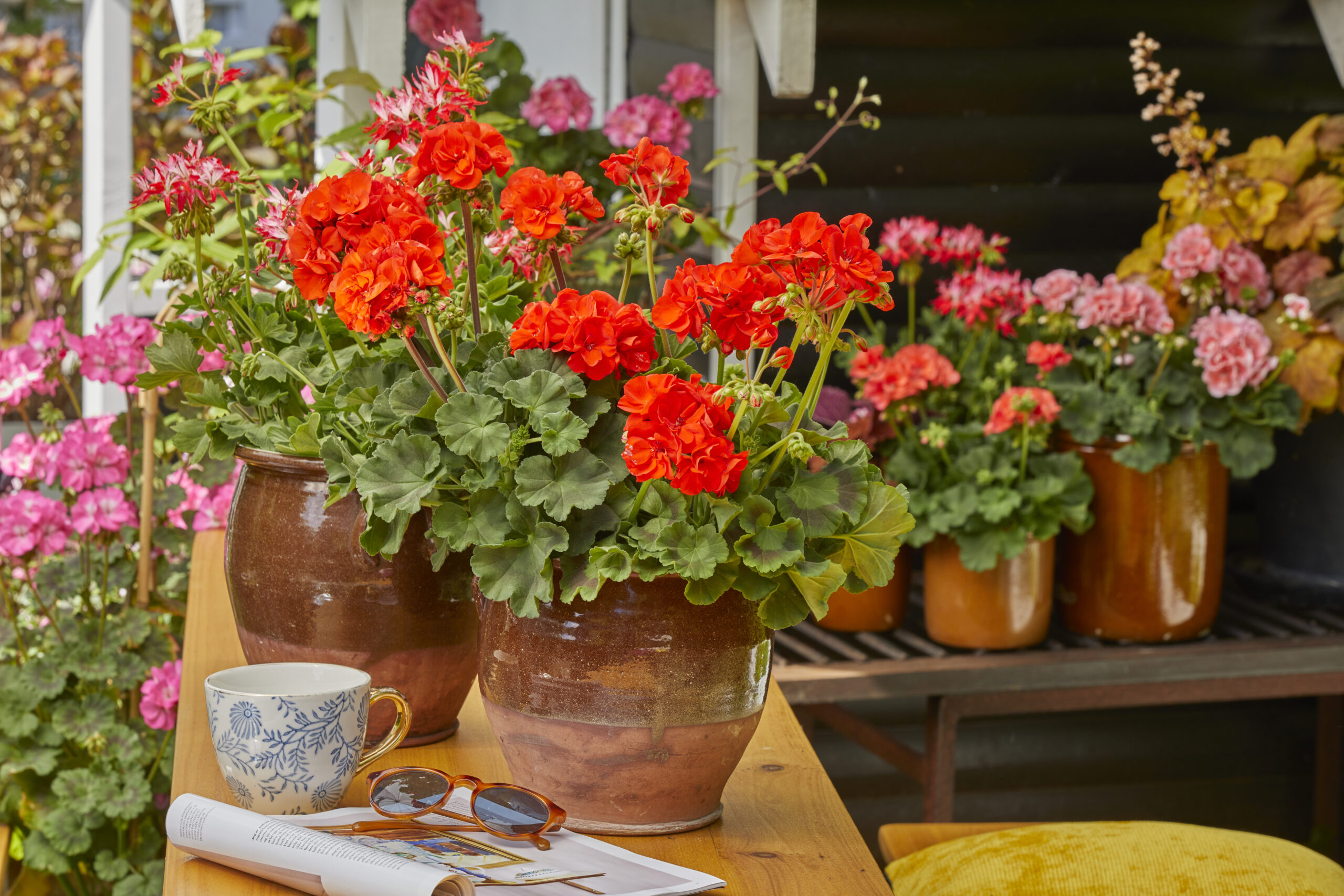 Another important advantage of geraniums is their lengthy flowering period. They flower from spring until well into autumn, which is longer than many other bedding and balcony plants. When hard-working lilies, petunias and the like have long since stopped flowering, geraniums are still going strong.
Incidentally, especially at the end of summer, when the food supply becomes scarcer, single and semi-double flowering geraniums are also popular with insects. Their stamens contain pollen and some varieties even produce nectar.