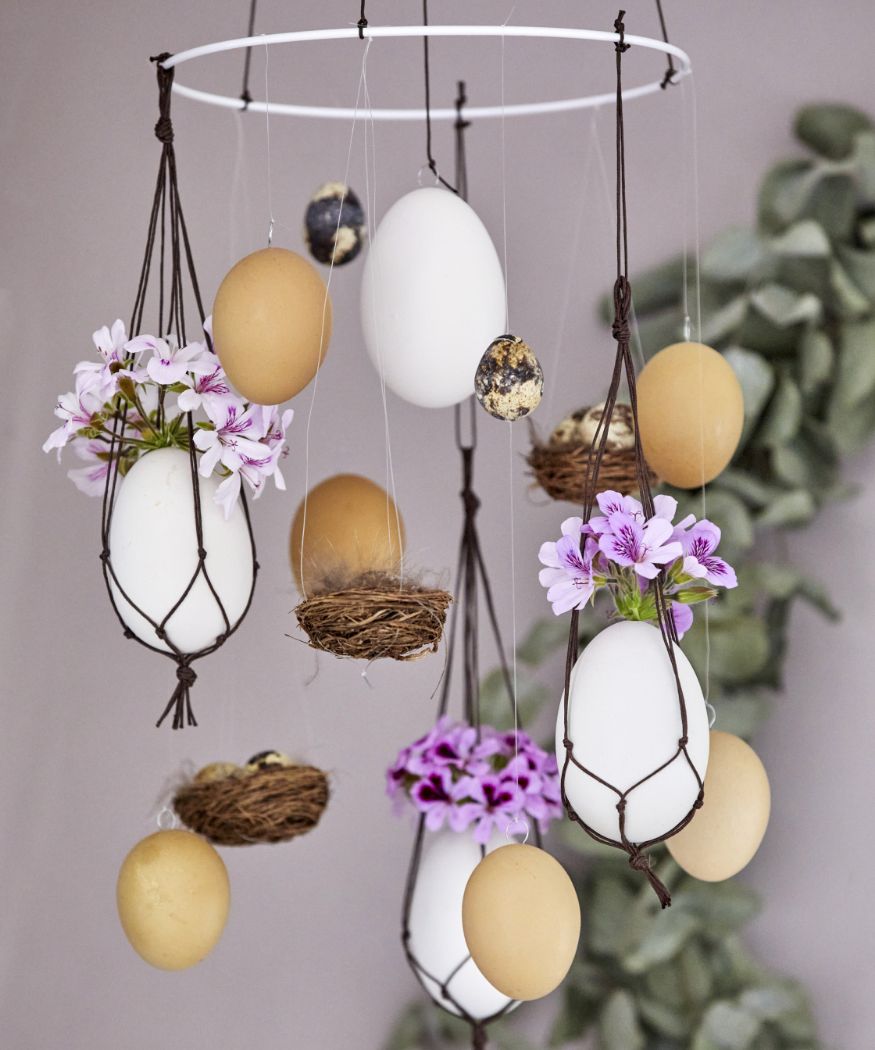 Decorate for Easter with Regal Pelargoniums
If you are planning a party for Easter, you should think about the perfect decoration as well as the menu. The most important elements are Easter accessories such as eggs and, of course, flowers. Here you can find out why Regal Pelargoniums are a fantastic alternative to the typical Easter flowers. We'll also demonstrate some beautiful flowering decoration ideas for the perfect Easter celebration.
The advantages of the Regal Pelargonium over the other early bloomers
When it comes to flowers and Easter, you probably automatically think of classic early bloomers like daffodils, hyacinths, crocuses and tulips. This isn't suprising, because these flowers can be found everywhere at Easter. However, more original and colourful Easter flower arrangements can be created with Regal Pelargoniums.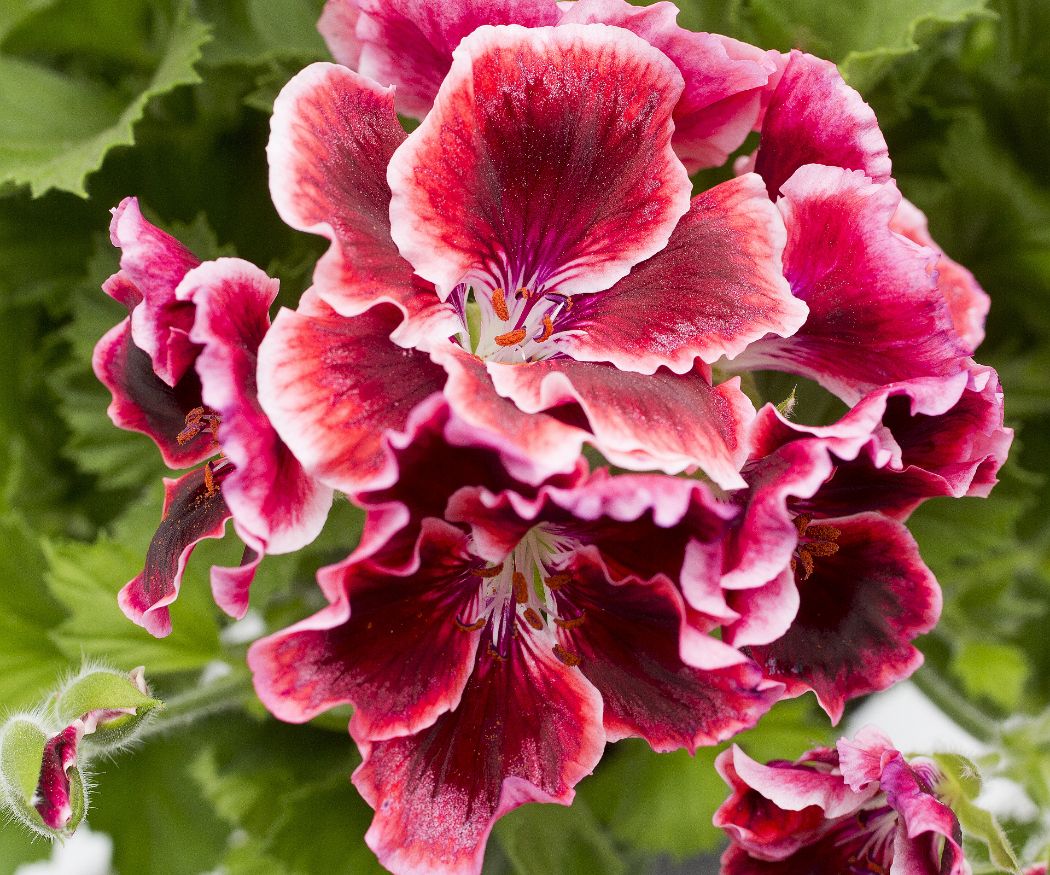 The Regal Pelargonium is also known as the Mother's Day geranium, or the English Pelargonium. It is primarily an indoor plant and it flowers as early as March. This makes it the ideal choice for floral decoration ideas in spring because it flowers much earlier than the classic balcony geraniums. But not only that – the large flowers of the Regal Pelargonium are stunningly beautiful with their intense colours. Want to know which care tips you should follow to ensure that your Regal Pelargoniums thrive? Read more here.
Or check out our ideas for Easter decorations with geraniums and Easter eggs. Let's get started: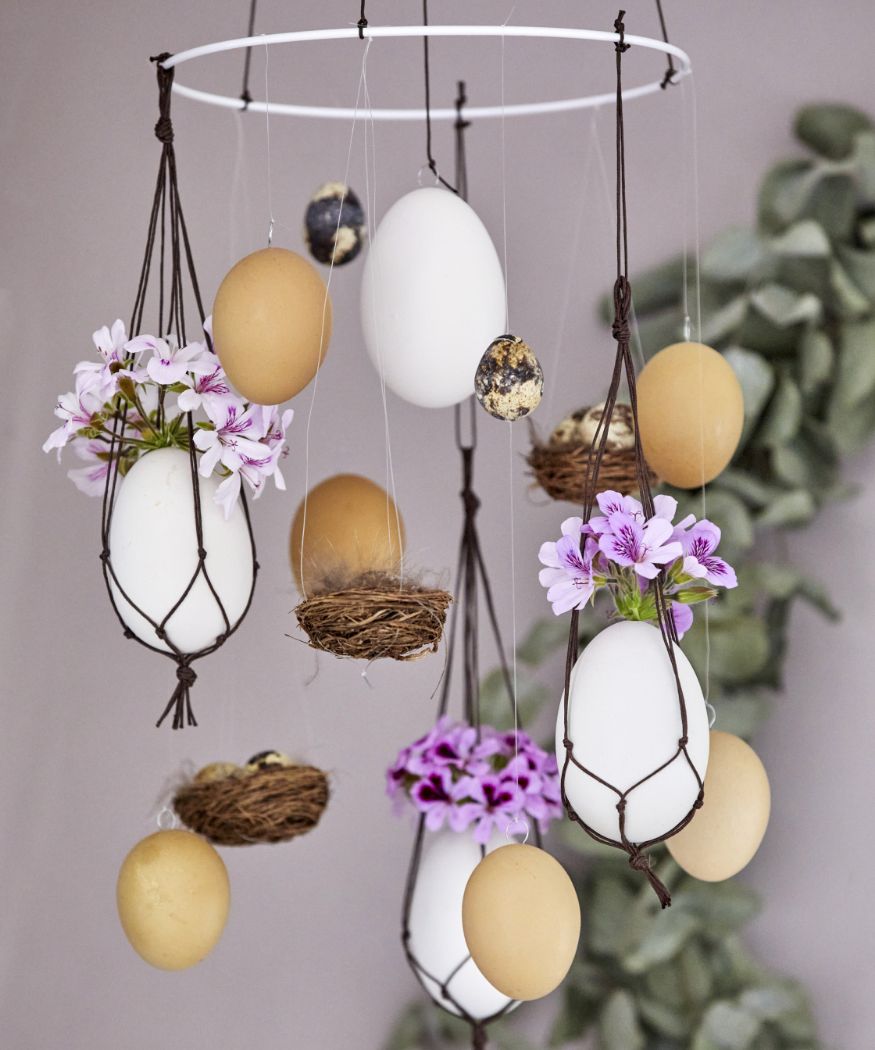 1. Macramé mobile with geranium flowers and eggs
This mobile with geraniums, mini nests, quail and chicken eggs is guaranteed to impress. Delicate macramé hangers hold extra-large eggs that serve as vases for geranium flowers.
There are two ways to make the egg vases.
Either you carefully remove the tops of the raw eggs, let the whites and yolks run out and then rinse the eggs, or you boil the eggs first, remove the tops and spoon them out before cleaning them.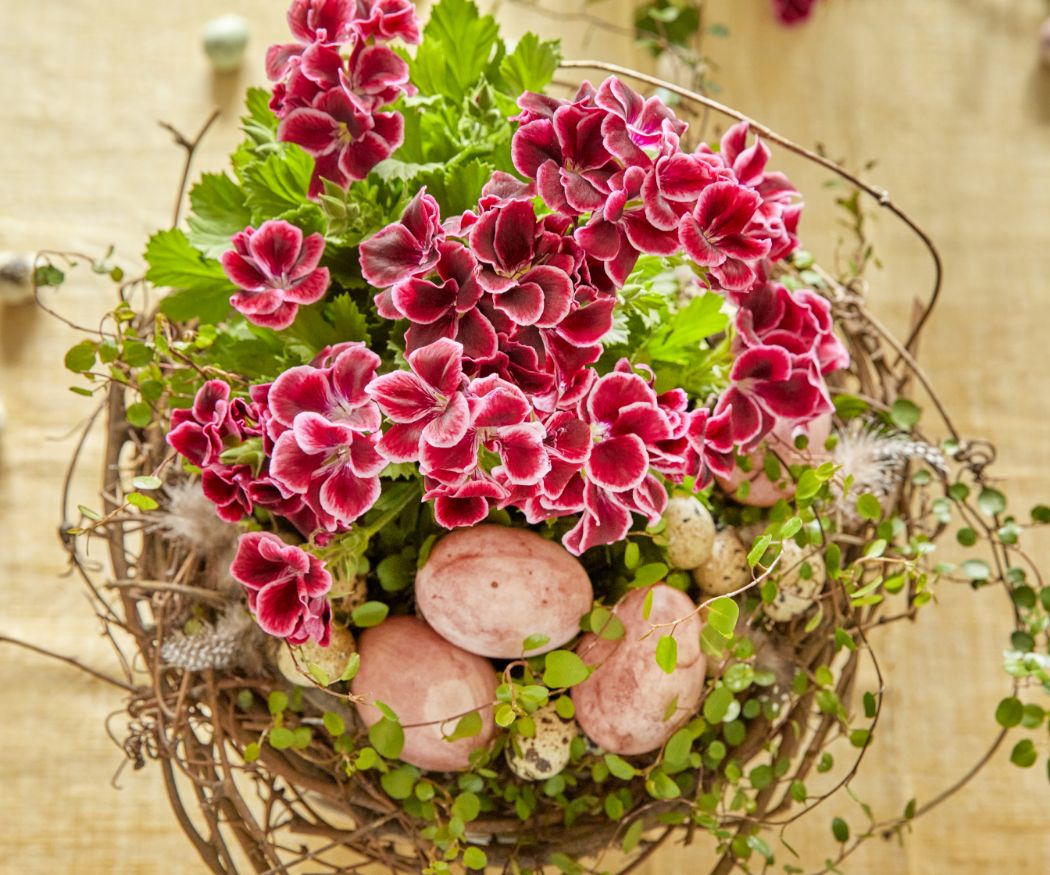 2. Easter nest with geraniums
What do you think of this flowering Easter nest? We think it's a must-have for the breakfast table or coffee table.
Want to make one yourself? Take a wicker basket, plant some geraniums and millbeckia in it and decorate the whole thing with a wreath made of twigs and small feathers. All that's missing is the Easter eggs. 😊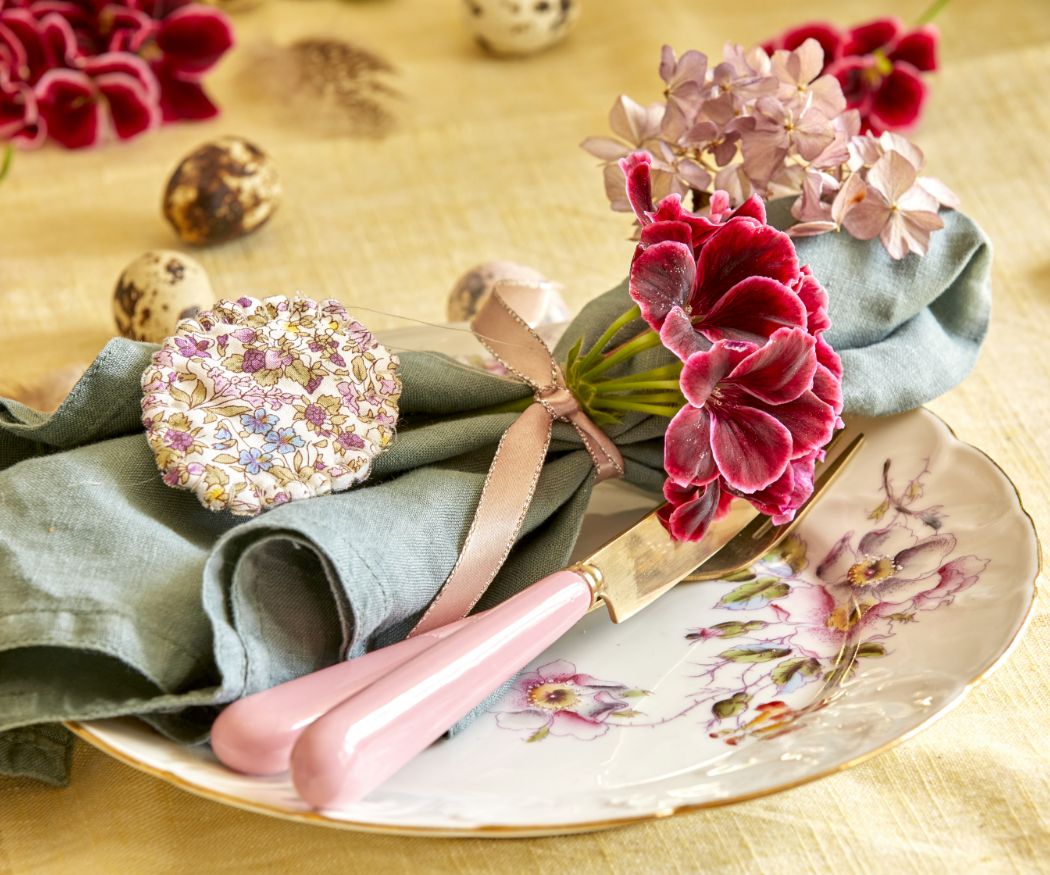 3. Bouquet of geraniums as a table decoration
A mini geranium bouquet to welcome your guests is sure to go down well! Although strictly speaking the image shows a single stem rather than a bouquet, the shape of the flower makes it look just like a miniature bouquet.
You can tie the geranium stems to the napkins with decorative ribbon and place them on the plates. If you want them to stay fresh for longer, put them in flower tubes filled with water.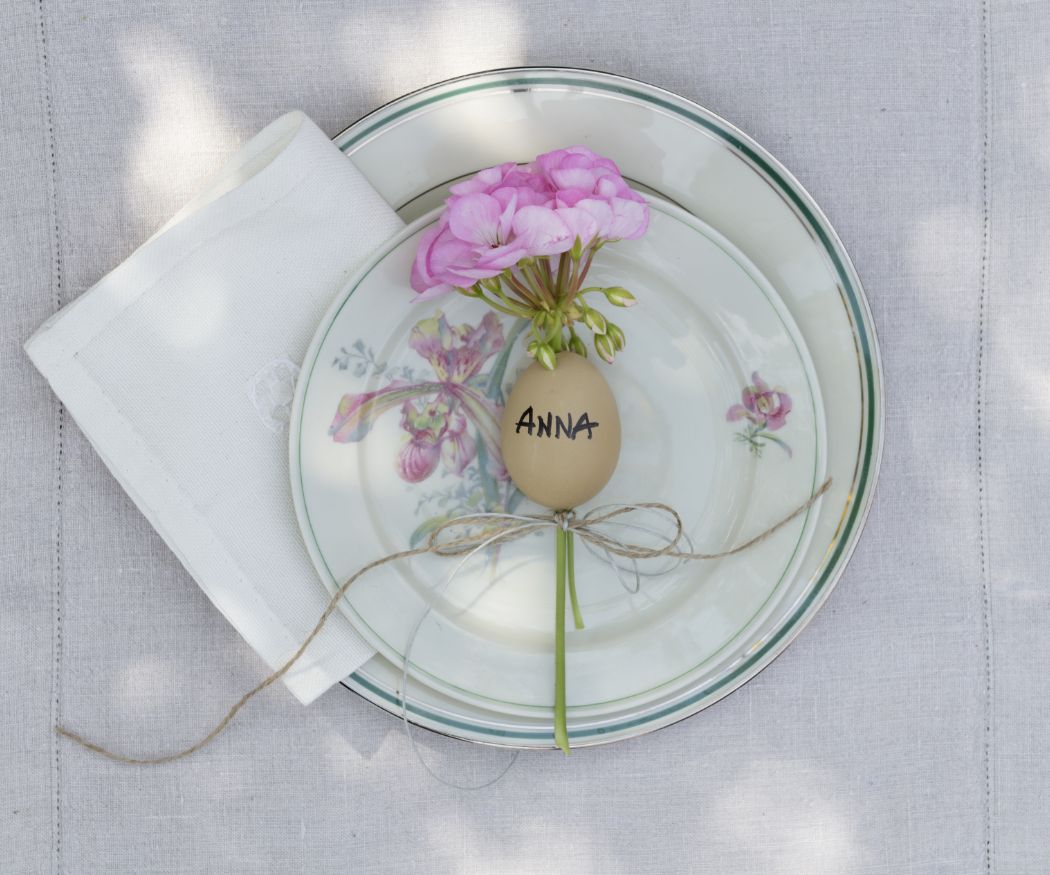 4. Geraniums in an egg as a name tag
With floral name tags like this one, you're sure to impress your guests. And it's so quick to make!
All you have to do is blow out a few eggs, label them and stick geranium stems through them. If you like, you can tie a bow around them for decoration.
To make sure the geraniums don't go limp before your guests arrive, you can also put the stems in flower tubes with water.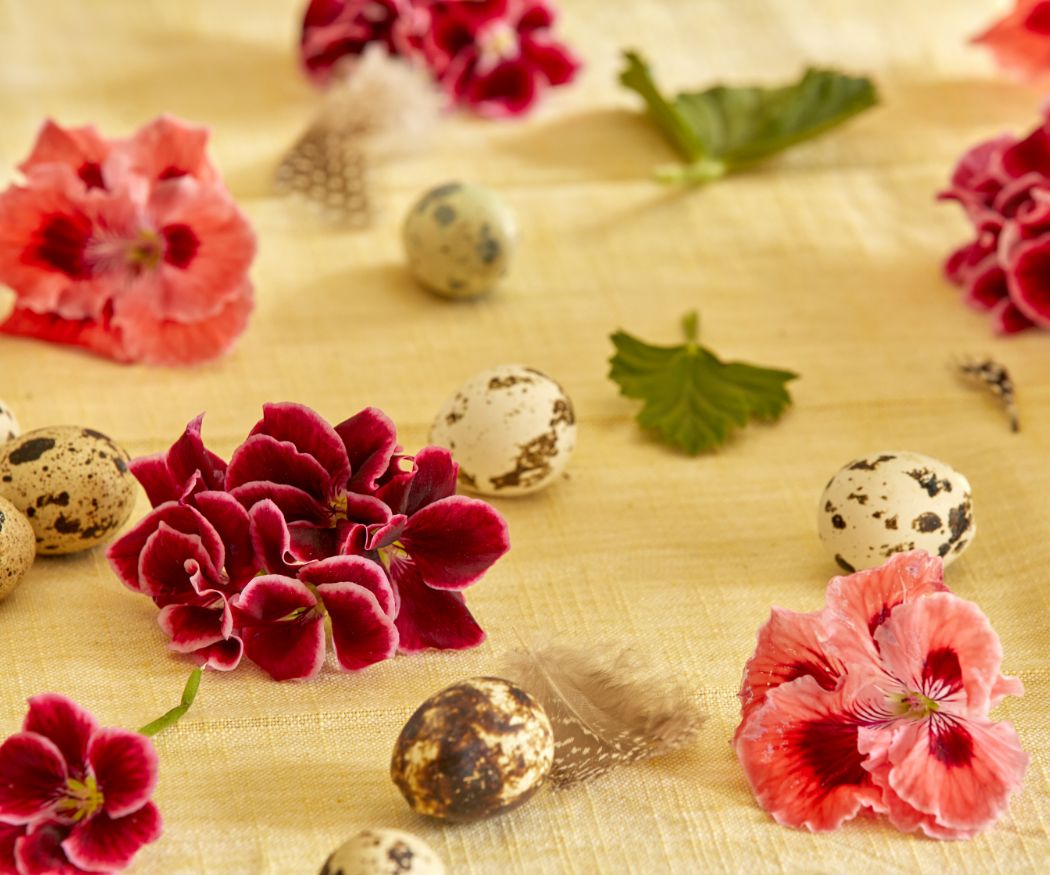 5. Table decoration with geranium flowers and quail eggs
Geranium blossoms, geranium leaves and beautifully patterned quail eggs – the perfect festive table decorations for Easter.
It's up to you to decide how long you want the decoration to stay looking beautiful. If you put the geranium stems in flower tubes with water, they will stay fresh for longer, but maybe it won't look quite so effortless and relaxed. Why not try it out and see what you like?
Care tips for Regal Pelargoniums
Location in the room: Bright and warm (about 20 degrees). Avoid bright midday sun on the windowsill. In summer you can keep your geraniums outside. Protect them from rain and strong winds.
Fertilise: Preferably weekly, with fertiliser for geraniums or flowering plants.
Water regularly and moderately. Avoid waterlogging and drying out.
Pruning: Remove withered flowers and leaves regularly.